After Dom Dwyer posted a picture of him with a new lady in mid-2023, many are speculating if she is the girlfriend of the soccer player.
A father of two kids, Dwyer split with his wife of six years, Sydney Leroux, a fellow soccer star, in 2021. Since then, he remained away from the dating profile until claims of his new girlfriend came up.
Dom was going through a rough patch after his relationship went sour, so has he finally found someone? Let's find out.
Dominic James Dwyer (b. July 30, 1990) is an English-born forward who is a naturalized American citizen & represents the United States soccer team.
He is currently a free agent who played for the MLS team Atlanta United until they waived him on January 6, 2023.
Dom grew up playing soccer with his friends in East Anglia when Kings Lynn FC Youth Team saw his potential & invited him.
Then, he moved to Texas, the USA, to attend Tyler Junior College. There he played for two years before transferring to the University of South Florida in 2011 as a junior.
Dom Dwyer entered the MLS as the 16th overall pick of Sporting Kansas City in the 2012 MLS SuperDraft & played until 2017.
So far, he has played for the MLS teams like Orlando City, Toronto FC & Atlanta United. He looks up to players like Didier Drogba and Pele for inspiration.
Dom Dwyer Girlfriend: Who Is The Mystery Girl?
Netizens are going wild after Dwyer posted a picture of him getting a kiss on the cheeks by a beautiful girl on his Instagram.
Who is this mystery girl, you ask? For now, we don't have an official answer, but all fingers are pointing in the same direction.
We assume that it is safe to say that she is his new girlfriend, and he wants to keep her identity hidden from the eyes of the public.
Even the caption states the obvious as he writes, "Sorry I've been quiet, I've been winning in silence 🌸".
Father Of Two With Ex-Wife Sydney Leroux
Talking about Dwyer's romantic life, he was previously married to the soccer player Sydney Leroux.
He married Leroux in a private wedding in January 2015, and the couple made the announcement public on social media only on February 14.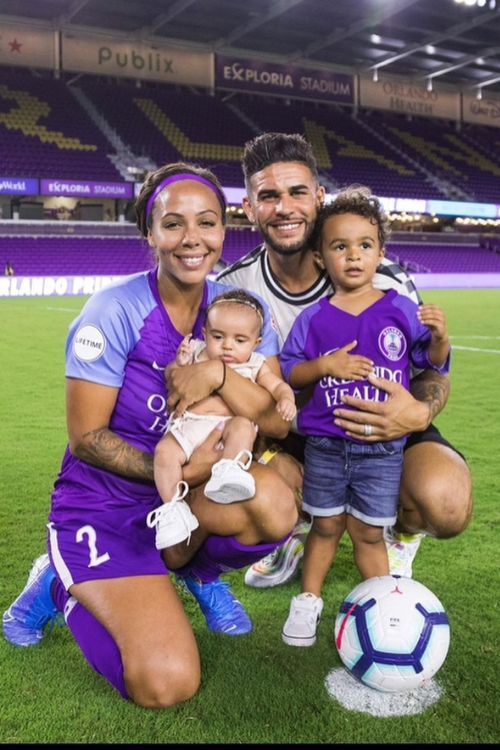 They have two children together, a son and a daughter. Dwyer's social media is filled with these two little munchkins.
Their son Cassius Cruz Dwyer was born on September 10, 2016. Then on June 28, 2019, their daughter, Roux James Dwyer, was born.
After six years of marriage, Leroux revealed that she and Dwyer were splitting on August 6, 2021.
Dom Dwyer Career Threatening Injury
Dwyer had to face an injury at the start of the 2020 season, which caused him to miss the first two games before the COVID-19 pandemic put an end to the season.
He started his recovery journey and felt that he was ready to play when the games resumed in June at the MLS is Back Tournament.
Dwyer played the first two group games before coming off at the 60-minute mark in both, as it became very difficult for him to play.
As his injury persisted, Dwyer was forced to undergo arthroscopic knee surgery.
It was done to treat a partial patella tendon tear associated with patella tendinosis in his left knee.
The surgery was overseen by Dr. Daryl Osbahr, who is Orlando City's team physician and the Chief of Sports Medicine at Orlando Health.
Dwyer was out from Jul 16, 2020, till Dec 31, 2020, which caused him to miss a total of 168 days and 25 games.