Named the "greatest" by FIFA, Pele was one of the most influential soccer players of the 20th century. The Brazilian legend died at the age of 82 in Albert Einstein Israelite Hospital, Brazil, on 29 December 2022. He had a net worth of more than $100 million at the time of his death.
Pelé was hospitalized in late November for respiratory infection and colon cancer-related complications. He died on December 29 from multiple organ failure due to colon cancer progression
The star played for Santos at the young age of 15 and at 16 for Brazil. He won three FIFA World Cups during his international career: the only player to do so in 1958, 1962, and 1970.
The Guinness World Record holder, scoring 1,279 goals in 1,363 games, was capped 92 times by Brazil and scored 77 goals. At club Santos, he scored 618 goals in 636 appearances.
Lauded as the greatest Brazilian to ever grace the pitch and one of his time's best players, Pele was the highest-earning athlete of his time.
People were more than eager to splash some cash to watch this icon display his magic on the field.
Soccer remains the top sport, with a hundred times more viewers than any other game, but the relentless effort and hard work to be the best made Pele the greatest.
In this article, we will provide all the information about the legend. Stick with us till the end of the article.
First, let's start with some quick facts.
Quick Facts
Full Name
Edson Arantes do Nascimento
Popular As
Pele
Nicknames
Dico, Pele, O Rei (The King), Black Pearl, Black Panther
Date Of Birth
October 23, 1940
Date Of Death
December 29, 2022
Birthplace
Três Corações, State of Minas Gerais, Brazil
Education
Metropolitan University of Santos
Religion
Christian
Nationality
Brazilian
Ethnicity
Afro-Brazilian
Horoscope
Libra
Father's Name
João Ramos do Nascimento (Dondinho)
Mother's Name
Celeste Arantes
Siblings
A Brother (Zeca Nascimento) And A Sister (Maria Lúcia Nascimento)
Height
5 feet 8 inches (173 cm/ 1.73 m)
Eye Color
Black
Hair Color
Black
Wives
Rosemeri dos Reis Cholbi (M. 1966–1978)

Assíria Nascimento (M. 1994–2008)

Marcia Aoki (M. 2016)

Children
Seven (Kelly Cristina, Jennifer, Edson, Joshuwa, Celesta, Sandra Machado, and Flavia Kurtz)
Profession
Soccer Player
Position
Forward

Attacking Midfielder

Jersey no.
No. 10
Teams
Brazilian National Team, Santos, New York Cosmos
Net Worth At The Time of Death
$100 Million
Social Media
Instagram, Twitter, Facebook
Merch
Signed Photo, Signed Jersey
Last Update
May 2023
Insight To A Legendary Life
Born as Edson Arantes do Nascimento hailing from Tres Coracoes, Minas Gerais, Brazil, Pele was born on October 23, 1940.
He was the son of Dondinho, a Fluminese-based soccer player, and Celeste Arantes. Dondinho and Celeste named their son after the great inventor Thomas Edison.
As the years went by, Edson's friends nicknamed him Pele after the Vasco da Gama goalkeeper, Bile. Although the names don't match, it was initially a way of teasing Edson due to mispronunciation.
Moreover, Pele, as a kid, was struck by poverty. To earn a living, he would work as a servant.
He first came to admire soccer through his father. Unable to collect money to buy a soccer ball, he would wrap newspaper in socks and tie them with a string.
With an innate passion, Pele first joined amateur sides like Sete de Setembro, Canto do Rio, São Paulinho, and Amériquinha; later, the Brazilian player sharpened his skills.
Soccer Career Salary & Incomes
Historically speaking, no soccer player of the 21st century can manage to rule over Pele's throne. Only Lionel Messi and Cristiano Ronaldo are closer to challenging the Brazilian milestone with a seemingly unbreakable record.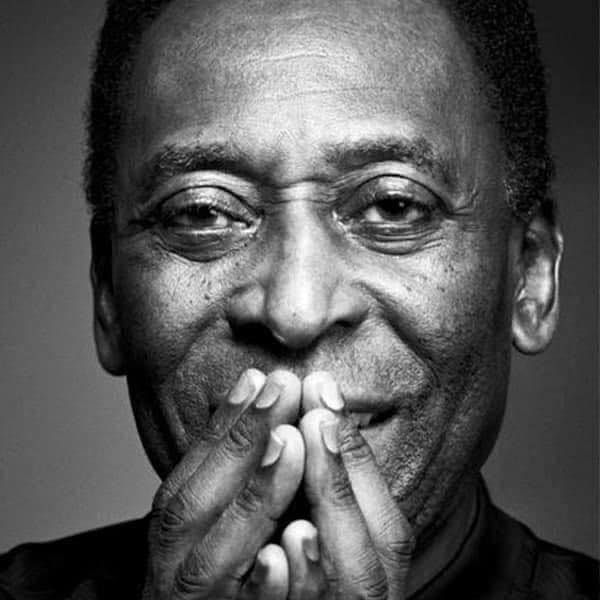 Another milestone he set was scoring the most soccer goals for a single club, Santos FC.
The icon played for two decades at Santos FC throughout his career, and upon nearing his retirement, he moved to New York Cosmos and played for three full seasons.
With a highlight of a 37-year-long career, Pele amassed a $15 million sum.
Declaring a national treasure by the then Brazilian President only boosted his reputation and significantly bumped his paycheck.
While this may be true, the actual salary Santos FC paid Pele is not available to the public. When the Brazilian national treasure started playing for New York Cosmos, he pocketed almost $6 million by the end of his contract.
Pele earned nearly $14 million through endorsement deals & About $15 million from soccer .
The amount he earned during his playing career might seem pale on present-age soccer contracts and wages, but let us remind you he was the highest-paid athlete accounting for every sport.
Pele | Jersey
Pele wore jersey number 10 for the Brazilian national team and a few other clubs. Since the legend of soccer wore the number, number 10 is important in Brazil and different places.
Neymar and Ronaldinho also inherited the same number. Here's a picture of the legendary man wearing his number 10 jersey
Records Set By Pele
Here are a few records set by Pele that stands still today:
Pele scored 92 hat-tricks, equating to 276 goals if we just look at the officially recognized fixtures. Also, he scored more goals in those 92 games than most strikers in their careers.
Pele was the youngest player to score a hat trick in World Cup.
He won the highest number of World Cup trophies.
He also holds the record for having the most World Cup assists.
Pele recorded 95 goals in 114 games for Brazil, and 77 goals from 92 official caps received recognition from FIFA. This makes him Brazils's Record Goal Scorer.
Pele, at 17, was the youngest player to be named to a World Cup Squad. Likewise, he was the youngest player in the world cup.
These records have been broken now. However, Pele is still the youngest player to have won the World Cup.
Movies, Investments, Endorsements & Book Publications
Upon concluding his soccer career, Pele's primary source of income was endorsement deals.
As such, Pele agreed to endorse Puma, Hublot, Volkswagen, Subway, Emirates, and Santander. The retired icon pocketed almost $14 million from his commercial contracts.
In 1994, UNESCO appointed the Brazilian as its Goodwill Ambassador. Due to his inspirational status, Brazilian President Fernando Henrique Cardoso announced Pele as an Extraordinary Minister for Sport.
After a short duration of his ascension to the post, the soccer legend proposed a law to uproot corruption in soccer, now dubbed the Pele Law.
When Pele was accused of laundering money from UNICEF, he chose to resign from the post.
After that, the retired Santos legend founded a television company that acquired the rights to broadcast matches and other international contests.
The company's current status isn't discussed in the media these days.
In his retirement, the legendary soccer player had the chance to reflect upon his achievements, lowest points, and family.
As a result, Pele published several autobiographies.
A celebrity in and out of the soccer world, his books were highly appreciated and became best-sellers in his native Brazil and several other countries.
Career Outside Football
In the same way, Pele officially became an actor in 1969 with the television series Os Estranhos.
Not limited to this, the Brazilian returned to the cinematic world with a few other documentaries and movies, like O Barão Otelo no Barato dos Bilhões, A Marcha, A Minor Miracle, Pedro Mico, Hotshot, Os Trapalhões e o Rei do Futebol, Solidão, and Uma Linda História de Amor.
He appeared alongside Sylvester Stallone, Michael Caine, and other 60s-70s-era players in a telenovela called Os Estranhos and similarly in a cameo role in Pele: Birth of a Legend.
Houses, Lifestyle, & Cars
Often called The King, the star had many financial assets and other properties bought during/after his rise to fame.
The Brazilian owned various cars and real estate, therefore, lived an exquisite life.
Reportedly in January 2018, the Brazilian purchased a house valued at $4 million.
The house has a swimming pool, jacuzzi, sauna, a home office, a sports room, and a parking lot. The compound is estimated to be laid out on a large acre of land.
Similarly, the legend purchased a sweet retreat at 156 Waterhole Road, near East End Waterfront, for $156k.
At present, the property has a value of around $2.5 million. The house is spread over 3400 square foot land, including a pool, an outdoor shower, and deeded access to a nearby beach.
The property also has a spacious, modern kitchen and an entertainment deck with double the standard size of a living room.
The Brazilian owned exquisite cars like Maserati, Jeep, Mercedes, and Fiat.
The star used to highly treasure the cars he used to drive in his youth and had proudly kept them in his vintage collections.
Autograph
Here's a picture of Pele's autograph.
Legacy
Pele, people who do not understand soccer have also heard this name. It is understood as synonymous with the word soccer. Pele, the legendary soccer player, was considered the brand ambassador of soccer worldwide.
The Brazilian government considers him a national hero and a national treasure. When the Nigerian Civil War happened during the 1960s and 1970s, it was announced that Brazil's Santos player would visit Lagos to demonstrate a few exhibition matches.
Pele played in the Santos F.C; The Nigerian authority then called for a two-day agreement so that the country would watch Pele play.
Since his soccer wizardry paused the riots, Pele is also known as the man who stopped the war.
He built a world of redefined soccer where soccer players were cherished even more. He also became the first athlete featured in front of a video game.
A plaque was placed in the stadium to celebrate the goal scored by the legendary soccer player in Rio de Janeiro, Brazil, at the Maracana stadium.
The plaque reads, "On this pitch on 5/3/1961, Pele scored the finest goal in the history of the Maracana".
Utter the word 'soccer,' one in every five people will think of Pele in their subconscious and vice-versa.
Pele was and is considered a role model for thousands of people worldwide, not just for what he did inside the field but also for his great personality.
Health, Disease, & Death
The soccer legend scored the best when his health was at its best. With age, it's inevitable for the human body to suffer from various diseases.
In February 2020, Pele's son announced that the legendary soccer player had suffered from depression and barely left home. However, Pele later denied his son's claim of depression.
He believed he was fine with aging and accepted it as a beautiful phenomenon.
However, his health problems worsened with age, disabling him from moving fluently. The man known for his running and kicking had issues with mobility.
The Brazilian soccer player was diagnosed with bowel cancer in September 2021. Since late November 2022, he had been hospitalized in the Sao Paulo hospital in his fight against cancer after he stopped responding to treatment with chemotherapy.
His family spent Christmas in the hospital after his health slowly deteriorated.
Pele's daughter, Kely Nascimento, regularly posted an update on his health and paid tribute to those administering care to her beloved father through moving posts.
On 29 November 2022, the star died in the Israelita Albert Einstein Hospital in Sao Paolo. It was a sad day in soccer, and the fans worldwide are still grieving his death.
Pele Diagnosed With Covid
On Dec 2022, Goal.com reported that Pele's daughters confirmed that he contracted Covid-19, the virus that caused a lung infection that put him in the hospital.
Then, Pele was reportedly moved to end-of-life care, raising concerns about his future health because he had been fighting bowel cancer since September 2021.
According to the reports, the chemotherapy used to treat the Brazilian had stopped working.
He had all the vaccines but got a lung infection because of the fragile cancer medication and chemotherapy.
Unknown Facts About Pele
Pele started his soccer career when he was just 15.
His real name is Edson Arantes do Nascimento. He was named after Thomas Edison, but 'Edison' became 'Edson' while working with the birth certificate.
His father, Dondinho, was also a soccer player, and he mentored and trained Pele for the longest time.
Pele grew up in poverty and paved the path to becoming the highest-payed soccer player in the world.
The Brazilian government declared Pele 'a national treasure' in 1961.
Pele had been married thrice and also had many affairs.
He happens to be the only player to have won three world cups.
Pele worked for the government as Brazil's Minister of Sports.
Pele had also worked as a United Nations ambassador for the sector of ecology and the environment.
Santos celebrates every November 19 as Pele's day to recognize the 1000th goal scored by the legend.
Nelson Mandela presented Pele with a lifetime achievement award.
Popularity Graph
Pele's popularity graph soared at a plateau pace after he got hospitalized. Since November 2022, the media had constantly been updating about his health as the world was concerned.
There was a time when Pele was on top and known by all the people in the world. The entire world is deeply saddened now that the star has passed away.
Frequently Asked Questions (FAQS)
Was Pele right-footed or left-footed?
Pele could play fantastically with both feet. However, he would play with his right foot most of the time.
When did Pele retire?
Pele played his last game on October 1, 1977, at 36, and retired from his professional soccer career.