It is good to see how youths are growing interest in sports. Similarly, NBA has also given opportunities to many children and turned them into rising stars. One of the rising faces in basketball is Dragan Bender.
Dragan is supremely talented and is currently associated with Maccabi Tel Aviv of the Israeli Premier League and Euro League.
Moreover, he made his NBA debut with the Phoenix Suns. His NBA journey started when he was selected as the fourth overall pick in the first round of the 2016 NBA Draft.
He even plays for the Croatia national team. He is a native of Croatia, and to gain some good name and fame, and he moved to the USA.
Luckily, he got a chance to be a part of the NBA, and now he is doing great with his career.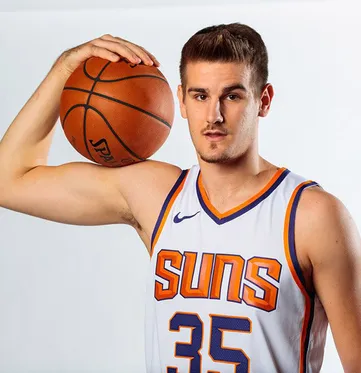 To know more about Dragan, stick with us till the end of this article. Here, we will mention the minor things about Dragan, including his early life, career, love life, and many more.
But before we proceed with our article, it is time to glance at the quick facts.
Quick Facts
| | |
| --- | --- |
| Full Name | Dragan Bender |
| Date of Birth | November 17, 1997 |
| Birth Place | Čapljina, Bosnia, and Herzegovina |
| Nick Name | Unknown |
| Religion | Christianity |
| Nationality | Croatian |
| Ethnicity | Croatian |
| Zodiac Sign | Scorpio |
| Age | 25 |
| Height | 7 ft (2.13 m) |
| Weight | 102 kg (225 lbs) |
| Hair Color | Black |
| Eye Color | Brown |
| Father's Name | Rafo Bender |
| Mother's Name | Bernada Bender |
| Siblings | Ivan Bender |
| Education | Nikola Vujicic School of Basketball |
| Sexual Orientation | Straight |
| Marital Status | Unmarried |
| Girlfriend | Nina Dedic |
| Kids | No |
| Profession | Basketball Player |
| Position | Power Forward, Center |
| Active Since | 2012-Present |
| Affiliation | Israeli Premier League |
| NBA Draft | 2016 |
| Net Worth | $5 Million |
| Social Media | Instagram, Twitter |
| Merch | Lined Composition Notebook |
| Last Update | May, 2023 |
Dragan Bender: Early Life and Education
On November 17, 1997, this talented athlete was born in Čapljina, Bosnia and Herzegovina.
However, he later moved to Croatia. Although from a very young age, Dragan loved basketball, he had immense love for other sports as well.
When he was 12 years old, he started playing basketball as a point guard at Nikola Vujčić academy.
If you don't know who Vujcic is, he is a former Maccabi Tel Aviv star, and for Dragan, he was his coach or, say, guardian angel.
Even though he knew what basketball was, Nikola helped Dragan become a better player as he became more versatile there.
Dragan and his older brother Ivan also used to practice with him. Bender was doing wonders early on and was briefly selected for the Croatian under-16 national basketball team.
NBA has always been a dream for Dragan, and he used to watch tapes of NBA games. Apart from that, he also used to watch EuroLeague videos.
Similarly, Dragan's Father, Rafo Bender, and mother, Bernada Bender, supported him and gave him the courage to pursue his dreams.
Have you any idea who Baron Davis is? If not, you wouldn't want to miss this opportunity to learn about him. Check this article to know him better>>
Dragan Bender: Professional Career
As we already know, Dragan loved basketball from an early age; as a result, he made his career debut when he was just fifteen years old with K.K. Split.
Everyone was surprised when he scored two points in just six minutes. Because of his splendid performance, KK Kaštela signed Bender for the following season, and he had to stay in Croatia.
Due to Dragan's enormous input, he and his team reached the top league of Croatia, A-1 Liga.
The main attraction of the match was when Dragan gave the game-winning shot just when only three seconds were left for the game to finish.
After two years of journey with Kastel, Dragan joined KK Cedevita in 2014. At the end of the season, he scored 21 points, nine rebounds, and six assists.
He has also been on the junior and senior basketball teams of Croatia. Plus, Bender established himself as a good player in these tournaments.
Then, Dragan was signed by an Israeli team named Maccabi Tel Aviv for seven years. He did a tremendous job there and achieved new heights of success.
After that, everyone started recognizing him, and everyone appreciated his games.
Even though Dragan had a seven-year contract with Israel, he had to leave the team in just two years as his name was listed in the NBA, and he had to go to the USA.
As a result, Phoenix Suns had to pay $1.3 million to the Israel team.
NBA Career
Years and hard work paid off when Bender finally got selected in the NBA 2016 draft. Every team manager in the draft wanted Dangar to be on their team.
Bender was famous among all for his shooting techniques and defending techniques. However, Phoenix Suns made a great deal and got Bender on their team.
Besides, Bender also became the Suns' highest-selected rookie after 1987.
For your information, Bender was just a teenager when he played his first match in the NBA.
Unfortunately, his team lost that match, but Bender appreciated his skills and presence of mind during the game.
Nonetheless, Bender had to take a break from his career for a short period due to some health issues, but he rejoined the suns in the 2017 NBA League.
Dragan gave his best shot that season and recorded his career-best 14 rebounds and 14 points.
Besides, in 2018 Dragan was declared a free agent after the Suns' rejected Bender's $5.9 million rookie option for the fourth year.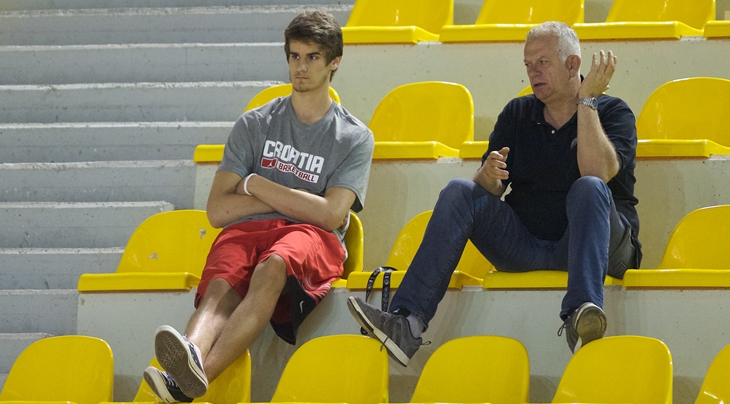 After completing the 2018 season, Dragan joins Milwaukee Bucks. However, Dangar didn't accomplish much when he was associated with Bucks.
After being waived by the Bucks, Bender joined Golden State Warriors in 2020. Nonetheless, this was an exciting contract for just ten days.
However, NBA suspended the 2020 season because of COVID-19. But in the last game, Bender managed to gain his career-best points with 23 points.
Further, Dangar again went to play Isreal Premier League in 2020. Undoubtedly, Dragan is a rising star, and in a short time, he has managed to garner massive success from him. But Dragan still has a long way to go and marks his way to the top.
Dragan Bender: Net Worth
The primary source of Dragan's income is his basketball career. Although he commenced his career at the age of fifteen, it is evident that he has earned quite a good amount of money.
As of 2022, Dragan's net worth is $5 million.
As mentioned earlier, Bender was signed by the Golden States for a ten days contract. Therefore, the state's contract was worth $94,850, which included $94,850 as a guaranteed salary and $9,485 as an annual average salary.
Likewise, in the 2019 to 2020 season Bender will earn $94,850 as a base salary with a cap hit of $91,557 and a dead cap value of $91,557.
While Dragan was drafted to the NBA by Phoenix, giving them $8.7 million for two years.
Regarding his earnings, Bender 2016 earned $4,276,320, while he was given $4,468,800 in 2017.
For the 2018 season, Phoenix paid Bender $4.66 million. Indeed, Bender has earned a lot of money to live a lavish life.
But unfortunately, we have no records of how he spends his money, property, and car collection. But as soon as we find the information regarding his property, we will update you.
Deandre Edoneille Chidike Ayton is a professional basketball player. His life has been full of ups and downs. To know more about him, check out this article. I bet you won't get bored>>
Dragan Bender: Body Measurement
Standing at an incredible height of 7 feet, Dangar is perfect for basketball. His height is his plus point while playing basketball.
Likewise, Bender weighs around 102 kg; he takes exceptional care of his diet as an athlete. His beautiful brown eyes and his black hair complement his looks.
Dragan is a Capricorn, according to his birth chart. People with this sun sign are usually determined, focused, and ambitious. Indeed, Bender is one passionate man; if it were not for his hard work, Dragan wouldn't have been where he is today.
Dragan Bender: Personal Life
Even though Bender is in the field where being flashy and sharing every detail about you makes people attracted to you, Bender likes to keep everything lowkey.
He prefers to keep his personal life private and doesn't talk much about it publicly.
As per sources, we have found that he is dating Nina Dedic. However, at many events, Nina and Bender have been spotted together.
Talking about Nina is currently studying and getting a degree. She is also on her college basketball team with the #13 as a center.
She studies French and Spanish at Filozofski fakultet Zadar
Currently, Bender and Nina are doing perfectly fine and have no plans of getting married anytime soon. They are both into their careers and feel they are too young to think about marriage.
But sadly, we know nothing about how this love story started. But as soon as we find any news about it, we will update you.
Social Media Presence
Dragan is very much active on Instagram and Twitter. We could see some awesome photo collections if you open up Bender's Instagram.
Bender, on his Instagram, mostly shares his pictures of the NBA moments, parents, and brothers sometimes. But he hasn't shared any pictures of his girlfriend.
Likewise, Bender has a huge fan following, and almost 33.9k people follow him on his Instagram.
Now talking about his Twitter account, he has not tweeted since 2013. Only seven tweets have been made, and only 22 people follow this account.
You can also read this article on Becky Hammon. Becky is an NBA athlete. It is not that often you get to hear about female athletes, so you wouldn't want to miss this opportunity to know her>>
Frequently Asked Questions (FAQs)
Did Dragan and Nina break up?
We have already mentioned Dragan is a very private person. However, there is no information on him breaking up with Nina. But if we get any information about his relationship status, we will let you know.
What is Dragan Bender's jersey number?
Dragan Bender's jersey number is 17 for Maccabi Tel Aviv B.C.