Former Kentucky basketball player Terrence Clarke once had a dream of playing in the NBA.

But it remained as he passed away in a car crash in Los Angeles Thursday at the tender age of 19 years old.
He was on the way home from a workout with former teammate BJ Boston.
Boston was in the car behind Clarke's car and he is ok.
Both Boston and Clarke signed with the agency, Klutch Sports for their NBA dreams.
Clarke was only 19 years old and was an NBA prospect who recently declared for the NBA draft.
Adrian Wojnarowski of ESPN also reported the news on Twitter.
He wrote," Terrence Clarke, a Kentucky freshman guard headed for the NBA Draft, died following a car accident in the Los Angeles- area this afternoon, Klutch Sports CEO Rich Paul tells ESPN.
Clarke's mother was at his side when he passed on Thursday. He was 19 years old."
Clarke's agent Rich Paul confirmed the news to ESPN.
"We are saddened and devastated by the tragic loss of Terrence Clarke. He was an incredible, hard-working young man," Paul said.
"He was excited for what was ahead of him and ready to fulfill his dreams."
WKYT also confirmed the sad news on their site.
According to WKYT, a source told the WKYT, the NBA Draft prospect killed in a crash after reportedly working out with BJ Boston.
They also confirmed the News with the Valley Traffic Division of Los Angeles Police.
The sergeant told the WKYT that the accident happened at 2:10 PT on Winnetka Avenue.
LAPD said Clarke traveled at a high rate of speed when he ran a red light.
He hit another car turning left and continued on to then hit a pole and block wall. Police say Clarke was not wearing his seatbelt properly.
Police say he was the only person in the car.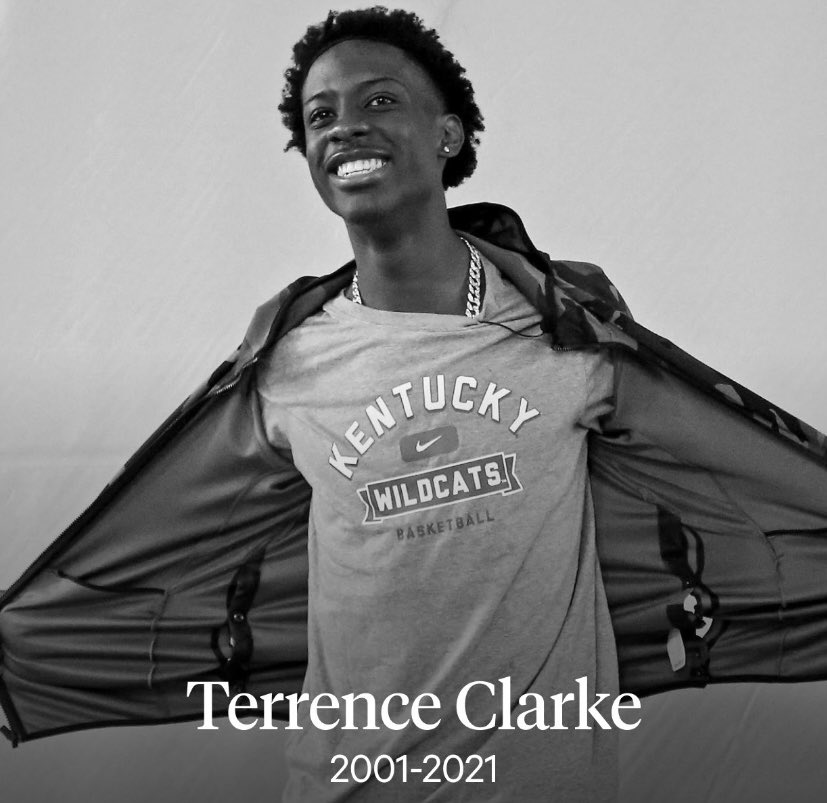 "I am absolutely gutted and sick tonight," Kentucky head coach John Calipari said.
"A young person who we all love has just lost his life too soon, one with all of his dreams and hopes ahead of him.
Terrence Clarke was a beautiful kid, someone who owned the room with his personality, smile, and joy.
People gravitated to him, and to hear we have lost him is just hard for all of us to comprehend right now. We are all in shock."
According to the Police, took Clarke to Northridge Hospital where he was pronounced dead.
"I am on my way to Los Angeles to be with his mother and his brother to help wherever I can.
This will be a difficult period for all those who know and love Terrence.
And I would ask that everyone take a moment tonight to say a prayer for Terrence and his family. May he rest in peace."
Clarke chose Kentucky over other colleges.
Terrence Clarke, a native of Massachusetts started his basketball journey at Brewster Academy in New Hampshire.
He then signed with Kentucky over Duke, Memphis, Boston College, UCLA, and Texas Tech.
"I chose Kentucky because of the legacy," Clarke said when he signed with Kentucky.
"I want to be a part of this history and leave my mark on a program that has helped other players reach their full potential in college and maximize their time at Kentucky.
Looking back at players like Devin Booker, Shai Gilgeous-Alexander, Jamal Murray, Tyler Herro, and even more.
Their next step was not certain until they put in the work at Kentucky and made it happen on the big stage.
That's a challenge I want to take on and work for to be the best me next year."
Clarke suffered a leg injury due to which he played in only eight games at Kentucky as a starter for six of eight games.
He averaged 9.6 points, 2.6 rebounds, and 2.0 assists per game as he scored in double figures in four of his first five games.
In his debut for Kentucky, he made 12 points, four assists, and three steals as Kentucky win over the Morehead Stare.
He eventually gave his best performance against Georgia Tech.
He finished with 22 points and three assists, going 9-14 from the floor with three 3-pointers.
His incredible performance came to half after the injury suffered in the game against the North Caroline.
However, his previous incredible performance resulted in having the chance in the NBA Draft for 2021.
Clarke dreams of the NBA.
He eventually declared for the NBA Draft last month after being eligible despite the challenging freshman season.
When he missed two months of action due to an ankle injury.
CBS is reporting that Terrance Clarke, the Kentucky guard who was expected to be picked in this year's NBA Draft, has passed away in a tragic car accident.

RIP. pic.twitter.com/yuyYcFdCDZ

— Legion Hoops (@LegionHoops) April 23, 2021
"As an adolescent, having the privilege to put on the Kentucky uniform and play in front of the BBN was always a lifelong goal of mine," Clarke said when he declared for the Draft.
"Although it was hindered due to things out of my own control, the experience is something I will keep with me forever.
I have grown a lot with this experience and I will never take it for granted.
After discussing it with my family, I have decided to renounce my eligibility and declare for the NBA Draft.
I had high expectations coming into this season and, of course, didn't expect to be injured, which I understand is part of the game.
Thank you to Coach Cal, the coaching staff, and my teammates! BBN, I hope to make you all proud as I pursue my dreams."
Clarke was a projected lottery pick entering the season. He was at No. 72 in the most recent version of ESPN's top 100 best available prospects for the draft.
It is absolutely heartbreaking to see a prospect for greatness losing a chance to live his dream at such a tender age.
May he rest in peace and our prayers are with his family, friends, and everyone precious in his life.