A grad of the University of Washington, American NFL player Drew Sample currently plays for the Cincinnati Bengals. The Bellevue native with jersey number #89 assumes the tight end (TE) position.
Sample saw his doors open to NFL at 23 after the Bengals embraced him at the 2019 NFL Draft as the second round with the 52nd overall pick.
Thanks to his impressive college stat of 46 receptions and five touchdowns with the Washington Huskies.
Besides a successful NFL career already on a 4-seasons run, Drew enjoys a blissful married life with his wife, with whom he shares two daughters.
Drew Sample is an exemplary player! From a professional standpoint, to how you carry yourself to your maturity and how you interact with teammates, he is the epitome of what it should look like every day.
Want to know more about the Cincinnati Bengals' tight end? Check out the article that delivers insights on Sample's career, personal life, net worth & more.
Drew Sample Quick Facts
| | |
| --- | --- |
| Full Name | Drew Sample |
| Date of Birth | April 16, 1996 |
| Age | 26 years old |
| Birth Place | Bellevue, Washington |
| Nationality | American |
| Ethnicity | White |
| Zodiac Sign | Aries |
| Chinese zodiac | Rat |
| Height | 6 feet 5 inches (1.96m) |
| Weight | 115 kg (255 lbs) |
| Hair Color | Brown |
| Eye Color | Brown |
| Father's Name | Andrew Sample |
| Mother's Name | Not known (goes by IG handle @supersample) |
| Siblings | 2 (a younger brother & a younger sister) |
| High School | Newport High School (Bellevue, Washington) |
| University | University of Washington |
| Marital Status | Married |
| Wife | Angelina Danylyuk |
| Marriage year | 2018 |
| Children | Two daughters |
| Profession | Football player |
| Position | Tight end |
| Jersey Number | 89 |
| Leagues | NFL |
| NFL Draft | 2019, Round: 2, Pick: 52 |
| Debut Year | 2019 |
| Food Habits | Nonveg |
| Tattoos | None |
| Religion | Christianity |
| Team | Cincinnati Bengals (2019- Now) |
| Net Worth | $2 Million |
| Social Media | Instagram, Twitter |
| Merch | Football Card |
| Last Update | March, 2023 |
Drew Sample | Family, Age, Height, And Body Measurements
Drew Sample was born in Bellevue, Washington, on April 16, 1996. His early days were in his hometown- from high school to the University before he moved to Cincinnati to pursue an NFL career.
Even though the NFL star is private regarding his early life, his passion for football befriended him from a young age without a doubt.
Mr. Sample prefers to keep most of his family details under wraps but can't help himself to share pictures of them on his Instagram. His father is Andrew Sample, while his mother goes by @supersample on Instagram.
Drew has a younger brother named Cal Sample (birthday on October 5) and a younger sister named Logan Rae Sample.
As an April-born, Sample's zodiac sign is Aries, while as per the Chinese zodiac calendar, he was born in the 'Rat' year.
The brown-haired NFL player is 26 years old.
With a bulky built physique, Drew stands 6 feet 5 inches (1.96 m) tall and weighs 115 kg (255 lbs). His arm spans 0.85 m (33/46 inches), and his hand spans 0.25 m (9.85 inches).
Unlike most NFL players, the player does not enjoy tattoo inkings.
Education and Collegiate Career
As an attendant of Newport High School (NHS), Drew Sample competed in school football. To no surprise, his gameplay caught the eye of many.
In 2013, he got offers from the Air Force Falcons and The University of Texas at El Paso, Northern Arizona University, and Boise State University.
Even though Sample initially committed to Boise State but later accepted an offer from the University of Washington. On February 05, 2014, he signed a letter of intent to Washington and enrolled at the University, playing for Washington Huskies.
On June 10, 2018, the former NCAA player graduated and shared pictures from the moment on Instagram.
Game Stats At College
While at college, in his junior year, Drew made 5 receptions for 45 yards (averaging 9.0) through 5 game appearances.
During the 2016 season, he participated in all 14 games and started 11 of them. Drew also caught two passes for 27 yards in the Husky victory at Utah, earning the UW lineman of the week award.
Drew played in 10 games, starting eight of them in the 2017 season. He was also named Academic All-Pac-12 honorable mention. He started the Huskies' season-opening victory over Rutgers.
The best came in his last season (2018 season) when he made 25 passes for 252 yards (10.1 average) with three touchdowns that saw him an honorable mention of All-Pac-12 honors.
The overall college stats read 46 receptions, 487 yards (an average of 10.6 yards per reception), and five touchdowns.
Collegiate Awards
Academic All-Pac-12 Second Team – 2018
Honorable Mention All-Pac-12 – 2018
Honorable Mention Academic All-Pac-12 – 2017
2016 Honorable Mention All-Pac-12
2016 Honorable Mention Academic All-Pac-12
Moreover, ESPN ranked the player as the No. 4 overall prospect in Washington and the No. 16 tight end in the country.
You May Like: Top 10 Best NFL Hall of Famers
Drew Sample | Scouting Report
Players who put forth effort are fun for coaches to coach and fun for scouts to watch–and without a doubt, Drew Sample is one of them.
In-line tight end with previous blocking and receiving experience, Drew has the stature to start as a tight end and has the potential to be a mismatch in man coverage.
Likewise, the player has natural hands when targeted, extends well from his frame, looks the ball in, and doesn't have a drop profile.
Similarly, according to his scouting report, Drew has the size and strength to move edge defenders in the run game and loves to block and attack opponents with a mean streak.
Coaches hugely respect Drew for his tenacity and passion for football. Even more, they credited him as one of the top blocking TEs in the NFL. The player was also the recipient of the Tough Husky Award and the Don James Perseverance Award, both given by the Washington team.
Professional Career Of Drew Sample | NFL Draft, Journey, And Injury
On April 26, 2019, the National Football League (NFL) team Cincinnati Bengals picked Drew as the 52nd overall pick in the second round of the 2019 NFL Draft.
After that, he signed a 4-year contract with the Bengals, ensuring commitment through the 2022 season. As a rookie, the Washington-born tight end made nine-game appearances (starting in two games), booking 5 catches for 30 yards.
But after an ankle injury, Drew Sample was put on injured reserve (IR) on December 7, 2019, missing out on games of weeks 11, 12, 13, and 14.
Due to the early season-ending injury to starting tight end C. J. Uzomah in 2020, Sample got more showtime. He participated in 16 games (starting squad in 13 games) during the 2020 season and recorded 40 passes for 349 yards and a touchdown.
The 2021-22 season saw him 8 starts on 17 game appearances, where he made 11 passes for a total of 81 yards.
Injury Update- Is Drew Sample Okay Now?
The 2022-23 season didn't kick off well for Sample as he faced a season-ending injury during their Week 2 loss against Dallas in August 2022.
The officials confirmed Sample was on injured reserve on October 3, 2022, likely pointing out to miss most of the games, if not the entire season.
In late September 2022, the Bengals tight end underwent right knee surgery and posted an Instagram post following the surgery. He wrote, "Things turn out best for the people who make the best of the way things turn out."
As of December 2022, Drew Sample is currently in recovery.
Who Is Drew Sample's Wife? How Did They Meet?
The Cincinnati Bengals player is married; his wife's name is Angelina Danylyuk from Puyallup, Washington, but she was actually born in Ukraine. Her birthday falls on October 8, yet further detail about her profession or early life is a mystery.
Angelina, who also goes by 'Ang,' wed the love of her life, Drew Sample, after 3 years of dating. The two exchanged vows on July 22, 2018, at Columbia Winery in Woodinville.
At the time of the wedding, Sample was still at college, playing for the Huskies in his final season, while Angelina was a student at Seattle Pacific.
They spent a week in Playa del Carmen, Mexico, for their honeymoon before returning to Seattle before the Washington Huskies camp opened.
Both are deeply in love with each other and often tag each other on adorable posts on social media. They keep on replenishing pictures from their wedding moments on their anniversaries.
While fans are curious about how the duo met, they have not talked much about it, but they reportedly met in 2014.
But the love didn't bloom immediately-they began dating only in 2015. In an Instagram post of April 20, 2017, Drew shared a picture with his girlfriend (now wife) on the occasion of 2 years of relationship.
View this post on Instagram
On October 9. 2017, they announced their engagement via Instagram. It was the day after Angelina's birthday. A perfect birthday gift!
Drew Sample seemed down on one knee and proposed to her with a ring, and wrote:
"She said YES!💍❤️ I am so lucky to have this beautiful woman in my life. I can't wait to spend the rest of my life with you by my side!"
The two are now parents of two kids.
Also Read: Who Is Evan McPherson's Girlfriend?
Sample And Danylyuk Share Two Children
Drew and his wife, Angelina, became parents after a year of marriage. They welcomed their daughter, Alivia Rose, on August 24, 2019, at 12:11 am. Saturday at Christ Hospital in Cincinnati.
Reportedly, Alivia's birth was almost a month ahead of the due date.
Her
early
arrival
actually
coincided
with
the
beginning
of
the
season. The Bengals had an off day on Saturday while they were in the hospital for most of Friday before Alivia was born overnight.
Upon her arrival, the player wrote on Instagram:
"Alivia Rose Sample👶❤️ 6 lbs 7 oz 20in born 8/24 at 12:11 am We are so incredibly blessed to welcome this little angel into the world, albeit a month early! We are so thankful that her and mamma are healthy and doing great! @mrs.sample89 was so amazing and we are so excited to start this new journey together! #fatherhood #newparents"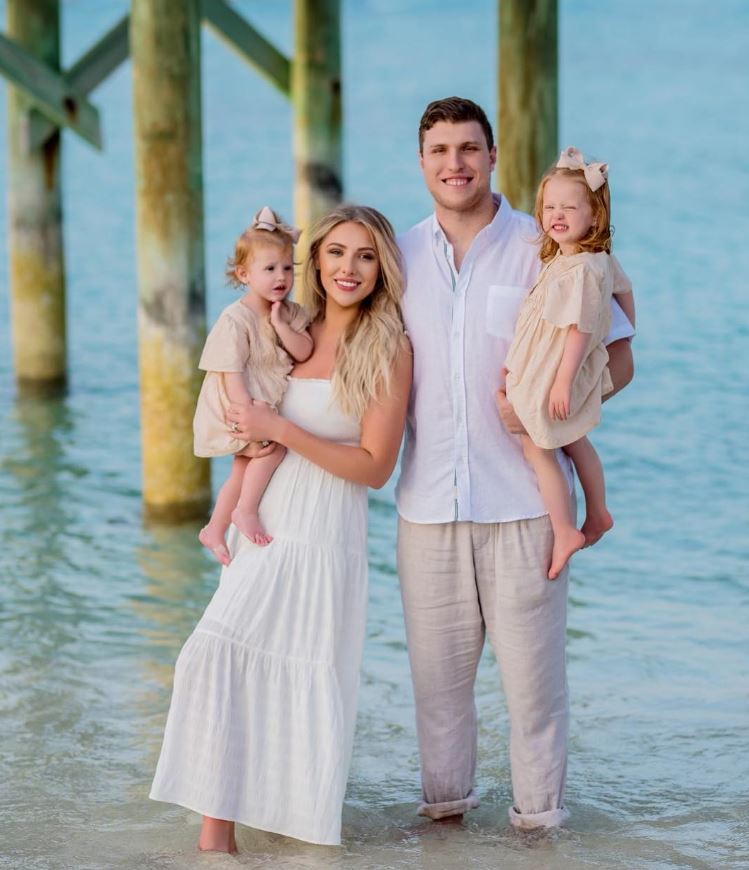 The couple gave birth to another baby girl on December 12, 2020. The baby's weight at the time of birth was 8lb 1oz, and her height was 21 inches. The couple named her Savannah Ann Sample.
Drew finds it really fascinating to be a father to two adorable daughters. He is also thankful to have a wife who supports him in everything. We cannot disagree that together, the Samples make an adorable family!
Angelina's Family Was In Ukraine
In March 2022, during an appearance on Fox & Friends, Angelina talked about her family, who was stuck in Ukraine after Russia's invasion.
She claimed that due to a lack of connections outside of Ukraine, her family has no plans to leave the country as refugees and move to a neighboring nation.
During Russia's military intervention, which prompted numerous international sanctions and a UN condemnation, Angelina told the TV network that she stayed in touch with family members.
Drew Sample and Angelina Danylyuk seem to be doing everything they can to move their family to a secure location because of how difficult the situation is in Ukraine due to ongoing issues.
It's dangerous for them, so they've been trying to see if there's anything they can do to get them to a safe place so they can leave, claims Drew.
Drew Sample Net Worth | Contract & Salary
Drew Sample, the NFL player, has a net worth of approximately $2 Million. The player's main source of income is playing football, to-be-precise, his millions of dollars worth of contract.
On May 16, 2019, the American NFL star to a four-year deal worth $5.5 million with Cincinnati Bengals.
Overall, the contract buffed him up with an average annual salary of $1.376 million, a $2.024 million signing bonus, and $2,769,866 in guaranteed money.
Likewise, Sample will have a cap hit of $1,752,003 and a base salary of $1,245,858 in 2022. Find his current contract details below:
2022 Salary Cap Charge: $1,752,003 (0.83% of cap)
2022 Cash Payout: $1,245,858 (0.59% of spending)
2022 Cash to Cap Ratio: 0.71
Contract Value: $5,506,296 ($1,376,574 APY)
Fully Guaranteed Money: $2,769,866
Contract Ranking: 48/202 at TE
Currently, in the last year of his rookie contract, Drew Sample will be a free agent after the end of the 2022-23 season.
Following his knee injury at the beginning of the 2022 season, the NFL star is yet to make any appearances. Moreover, no teams have made a deal to sign the tight end so far. But if he does get a deal, it could mean another million dollars in the pocket.
Besides, he also earns from endorsements- he endorses Tide Laundry and Nike. Moreover, on his Instagram, he partnered with a vitamin supplement company, NOW Foods.
Frequently Asked Questions (FAQS)
What is Drew Sample's jersey number?
The NFL player Drew Sample wears jersey No. 89 for the Cincinnati Bengals.
How much does Drew Sample make?
For the 2022-23 season, which is Drew Sample's last year of the rookie contract, his base salary is $1.245 million. In 2019, he signed a 4-year contract with the Bengals.
Is Drew Sample from Ukraine?
No, Drew is not from Ukraine. He was born in Bellevue, Washington. However, his wife is from Ukraine, and many of her family members are in Ukraine.
Is Drew Sample injured?
Yes, Sample is currently on injured reserve. During the Week 2 game against Dallas, he suffered a knee injury. He underwent surgery in September 2022, and was put on injured reserve in October that year.