Duke Kahanamoku was a renowned native Hawaiian competition swimmer who has advertised and popularized the ancient Hawaiian sport of surfing. He had won the Olympic medal in swimming five times that made him more popular. He was also considered a Scottish Rite Freemason, a law enforcement officer, a Shriner, an actor, a businessman, and a beach volleyball player.
He was born on August 24, 1890, and died on January 22, 1968. He is not with us right now, but the following top 6 quotes by Duke Kahanamoku are immortal, which are helpful.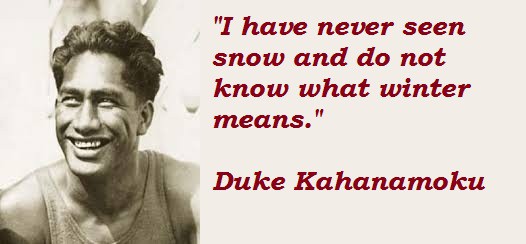 "I have never coasted down a hill of frozen rain."― Duke Kahanamoku.
"Just take your time – wave comes. Let the other guys go, catch another one."― Duke Kahanamoku.
Valeri Bure Age, Height, Net Worth, Family, Kids, Wedding, Stats, NHL, Contracts
"Every day of the year where the water is 76, day and night, and the waves roll high, I take my sled, without runners, and coast down the face of the big waves that roll in at Waikiki."― Duke Kahanamoku.
"I have never seen snow and do not know what winter means."― Duke Kahanamoku
"Out of the water, I am nothing."― Duke Kahanamoku.
"Don't talk – keep it in your heart."― Duke Kahanamoku