Candance Cameron has achieved a lot from her acting career. While people were busy catching up with the 'Full House' reruns, this actress was busy making a family. Well, it all happened when she met Valeri Bure.
Valeri is a retired professional ice hockey player who played ten seasons in the National Hockey League(NHL) for those who don't know.
During his time on the ice, Bure played for teams like Montreal Canadiens, Calgary Flames, Florida Panthers, St. Louis Blues, and Dallas Stars.
He is successful in terms of career building and when it comes to making a family. Today, we will be focusing more on his family and personal life, including his early life and childhood.
Make sure to read till the end to find more about his life and, of course, his time on the ice.
Valeri Bure: Quick Facts
| | |
| --- | --- |
| Full Name | Valeri Vladimirovich "Val" Bure |
| Birth Date | June 13, 1974 |
| Birth Place | Moscow, Russian SFSR, Soviet Union |
| Known as | Valeri Bure |
| Religion | Unknown |
| Nationality | Russian-American |
| Ethnicity | White |
| University | N/A |
| School | Chatsworth Charter High School |
| Horoscope | Gemini |
| Father's Name | Vladimir Bure |
| Mother's Name | Tatiana Bure |
| Siblings | Two |
| Age | 48 Years Old |
| Height | 5 feet 10 inches (178 cm) |
| Weight | 82 kgs(181 lbs) |
| Build | Atletic |
| Profession | National Hockey League Player |
| Active years | 1990-2004 |
| Shot | Right |
| Position | Right Wing |
| Marital Status | Married |
| Wife | Candance Cameron |
| Children | Three Children |
| Net Worth | $14 million |
| Social Media | Twitter |
| Merch | Signed Hockey Cards |
| Last Update | August, 2022 |
Who is Valeri Bure? Where is he from?
Valeri Bure, whose full name is Valeri Vladimirovich "Val" Bure born in Moscow, Russia, Soviet Union.
He is the younger son of his father, Vladimir, and mother, Tatiana Bure. Also, Valeri is the brother of a professional ice hockey player, Pavel Bure.
Likewise, the family originally came from Furna, Switzerland, who had a story as an Olympic swimmer and had four medals to their name. Also, Bure's ancestors were craftsmen and watchmakers and were granted noble status.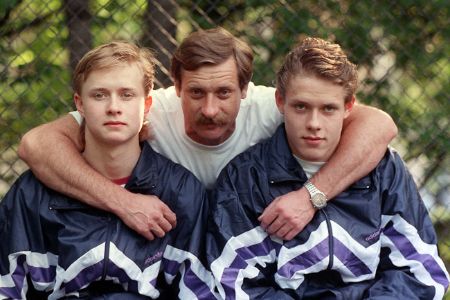 Not to mention, Valeri was just nine years old when his parented divorced. After that, he joined his father and brother and eventually moved to North America.
When his mother came two years later, the whole family settled in Los Angeles, where Bure's father continued training him and his brother, Pavel.
But by 1998, the two brothers became estranged from their father and his second family. None of them revealed the real reason for it.
Age and Body Measurements- How old is Valeri Bure?
When it comes to an athlete, a healthy mind and body must give stellar performances. Trained by his Olympic medalist father, Bure has built a balanced and robust physique under his coaching.
Likewise, Valeri stands at 5 feet 10 inches(178 cm) and weighs around 82 kgs(181 lbs). Thanks to his years of training in ice and maintaining his diet, he has helped him achieve a perfect athlete.
Even after retiring and also at the age of 46, Valeri is youthful and healthy. The Dallas Stars' Valeri was born on June 13, 1974, and his sun sign happens to be Gemini. And from what we know, people of this sign are known to be out-going, smart, and free-spirited.
Who is Candace Cameron Bure's husband?- Personal Life and Wedding
Valeri and Candace were both young but accomplished in their careers when they first met.
The young lovers met at a charity hockey game where Candance's on-screen uncle, Dave Coulier, set them up. Talking with Today, Candace re-called how she met Val.
"Dave Coulier, who played Joey on Full House is a big hockey fan, was at a celebrity charity game playing and he invited the cast down. He pulled me over to the side and said,' I met this really cute Russian hockey player and I want to introduce you,"
To this, she added,
"Val had just come from Moscow, Russia and it turned out he would watch Full House to learn English."
Likewise, the two instantly clicked and starting dating. Despite being busy, they kept on meeting, and within a year, the pair got engaged. And after dating for two years, the lovebirds exchanged vows on June 22, 1996.
Following their 23rd anniversary, the actress shared a picture with a sweet caption and revealed how faith was the main reason that glued their marriage.
"It's the Bible. You know, when there are arguments or we're compromising, it's always like, 'Well, let's just go back to the Bible.' It's the foundation for us. So it's not about winning or losing, but doing this journey together."
Valeri and Candace have three children together.
Candace and Valeri have been together for more than 24 years now. Still happily married, the two are also a parent of three beautiful children.
The actress gave birth to their first child, a daughter named Natasha Bure, on August 15, 1998.
Almost 21 years, Natasha is often mistaken for being her mother's twin. Since Val is secretive, it is young Natasha who accompanies her mother in most of the award shows and red carpet events.
Moreover, they even hosted the MovieGuide Awards together.
At the moment, Natasha is an emerging YouTube talent and is busy modeling, singing, and filming. She even took part in the former season of The Voice but failed to make it to the final.
Following Natasha's birth, Candace then gave birth to their second child, this time a son named Levi Valerievich Bure, on February 20, 2000.
And from the looks of it, he clearly inherited the genes from his father, Val.
Not only that but young Levi started his hockey career with the Odessa Jackalope, a junior hockey team based in Texas.
Well, his sister, Natasha might not have found her someone, but Levi definitely has! Back in 2018, he was revealed to be in a public relationship with Bella Robertson, the daughter of Willie Robertson of Duck Dynasty.
Finally, on January 20, 2002, the family welcomed the new member, Maksim Valerievich Bure. Being the youngest in the family, he is often referred to as "baby" by others.
And just like his brothers, Maksim also plays hockey. At the moment, the family of five is living a comfortable life in their mansion in Malibu, California.
Val even retired from the NHL in 2004 in order to spend quality time with his family. But after spending some time away from hockey, he picked another passion for food and opened his own winery in California called Bure Family Wines.
Similarly, Candace even stepped away from the movie industry for a while. In an interview with US Weekly, she spoke about her choice.
"I wanted to be a stay-at-home mom while my husband played hockey. I love the industry, but work is work. It can stop."
Valeri Bure – Professional Career: NHL Player
Following his brother's step and under the supervision of his father, Valeri commenced his ice hockey career.
Upon his arrival in North America, he proved to be eligible to play junior hockey and joined the Spokane Cheifs of the Western Hockey League(WHL).
Likewise, he became the first Russian player in history to play in the league. Then at the 1992 NHL Entry Draft, the Montreal Canadiens selected him in their second-round pick, 33rd overall.
After turning professional, Valeri spent most of his season with Montreal's American Hockey League(AHL) affiliate, the Fredericton Canadiens.
Together with his linemates Saku Koivu and Oleg Petrov, they were known as the 'Smurf line" since they were under six feet.
With 50 games in, Val was traded for the Calgary Flames in February 1998 as the youngest Flames player.
There he recorded his first career hat trick against the Edmonton Oilers. With his offensive ability, Val emerged as the leading scorers on the team. He lived up to this title more after the departure of Flames' star, Theoren Fleury.
Similarly, by mid-December, Val became the eighth in league scoring with his speed and skating ability.
After his time in Flames expired, Val played for teams like St. Louis and Dallas. But following his multiple injuries and surgeries, at the age of 31, Bure opted to retire from his professional ice hockey career.
In 2007, Bure, with his wife, opened a Florida restaurant called 'The Milk and Honey Cafe' but closed it to move to California. After that, he fell in love with wine and opened his winery.
"I fell in love with the behind-the-scenes work and being able to start from the vineyard and put it into a bottle. It's an amazing process."
Furthermore, Bure modified the Russian imperial seal his great-grandfather stamped on his watches to use as his company's label.
Valeri Bure – Rookie Card
Here's a picture of Valeri Bure's rookie card:
What is Valeri Bure's net worth? – How much does he earn in a year?
As we know, Valeri Bure is a retired ice hockey player who has earned a net worth of $14 million from his successful career. During his professional career, Bure played in 10 NHL seasons, including Montreal Canadiens, Florida Panthers, Dallas Stars, and more.
Likewise, as a professional hockey player, he made around $22.5 million in salary. In his peak season in 2003-2004, Bure was paid $3.1 million for playing with the Florida Panthers.
Aside from this, Bure also had his fair share in real estate. In September 2001, Valeri and his wife, Candace, bought a $1.377 million home in Plantation, Florida, where he lived while playing for the Florida Panthers.
Around 2012, Bure purchased a two-acre rural home in St. Helena, California. Not to mention, they sold the house in 2015 for $1.455 million. Then they bought another house in Malibu, California, for $2.355 million.
Valeri Bure – Social Media Presence
Twitter-- 7,039 Followers
Common Queries about Valeri Bure
What jersey number did Valeri Bure wear?
Valeri Bure wore jersey number 20 for the Montreal Canadiens of the National Hockey League.
Which accent does Valeri Bure have?
Valeri Bure has a light Russian accent while speaking English. Here's a video of him speaking English: