Gerald Ellis "Dusty" Hannahs III is an American professional basketball player for the Santa Cruz Warriors of the NBA G League as a shooting guard.
Talk about charm and basketball skills! Dusty Hannahs has an outgoing personality as a three-point specialist, which has helped him acquire a fanbase.
Despite being known typically for his three-point shooting, Hannahs has been an intriguing G-League prospect.
Besides Santa Cruz, he has also played for other teams like Memphis Hustle, Memphis Grizzlies, and Kolossos Rodou.
Additionally, Hannahs played for Texas Tech Red Raiders and Arkansas Razorbacks during his collegiate career before starting his professional career.
We will discover more about this player in the article. But first, let's start with the quick facts table;
Quick Facts
Full Name
Gerald Ellis "Dusty" Hannahs III
Date of Birth
September 2, 1993
Birth Place
Little Rock, Arkansas
Nick Name
Dusty
Religion
Christianity
Nationality
American
Ethnicity
White
Zodiac Sign
Virgo
Age
30 Years Old
Height
6'3″/1.90 m/190 cm
Weight
95 kg/210 lb.
Hair Color
Black
Eye Color
Black
Build
Athletic
Father's Name
Gerald Ellis Hannahs
Mother's Name
Lynnette Hannahs
Siblings
Madison Hannahs and Blake Hannahs
Education
Pulaski Academy (Little Rock, Arkansas)
Texas Tech
University of Arkansas
Marital Status
Unmarried
Girlfriend
Gabrielle
Profession
Basketball player
Position
Shooting Guard
League
NBA G League
Affiliations
Memphis Hustle
Memphis Grizzlies
Kolossos Rodou
Santa Cruz Warriors
Adelaide 36ers
Active Years
2017-present
Net Worth
$48,461 average salary
Social Media
Instagram, Twitter
Last Update
November 2023
Early Life & Family
Gerald Ellis "Dusty" Hannahs III was born to his parents, Lynnette Hannahs and Gerald Ellis Hannahs, on September 2, 1993, in Little Rock, Arkansas.
He has two other siblings, Madison Hannahs and Blake Hannahs.
Childhood Days
Hannahs spent all his childhood in Little Rock and spent his days working on his skills. To elaborate, his father would make him work hard on his basketball skills for hours and hours.
Dusty revealed that all the credit for his success goes to his father. Back in the days when he couldn't score at a rec center, his father left him there and locked him outside of the house.
Therefore, all he had to do was sit out and practice basketball for hours.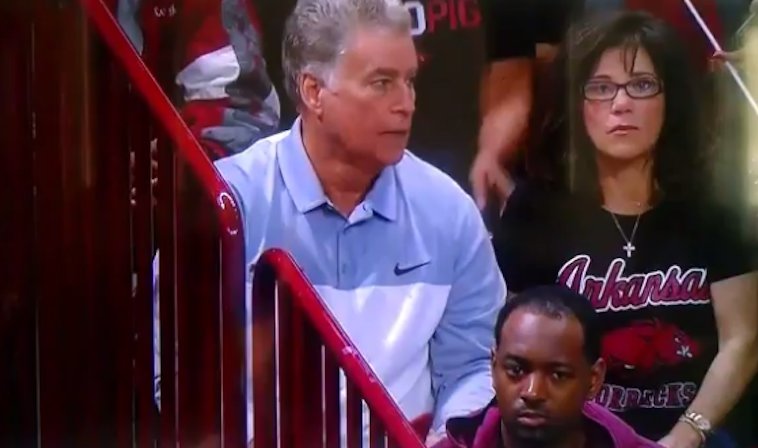 He faced a similar situation during his freshman year in high school. He practiced his basketball skills days in and days out, and his father was always strict with his training.
All in all, Hannahs had stated he felt that he needed to push himself to that extent to improve.
However, after Hannahs revealed about his childhood, it took controversial ground; some even stated that his father was a child abuser.
Having said this, Dusty did have his share of response to it. Everyone had their way of seeing this particular situation.
However, his father didn't abuse him, and all the sourness was for his own sake and improvement.
This might appear as contradicting parenthood to that of western society, but in the Asian household, it's referred to as normal parenting.
Who Is Dusty Hannahs' Father, Gerry Hannahs?
Let me tell you first, sports and athleticism run in their gene. Mr. Gerry Hannahs (born on March 6, 1953) is a former professional baseball pitcher in Major League Baseball (MLB).
Although he had a short-lived career of four seasons and 16 career games, he had left his impact on the ground.
Gerry played for teams like Montreal Expos and Los Angeles Dodgers during his professional career.
He had also played as part of the University of Arkansas. As a professional, he was the first Expos pitcher to earn a victory at Olympic Stadium.
"Dusty" Was Named After?
Yes, Dusty Hannahs' name has a fascinating story. His father named young Dusty after Washington Nationals manager Dusty Baker.
His name came as an honor for his father's close friend. Initially, his father met Dusty Baker during his rookie season in Montreal.
Later, they were reunited as teammates in Dodgers, where they naturally connected. In addition to that, he was quick to choose a nickname for his son.
Education & College Stats
Hannahs attended the Pulaski Academy for his high school education, where he was also part of the basketball team.
In his high school career, Dusty was a three-time All-District selection. He finished his junior season with an average of 26.2 points.
In his senior year, he averaged 20 points per game, leading his team to the 4A state championship game.
Moreover, he was named first-team 4A All-State in his junior and senior seasons with the Bruins.
Texas Tech
After high school graduation, Dusty devoted himself to the Texas Tech Red Raiders basketball team, where he stayed until his sophomore season.
In his two seasons with the team, he posted an average of 7.3 points, 0.8 assists, and 0.5 blocks in 63 games.
For the 2014-15 season, he transferred to the University of Arkansas and redshirted the season.
The University of Arkansas
In his first season with the Razorbacks, he recorded an average of 16.5 points, and 0.9 assists in 32 games.
Following it, he even led the team to the Southeastern Conference (SEC) and registered 81 three-pointers and a 43.3 three point percentage.
Dusty ended his college career with 15.4 points per game and an 88.9 free throw percentage.
Not to mention, he was only the fifth Arkansas player to score 1,000 points in two seasons.
Collegiate Career Stats
Year
Team
GP
GS
MPG
FG%
3P%
FT%
RPG
APG
SPG
BPG
PPG
2012–13
Texas Tech
31
17
22.4
.393
.374
.806
1.1
.4
.5
0.0
6.9
2013–14
Texas Tech
32
10
22.1
.378
.369
.923
1.3
1.4
.4
0.0
7.7
2014–15
Arkansas
Did not play – transfer
2015–16
Arkansas
32
20
27.1
.458
.433
.870
2.4
.9
.6
0.0
16.5
2016–17
Arkansas
37
23
24.7
.439
.387
.908
1.7
1.2
.4
.1
14.4
Career
131
70
24.1
.428
.395
.888
1.7
.9
.5
0.0
11.5
Professional Career
Initially, Dusty was to play for the overseas team AZS Koszalin of the Polish Basketball League. However, he later committed to the Memphis Hustle of the NBA G League.
Memphis Hustle
After signing the contract in October 2017, Dusty appeared for the Hustle for two seasons.
As for his first professional season, the shooting guard posted an average of 9.2 points per game with 44.1 percent on three-point as Hustle's sixth man.
Overall, Dusty ended his tenure with the Hustle, averaging 14.5 points, 1.8 rebounds, and 1.4 assists in 49 games.
Not to mention, he had also led the G League with a 92.6 free throw percentage, and participated in the 2019 G-League Camp.
Memphis Grizzlies
After Hustle, Memphis Grizzlies signed Dusty on a ten-day contract initially. During that tenure, Hannahs made his NBA debut in a 113-96 loss against the Los Angeles Clippers, where he played 13 minutes total in the game.
Dusty appeared in two games for the Grizzlies before getting waived. However, by the end of the season, he was named on the Grizzlies roster for the 2019 NBA Summer League.
Following it, he played for the G League International Challenge in Montevideo, Uruguay.
In the tournament, he maintained an average of 14 points per game and landed himself a new contract with the Grizzlies on October 14, 2019.
His new contract did not last long, as in the very next day, the shooting guard was waived by the team.
Back To Memphis Hustle & Grizzlies
Dusty returned with the Hustle for his third season and was named the G League Player of the Week on December 2, 2019. This honor was because of his exceptional 28 points against the Oklahoma City Blue and 32 points against the Maine Red Claws.
Overall, he maintained an average score of 21.4 points per game and was named third-team All-NBA G League and Midseason All-NBA G League for the Western Conference.
His second stint with the Grizzlies activated after signing a second 10-day contract on February 21, 2020, and was waived on February 27, 2020, without getting to play a single game.
The shooting guard tried his luck with Kolossos Rodou of the Greek Basket League, but was not able to stay with the team citing family matters and parted ways on December 22, 2020.
Santa Cruz Warriors
Later, the Memphis Hustle acquired the returning rights to David Stockton from the South Bay Lakers in exchange for Hannahs' returning rights, which was later traded to the Santa Cruz Warriors for a 2022 first round pick.
Dusty was included on the active rosters list and debuted for the team on January 12, 2021.
He played 13 games with the team and averaged 11.5 points, 2.2 assists, and 0.8 steals per game before leaving for Australia.
Adelaide 36ers & Second Stint With Santa Cruz
The professional basketball player signed with the Adelaide 36ers for the 2021–22 NBL season.
Hannahs joined Santa Cruz Warriors roster for training camp on October 24, 2022. For the 2022-23 season, he averaged 18.1 points, 3.1 assists, and 0.5 steals in 24 games.
Career Achievements
Dusty Hannahs has marked his name on the team as one of the best shooters. During all his years in the G League, Hannahs has maintained an average of 14.8 points, with 2.1 rebounds and 1.9 assists in 170 games.
He has featured an average of 26.4 minutes in every game. As a career highlight, Dusty was also named to the All-NBA G League Third Team in 2020.
Net Worth
Hannahs is a renowned professional basketball player and he has accumulated considerable wealth from his basketball career.
As of 2023, Dusty Hannahs' net worth is estimated at around $4 million- $6 million.
Likewise, playing in the NBA G League, the average salary of Dusty is assumed to be approximately $48,461.
Furthermore, Hannahs also endorses the brand Balance Athletica and promotes various products, earning a good amount of money.
Personal Life
As of today, the shooting guard is reportedly single. However, he was in a committed relationship with his former girlfriend, Gabrielle Katherina Uhrig.
Looking at Instagram (@gabriellekatherinauhrig), she appears to be a writer and enjoys writing blogs. She has started a designated Instagram for her writings @gabs.words.
The former couple was not married or engaged but was seen enjoying their life together.
But they now seem to have parted ways, and the reason for their separation is unknown. They reportedly started dating in early 2020.
There were also rumors that before Gabrielle, Dusty was dating Regan Daniel.
Social Media Presence
The professional basketball is available on different social media platforms. However, his accounts are private.
You can find him on Instagram under the handle @d_hannahs and Twitter @D_Hannahs.
Instagram: 24.7k followers
Twitter: 14.3k followers
Popularity
Playing for different G League and also featuring in the NBA, Dusty has gained a fair share of fandom worldwide.
The above graph gives brief information about the popularity of Dusty Hannah based on Google searches in the United States over a year.
Frequently Asked Questions
Who are Dusty Hannahs' agents?
Hannahs' agents are Eric Fleisher and James Dunleavy.
Has Dusty got a tattoo on his body?
No, he has not got any tattoos on his body.
What is the jersey number of Dusty Hannahs?
Dusty wears jersey number 20 with the Santa Cruz Warriors. During his first stint with the Santa Cruz, he wore the number 9 jersey.