The solidly-built Earl Barron is an American professional basketball coach and former basketball player for NBA Development League, Overseas, and National Basketball Association (NBA).
In addition, he's a video and player development assistant for the Indiana Pacers of the NBA presently.
Barron earned the NBA championship in 2006 and amassed NBA D-League All-Star in 2010.
Further, he was labeled All-NBA D-League First Team in 2015 All-NBA D-League Third Team in 2010.
Alike Barron was speculated for his midrange game; he's a solid rebounder and reasonably competent for his position.
Uncover further intriguing information about the American-born former hoopster beneath the article.
Also, have a brief look at the quick informational facts demonstrated below.
Quick Facts
Full Name
Earl Daniel Barron Jr.
Birth Date
August 14, 1981
Birth Place
Clarksdale, Mississippi
Nick Name
Earl Barron
Religion
Christianity
Nationality
American
Ethnicity
Unknown
Education

Clarksdale High School
Memphis University

Horoscope
Leo
Father's Name
Earl Barron Sr.
Mother's Name
Jeraldean Barron.
Siblings
Not available
Age

41

years old
Height
7 feet
Weight
113 Kilogram (250 lb)
Jersey no.
30 – Miami Heat
Hair Color
Black
Eye Color
Black
Body Type
Athletic
Profession
Basketball player
NBA Draft
2003 / Undrafted
League
NBA G League, Overseas & NBA
Active Years
2003–2017
Sexual Orientation
Straight
Marital Status
Married
Wife
Terah Hommands
Kids
One
Net Worth
$1-$5 million
Position
Power forward / Center
Coaching career
2017-present
Social Media
Twitter
Merch
Autographed photo
Last Update

March, 2023
Earl Barron | Early Life & Education
An athletic former hoopster Earl Barron was born in Clarksdale, Mississippi, on August 14, 1981.
His full birth name is Earl Daniel Barron Jr., but he's commonly admired as Earl Barron.
Moreover, he follows Christianity, and he holds American nationality.
Barron is the son of Earl Barron Sr. and Jeraldean Barron.
Therefore, further information about his family is inaccessible as the player has slightly disclosed the respective subject.
Moreover, Barron played overseas to get along financially before proceeding with his NBA pursuit.
Thus, he took off to Turkey, played a season, and prepared to be back in time to play with the Huntsville Flight.
Additionally, he cherished playing there because it was close to his home.
Additionally, he enrolled at Clarksdale High School, and later, he attended Memphis University.
Earl Baron | Basketball Career
Professional Career
Earl Baron was never a drafted player in the NBA, and he commenced his professional basketball career with the Tuborg Pilsener of the Turkish team in 2003.
Later, in March 2004, he played with the Huntsville Flight of the NBA Development League.
Then in the 2004 pre-season, he spent his stint with the Orlando Magic, but the Magic waived him before the beginning of the regular season.
Moreover, he played with the Red Bull Barako of the Philippine Basketball Association in 2005.
In August 2005, he returned to the United States to play with the Miami Heat in the Summer League.
Thus, Barron spent three stints with the Heat, and in 2006, he won the NBA championship ring.
Then in August 2008, he signed one year contract with GMAC Bologna of the Italian team, and due to a horrible injury, he was forced to leave the team in November 2008.
Disclose more about Rudy Gay Bio: NBA, Family, Net Worth & More>>
Upcoming Days
Likewise, he was signed by Sioux Falls Skyforce of the NBA G League in March 2009, and he was subsequently traded to the Los Angeles D-Fenders.
Accordingly, in September 2009, Barron signed with the New Orleans Hornets for the team's training camp roster but was waived by the Hornets in October 2009.
Then, he returned to the D-Fenders, and later, he was traded to Iowa Energy in November 2009.
Moreover, he was chosen to the 2010 D-League All-Star Game, where he scored game-high 20 points for the eastern conference aging the Western Conference.
In April 2010, he signed a 10-day deal with the New York Knicks, and in his second game with the Knicks, he logged 17 points with the first double-double of his NBA career and 17 rebounds.
In the meantime, he signed the rest of the season with the New York Knicks.
Likewise, in November 2010, Barron signed with the Phoenix suns and debuted for the team the next day against the Miami Heat.
Additionally, he was waived by the team in December 2010, and he signed a ten-day deal with Milwaukee Bucks in March 2011.
Moreover, he signed a second ten-day deal with Bucks, and afterward, he signed his contract for the rest of the season with the Portland Trail Blazers in April 2011.
Therefore, the Blazers waived him in December 2011.
Furthermore
And Barron signed with the Golden State Warriors in January 2012, and the Warriors subsequently waived him in February.
Further, Barron signed with the Meralco Bolts of the Philippine Basketball Association in February 2012.
Then in April 2012, he signed with Alreticos De San German of Puerto Rico.
In September 2012, he signed with Washington Wizards, and consequently, the Wizards waived him in December 2012.
Similarly, in April 2013, he signed with New York Knicks and got the chance to appear in one game where he logged 11 points and added 18 rebounds in 37 minutes against Atlanta Hawks.
In September 2014, Barron signed with the Phoenix Suns, and the team shortly waived him in October.
Thus, Bakersfield Jam of NBA G League acquired him in November 2014.
In January 2015, Barron signed with Shanxi Zhongyu of the Chinese Basketball Association, but the team finished the season before he appeared in the game, and he came back to Bakersfield Jam.
Later he signed a 10-day deal with the Phoenix Suns and again signed a second 10-day contract with the Suns in March 2015 and then signed a contract for the remaining season with the Suns.
In September 2015, Barron signed with the Atlanta Hawks, and after appearing in four preseason games, the team waived him shortly in October.
Accordingly, he signed with the Fubon Braves of the Taiwanese League in November 2015.
Thus, in September 2016, Barron signed a one-year contract with the Toyama Grouses of the Japanese B.League.
In December 2016, he split up the Toyama and joined the Fubon Braves for a second stint.
Awards & Achievements
NBA champion (2006)
All-NBA D-League First Team (2015)
All-NBA D-League Third team (2010)
NBA D-League All-Star (2010)
SBL Best Foreign Player of the Year (2016)
Medals
Summer Universiade Team Competition (2001)
Disclose more about Tyler Hansbrough Bio: Net Worth & NBA>>
Coaching Career
Northern Arizona Suns
After ending his playing career, Earl Barron showed up as the assistant coach for the Northern Arizona Suns during the 2017-18 NBA G League season in November 2017.
Indiana Pacers
Barron was engaged as a Video/Player Development Assistant by Indiana Pacers in December 2020.
Poker Player
The athletic hoopster Barron partook in the 2015 World Series of Poker, and he was eliminated during the initial phases of the competition.
After finishing his final season with NBA team Phoenix Suns and the Chinese Basketball Association, he was unsure what team he would be in next.
During the last few summers, he was detected at the WSOP, and even he asserted it with clarity; he's a passionate poker player.
Barron's thoughts on poker stated that it's similar to basketball, and no one's not going to make every shot, and one might make a bad play or foul, but needs to move on.
Thus, the particular poker player that Barron admired the most was Phil Ivey.
Net Worth & Salary
The former dominant 7 feet center/power forward, Earl Barron, has a net worth of $1-$5 million.
Addressing his salary, in the 2014-15 season, he earned $390,063 with the Phoenix Suns.
In the 2012-13 season, he amassed $339,726 with Washington Wizards, and in 2011-12, his estimated earning was $185,588 with Golden State Warriors.
Furthermore, in 2010-11, he accumulated $188,558 with the Phoenix Suns whereas, in 2007-08, he earned $973,328 with Miami Heat.
Therefore, Barron's initial salary with the first NBA team, Miami Heat, in 2005-06 was $398,762, and in 2006-07, he amassed $744,551 with the Heat.
Exterior Features
The American-born booster Earl Barron was born on August 14, 1981, and assessing his birth date, he is 41 years old.
Addressing his physical stats, he stands at a gigantic height of 7 feet (2.13 m), and his body weight is around 250 lb (133 kg).
During his era, Barron's huge-bodied athletic hoopster was a decent jumper and had proved to be a professional finisher at the rim.
Social Media Presence
Who's Earl Barron's Wife?
The alluring persona, Earl Barron, is rejoicing in his married life with an elegant lady, Terah Hammonds.
According to credible sites, the perfect-looking two shared a baby.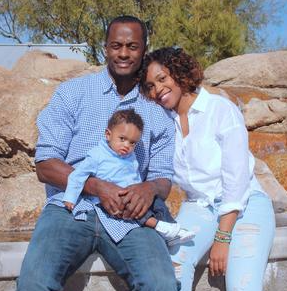 However, the detailed information about his relationship is unreachable as Barron preferred to retain his love life confidential.
Addressing his linked up, Earl Barron, formerly a basketball player, was rumored with a gorgeous lady, Kelly Brisbane.
Excavate more about Terrence Ross Bio: NBA & Net Worth>>
The Journeyman
Earl Barron is probably refined and experienced as he'd spent half of his life playing basketball professionally.
Thus, he has a remarkable basketball tale, and even he describes his professional life as "a long, crazy journey."
Moreover, Barron had been through it all, from reaching the height of success with the NBA championship title to encountering the less than stellar, being waived time and again.
Thus, he committed fourteen years of his life to a basketball career being a professional basketball player.
And within that stint, he played with 10 NBA teams, five NBA G League teams, and numerous international assignments.
After 14 years, his professional career was accomplished with some tremendous and some lowest eras rotating to find that perfect spot.
Frequently Asked Questions
Why could Earl Barron not make it long in the NBA?
Apart from his decent strengths and skills, Earl Barron was detected with several drawbacks on the court.
Barron lacks lateral quickness, he struggles as a weak side defender, was an average passer, and he's not a defensive playmaker. These were the justifications behind not making it long to the NBA.
Does Earl Barron have tattoos?
The former hoopster Earl Barron has not got any tattoos thus far.