Rudy Gay, "The Great Rudini," is an American professional basketball player who plays small forward/power forward for the Utah Jazz of the National Ball Association (NBA).
After playing basketball for the UConn Huskies for two seasons, he got drafted by the Houston Rockets.
Having played in the NBA since 2006, Gay has played for teams like Memphis Grizzlies, Toronto Raptors, Sacramento Kings, San Antonio Spurs, and Utah Jazz.
The 36 year-old player is one of the players with exceptional skills in the NBA.
Gay has been the hero ball on several occasions for his teams throughout his professional career.
However, a few things that have not been on par with the 8th overall NBA draft, he has yet to win the NBA championship and lacks individual awards or titles.
After wearing the Spurs jersey from 2017-2021, the small forward signed with the Jazz on August 6, 2021, on a 2-year deal.
We will disclose information about his early life, how he started his NBA career, his personal life, etc. But let's start with some quick facts.
Quick Facts
Full Name
Rudy Carlton Gay Jr.
Birth Date
August 17, 1986
Birth Place
Brooklyn, New York
Age

36 Years Old

Known As
Rudy Gay
Nicknames
The Great Rudini, Big Truck, Truck
Religion
Religion
Nationality
American
Education

Eastern Technical High School
University of Connecticut

Horoscope
Leo
Father's Name
Rudy Gay Sr
Mother's Name
Rae Gay
Siblings
4
Height
6'8″/2.03 m/203 cm
Weight
113 kg/250 lb.
Build
Athletic
Shoe Size
16 US
Hair Color
Black
Eye Color
Dark brown
League
NBA League
Active Years
2006-present
Marital Status
Married
Spouse
Ecko Wray
Children
2
Profession
Basketball Player
Position
Small/ Power forward
Currently Playing For
Utah Jazz
Net Worth
$40 million
Salary
$6,184,500
NBA Draft
2006 Round: 1 / Pick: 8th Overall
Awards and achievements

2004- McDonald's All-American
2004- All-Met Basketball Player of the Year and First-team Parade All-American
2005- Big East Conference Rookie of the Year
2005- Big East All-Rookie
2006- First-team All-Big East
2006- Consensus second-team All-American
2007- All-Rookie First Team NBA

Social Media
Instagram, Twitter
Merch
Cards
Last Update

June 2023
Age, Height & Weight
Gay is 36 years old. He has an amazing physique, because of which he is still in the game and still performs at a high level while on the court.
The power forward measures 6 feet 8 inches (2.03 meters) in height and weighs around 113 kg (250 pounds).
Gay is fond of body art and tattoo. His left arm is almost all covered with different tattoos.
Rudy Gay's left hand is inscribed with "NRA," but he's not a firearms instructor. It is in honor of his grandmother.
Early Life, Family & Education
Rudy Carlton Gay Jr. was born in Brooklyn, New York, on August 17, 1986, to his parents, Rudy Gay Sr. and Rae Gay.
The athlete was brought up in Baltimore, Maryland, with his four siblings.
Rudy began playing professional basketball at 12, and by 14, he was playing for the Cecil-Kirk Amateur Athletic Union program.
He played high school basketball at Eastern Technical High School in Essex, Baltimore County, where he spent his first and second years. Despite being a Blue Ribbon academic institution, his parents were skeptical about his academics at Eastern Tech.
Gay was transferred to Archbishop Spalding, a private Catholic co-educational school in Severn, Maryland, in September 2002.
For Spalding, he was named to the All-Baltimore Catholic League as a junior and senior and was considered a five-star recruit by Rivals.com.
After high school, Gay enrolled at the University of Connecticut despite having an offer from the University of Maryland.
College Career
As a freshman at Connecticut, Gay averaged 11.8 points, 5.4 rebounds, and 1.5 assists in 31 games and shared the Big East Conference Rookie of the Year with Jeff Green of Georgetown.
In his sophomore year, he was one of four division one college players nominated for the Naismith College Player of the Year Award.
Besides, he was named to the First-team All-Big East, first-team All-America by the National Association of Basketball Coaches (NABC), and THE 2006 Washington, D.C. Regional All-Tournament Team.
In 33 games as a sophomore, he scored 15.2 points, 6.4 rebounds, 2.1 assists, and 30.8 minutes for the UConn Huskies.
Gay declared for the 2006 NBA draft on April 24, 2006, forgoing his remaining college years. Later on February 2012, he was inducted into the "Huskies of Honor."
NBA Career
Memphis Grizzlies
The Houston Rockets selected Gay with the eighth overall pick in the 2006 NBA draft but he was traded to the Memphis Grizzlies, along with Stromile Swift, in exchange for Shane Battier on July 12, 2006.
In his rookie season, the small forward averaged 10.8 points and 4.5 rebounds in 78 games and won NBA Rookie of the Month for November 2006.
Performing exceptionally well with the team, Gay established himself as one of the best small forwards in the NBA.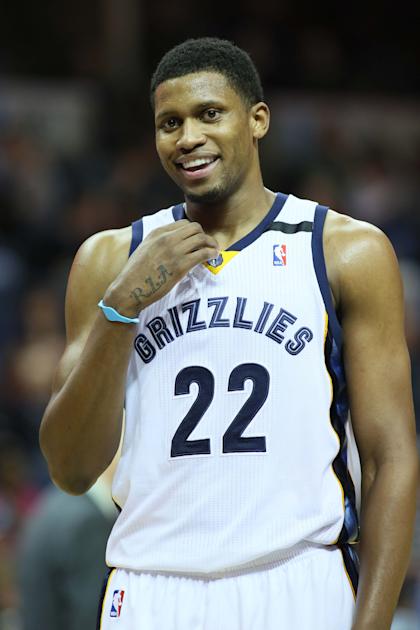 On July 8, 2010, he signed a 5-year/$82 million contract with the Grizzlies on February 2, 2012.
He made his first playoffs appearance in 2011-12 against the Los Angeles Clippers and averaged 19.0 points, 6.6 rebounds, 1.4 assists in 39.9 minutes playing seven games.
Toronto Raptors
The former Grizzlies small forward was traded to the Toronto Raptors in a three-team deal, which included the Detroit Pistons.
Gay finished the 2012-13 season averaging 19.5 points, 6.4 rebounds, and 1.73 steals in 33 games but missed the playoffs. One of the highlights of this season for him was setting a franchise record by scoring 74 points in his first three games.
Sacramento Kings
On December 9, 2013, Gay was traded to the Sacramento Kings along with Quincy Acy and Aaron Gray in exchange for Grevis Vasquez, John Salmons, Chuck Hayes, and Patrick Patterson.
In the 2014–2015 season, Gay started suffering from recurring headaches due to the concussion he sustained after his collision with his ex-teammate, Marc Gasol of the Grizzlies, on March 30, 2014.
As a result, he only featured in just one of the Kings' final nine games of the 2014-15 season.
Then, on January 18, 2017, he completely ruptured his left Achilles tendon, missing the remaining games of his final season with the Kings.
San Antonio Spurs
The San Antonio Spurs signed Gay on July 6, 2017. In December of the same year, he suffered another injury to his right heel and was ruled out for at least two weeks.
The small forward declined an $8.8 million option with the Spurs, but eventually signed a 1-year/$10 million deal on July 11, 2018.
After showcasing an impressive performance averaging 13.7 points, 6.8 rebounds, and 2.6 assists in 69 games, Gay was offered a 2-year/$32 million deal.
Utah Jazz
On August 6, 2021, Gay penned a 2-year/$18.55 million deal with the Jazz, including a player option for the 2023-24 season.
The small forward is struggling with his new team and is not able to perform, as in his two seasons with the Jazz, he was able to log an average of 8.1 and 5.0 points in the 2021-12 and 2022-23 seasons, respectively.
National Career
In 2010, Gay represented the United States national team at the FIBA World Championship and won gold, their first one since 1994. In the championship, he averaged 7.0 points, 2.9 rebounds, and 1.0 steals, playing 13.4 minutes in nine games.
He was also a part of the national team in 2014 and won the gold at the FIBA Basketball World Cup.
Injuries
Gay has suffered from quite a few injuries in his basketball career. Those injuries have affected his games, forcing him to miss some crucial games.
On January 18, 2017, he burst his left Achilles ligament, hence missing the remainder of the season.
In 2018, Gay had 3 injuries (A blown eardrum, a heel, and a wrist) and was ruled out for several weeks.
On February 8, 2019, he suffered from a left ankle injury. Throughout the 2019-20 season, he missed several games due to some illness.
In 2021, he was again a victim of a foot and back injury followed by a heel injury. The small forward sustained heel, knee, and finger injuries in 2022.
In February 2023, Gay broke his nose after colliding with Lauri Markkanen.
Net Worth
Gay has earned a good fortune through hard work and dedication while playing for different clubs.
The small forward has an estimated net worth of $40 million as of 2023, and his annual salary with the Jazz is around $6.18 million.
Gay has worked hard for his career, and now enjoys a good lifestyle with his family and friends.
Wife & Kids
Gay got hitched to his long-time sweetheart, Ecko Wray, in Aspen, Colorado, on August 5, 2013.
The couple has been with each other since 2004 and engaged in October 2012.
The couple has two sons together. The family of four is living a happy life and is often seen vacationing.
Charities
In 2010, Gay was named ambassador for the Hoops for St. Jude, a program for St. Jude Children's Research Hospital in Memphis.
The NBA star, his teammates, and coach George Karl, committed to donate a minimum of $20,000 each to the program.
During the COVID-19 outbreak, anyone who donated at least $25 entered to win a signed Rudy Gay jersey, and all the proceedings went toward supporting local nonprofit organizations.
In April 2010, Gay was granted the NBA Cares Community Help Grant for March in acknowledgment of his service to the Memphis community, especially his support of St. Jude Children's Research Hospital in Memphis.
As a result, a $5,000 donation was given by the NBA on behalf of Gay to support St. Jude Children's Research Hospital.
Gay donated his #22 jersey of Memphis for $22,222 to the hospital.
TV Appearances & Podcast
Gay has shown up on different TV programs; The Game in 2008, Poet Pride in 2009, Rome Is Burning in 2011, MVP in 2017, NBA on ESPN (2016-2022), and NBA on YES in 2019.
Moreover, the NBA player also hosts a podcast, 'Speakeasy with Rudy Gay,' along with Devin Ferguson.
Awards & Achievements
2004- McDonald's All-American
2004- All-Met Basketball Player of the Year and First-team Parade All-American
2005- Big East Conference Rookie of the Year
2005- Big East All-Rookie
2006- First-team All-Big East
2006- Consensus second-team All-American
2007- All-Rookie First Team NBA
2010- FIBA World Championship gold medal
2014- FIBA Ball World Cup gold medal
Social Media Presence
Gay is active on Instagram and Twitter. The power forward enjoys a huge fan following from all over the world.
Gay often shares glimpses of his professional and personal life on social media platforms. As a result, his fans feel connected with him by looking at his posts and dwelling on his moments shared.
Instagram: 715k followers (@rudygay)
Twitter: 1.2m followers (@RudyGay)
Popularity
Since the Rockets selected him in the 2006 NBA draft, Gay has gradually gained fans from all around the world.
The above graph gives brief information about the fluctuating popularity of Rudy Gay based on Google searches in the United States over a year.
Frequently Asked Questions (FAQs)
What are the contract terms of Rudy Gay with the Utah Jazz?
Rudy Gay has supposedly concurred to a two-year/$18.55 million deal with the Utah Jazz, which includes a 2023-24 player option.
How many career points has Rudy Gay made in his career?
Rudy Gay has been active in his basketball career since 2006. He has scored 17,607 points in regular games in his long playing career.