Edmond Sumner currently plays as a shooting guard for the Brooklyn Nets after signing a two-year contract worth $4.1 million on July 8, 2022.
The New Orleans Pelicans drafted Edmond in the 2017 NBA draft but later traded him to the Indiana Pacers, where he played for three seasons.
His rookie season saw limited playing time, but he gained momentum with more minutes on the court after vacant slots in the main rotation due to teammates' injuries.
Edmond was eventually traded to the Brooklyn Nets in 2021, where he currently plays, and achieved a career-high of 29 points on February 4, 2023.
Before his professional career, Edmond played for the Xavier Musketeers in college.
However, his college career was hampered by multiple injuries, including a severe concussion, shoulder injury, and chronic tendinitis in his knees.
Sumner's basketball journey is not far-fetched from tragedy. He lost his older brother to cancer in 2018.
After this immense loss, Edmond continued to pursue his passion for basketball.
Off the court, Sumner is a family man and is married to his longtime partner Audra Thompson.
This article will explore Edmond Sumner's family, background, professional career, marriage, net worth & contracts.
Quick Facts
Full Name
Edmond Byron Sumner
Known As
Edmond Sumner
Date of Birth
December 31, 1995
Age
27 Years Old
Birth Place
Detroit, Michigan, United States
Nationality
American
Father's Name
Ernest Sumner
Mother's Name
Felicia Sumner
Siblings
Two
Zodiac Sign
Capricorn
Relationship Status
Married
Wife's Name
Audra Thompson
Height
6 feet 4 inches/ 193 cm/ 1.93 m
Weight
196 lbs/ 88 kg
Education

Detroit Country Day
Xavier (2014-2017)

NBA Draft
2017/ Round: 2/ Pick: 52nd Overall
Playing Career
2017-Present
Current Team

Brooklyn Nets (2022- Present)

Awards & Achievements

Second-team All-Big East (2016)

Position
Shooting Guard/ Point Guard
Jersey Number
4
Annual Salary of 2022-23
$1.9 Million
Net Worth
$1.5 Million- $3 Million
Social Media
Instagram, Twitter
Last Update
June 2023
Edmond Sumner's Family Details!
Edmond Sumner, the son of Felicia and Ernest Sumner, was born on December 31, 1995, in Detroit, Michigan.
His father, Ernest Sumner, attended Highland Park Community High School.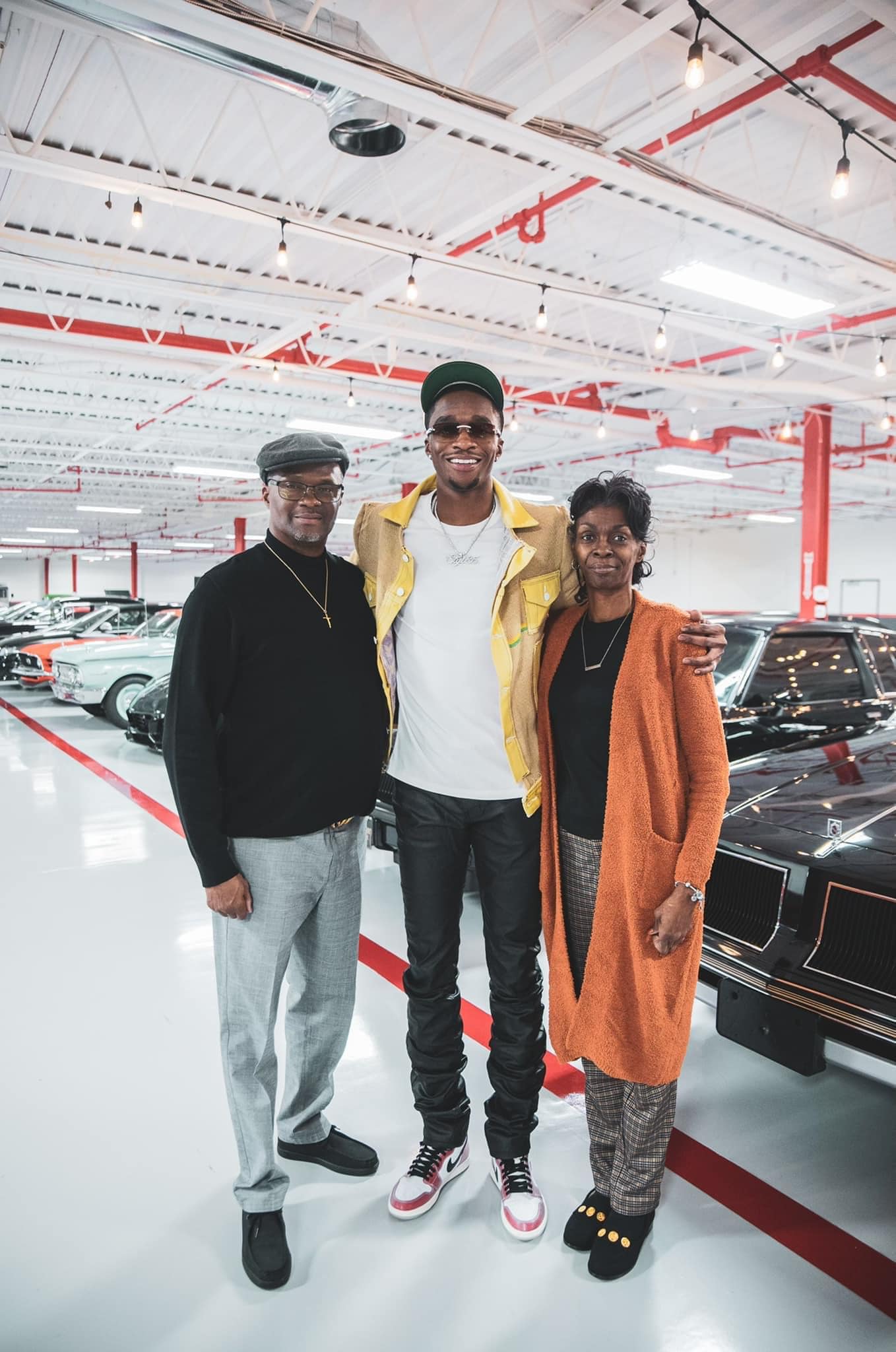 Edmond Sumner has two siblings – Ernest Sumner Jr. and Shanequa Sumner.
Tragically, Edmond's older brother, Ernest Sumner Jr., who was born on February 6, 1988, passed away on February 19, 2018, after a battle with cancer.
Edmond's sister, Shanequa, was born on March 24, and she has two children – a son and a daughter.
Age, Height & Body Measurements
As of 2023, Ernest Sumner is 27 years old.
He has a height of 6 feet 4 inches (1.93 m) and weighs 196 lbs (88 kg).
His standing reach measures 8 feet 6.5 inches (2.6 m), and he has a 6 feet 9 inches (2.05 m) wingspan.
High School & Collegiate Basketball
As a senior team captain at Detroit Country Day, Edmond Sumner averaged 19.5 points, 4.5 rebounds, 3.0 assists, and 1.9 steals per game.
From the 2014-15 season to the 2016-17 season, Sumner played for the Xavier Musketeers.
However, he only played in six early games during his first year due to chronic tendinitis in his knees.
On December 31, 2016, he achieved his career-high of 28 points while playing for Xavier against Georgetown.
NBA Career
In the 2017 NBA Draft, the New Orleans Pelicans drafted Sumner, but he was later traded to the Indiana Pacers.
On April 10, 2018, he made his debut in the NBA, playing for three minutes against the Charlotte Hornets. He only played that game during the 2017-18 season.
While he had limited minutes in the 2018-19 season, he was given more playing time after his teammate Victor Oladipo suffered a season-ending injury.
On January 28, 2019, he started his first NBA game against the Golden State Warriors.
From the 2017-18 season to the 2020-21 season, he played a total of 108 games for the Indiana Pacers and averaged 5.7 points per game.
Sumner was unable to play in the entire 2021-22 season due to a torn Achilles tendon.
On February 4, 2023, he recorded his career-high of 29 points in a close 125-123 victory for the Brooklyn Nets against the Washington Wizards.
Net Worth & Contracts
Net Worth
Edmond Sumner's net worth is estimated to be between $1.5 million and $3 million, primarily from his earnings as a professional basketball player.
In addition, he has endorsement deals with Premiere Auto Sports, a car service center, and clothing brands like ROK M.I.A., Grind Grind Clothing, Detroit VS. Everybody, and Burning Bush.
Contracts
Edmond Sumner was selected as the 52nd overall pick by the New Orleans Pelicans in the 2017 NBA Draft, but he was traded to the Indiana Pacers on the same day for $1 million.
Sumner signed a two-year two-way contract with the Indiana Pacers and Fort Wayne Mad Ants on July 5, 2017.
He signed a two-year $2.04 million contract with the Pacers on February 11, 2019.
On July 29, 2019, the Pacers extended Sumner a $1.8 million qualifying offer. He signed another two-year $4.16 million contract with the Pacers on the same day, including a 2021 club option.
The Pacers exercised a $2.32 million option for the 2021-22 season on July 30, 2021.
Sumner was traded to the Brooklyn Nets, along with a future round pick for Juan Vaulet, on October 6, 2021.
However, he was waived by the Nets four days later.
On July 8, 2022, he signed a two-year $4.2 million contract with the Nets, with an annual average salary of $2.1 million.
Married To Audra Thompson Sumner
On August 5, 2022, Edmond Sumner married Audra Thompson (born December 3) at the Ritz Charles Garden Pavilion in Indianapolis.
Edmond proposed to Audra in July 2021 while on vacation in the Bahamas.
They met while attending Xavier University and have been together for a while.
Audra has held various positions in the retail industry, including store manager at Call It Spring and style consultant at Saks Fifth Avenue.
She is currently working as a style consultant at Nordstrom in Indianapolis, Indiana.
They frequently post pictures of each other on their social media accounts, demonstrating their affection for one another.
Any Children?
In an Instagram post of December 2022, Audra confirmed that she and her NBA player husband were expecting their baby girl Amara, due in March 2023.
On February 28, 2022, Edmond made a Tweet stating that his wife is going through labor & praying for the safety of his better half & their baby,
"The most excited and nervous I've ever been. Praying God keeps my wife and baby safe and healthy as she goes through this process of delivering our baby."
On March 2, 2023, Edmond confirmed the well-being of both via Twitter & wrote, "GOD IS AMAZING."
Social Media Presence
The shooting guard for the Brooklyn Nets is an active user of social media platforms like Instagram and Twitter, where he has amassed 33.9k and 13.6k followers, respectively.
On these platforms, he frequently posts content related to his basketball game and training and pictures with his wife, showcasing his love.
In addition, he uses his social media to promote the brands that he endorses.
Popularity Graph
The following graph displays the search interest volume for Edmond Sumner during the past twelve months.
It reveals that the interest peaked in early February 2023.
This could be due to the fact that he achieved his career-high score of 29 points against the Washington Wizards during this period.
Frequently Asked Questions (FAQs)
Is Edmond Sumner a free agent?
Sumner is currently on a two-year contract with the Brooklyn Nets worth $4.2 million.
Is Edmond Sumner currently in a marital relationship?
Edmond Sumner married Audra Thompson on August 5, 2022.