The Australian soccer player Ellie Carpenter and her partner Danielle van de Donk does not shy away from showcasing their affection towards each other on social media.
Both Ellie and Danielle have been quite open about their love, and their willingness to share their love story has made them a beloved couple among their supporters.
Ellie Madison Carpenter was born on April 28, 2000, in New South Wales, Australia.
The soccer player currently plays as a defender for the French club Olympique Lyonnais.
She has won 2 UEFA Women's Champions League, one Division 1 Feminine, and 1 Coupe de France Feminine with Lyon.
Having debuted at the senior level of the Australian national team at just 15, she has already made over 60 appearances.
Moreover, she is the youngest-ever female soccer player to compete at the Olympics.
Ellie Carpenter Partner Danielle van de Donk: Relationship Timeline
Ellie Carpenter and her partner Danielle van de Donk, likely began their romantic relationship while playing for Lyon.
In June 2020, Lyon signed Ellie from Portland Thorns, while Danielle van de Donk agreed to a deal with a club a year later.
On May 23, 2022, they shared a picture celebrating winning the Champions League.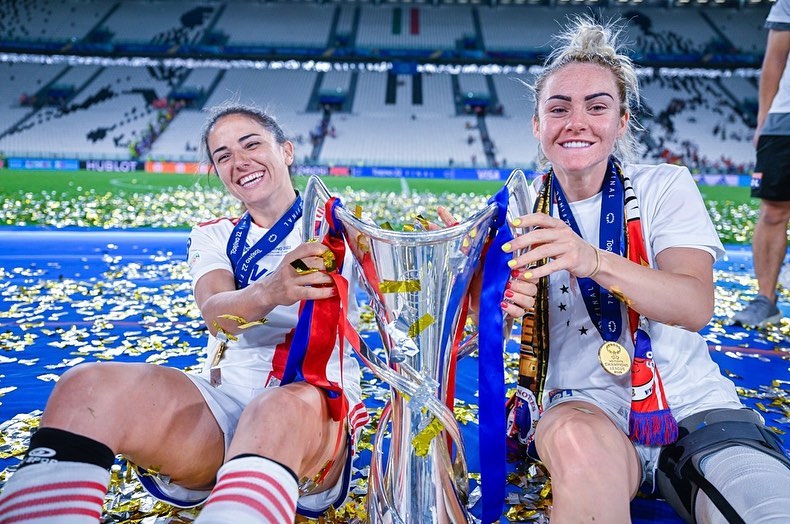 Since then, they have regularly posted pictures of themselves, showcasing their bond.
Their social media accounts now feature images of their vacations, restaurant outings, birthday wishes, and even celebrations during Christmas.
Who Is Danielle van de Donk?
The Dutch professional soccer player Danielle van de Donk currently plays as a midfielder for Olympique Lyonnais, a French club.
She joined Lyon in June 2021, signing a two-year contract, following a successful six-season stint with Arsenal.
Danielle has achieved numerous accolades throughout her career, including winning the 2022 Division 1 Feminine and UEFA Women's Champions League titles with Lyon and the 2016 FA Women's Cup, 2018 FA WSL Cup, and 2019 FA WSL with Arsenal.
Notably, she made her debut for the Netherlands national team at the age of 19.
She played a significant role in their victory at the 2017 UEFA Women's Euro and their second-place finish at the 2019 FIFA Women's World Cup.
Previous Relationship With Former Arsenal Teammate
While playing together for Arsenal, Danielle van de Donk was previously in a relationship with Beth Mead.
They made their relationship public in 2019 and even lived together at Mead's apartment in London during the first lockdown.
However, it seems that they have ended their relationship sometime in 2021.
Currently, Beth Mead is in a relationship with Vivianne Miedema.