Elly De La Cruz's parents, Carmen and Antonio, raised nine kids in the Dominican Republic. The Cincinnati Reds shortstop is the youngest of nine.
Up until 2018, there wasn't much hype about this youngster from the Dominican Republic. Scouts didn't make much of his skills.
The treatment had Elly De La Cruz almost give up on baseball as he was ready to pack his bags and return home.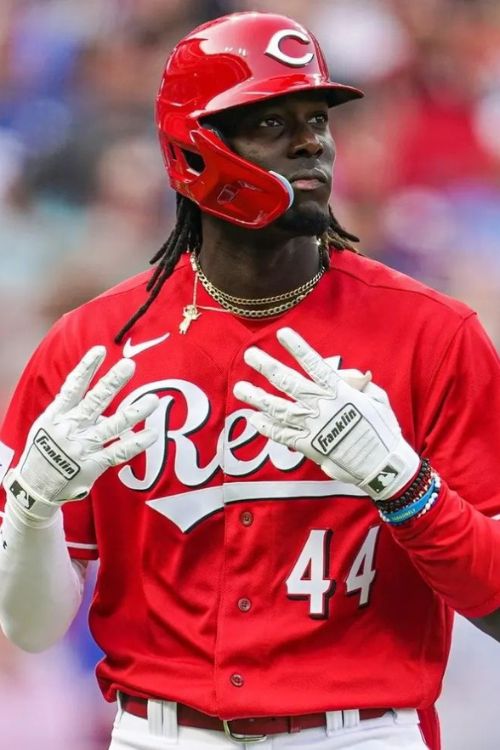 But his mother, Carmen, suggested Elly not lose hope, and he continued playing baseball.
Little did he know that year, he received his first professional contract. He penned a $65,000 contract, it wasn't a big contract by any means, but it was the sign that the journey to the MLB had just begun for him.
On June 7, 2023, Elly made his MLB debut at the Great American Ball Park against the Dodgers. The youngster put up a performance to be remembered for many years.
The 21-year-old scored a home run of Noah Syndergaard in his first at-bat that almost left the stadium.
Elly De La Cruz Parents, Carmen & Antonio
Elly De La Cruz's parents, Carmen and Antonio, weren't at the Great American Ball Park to watch their son's debut.
The couple saw the historic moment from their home in the Dominican Republic.
With Elly setting the MLB on fire from the first day, there's no doubt Carmen and Antonio are proud parents.
The couple raised nine kids in Sabana Grande de Boya, with Elly and his twin, Pedro, being the youngest.
Though Carmen and Antonio couldn't make it to Cincinnati, Elly keeps his parents close to his heart.
If you have noticed, the youngster has several chains around his neck, and one of those chains is dedicated to his parents.
The youngster has a photo of his dad and mom in a chain twirled around his neck. He has been wearing the chain since he signed his professional contract in 2018.
Elly is super close to his mom, Carmen. In his interview with The Enquirer in 2022, he dedicated his success to his mom.
There was a point when he wanted to quit the sport and return home, but his mother motivated him to keep on going.
She also assured Elly that even if he never makes it pro in baseball, she will always be proud of him.
After all, only 10% of minor league players make it to the majors, and Elly is undoubtedly the special one.
Memorable Debut Against The Dodgers
Elly knew he wanted to become a baseball player from a young age. A baseball jersey is all he ever wanted to buy as a kid.
Elly moved out of his house at six and lived with his relative to focus solely on baseball. In 2018, Elly was just another name in the crowd before he penned the contract.
There wasn't much hype surrounding him, many of his age had already signed big contracts, and he almost gave up.
But fast-forward to 2022; the Dominican Republic native made it to the list of top 100 prospects. Now he has charged into the number two spot just behind Jackson Holliday.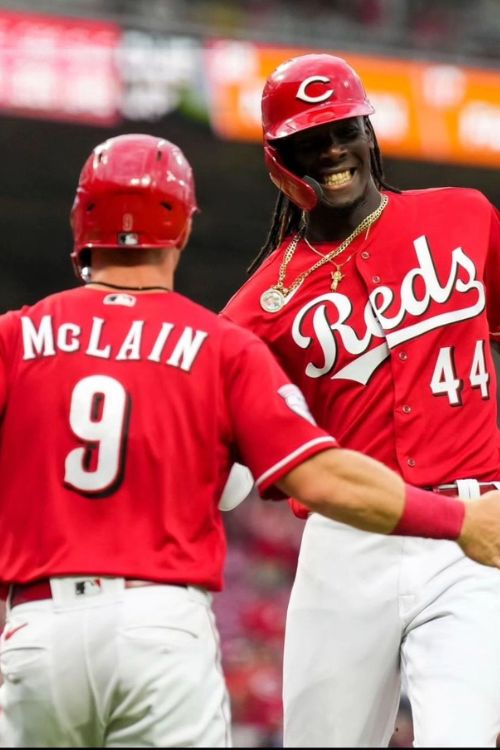 Elly's debut on Wednesday was a long time coming. People were in awe of his skills on Twitter and were eagerly waiting to see him make his mark in MLB.
And he didn't disappoint his fans. Those in the stadium gave him a loud cheer when he entered the field.
In his first at-bat, he scored a massive home run from Noah Syndergaard. Later, he demonstrated his speed, reaching the third base with ease.
There isn't any doubt De La Cruz will be one of the big names in baseball for the years to come. The youngster is only getting started!