Let's get a fair round trip to the early years of the 20th century when one of the Formula 1 drivers lived. Eric Thompson, who passed away in the early 21st century, was one of the oldest living Formula 1 drivers before his death.
Indeed, Eric was much more than a motor race driver. He was also a book dealer and insurance broker.
In fact, he started in the field quite late during his late twenties, and overall, his career was also short-lived.
Having said these, he still had his glory days for us to remember him. During his tenures, Eric drove for HRG and Aston Martin and Formula Libre, RAC Tourist Trophy, and Formula Two.
Alongside his career, he indulged in Lloyd's of London as a broker and only started a book dealership after his retirement. Actually, he would deal with rare books on motorsports.
Quick Facts
Full Name
Eric David Thompson
Date of Birth
4 November 1919 (Scorpio; Zodiac Sign)
Birth Place
Ditton Hill, Surbiton, Surrey, England, UK
Date of Death
22 August 2015
Death Place
Guildford, Surrey
Nick Name
None
Nationality
British
Religion
Christianity
Ethnicity
White
Marital Status
Married
Wife
Liz Simon
Kid
A son and two daughters
Profession
Motor racing driver
Bookdealer, under
Insurance broker
Formula One World Championship (Teams)
Connaught Engineering
24 Hours of Le Mans (Teams)
HRG
Aston Martin
Lagonda
Connaught Engineering
Active Years
1949–1955
Net Worth
Unknown
Eric Thompson | Early Life
Under Scorpio's star sign, Thompson (fully named Eric David Thompson) was born on 4 November 1919. Apparently, his birthplace is Ditton Hill, Surbiton, Surrey, England, UK, and he seems to have siblings.
As far as the sources, Thompson lost his father at the early age of eight. Apparently, his father used to be a managing director of the independent Hammerton Brewery in London.
Unfortunately, there is no information regarding his family and background.
Indeed, Thompson had a keen interest in motor racing since his early days; however, he didn't start it the right way.
Well, Eric accomplished his studies at Bryanston School in Dorset and later moved on to Trinity College, Cambridge. During his tenure, he studied English and joined the Local Defence Volunteers.
Initially, Thompson worked in the Lloyd's of London as a broke during his secondary school days. Indeed, the works were long hours and commitments; however, he would make good pay.
Following it, Thompson also served during the Second World War. During his tenure, he first starred as a captain and would look after the 6th Armoured Division.
Likewise, while he was the major, Eric commanded the 7th Armoured Brigade Signal Squadron in North Africa.
By the end of his service tenure, he also worked in the Central Mediterranean School of Signals near Padua.
After his active service in the war, Thompson graduated with a business studies course at Kingston College.
You might be interested in reading about Jamie Little Bio: Early Life, Career, Net Worth, Husband >>
Eric Thompson | Professional Career
When Eric Thompson commenced his career in the professional motor racing arena, he was already 28. But he was also well-funded with the money and was in the perfect position to pursue his passion.
Parallel to his racing; he would still be working as a broker. Well, his foremost racing was with a TB MG and a Ford V8 in trials and rallies.
Following it, Eric made his debut in the 12 Hours of Paris at Montlhéry for the British Racing Drivers' Club team.
He raced alongside Robin Richards as they finished fourth in the 1.5-liter class and 17th overall. In the meantime, he had his debut for the Les 24 Heures du Mans with Jack Fairman.
Afterward, he took victories on the 24 Hours of Belgium at the Circuit de Spa-Francorchamps and the Silverstone International Trophy.
Aston Martin
Simultaneously, he stood for the Aston Martin in 1950 alongside Reg Parnell, Peter Collins, and Roy Salvadori. He had a debut for it at Silverstone, where he became fourth in his class and 14th overall.
Consequently, he played for the Aston Martin on the 1950 24 Heures du Mans, the Goodwood Handicap, and the Cambridge University Sprint at Bedwell Hey.
Furthermore, he also shared his Aston Martin DB2 in the RAC Tourist Trophy and the Les 24 Heures du Mans.
Indeed, he was with the DB2 the whole year except for Parnell when he was with DB3.
Apparently, during his class win at the Cambridge University Sprint, Eric made his debut in Formula Three. For the event, he drove a Cooper-Vincent at Castle Combe.
In 1953, Eric stood with an Aston Martin DB3S with Poore for the 1953 Les 24 Heures du Mans.
Even with certain problems with clutches and punctures, he and Parnell bagged the Tourist Trophy in the Goodwood Nine Hours.
At the same time, he had partaken in the Goodwood Easter Handicap, single-seater races in Snetterton, and the Formula Two Championship.
Read in-depth about the racer, Rick Hendrick Bio: Career, Net Worth, Plane Crash, Motorsports >>
Formula One
In 1952, Eric Thompson started in Formula One through the 1952 RAC British Grand Prix for the Connaught.
Altogether, he stood fifth in the race as Gordini driver Robert Manzon retired with a clutch problem.
Retirement and Post Work
Eric Thompson first announced his retirement in public in 1955. As for a reason, he stated that the pressure from his job was unbearable.
Thus, after retirement, he shifted his focus totally to his work at Lloyd's.
After more than two decades, Thompson resigned from his job at Lloyd's and shifted his focus to book dealerships.
As a matter of fact, he first started with a bookshop near Guildford, where he dealt with the rare books about motorsports.
In 1982, Eric was again involved in maritime insurance as chairman of a small London broker. However, he later retired in 1987.
Also, it included the history of motor racing. Alongside, Thompson would also be seen at some historic festivals.
Click to learn about Erica Enders Bio: Net Worth, Movies, Husband, Career >>
Bumps and Achievements
Well, Eric Thompson was the first driver to be inducted into the Le Mans Drivers Hall of Fame in 2013. During his short-lived career, he has indeed overcome many hurdles of his own.
To illustrate, Eric's foremost lag in his career came when he had to be out with force after nine laps due to engine failure.
Apparently, it dates back to when Thompson was featured with John Gordon in 1950, 24 Heures du Mans sharing an Aston Martin DB2.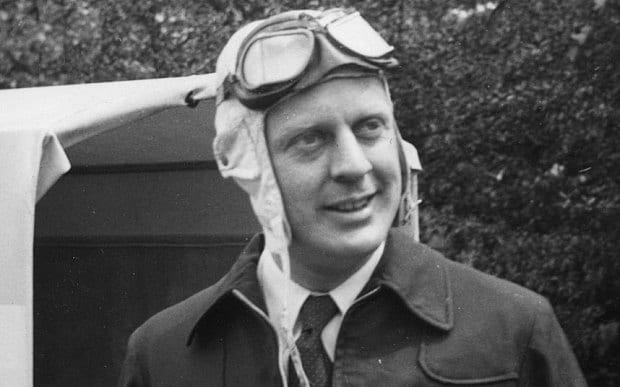 Later in 1952, his pairing with Parnell suffered as Parnell had to retire from transmission problems.
Also, the event was quite sadistic as their car burnt in the fire; gladly, they were unhurt.
Eric struggled with a tire puncture and clutch problems in the Goodwood Nine Hours with Parnell.
Likewise, during his last game days, Eric struggled in the final of Les 24 Heures du Mans due to engine problems after 60 laps.
Altogether, Eric commenced his Formula One World Championship career alongside Connaught Engineering. During his tenure, he had one entry in the 1952 British Grand Prix.
As for his 24 Hours of Le Man's career, Thompson worked with teams like HRG, Aston Martin, Lagonda, and Connaught Engineering.
During the timeframe, Eric's best finish was in 1951, among his two class wins altogether.
While he was with the Formula Libre, RAC Tourist Trophy, and Formula Two, Eric had minor achievements and success.
Eric Thompson | Personal Life
Thompson's net worth is not revealed to date. However, with the estimations, you can find out that he would have millions because of all the work he was involved in.
Apart from his net worth, Eric Thompson had his own nuclear family. Indeed, he was married to Liz Simon, and they have been together since 1952. All in all, their relationship was long-lasting and quite happy.
Additionally, they also share a son and two daughters. Sadly, there is no information regarding his wife and kids in detail.
Unfortunately, Eric Thompson left the world on 22 August 2015 in Guildford, Surrey.
At the time of his death, Eric was 95 years old. Additionally, it should be no surprise that the late British racer didn't have any social media accounts.
As the technologies were developed later, he is not present on any platforms.
<<Lance Stroll Bio: Family, Career, Net Worth, Championship Titles>>
Eric Thompson | FAQs
What was Eric Thompson's final race like?
Eric Thompson's final race was in the 1955 Les 24 Heures du Mans, where he had engine problems after 60 laps.
However, for his Goodwood Nine Hours, he partook in his last race in 1956 at the CUAC Speed Trials, driving a 498cc Jason.