Mike Tyson's daughter Exodus Tyson sadly passed away at the age of four, leaving the life of the former heavyweight champion completely shattered. Her neck was tangled by a treadmill, causing her death. She lost the battle with life later on. Her death left everyone in tears.
Exodus Tyson is the youngest child of Mike Tyson's ex-girlfriend Sol Xochitl who would have been 18 as of 2023 if she were still alive.
She was living with her mom when the accident happened.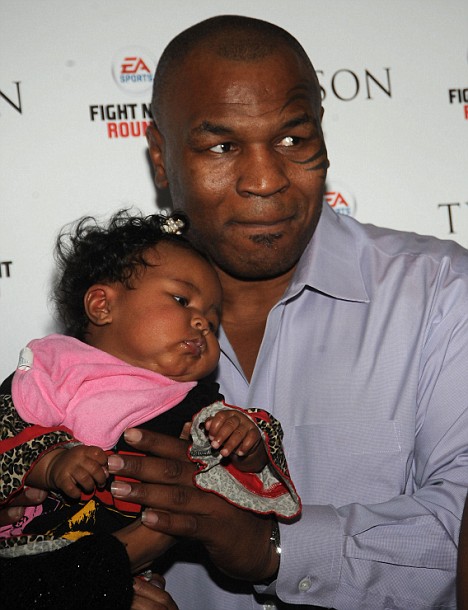 In this article, we will discuss Exodus Tyson's death, her family, and many more.
Make sure to read the whole article to get all the answers to your question.
But before that, let's have a brief rundown of the quick facts.
Quick Facts
| | |
| --- | --- |
| Full Name | Exodus Tyson |
| Date of Birth | March 2005 |
| Date of Death | May 26, 2009 |
| Cause of Death | Treadmill accident |
| Birthplace | Unavailable |
| Gender | Female |
| Religion | Islam |
| Nationality | American |
| Ethnicity | African-American |
| Horoscope | Pisces |
| Father's Name | Mike Tyson |
| Mother's Name | Sol Xochitl |
| Siblings | Miguel Leon Tyson, Amir Tyson and Morocco Tyson (brothers), Mikey Lorna Tyson, Rayna Tyson, and Milan Tyson (sisters) |
| Grandparents | Jimmy Kirkpatrick and Lorna Tyson |
| Uncle and Aunt | Rodney Tyson, Jimmie Lee Kirkpatrick(Uncle), Denise Tyson (Aunt) |
| Height and Weight | Unavailable |
| Body Measurement | Unavailable |
| Hair Color | Black |
| Eye Color | Black |
| Profession | Celebrity Child |
| Net Worth | Unavailable |
| Merch | Mike Tyson Clothing, Mike Tyson (Autobiography) |
| Social Media | None |
| Last Update | June, 2023 |
Exodus Tyson | Childhood and Death
Exodus Tyson was born in March 2005 to Mike Tyson and Sol Xochitl. She is African-American and follows Islam.
Exodus neighbors mentioned her as an energetic girl who always kept herself busy. She used to ride from one house to another, riding her bicycle and playing with her friends.
Horrible Accident and Death
Exodus used to stay with her mother in Phoenix. On the day of the accident, her mother cleaned the home while playing in the playroom.
Later, after Sol sends Miguel to look after Exodus, he immediately calls his mother after finding his sister tangled around her neck.
Then Sol immediately freed the wire and called 911, and started life-saving attempts by herself. However, when the police arrived, she remained unresponsive.
After eventually taking her to St.Joseph Hospital and Medical center, she was kept on life support. Unfortunately, she passed away at 11:45 am on May 26, 2009.
The police investigated Exodus's brother and mother. Later they concluded that her death was a horrible accident.
The sad death of Exodus reminded parents how home exercise equipment could be dangerous.
So, they must be aware it's unplugged and kept away from the reach of their children.
How Mike Tyson Felt After Exodus Death
When Mike Tyson knew about the accident, he immediately flew to Phoenix, but he arrived late at the hospital.
After hearing about her daughter's accident, he couldn't handle himself grabbing the gun and almost went crazy.
But after reaching the hospital and looking at her daughter, all those thoughts vanished.
Then he again started taking cocaine to let his pain and agony go away after losing his daughter.
Following the sad death of his daughter, Mike's relationship with Lakiha Spicer became stronger, whom he married a week after Exodus's death.
Thanks to Spicer, Mike's transit from drug-fueled parties to an almost sober lifestyle.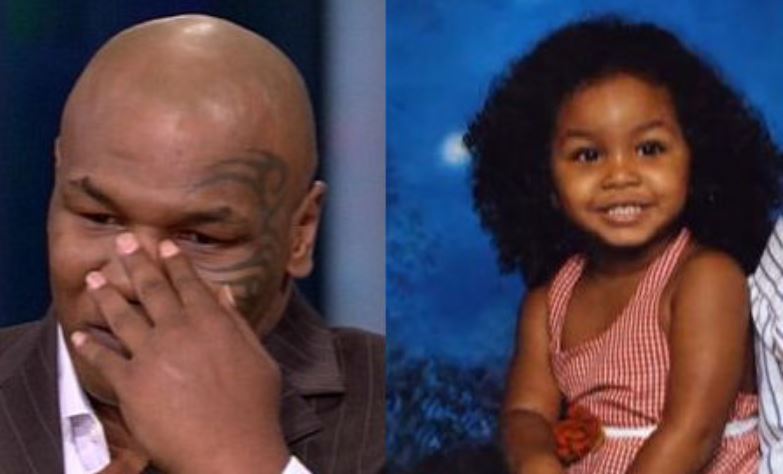 Moreover, in Oprah Winfrey's interview, he mentioned that he didn't want to know how his daughter died after knowing about Exodus's death.
Mike also said he doesn't want to blame anybody as the family has been the most significant asset in his life.
Exodus Tyson | Siblings
Exodus Tyson has six siblings; three brothers and three sisters.
Her oldest sibling is Mikey Lorna Tyson, born to Kimberly Scarborough. Mikey is a plus-size model featured on the cover of multiple magazines.
Her second oldest sibling Rayana Tyson is Mike Tyson's first child of his father's second marriage.
Rayana is a film study graduate from New York University. In 2016, Rayana University nominated her for Best Film Student.
Later, in 2019, she became a crew member of the 2019 blockbuster film 'Joker' featuring Joaquin Phoenix.
Amir Tyson is Exodus Tyson's oldest brother and the second child of Mike Tyson's second wife.
He graduated from American Univerity, Washington, with a broadcast journalism degree. Currently, Amir is CEO of streetwear clothing brand Debonair Attire.
The next one is Miguel Tyson, who is Exodus's only biological sibling. In 2023, he is 27.
He is involved in charity work. Miguel also has an affinity for boxing, as he has been spotted boxing with his father.
Finally, Exodus has two other half-siblings, which she sadly never got a chance to meet. They are Milan and Morocco from her step-mom and Mike's current wife, Lakiha Spicer.
Milan is pursuing to become a professional tennis player, training with Patrick Mouratoglou, who is also Serena Williams's coach.
Get To Know More About Exodus Father.
Mike Tyson, aka The Baddest Man on the Planet, is one of the greatest heavyweight boxers ever.
Besides his ferocious and intimidating boxing style, he is also famous for controversial behavior on and off the ring.
Mike Tyson held the undisputed world heavyweight title from 1987 to 1990. Moreover, he is the youngest heavyweight champion of all time, winning his first title at 20.
Likewise, he is the first heavyweight boxer to win and unify the title of WBA, WBC, and IBF.
Similarly, after returning to boxing following 3 years in prison, he became among 6 heavyweight boxers to reclaim the titles after losing them.
In his 15 years career, he won 50 of his 58 fights. Moreover, he won 44 matches (88%) by knockouts.
The Ring magazine ranks Mike Tyson as the 16th greatest puncher of all time. Likewise, ESPN ranks him first in The Hardest Hitters in Heavyweight History.
Besides that, Mike Tyson has been inducted into the International Boxing Hall of Fame (2020) and the World Boxing Hall of Fame for his illustrious and successful career.
Mike Tyson | Net Worth
As of 2021, Mike Tyson has an estimated net worth of $10 million. However, many may be surprised why the former world's highest-paid boxer has a low net worth.
It's due to the lack of proper money management and lavish lifestyle spending huge money on houses, cars, and not to forget big cats.
Moreover, in 2003 Tyson filed for bankruptcy, mentioning he had $23 million in debt.
However, Tyson is making money nowadays thanks to his Tyson Ranch selling over £500,000 worth of medical marijuana monthly.
He also hosts a famous podcast known as Hotboxin with Mike Tyson. Furthermore, he has invested in several small ventures.
Besides, Mike Tyson started Mike Tyson's Legends Only League in 2020 to provide opportunities for retired professional athletes.
Social Media Presence
Instagram @MikeTyson
Twitter @MikeTyson
YouTube @MikeTyson
Popularity Graph Of Exodus Tyson
Even after Exodus Tyson's death, the kid has been searched by people time and again due to her father, Mike Tyson. In July month of 2023, Mike Tyson got searched the most, as we can see from the graph.
Frequently Asked Questions
What happened to Exodus Tyson?
Mike Tyson's daughter Exodus Tyson was caught in a tragic accident when a treadmill tangled her neck.
During the accident, she was living with her mother. Later, she died in a hospital in Phoenix at the age of four.
Who is Mike Tyson's wife?
After eleven days after his daughter's death, Mike Tyson married his longtime girlfriend, Lakiha Spicer, in 2009.
Moreover, he previously married actress Robin Givens and Monica Turner.