Soccer is the most famous sport, with 3.5 billion fans worldwide, and if you are one of them, you have witnessed many majestic, jaw-dropping goals.
"The beautiful game" has produced so many unique goals that it's almost impossible to choose the best.
However, looking into many youtube videos and articles, we have made our list of famous goals ever scored in soccer history.
The list includes only those goals that needed extraordinary skills and difficulty. Please stick with us until the end to determine which goals it makes into our top 10 list.
10. Marco Van Basten
Match: Netherland Vs. Soviet Union
Date: 25th June 1988
Competition: European Championship Final
Marco Van Basten went to the 1998 European Championship as one of the top promising talents. Later, he left as the ultimate goal scorer of the tournament.
Netherland was defeated in the tournament's first game by the Soviet Union.
Later, in the second game, Van Basten finally got into starting 11 and didn't disappoint. He scored a hattrick in a 3-1 win over Three England.
Likewise, he scored the winner against West Germany in the semis to send them into the finals.
The Netherlands had the opportunity to win their first European Championship at Munich Olympiastadion, where they lost the 1974 World Cup Final.
Skipper Rudd Gullit's header in the 33rd minute gave them the lead. Technically, Van Basten was already the tournament's top scorer, but his 5th goal was memorable.
Arnold Muhren sends a high cross from the left-hand side of the box. Then an unexpected goal happened no one imagined.
Standing near the edge of the penalty area, nearly 5 meters away from the goal, Van Basten had four opposing players between him and the target.
But he still managed to dip the ball from a tight angle to the net, scoring a perfect volley. Later, his goal proved enough for the Netherlands to win their first international triumph.
Moreover, Van Basten's goal will go down among famous goals ever scored in any soccer tournament finals.
Also, Read: Top 20 Richest Soccer Players in the World>>
9. Robin Van Persie
Match: Netherland Vs. Spain
Date: 14th June 2014
Competition: FIFA World Cup Group Stage
One of two goals to feature in our 2014 FIFA World Cup list.
In Group B, both finalists from the 2010 World cup, Spain and Netherlands, faced each other in the first round.
Spain was still the dominant force in world football, built around the 2010 World Cup and 2012 Euro-winning players.
Xabi Alonso's penalty put Spain ahead, but Robin van Persie scored a mesmerizing header at the end of halftime that shocked the World.
Like before, Spain maintained a high defensive line when Dailey Blind received the ball in the half-line.
However, Robin Van Persie caught them off guard and made a perfect run towards the goalpost.
So, Blind played 40 yards long pass in the air, and Van Persie sprang towards the ball like diving into the pool to score a majestic header 16 yards far from the goal line.
Although Spain dominated most of the first half, Van Persie's goal broke them apart.
Later, the Dutch scored four goals in the second half to demolish Spain 5-1, beginning the end of the Spanish golden era.
Van Persie earned the nickname Flying Dutchman for his goal. His diving header arguably ranks top in header goals ever scored in soccer history.
8. Son Heung Min
Match: Tottenham Vs. Burnley
Date: 7th December 2019
Competition: Premier League Match Day 16
Son Heung Min's solo goal against Burnely in 2019 is often considered the best goal in Premier League history.
Moreover, in a poll conducted by Sky Sports in 2020, his goal ranked first with 26% as the greatest Premier League goal ever.
Tottenham had a comfortable 2-0 lead over Burnely. Later, Son picked up the ball near his penalty area and found it back to the opposition net on his own.
Son covered 76 yards in 12 seconds, and 12 touches got past the whole Burenly side with skills and pace to score an incredible solo goal.
Son's solo goal later earned his Premier League goal of the season and Puskas award in 2020. It is one of soccer's most incredible individual goals fans will ever witness.
Also, Read The Only 8 Male Football Players who Dared to Come Out as Gay >>
7. Zinedine Zidane
Match: Bayer Leverkusen Vs. Real Madrid
Date:15th May 2002
Competition: UEFA Champions League Final
In 2002 Champions Legaue finals Zinedaine Zidane scored stunning volley to help Los Blancos win game 2-1.
It is often considered the most significant goal in the history of the Champions League and Real Madrid.
Roberto Carlos delivered a hopeful loopy cross from the left-hand side near the end of the first half.
Luckily, Zidane was eagerly waiting at the edge of the penalty area. Of course, other players would have tried to bring down the ball, but it's not the case for Zidane.
He just placed his right foot on the ground, slightly rotated on it, and scored with his left foot from an insanely difficult angle without taking his eye off the football.
Zidane has produced many magical moments during his glorious career, but his sublime volley in the 2002 UCL final tops all of them.
6. James Rodriguez
Match: Colombia Vs. Uruguay
Date: 29th June 2014
Competition: FIFA World Cup Round of 16
If it weren't for James Rodriguez's stunning volley in the 2014 World Cup against Uruguay, Van Persie would have won the Puskas award that year.
Heading into the World Cup, Rodriguez, 22 years old, was the hottest and rising talent in football. Later, after the tournament, his career skyrocketed to a new height.
Despite losing to the quarterfinals, he managed to win the Golden Boot, scoring six goals.
However, his spectacular volley against Uruguay at iconic Maracana shadowed all goals scored in the 2014 World Cup.
Aguilar headed the ball towards Rodriguez, who had already placed himself in a dangerous position.
Then he brought the ball down with his chest and turned slightly to his strong left foot to score a volley even though 5 Uruguay players surrounded him.
His goal is more beautiful because the ball hit the underside of the crossbar first and sprung back on the turf before heading towards the net.
Later, Rodriguez again scored to help Colombia reach the quarterfinals.
5. Lionel Messi
Match: Athletic Club Vs. Barcelona
Date: 31st May 2015
Competition: Copa Del Rey final
The first Lionel Messi goal to feature in our list is his solo effort against Athletic Club in the 2015 Copa Del Rey final.
The goal became more memorable and incredible after ESPN scientifically analyzed the purpose.
When Messi received a ball near half-line, he accelerated for 31.38 km/h in just 2.73 seconds with the ball at his feet.
Later, after three opposition defenders surrounded him, he decelerated and dribbled past them with just three touches in 1.2 seconds.
Then Messi dribbles towards the goal post and cuts insides beating Laporte with a faint; that shimmy gave him 5 ft space.
After that, Messi launched a deadly accurate shot at a velocity of 77.24 km/h.
In addition, the incredible fact is he covered 60 yards in 11.4 seconds. Likewise, the ball was 2 ft away from him just two times in that period.
While scoring that goal, Messi showed the acceleration of NFL players and precise shooting; if Messi had hit the ball 1.5mm right or left, he would have missed.
4. Diego Maradona
Match: Argentina vs. England
Date: 22nd June 1986
Competition: FIFA World Cup quarterfinals
The 1986 World Cup quarterfinals clash between England and Argentina was more than just football.
Argentina's pride was still bruised, suffering defeat in the Falklands War, making it a bit of a revenge match.
Diego Maradona had to prove why he was one of the greatest in the most remarkable footballing event ever.
He dominated the world cup like never seen to date, directly involved in 10 goals.
Although Argentina went to win the world cup in Maradona, that tournament will be defined by those 5 minutes against England.
Firstly in the 51st minute, he scored the infamous 'Hand of God's goal.
When England keeper Peter Shilton and Maradona both leaped in the air, and somehow he punched the ball in the back of the net.
Just 4 minutes later, Maradona produced something that stunned everyone. The tale begins when he receives the ball in the half-line.
He pirouettes out from 3 defenders and moves ahead towards the right touchline. But then he accelerates and cuts inside, beating other defenders on his way.
After entering the box, he beats the last defender. However, instead of shooting, he dummies goalie and scores in the empty net.
Later, in 2002 FIFA even honored his second solo run goal against England as Goal of the Century.
Also Read: Top 50 NFL Fantasy Players for 2021 >>
3. Zlatan Ibrahimovic
Opposition: Sweden Vs. England
Date: 14th November 2012
Competition: International Friendly Match
Roy Hodgson fielded the experimental team in a friendly against Sweden, handing a debut to six players. But, they were leading 2-1 with just 14 minutes remaining.
England had a decent evening in Stockholm until Zlatan Ibrahimovic stole the show.
There is plenty of reason that makes that fixture notable. Firstly, the 100th cap for Steven Gerrard, the opening match in Friends Arena, and six new debutants.
However, one reason everyone recalls from that friendly is Zlatan Ibrahimovic only.
When England led 2-1, their fans mocked Ibrahimovic as Andy Carroll's substandard version.
He silenced everyone scoring three goals in the last 12 minutes of the match. Later, Sweden won by a 4-2 score. However, the World will never forget his last goal.
When England keeper Joe Hart failed to clear the ball far, he dared, which others might have just imagined in injury time.
He launched himself in the air and scored 35-yard scissors-kick volley goal.
Moreover, he made an international football game like a school kids' game. Later, Zlatan's sensational bicycle kick won the 2013 Puskas Award.
There are few famous or memorable goals in international soccer friendlies, but Zlatan's one will always be at the top.
2. Lionel Messi
Match: Barcelona Vs. Getafe
Date: 18th April 2007
Competition: Copa Del Rey First leg
Barcelona fans ranked Lionel Messi's goal vs. Getafe in 2007 as the greatest goal in club history, receiving 45% votes.
Not only in Barcelona history but Messi's solo run goal will also go down as one of the most famous solo goals in soccer history.
Messi was 19 years old when he scored that incredible solo goal. His bags of tricks and nimble feet had triggered his comparison with Diego Maradona.
Moreover, that goal is reminiscent of Maradona's solo goal against England in the 1986 World Cup, which we mentioned earlier.
Messi received the ball from Xavi in the half-line. Then he nutmegs two Getafe players before taking off.
He dribbled past 6 Getafe defenders, covered 60m with just 13 touches, and scored. Later, Barcelona won the first leg with a 5-2 scoreline but lost 4-0 in the second leg.
He single handily took down the opposition team. If the Puskas award had been initiated in 2007, Messi would undoubtedly be the winner.
Also Read 12 Best Last-minute Goals in Football >>
1. Roberto Carlos
Match: Brazil Vs. France
Date: 3rd June 1997
Competition: Tournament of France
In the inaugural match of the 1997 Tournament of France, Roberto Carlos scored one of the most famous free-kick goals in soccer history.
Roberto Carlos was beginning his career when he scored that goal. Brazil won the free kick 35 yards from the goal line.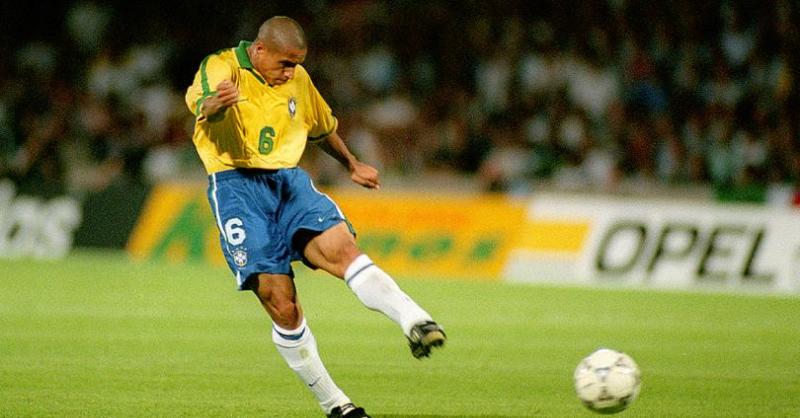 He did 20 yards long runup and shot with force. The ball moved far from the wall, but it curved back and stopped only when it found the back of the net.
France goalie Fabian Barthez couldn't do anything other than be perplexed.
Moreover, his long-range free-kick even impressed scientists. Many scientists worldwide have done many studies behind Carlos's miraculous goal that defined physics.
Professor Luis Ggernando Fonanari has said it's impossible to see that goal in football.
Carlos is one of the best left-back ever to play football, but that booming free-kick goal against France is what he is mainly remembered for by football fans.