Diego Maradona was a well-known Argentine football coach, manager, and former soccer player having a net worth of $100,000 at the time of his death.
Diego Maradona died on November 25, 2020, just a month after his 60th birthday. The Argentine player was born on October 30, 1960, in Buenos Aires, Argentina.
While working as a player and coach, Diego earned tens of millions of dollars in salaries and compliments.
In the early 80s, Diego was one of the highest-paid athletes in the world, earning several million a year in salary and approval by companies such as Hublot, Puma, and Coca-Cola.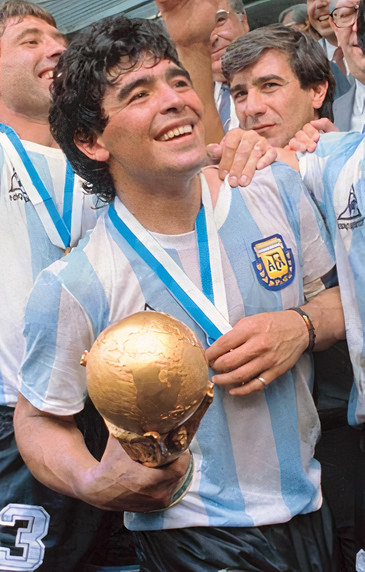 Many people still consider him as one of the best footballers. Not to mention, when the question comes, the choice often reduces to Pele or Maradona.
Likewise, he was and still is a hero to the Argentine people, as he lifted their national team to win the 1986 World Cup.
Quick Facts
Full Name
Diego Armando Maradona Franco
Date of Birth
30 October 1960 (Sunday)
Birth Place
Lanus, Buenos Aires, Argentina
Nick Name
Hand Of God & The Golden Boy
Religion
Christianity
Nationality
Argentine
Ethnicity
Argentinian
Zodiac Sign
Scorpio
Age
60 years old
Height
1.65 m (5'5″)
Weight
155 lb (70 kg)
Hair Color
Black
Eye Color
Black
Food Habit
Non-Vegetarian
Father's Name
Diego Maradona Senior
Mother's Name
Dalma Salvadora Franco
Siblings
Brothers: Hugo Maradona & Raul Maradona
Sisters: Ana Maria Maradona, Rita Maradona, Maria Rosa Maradona & Elsa Maradona
Marital Status
Divorced
Wife
Claudia Villafane (1984-2003)
Kids
Sons- Diego Maradona Junior & Diego Fernando Maradona
Daughters- Dalma Maradona, Gianinna Maradona & Jana Maradona
Affairs/ Girlfriends
Lucia Galan (1981-1982)
Cristiana Sinagra (1985)
Veronica Ojeda (2013)
Rocio Oliva (2014)
Profession
Professional Footballer
Position
Attacking Midfielder
Debut
Club- 1976
International- 1977
Jersey Number
10
Retirement
1997
Favorite Food
Pizza, Pasta, and Cakes
Net Worth
$100 Thousand (Approx.)
Social Media
Instagram
Date of death
November 25, 2020 (Wednesday)
Place of death
Buenos Aires, Argentina
Cause of death
Heart Attack
Merch
Diego Maradona, Maradona: The Autobiography, Retro Jersey
Net Worth and Income of Diego Maradona
Maradona's value, as per the estimation, is at $100,000 (£75,000). He enjoyed a 20-year career that saw him pursue his trade with Barcelona, ​​Napoli, and Boca Juniors.
The famous footballer has drawn a lot of money from the very beginning. He was an absolute star on the pitch, and nothing could be against him.
Puma supported him from his early days and has maintained good relations with the German giants to this day.
Likewise, endorsements in collaboration with Coca-Cola, Hublot, and a few others helped to climb that financial ladder. His value has been estimated to be nearly 50 million Euros at one time.
Sadly, the Italian tax confiscated his properties, and he was left to pay large sums of money—the estimated amount to 90,000 Euros currently.
As a coach
It is pretty unclear how much Maradona earns in his role as Gimnasia de La Plata manager, which also was a temporary contract until the end of the 2019-20 season.
In his previous job as Dorados's head coach, the record shows that the former Argentine manager was paid $150,000 (£118k) a month, which would work for $1.6m (£1.25m) the entire 11-month contract.
Before becoming a Dorados manager, he served as FIFA's ambassador to the 2018 World Cup in Russia. And he had signed a three-year contract to chair Belarus' Dinamo Brest.
However, after moving to Mexico, he worked in Belarus for a short period.
Learn more about 46 Famous Pele Quotes that will inspire you >>
Diego Maradona's Cars Collection
People have always been envious of the glamorous life of celebrities. Their rich lifestyle, lavish expenditure, and who could possibly forget the rides they were on!
In addition to Golden Balls and other sports trophies, Maradona had an impressive collection of outdoor cars, including his first Porsche 924 listed for sale at JamesEdition in 2010, a black Testarossa BMW i8, and a Roll-Royce Ghost.
Porsche 924
Made in Germany in 1979, Porshe 924 was transferred to Argentina at the request of a 19-year-old soccer player at the time.
In 2010, this car had a 125 HP engine and a mileage of just under 40,000 mi. (64,374 km) have been put on the market for $500,000.
By 2020, its value went up to $112,928 in the market.
Ferrari Testarossa
Maradona bought the black Testarossa in 1987 when the red color was the only color available on Ferraris.
The footballer became Ferrari's third customer (behind Silvester Stallone and Michel Jackson) to park the black Testarossa in his garage.
Certainly, a rare discovery, only two of these vehicles (built-in 1988 and 1990) are available for sale at JamesEdition at prices ranging from $112,000 to $159,000.
BMW i8
The car was one of Maradona's latest purchases which he bought while training in the UAE.
Rolls-Royce Ghost
The Rolls-Royce Ghost, one of Maradona's most frequently used vehicles in recent years, was reportedly included in his estimated $90 million estates.
House
Maradona acquired the home in 1978 by the Argentinos Junior as part of his first contract. The two-story house is now converted into a museum so that his fans can get a glimpse of the icon's early life.
The house now called the "Maradona 'House of God' museum" was opened to the public in 2016. Argentinos's former manager, Alberto Perez, acquired the house for £82,000.
Diego's lifestyle became the perfect prescription for his death.
Maradona's way of life and his nature seemed to live beyond his means. The situation got worse when he stopped playing.
Many lovers and illegitimate children and the $50 million tax debt owed to the Italian authorities meant that Maradona's years after retirement was spent dealing with allegations and high costs.
Luckily, he has survived because of his great size and popularity in Argentina. And the rich and robust support in the UAE or South America, including Fidel Castro.
Diego Armando Maradona, who demised at the age of 60, was worshiped as a god on football. But his way of life with his addictive demons left him devastated.
What killed Maradona?
'What killed Maradona', Discovery plus documentary, enters the lives of the greatest footballers who have ever played. And how his life away from football affected his performance, career, health, and heart.
Maradona's death has been added to the list of disturbing news this year affected by coronavirus as fans worldwide mourn.
The great Argentine man was an expert in the field. But he was living a life that had a problem with fighting addiction.
On the one hand, the inspiring journey from the streets of Buenos Aires to Argentina to win the World Cup is a story of rich clothes in a football-obsessed country.
On the other hand, it is the story of a young man who was unjustly disciplined for failing to manage his reputation and growing injuries. And become a victim of addiction and physical abuse at an early age.
Although his exploits on the football field are different, Maradona struggled with various health problems.
Read about Jese Rodriguez Bio: Career, FIFA 21, Wife & Net Worth>>>
Charity Works
Maradona is not well-known for his charitable work. But he has participated in many of the organizations that help with causes, such as UNICEF.
In 2010, he helped raise $500,000 for children's charity at an event organized by one of their sponsors, Hublot, by participating in a shootout game.
Movies, Investments, Endorsements & Book Publications
There's no denying that Diego Maradona lived a poor life as he got older. But he earned $8 to $10 million in approval in his splendor.
But because of, the controversies with other unscrupulous advisers did jeopardize Maradona's vast commercial power.
However, many brands wished to be associated with the influential intellectuals or groups they have played for.
With their logos on Maradona's proud chest or magical feet, these companies gained fame worldwide.
There is one funny story related to the Argentine jersey of Mexico in 1986. As usual, the teams have two uniforms in the tournament, one light and one dark, to avoid color conflicts with the opposing team.
In addition to their regular blue and white blue line, Argentina also had a dark blue jersey.
Likewise, the team wore it to their famous quarter-finals against England, where Maradona scored a Hand of God goal and a top-class solo just four minutes later.
But Maradona wrote in his book 'Touched by God: How We Won Mexico 86 World Cup' that the team probably did not have other shirts that were ready for the match.
Puma X Maradona
Puma was one of the pillars of Maradona. For most of his career, he wore their issues.
The brand finally unveiled a shoe dedicated to Maradona, calling it the King Maradona Super.
One of the company's earliest ads shows a young Maradona saying, "Puma es mi major amigo," which translates to "Puma is my best friend."
After a break of few years, Puma and Maradona reportedly signed a lifelong contract. Not to mention, Maradona was often spotted wearing Puma clothes.
Coca-cola
Before aerated drinks became known for their adverse health effects, a significant cola contract was almost as desirable to athletes as a water-based tarot contract.
Maradona had one of the biggest, Coca-Cola 'A Coca Cola pour a sour', which means Coca-Cola smile. During his early days, the Argentine star promoted the brand.
About a decade ago, Maradona traveled to India to introduce a jewelry brand from Kerala businessman Boby Chemmanur.
Diego Maradona (Film)
Diego Maradona is a 2019 British film adaptation directed by Asif Kapadia. Based on the Argentine footballer Diego Maradona and his never-before-seen footage.
Likewise, the film was produced by On The Corner Film, in collaboration with Film4 and Altitude Film acting as a distributor. It officially got released in the United Kingdom on June 14, 2019.
It also includes articles and institutions of Diego Maradona when Maradona left FC Barcelona for S.S.C. Napoli in 1984, eventually winning two Serie A titles and the 1988-89 UEFA Cup with the Italian team.
Moreover, the movie had earned $966,936 ($1,174,464) in the United Kingdom and more than $1,443,342 elsewhere, with a global value of $2,617,806.
It has also made the largest share of its revenue in its coffers and the United Kingdom. However, when released in North America, it failed to make an impression on the box office.
In the United Kingdom, the film earned £284,949 ($358,787) from 139 movies on its opening weekend, finishing ninth in the box.
It also received another £130,406 ($166,186) plus 53 screens in total in 195 over the second weekend earning £609,735 ($777,029) in 10 days.
Over four weeks, it received a total of £850,268, earned $13,367 on 37 screens over its fifth weekend, and earned £ 884,651 for the week ending July 14.
Similarly, on its sixth weekend, it made £10,410 ($13,016) in all 19 cinemas and £1,872 on five screens over its tenth weekend for a total of $966,936.
Click here for more about Pele Net Worth [2021 Update]: Career Earnings, House & Cars>>>
Career of Maradona
At the tender age of 15, Maradona made his professional debut for the Argentinos Juniors and became the sole breadwinner for his low-income family.
Immediately impressive at the national level, the Boca Juniors bought him in 1981 for $4 million.
Likewise, he spent only one year with the team he supported at a young age before moving to Barcelona in 1982 after a failed World Cup campaign.
When Diego arrived in Barcelona, there were high expectations. A team paid a record fee of $7.6 million to sign the young star.
Although Maradona is popular with Spanish fans and continued to do well in the team, his stay in Catalan city was marred by numerous controversial incidents.
In 1984, a hot exchange saw Diego attack several Athletic Bilbao players. And he had knocked one of them down with his knees.
The altercation leads to a riot inside the stadium, with Maradona being sacked by FC Barcelona.
Napoli broke the transfer fee set by Diego earlier, paying nearly $10.5 million to Argentina. It was here that Diego had reached the top.
Leading the team to two titles, including for the first time in history during their particular gold seasons.
Diego helped Argentina win the 1986 World Cup.
During this time, Diego helped Argentina win the 1986 World Cup. He smashed the ball with his hand to score points against England in a 2-1 battle.
Maradona denied it on handball when asked about it, instead suggesting it as a "God's hand." And this statement has been one of the most repeated in the history of football.
At one point, his private life of the game caused a steep decline in his career. Ergo, the 1990 World Cup was a disappointment for both, Maradona and the Argentine team.
In 1992, he forcefully left Napoli after discovering he had had cocaine. Unfortunately, in 1994, he was thrown out of the World Cup after a positive report on a drug test.
And for the next few years, Maradona played for teams such as Sevilla and Newell's Old Boys before returning to Boca Juniors to complete his career.
Three Awesome Facts About Diego Maradona
Maradona made his first football introduction on October 20, 1976, with

Argentinos Junior when he was 15 years old.

In his childhood, Diego used to sleep with the football inside his shirt due to the fear of his football being stolen.
Diego was also the first player in the history of football to set a world record of his transfer fee twice.
Addiction Problems
Diego Maradona became notorious for his cocaine addiction. He allegedly relied heavily on the drug from the mid-80s until about 2004.
Unfortunately, his constant use of the drug affected his ability to play football, which became apparent since the star's move to Napoli.
During Diego's time in the Italian city, he received protection from mafia drug lords and women as he walked the streets undisturbed by beloved fans.
Finally, Napoli was humiliated since he was found positive with cocaine in 1991. He had also tested positive for ephedrine after playing two games at the 1994 World Cup.
Health Problems
Maradona's decline in health and fitness began even before he retired from football. While in Napoli, his way of life became uncontrollable.
And he spent most of the week participating in sports. He also started losing weight and started looking young enough towards the end of his career.
After retiring, Diego's health began to decline dramatically. He soon gained weight, and at one time, he weighed 280 kgs. Finally, he underwent abdominal surgery in 2005 to deal with his obesity.
However, Maradona continued to abuse alcohol. And as for the effects of binge drinking, he was hospitalized with cirrhosis in 2007.
Rumors of his death soon followed, but Diego later appeared in a psychiatric ward after receiving treatment for his addiction problems.
Moreover, in 2007, he confessed to not drinking or taking drugs for many years.
But in 2018, Maradona fainted on the floor while watching Argentina play in the FIFA World Cup and emergency medical treatment.
Throughout the match, Diego drank white wine, swore to nearby fans, and raised his middle finger to the cameras, which obviously caught the media's attention.
Following that in 2019, he had received treatment for internal bleeding caused by a hernia.
Legal Issues
During the 90s, Maradona struggled with many legal issues. The first one came in 1991 after Diego cleverly tried to meet prostitutes in Naples.
He indirectly called an illegal service to arrange a meeting in a line under the Italian authorities. And they recorded the entire conversation.
Because of his involvement with cocaine and prostitutes, he eventually got charged with murder, including the distribution and possession of cocaine.
After being caught with cocaine that year, Maradona tried to flee from the police and fled to Argentina but was turned away by Italian authorities in tears.
Another big issue came in 1994 during the FIFA World Cup when he was tested positive for drugs.
Before Maradona made headlines for his achievements, now it was making the headlines for all the bad reasons.
In one incident, the Argentine star opened fire on reporters with a pellet gun from his hotel, injuring several reporters. Not to mention, four years later he got sentenced to two years and ten months in prison.
Financial Problems
Diego Maradona has been involved in tax disputes since his time of playing in Naples. Unpaid taxes had been collecting fines and fines for over 30 years.
In 2009, Italian authorities publicly announced that Maradona owed $37 million in unpaid taxes, with 23 million Euros on interest alone.
As a result, Police confiscated Diego's jewelry to pay off about 42,000 Euros worth of debt. However, most of the remaining debt remains unpaid.
Despite that, Maradona insisted on having had no intention of paying taxes since Italian authorities mistreated him. As a result of these statements, Diego has been accused of blasphemy.
Quotes
"If I could apologize and go back and change history, I would do. But the goal is still a goal. Argentina became world champions, and I was the best player in the world."
"My mother thinks I am the best. And I was raised to always believe what my mother tells me."
"Something that just came out of me. It was a bit of mischief."
FAQs
What is the reason for his death?
Maradona died on November 25, 2020, at his home in Dique Lujan, Buenos Aires Province, after suffering from a heart attack.
What is the jersey number of Maradona?
Maradona donned jersey number 10 for FC Barcelona as well as team Argentina.