The Dutch professional speed skater Jutta Leerdam is no new name for someone who follows international speed skating championships. Many people, including her boyfriend, believe that she is one of the fastest female speed skaters alive, and looking at her stats, it might be right.
However, these debates take a long time to settle, so let's leave it to her fans.
Born in South Holland, Netherlands, Jutta began participating in speed skating competitions at a young age.
At age nineteen, she became the junior world champion at the World Junior Championships in 2017, held in Helsinki, Finland.
Leerdam began her professional career in 2018 and was initially associated with Team IKO. She was the winner of 1000 meters world title twice, once in 2020 and another in 2023.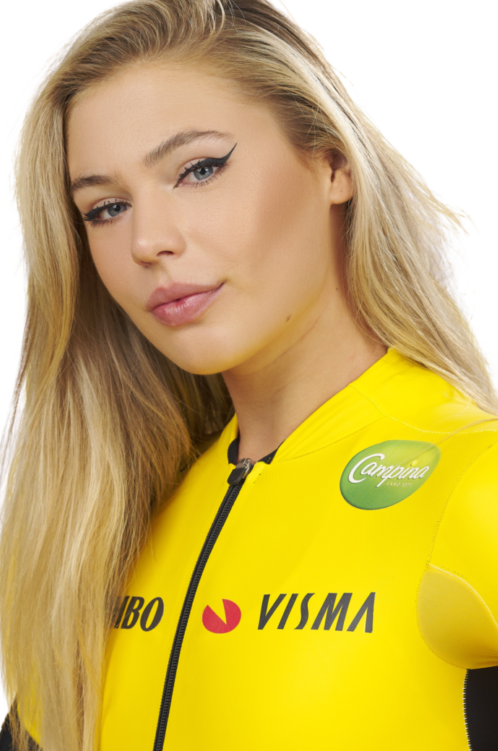 Jutta Leerdam won silver in 1000 meters in the Winter Olympics in 2022. In addition, she was the winner of gold at the 2022 World Sprint Championships.
Aside from her professional life, Jutta is known for her beauty and relationship affairs.
Recently in 2021, she made news headlines when the professional boxer Jake Paul announced that he was in a relationship with her through his social media handle.
Is Jutta The Fastest Female Speed Skater Alive?
Jutta Leerdam is undoubtedly one of the most decorated young speed skaters. To win two world championship titles within three years is an incredible feat.
Besides, she has consistently been the Dutch sprint champion in the last two KNSB Dutch Sprint Championships.
Her dominance in domestic and international competitions is apparent if we see her track record.
Still, claiming that Jutta is unquestionably the fastest female speed skater sounds ridiculous.
Although she holds a Dutch record for finishing the 1000m sprint in the quickest time possible, many others have records in other categories.
For instance, another Dutch player Xandra Velzeboer finished the 500m short track speed skating in 41.416 seconds, a record in that category.
So, it might be better to say Jutta is one of the fastest female speed skaters alive, not the absolute fastest.
Jutta Leerdam Boyfriend: Jake Paul
Jake Joseph Paul, better known as Jake Paul, is an Amerian-born professional boxer and social media personality.
He was born as a younger son to his parents, Gregory and Pamela, on January 17, 1997, in Cleveland, Ohio.
His older brother, Logan Paul, is a popular internet personality with over 23 million followers on Youtube.
The two brothers began filming videos when they were still teens and became famous after posting videos on Vine. Jake was already popular when he launched his Youtube channel in 2015.
Soon his channel grew, and he became most famous for his pranks, controversies, and music videos. Perhaps, the most noticeable thing about him was his hairstyle and dressing sense.
He also starred in the Disney Production's series Bizaardvark. Later, he started investing in the sports business and began a professional boxing career around 2019.
Jutta And Jake Began Their Conversation On Instagram
Everyone knows that Jutta Leerdam is in love with American YouTuber and wrestler Jake Paul.
The two first got in touch on Instagram in the early 2000s and soon grew fond of each other. Finally, on April 3, the duo publicly announced they were a couple.
Following their relationship, people on the internet congratulated them and told Jake Paul never to hurt her as he had had fights with his ex-girlfriends in the past.
Leerdam Was In A Relationship With Koen Verweij
Jutta Leerdam was previously in a relationship with the former Dutch speed skater Koen Verweij. Koen was born on August 26, 1990, in Alkmaar, Netherlands, and is about eight years older than her.
Verweij was the silver medal winner of the Sochi Winter Olympics held in 2014. However, he won gold in the team event at that same tournament.
Jutta and Verweij met at the beginning of 2017 and fell in love. As both were in the same profession, the two got along very well and remained together for nearly five years.
Jutta remembers that her relationship with Koen taught her many things and considers it one of the most productive years of her life.
Eventually, Jutta announced their break up on August 1, 2022, through a post on her Instagram handle.