Munich: Heavyweights France and Germany Score 1-0 Giving the World Champions a Winning Start at Euro 2020 on 15 June
It was a highly anticipated match with two of Europe's formidable teams in action.
World champions France and three times European-title-holder Germany faced each other on the pitch.
Both teams have players of the highest calibre in today's game of football.
Just three players in the Munich match don't have a medal as Champion League winners. And between the two teams, they have won six World Cups.
Not surprisingly, the excitement in the air was palpable as spectators looked on.
During the match, several opportunities came in the way for goals to be made by the likes of French national team player Paul Pogba and German player Ilkay Gundogan.
However, none of these efforts materialized into scores.
Instead, Mats Hummels made a winning score for France when he accidentally diverted Lucas Hernandez's kick into his own net.
Paul Pogba was declared the man of the match. He said, "It was important to start with a win. We were playing Germany, they really riled us. But we wanted this win above all."
Own Goal Scored by Hummels for France
Germany coach Joachim Lowe called experienced defender Mats Hummels back for the European Championship.
But instead, Hummels scored an own-goal for France.
Hummels tried to stop the pass from Hernandez to Kylian Mbappa; however, his shin pushed the ball into his net at the 20th minute.
As France coach Didier Deschamps reflects, "It was a struggle between the titans."
Although opportunities arose as the game continued, it looked like France had more of an edge to score a goal than Germany.
Pogba and N'Golo Kante showcased a continuous level of competency and intelligence.
And Mbappe, Antoine Griezmann, and Karim Benzema challenged the German defense.
If France forwards had paced themselves better, they could have added to the opening score.
In the end, Hummels made it possible for France to look forward to a great start in their Euro 2020 opener.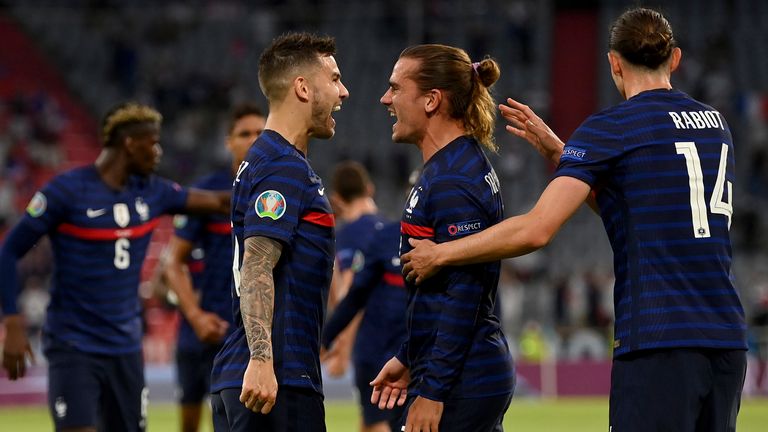 They can still dream about winning the European Championship trophy with the World Cup. A feat they accomplished 21 years ago.
France manager Didier Deschamps spoke to Sky Sports: "We played a great game against a very good opponent. I knew my players would be ready and we were up for the fight.
"We weren't far away from scoring the second goal that would have made us safe, but we didn't suffer that much in the second half. It was a strong match with quality and talent."
Germany Not up to Reputation
The Germany national team played in their home country, but the France national team was perceived as the favourite for the evening's match.
The Germany players did not showcase the spark and performance of previous times. They lacked self-confidence and they did not retain a composed level of attitude.
Although Leroy Sane, Timo Werner, and Kevin Volland were present, the Germans didn't appear to offer any intimidation to the French.
They struggled in this match and, unfortunately, it was their first-ever defeat at a European Championship opening finals.
Though Leroy San and Timo Werner were summoned to the game later on and Kevin Volland pulled in as a saving tactic, the players could not contribute as hoped.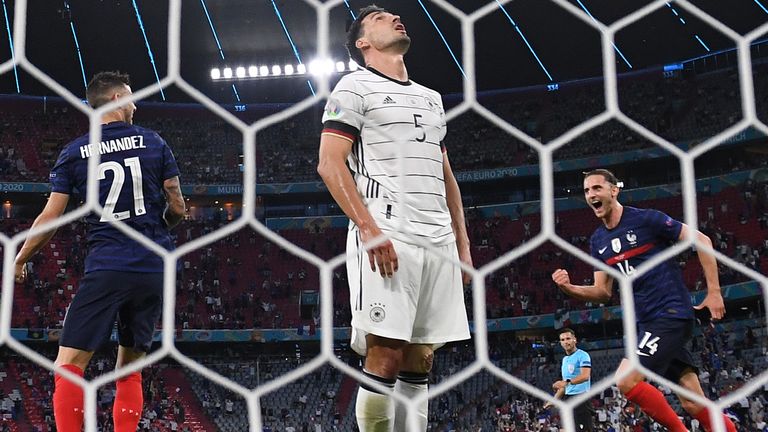 They have their reputation intact though with players such as defender Joshua Kimmich and goalkeeper Manuel Neuer present.
The glitch was drafting back Hummels, a question that has cropped up.
Germany coach Joachim Lowe spoke to Sky Sports: "It was a really intense match and we fought until the very end. I cannot blame my team for not trying – they gave everything they had.
"There were spells of the match when we were able to increase the pressure on them, but we didn't create any clear-cut chances."
Unexpected Calamity
A Greenpeace protestor parachuted into the Munich stadium before the match between France and Germany.
France coach Didier Deschamps was nearly hit by debris when the parachutist struck wires for an overhead camera placed at the stadium roof.
Deschamps ducked into the team dugout to avoid the falling debris.
Several injured spectators were taken to the hospital for treatment.
UEFA condemned the incident and said, "This inconsiderate act… caused injuries to several people attending the game who are now in hospital."
European soccer's governing body said, it was a "reckless and dangerous" act and stated that "law authorities will take the necessary action."
What Follows Next
France travels to Budapest to play against Hungry in Group F and Germany will contest Portugal in Munich. Both matches take place on Saturday