Fred Warner is a football linebacker for the San Francisco 49ers of the National Football League (NFL).
Warner, a college football player at Brigham Young University, was drafted in the 2018 NFL Draft by the San Francisco 49ers. He was picked 70th overall in the third round by the 49ers.
Warner started his career in his high school days, and now he has established himself as a renowned football player. People always praise his defending techniques.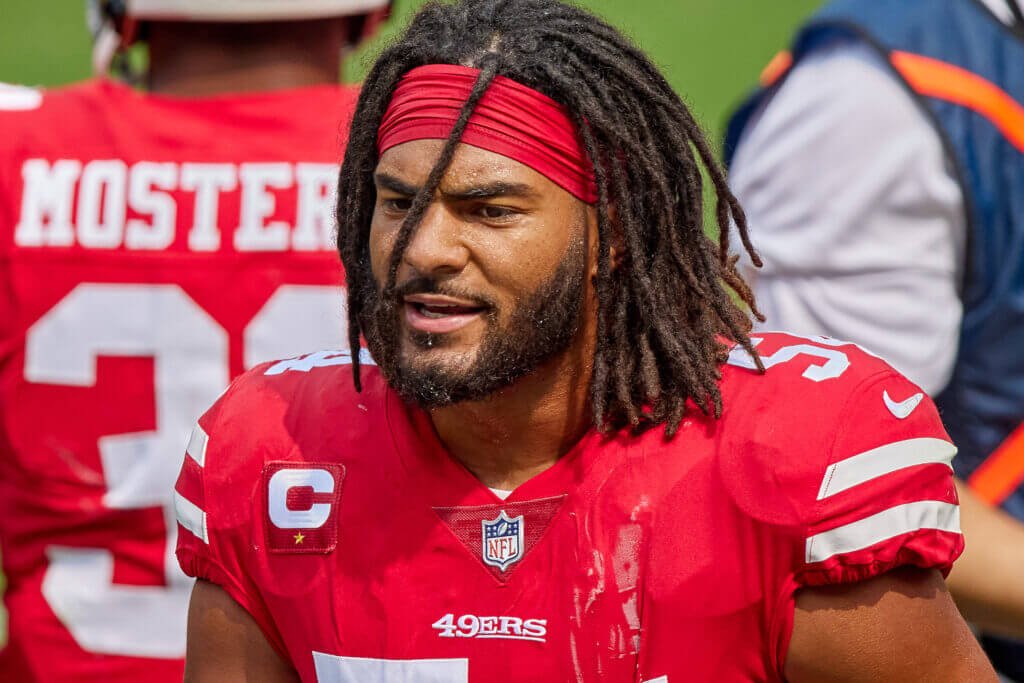 Warner started professionally in 2017 as a linebacker. He has impressed his teammates and the coaches with his talent and dedication.
To know more about Warner, read the following information. This article gives depth view of the bio of the footballer.
Now let's look into quick facts.
Quick Facts
Full Name
Federico Anthony Warner
Date of Birth
November 19, 1996
Birth Place
San Marcos, California
Nick Name
All-Pro Ferd
Religion
Christian
Nationality
American
Ethnicity
Latin
Zodiac Sign
Scorpio
Age

25 years old

Height
6 ft & 3 in (191 cm)
Weight
230 lb (104 kg)
Hair Color
Black
Eye Color
Black
Build
Athletic
Father's Name
Fred Warner
Mother's Name
Laura Warner
Siblings
Two
Education

Mission Hills High School
Brigham Young University (BYU)

Marital Status
Engaged
Fiance
Sydney Hightower
Kids
None
Profession
Football Player
League
NFL
Net Worth
$95 million
Salary
$19,045,000
Social Media
Instagram, Twitter
Awards & Achievements

First-team All-Pro (2020)
Pro Bowl (2020)

Merch of Fred Warner
Rookie Card
Last Update

October, 2022
Fred Warner: Early Life, Family & Education
On November 19, 1996, Fred Warner was born in San Marcos, California. His full name is Federico Anthony Warner.
Warner's father's name is Fred, and his mother's name is Laura. Fred is the oldest of his two siblings. He has a brother, Troy, and a sister, Mya.
Warner's younger brother, Troy Warner, is also an NFL player who plays for the Tampa Bay Buccaneers.
Warner's parents separated when he was a small kid. So all the prospects of his parents are fulfilled by his single mother.
As a single parent, Laura had to make a lot of sacrifices for the family and the kids. She was the sole breadwinner for the family. Warner had seen his mother going through all the struggles to provide for the family.
Warner regards his mom as his Hero. He is grateful for all the hard work and struggles she did for him. He gives credit to his mom for being in the position he is in now.
All the good qualities in Warner, like work ethics, perseverance, patience, and dedication, are the values he learned from his mother.
Warner was interested in sports from an early age as he played many sports. At the age of seven, he found his passion in playing football. His teenage years were focused on playing the sport, sharpening his skills.
Read about Evan McPherson Bio: NFL, Bengals & Fiancee.
Warner was a fan of the Dallas Cowboys from childhood.
Warner attended Mission Hills High School. He continued to play in high school and eventually became a star footballer.
After that, he went to Brigham Young University (BYU). He graduated from college in December 2017 with Bachelors's degree in exercise and wellness.
Fred Warner: Age, Height & Weight
Warner is 25 years old as of January 2022.
Warner has an incredible height of 6 ft 3 in (1.91 m), which helps him defend the score in the field. In addition, he weighs around 230 lb (104 kg). He has the perfect combination of body measures.
Warner lives a balanced lifestyle with regular workouts and eating healthy foods.
Fred Warner: Career
High School Career
Warner went to Mission Hills High School. In his junior year, Warner started the game as a linebacker on the football team. He was acknowledged for his skills and techniques and as an outside linebacker. As a result, the officials gave him the All-San Diego Section Defensive Player of the Year.
Warner received the title of the All-California First Team from USA Today and the Cal-Hi Sports All-State First Team. He also got the Avocado East League Defensive Player of the Year title.
Warner was in The Church of Jesus Christ of Latter-day Saints during his early life. He was close to the staff and other members of the church.
One day he mentioned his passion for football to the ward, who was an alumnus of Brigham Young University (BYU). Hence, the ward recommended one of the coaches in the college, and BYU selected Warner.
College Career
Warner had 24 tackles, 1 interception, and 1 pass in the first year.
In his sophomore year, Warner had the starting position as a linebacker. He had 67 tackles, 11.5 tackles for loss, 4 sacks, 10.5 tackles for loss, 1.5 sacks, 3 interceptions, 2 fumbles, and 6 pass breakups.
In his senior year, Warner was the captain of the football team. He had 87 tackles, 9 tackles for loss, 1 sack, 1 interception, 1 forced fumble, 1 fumble recovery, and 5 pass breakups.
During his college years, Warner was a starter for three years. He made 264 tackles, 32 tackles for loss, 6.5 sacks, 7 interceptions, 5 fumble recoveries, 3 forced fumbles, and 13 pass breakups.
You may like- Ziggy Ansah Bio: College, NFL, 49ers & Net Worth.
Warner's 7 interceptions were second-best among all the linebackers in college history.
Professional Career
On November 20, 2017, Warner decided to play in the 2018 Senior Bowl.
On January 27, 2018, Warner had 6 tackles for the North team of the Denver Broncos. Unfortunately, the team lost the match to Houston, Texas, with 45-16. However, Warner's effort did not waste as the officials were impressed by his performance.
Warner went to the NFL Scouting Combine and did all the tests for the selection. He was in the 13th position in all the linebackers in the 40 yard, 8th in the bench press, 9th in the short shuttle, and 6th in the three-cone drill.
Warner displayed his skills and techniques in the pre-draft visits. In addition, he had private workouts with teams like the San Francisco 49ers, Denver Broncos, and Buffalo Bills.
At the end of the process, Warner was expected to become a second-round pick by the NFL scouts and analysts. He was no 4 in best outside linebacker in the draft by Scouts Inc and the sixth-best outside linebacker by DraftScout.com.
The 6'3″ linebacker was drafted in the 2018 NFL Draft by the San Francisco 49ers. He was picked 70th overall in the third round by the 49ers.
San Francisco 49ers
On June 13, 2018, the San Francisco 49ers signed a four-year contract with Warner to $3.97 million with a signing bonus of $1.01 million.
Warner debuted in the season first match against the Minnesota Vikings. He had 11 tackles and 1 combined tackle, 1 forced fumble, and succeeded in defending a pass but his team lost with 24-16.
Warner recorded 14 combined tackles in the final season, including 9 solo tackles against the Los Angeles Rams. But the team faced a loss of 48-32 points.
In his rookies season, Warner got the opportunity to start in 16 games. He made 124 combined, including 85 solo tackles, 6 pass deflections, and 1 forced fumble.
With his outstanding performance, Warner was ranked 12th among all the players and 3rd in all the rookies in 2018.
Warner changed his jersey number to 54 in the 2019 season. In Week 10, Warner had a team-high of 10 tackles, 1 forced fumble, a 12-yard touchdown against the Seattle Seahawks in a 27-24 loss.
After two weeks, Warner made 11 tackles against the Green Bay Packers in a 37-8 win. Because of his performance, he got NFC Defensive Player of the Week honors from the officials.
Warner also got the title of the NFC Defensive Player of the Month in November. In Week 16, Warner made 11 tackles and 1 interception and returned a 46-yard touchdown against the Los Angeles Rams in a 34-31 win.
The linebacker of 49ers made 7 tackles and 1 interception against the Kansas City Chiefs in the 31-20 loss during the Super Bowl LIV. Warner ranked 70 in the NFL Top 100 Players of 2020.
Pro Bowl 2020
Warner was on the COVID reserve list on August 31, 2020. He was off the list on September 9, 2020.
In Week 3, Warner made his first interception against the New York Giants in a 36-9 win.
In Week 16, Warner recorded 14 tackles, 1 forced fumble, defended 3 passes, and had a fumble recovery against the Arizona Cardinals in a 20-12 victory. Because of this splendid performance, he earned the NFC Defensive Player of the Week.
In Week 17, Warner had 10 tackles and his first sack in the season against the Seattle Seahawks in the 26-23 loss.
Warner was selected in Pro Bowl and got the honor as First-Team All-Pro by the press.
On July 21, 2021, Warner signed a five-year extension contract with the San Fransico 49ers worth $95 million, including a $12,320,000 signing bonus. His average annual salary is $19,045,000.
Fred Warner: Injury
In November 2021, Warner had an ankle injury in the match against Minnesota and missed the next game. However, he was back in the game against Cincinnati on December 12.
In January 2022, Warner suffered from a right ankle injury in the match against the Cowboys in the fourth quarter. He did an MRI for the injury and is still recovering.
<<Duron Harmon Bio: Contract, Net Worth, Wife, Jersey & Lions>>
Fred Warner: Net Worth
Warner's net worth is approximately $95 million. His earnings include the record-breaking deal he had with the 49ers in 2021.
His average annual salary is $19,045,000.
Fred Warner: Girlfriend
Warner is dating Sydney Hightower, a retail marketing manager from Alabama.
The couple first met on the filming sets of "Women Tell All." Soon they started dating amid the global pandemic and grew even closer together.
Fred and Sydney announced their engagement on May 15, 2021, and all their friends and family congratulated them.
The couple is excited to go on a new journey together and is planning for the wedding.
Fred Warner: Social Media Presence
Warner is active on Instagram and Twitter. He shares about his football life on the field and some of the glimpses of his personal life.
Frequently Asked Questions (FAQs)
What is Fred Warner's position?
Fred Warner is the linebacker of the 49ers.
What is Fred Warner's injury?
Warner suffered from a right ankle injury in January 2022 and is still recovering.
Who is Fred Warner's wife?
Warner was engaged to Sydney Hightower on May 15, 2021.