Evan McPherson is an American professional National Football League (NFL) player. He is currently playing as a kicker for the Cincinnati Bengals.
Previously, before joining the league, Evan played for the Florida Gators for about two years. While there, he made tremendous progress and showed himself as one of the emerging prospects in the country.
Picked up in the 2021 NFL draft, the player has already made his mark in league with a high goal percentage. Moreover, he can score unbelievable goals from a very long distance, some even ranging over 60 yards.
At such an early age, Evan has already become a famous football player with a large fan following.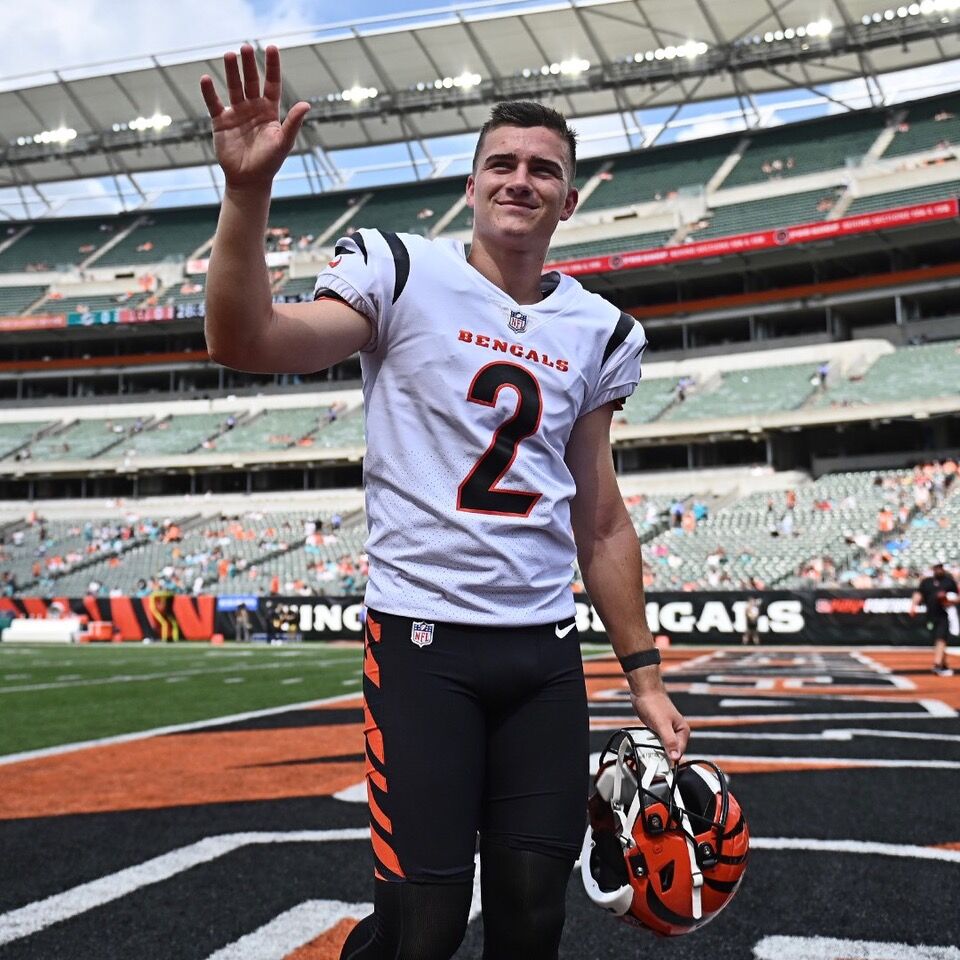 Most recently, Evan became the talk of the town for leading the Bengals to the AFC Championship after scoring a sensational goal in the last minutes.
The Cincinnati Bengals kicker always acts mature and remains cool and composed while on the ground. Plus, he can take things into his hands and handle his team even in high-pressure matches.
Let's discover more about this fine young talent's early life, his beautiful and supportive family, his early venture into the country's biggest domestic football league, NFL, and much more.
But before moving into the details, let's check out some quick facts about Evan McPherson.
Quick Facts
Full Name
Evan McPherson
Date of Birth
July 21, 1999
Birth Place
Fort Payne, Alabama, the USA
Nick Name
Money Mac
Religion
Christianity
Nationality
American
Zodiac Sign
Cancer
Age

24

years old
Height
1.80 m (5 feet 11 inches)
Weight
185 lb (84 kg)
Hair Color
Brownish
Eye Color
Blue
Build
Athletic
Father's Name
LaDon McPherson
Mother's Name
Amber McPherson
Siblings
An elder brother and a younger brother
Siblings' Name
Logan McPherson, Alex McPherson
Education

Fort Payne City School (Fort Payne, Alabam
University of Florida (Gainesville, Florida)

Marital Status
Unmarried
Sexual Orientation
Straight
Girlfriend's Name
Gracie Groat
Kid
None
Profession
Professional football player
NFL Draft
2021
Position
Kicker
League
National Football League (NFL)
Active Years
(2021–present)
Net Worth
$4- $6 million
Currently Plays For
Cincinnati Bengals
Jersey Number
2
Career Highlights & Awards

AFC Special Teams Player of The Month (December 2021)
NFL Player of The Week-twice (2021)
First Team All-State (2017)

Social Media
Instagram, Twitter
Cincinnati Bengals Merch
Hooded Sweatshirt, Shirt, Wireless Earbuds, Knitted Toque Cap
Last Update

November, 2023
Early Life, Family & Education
Evan McPherson was born as a second child to his Father, Ladon McPherson, and his mother, Amber McPherson, on July 21, 1999. LaDon McPherson still works as a quality manager in a steel Company in Fort Payne.
His mother, Amber, is the Forensic Interviewer and Family Advocate at Dekalb County Children Advocacy Center.
Moreover, she has remained the Drama director of Fort Payne's First Baptist Church for a long time. Both his parents are natives of Alabama.
Born and raised in Fort Payne, Evan attended Fort Payne City School. His elder brother, Logan, was interested in football and played as a kicker for his school team. As a kid, Evan regularly watched his brother play; over time, he got inspired.
Although they were from a middle-class family, Evan's parents always encouraged their kids to do what they loved. So they sent him to a local kicking camp in Alabama to practice football and improve his kicking skills.
Evan quickly showed progress, and soon after, following his brother's footsteps, he too began playing as Fort Payne's kicker.
At that time, Evan had prepared his soccer ground at his home yard to practice as much as possible.
Evan later joined the University of Florida for his higher studies and played there for about two years.
<<< Ziggy Ansah Bio: College, NFL, 49ers & Net Worth >>>
Evan's younger brother, Alex, also plays football. Like his older brothers, he is an excellent kicker and plays for Auburn University.
Evan McPherson | Career
High School Career
Evan McPherson started playing football at Fort Payne City school, where he had enrolled as a child. He played four seasons there as the team's punter and kicker.
However, McPherson has always liked being a kicker over a punter.
He played football throughout high school and earned even more praise than his elder brother, Logan. Evan was crucial for his team while helping his team lift the 6A state championship as a freshman.
Moreover, the football prodigy displayed a wonderful performance in almost every match. He had achieved several awards by the end of high school, even surpassing his own elder brother.
Taking about his records at Fort Payne, he had scored a 60-yard field goal and an 84-yard punt.
However, he missed by one yard to be named as goal scorer from the longest distance in Alabama High School history.
College Career
McPherson joined the University of Florida to play college football and was exceptional from the start. He played a good game and was named the SEC Freshman of the Week numerous times in his first year.
Following the footsteps of the Gators' legend Eddy Pinero, he had the best field goal percentage and performed consistently well throughout his years in the Gators Nation.
While remaining there for only two years, he made 51-60 field goals and 149-150 extra points in a minimum of 50 attempts.
However, he decided to forgo his remaining two seasons at the University and declared for the NFL draft in 2021.
Professional Career
The Cincinnati Bengals chose Evan with the 149th overall pick in the fifth round of the 2021 NFL draft. On May 17, he signed a four-year contract with the Bengals.
Evan played a good game during his preseason matches and impressed the team management. Consequently, he was named the team's starter for the 2021 regular season.
He made his first regular-season field goal attempt in their first game against Minnesota Vikings on September 12, 2021. Moving further, he earned his first AFC Special Teams Player of The Week after scoring a 33-yard game-winning goal securing a win for his team.
Likewise, in the same season, he made the record for most fifty-yard field goals in a single season. He won another AFC Special Teams Player of The Week after performing well against the Las Vegas Lakers.
McPherson finished the season with field goal attempts of around 84.8%. Furthermore, he recorded 4 out of 4 field goals in a match against the Los Angeles Lakers, making his team win their first postseason match in 31 years.
Moreover, Evan McPherson is the only player from Fort Payne to ever play in the NFL regular-season game.
Age, Height & Weight
As of 2023, the young NFL star is 24 years of age. He celebrates his birthday every July 21.
Evan is one of the minor players in terms of height among the players of the Bengals. He stands at 1.80 m (5 feet 11 inches) tall and weighs around 185 lb (84 kg).
He has a bit of brownish hair color and a beautiful set of blue eyes. Further talking about his body features, he has an athletic body that compliments him well.
There are no official nicknames of the athlete. However, the club recently polled its fans to choose a nickname for their favorite player.
They suggested interesting names like Legatron, Money Mac, etc. Then, in an interview, he jokingly remarked that he might like his fans to call him "Money Mac" because it sounded cool.
<<< Ranking 15 Best NFL Edge Rushers >>>
Evan McPherson | Girlfriend
Evan is currently one of the most searched NFL players. So, it is not surprising that he has many followers who keep a close watch on the player.
Many of them are curious about the player's relationship status. Here, we have some information about this interesting part of the athlete's life.
Currently, he is in a relationship with Gracie Groat, a Fort Payne, Alabama resident, as the player. The duo first met while still very young in high school.
His longtime girlfriend, Gracie, is currently a student at Auburn University. She often comes to the stadium to see Evan play and has constantly been cheering for him since high school.
The duo got engaged in July 2021 and intends to get married very soon.
Evan McPherson | On Headlines
The Fort Payne pass-out frequently comes into the spotlight for good reasons. On the other hand, he enjoys being covered by media and magazines.
Most recently, Evan made it to newspaper headlines and television screens for scoring the historical goal to send his team to their first AFC Championship Game since 1998.
He scored a memorable 52-yard field goal in the last minutes against the Tennessee Titans when the scoreline was tied to 16-16.
After the historic win, the quarterback of the Bengals, Joe Burrow, said that he did a few warm-up kicks before that game-winning goal and added that the team is proud of the young lad from Alabama. After this win, they are looking forward to winning AFC Championship with high spirit.
Meanwhile, the crowd in his hometown had a grand celebration as the player from their locality was making history after going to the NFL.
Net Worth, Salary & Career Earnings
The Bengals kicker has accumulated a good amount of wealth through football games.
While still at the initial stage of his career, Evan already has an estimated net worth of $4 million to $6 million. He earned more than $1 million in his first season alone.
However, his base salary in 2021 was $0.66 million. His salary will likely increase, seeing his performance last season. Upon his draft, he signed a four-year contract with the Bengals worth around $3.8 million.
Besides, he makes good earnings through merch sales.
<<< Top 10 Best NFL Hall of Famers >>>
Evan McPherson on Social Media
Evan McPherson engages with his fans and relatives on social media, especially on Twitter and Instagram.
McPherson regularly posts pictures of post-match moments and photoshoots, and sometimes, he posts single and couple photos with his girlfriend, Gracie Groat, on Instagram.
Similarly, he tweets team updates on his Twitter handle.
Frequently Asked Questions (FAQs)
Who is the Bengals kicker?
Evan McPherson is the Bengals kicker of the first choice presently. He rose to prominence after the Bengals released their only kicker, Austin Sibert, before the start of the 2021 NFL season.
Meanwhile, the new kicker has proved to be a good choice since he is doing exceptionally well for the Bengals, including leading them to AFC Championship Game this year.
Who does Evan McPherson play for?
Evan McPherson plays for the Cincinnati Bengals club of the NFL. Since then, he joined the club in 2021 and has played as a kicker. Most recently, he played for his team against the Tennessee Titans, scoring a 52-yarder near the end of the match.
Did Evan McPherson get drafted?
Yes, Evan McPherson got drafted in the 2021 NFL draft. The Bengals chose him in the fifth round, making him the first and only kicker to get prepared that season. Even though there was doubt during the time of the pick, he later proved to be crucial for the club.