Gavin Lux's girlfriend, Molly O'Boyle, recently graduated from the University of Florida with a doctorate in Athletic Training.
Molly O'Boyle and Gavin Lux have been happily involved in a romantic relationship since 2022.
In May of that very year, they decided to make their relationship public and shared heartwarming photos of themselves.
Ever since then, the couple has been creating and treasuring precious memories together, which they eagerly share on significant occasions and milestones.
Gavin Thomas Lux is a professional baseball player who currently serves as the second baseman for the Los Angeles Dodgers in Major League Baseball (MLB).
Lux attended Indian Trail High School and Academy in Kenosha, Wisconsin, where he showcased his baseball skills.
Due to his exceptional talent and potential, he was selected by The Los Angeles Dodgers in the first round with the 20th pick in the 2016 MLB draft.
He began his professional career with the Arizona League Dodgers and was promoted to the Ogden Raptors of the Pioneer Baseball League.
Three years after being selected by The Los Angeles Dodgers, he finally made his major league debut as the starting second baseman against the Colorado Rockies on September 2, 2019.
Gavin Lux Girlfriend
Molly O'Boyle, the girlfriend of Gavin, recently graduated from the University of Florida with a doctorate in Athletic Training.
While obtaining her degree, she started working as a resident athletic trainer at UF Health Orthopedic Sports Medicine Institute and is still affiliated with the institute.
Moreover, she has also been working at Santa Fe High School as the Head Athletic Trainer since August 2022.
Before pursuing her doctorate, Molly earned her undergraduate degree in Athletic Training from the University of Wisconsin in 2021.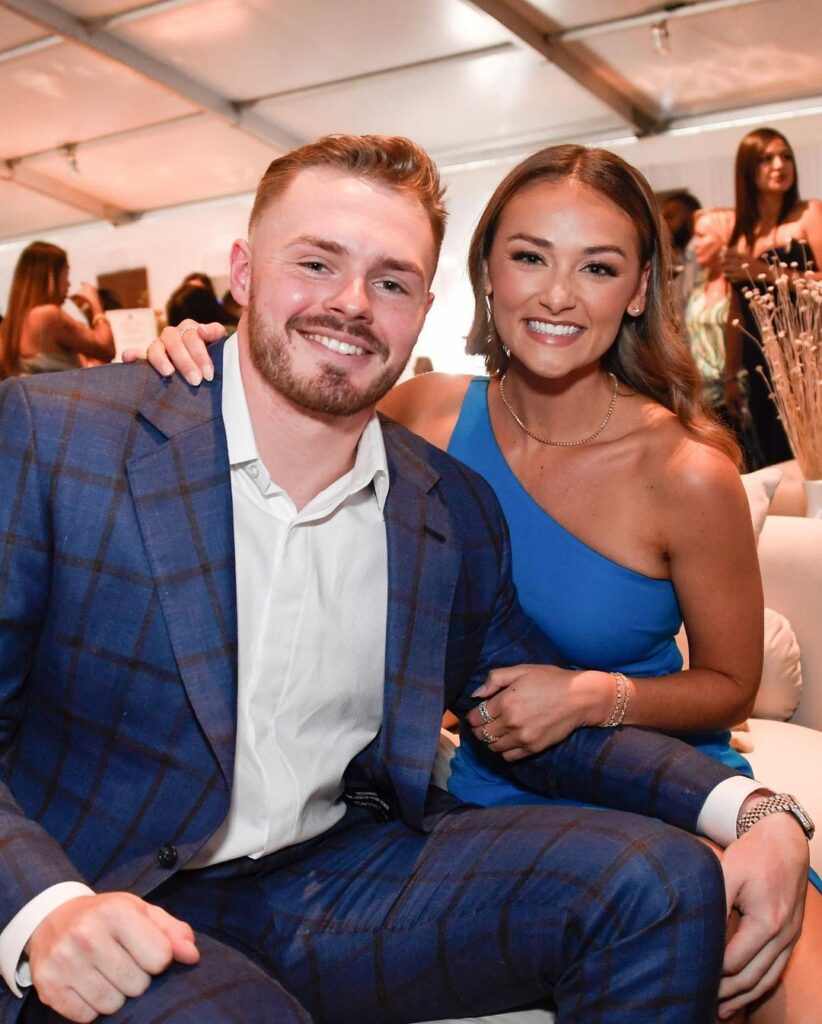 Later, Molly O'Boyle joined Fort White High School as the Head Athletic Trainer as a part-timer in August 2021. Her role in this position involves providing medical support and care to student-athletes.
In addition to her academic achievements, Molly is a Certified Athletic Trainer, recognized by the Board of Certification for the Athletic Trainer.
Molly Is A Former Cheerleader
Born on September 16, 1999, Molly has always been active in sports, particularly gymnastics and cheerleading.
Molly attended George Nelson Tremper High School, where she showcased her exceptional athletic abilities.
She achieved significant success in gymnastics, earning state titles in the sport.
In addition to her accomplishments in gymnastics, she also participated in track and field, showing her dedication as an athlete.
She later transitioned into cheerleading and continued her passion for sports at the University of Wisconsin-Madison.
In fact, she was a member of the Wisconsin Badgers cheerleading team during her time at the university.
Molly O'Boyle And Gavin Lux's Relationship Timeline
Gavin Lux and Molly O'Boyle reportedly began their romantic relationship around the start of the year 2022.
However, they made their relationship public only in the month of May, openly admitting their connection to the public.
Even though it is unknown how they started dating, it is possible for them to be connected through a mutual friend since both of them are involved in sports.
Both of them have happily accepted their relationship and are often seen attending events together.
On July 3, 2023, Molly, along with her family and Gavin's family, was present at Dodger Stadium for Gavin Lux bobblehead night.
Molly also had the opportunity to throw out a ceremonial first pitch.
Adding to the special occasion, the couple's parents were also present in the field, showing their support for Gavin.