Many speculate that Gianluca Busio is a soccer phenomenon on the rise, and his parents are content with their son's career progression.
Alessandro and Dionne together raised three kids who are all doing well in their respective careers.
They are very proud of the US international player and glad that their little boy is having an amazing experience around the soccer world.
Gianluca Cristiano Busio is a professional soccer player born on May 28, 2002, in Greensboro, North Carolina, United States.
He plays as a midfielder for Serie B club Venezia and for the United States men's national soccer team (USMNT).
Busio joined Sporting Kansas City on a Homegrown Player contract at the age of 15 years old.
He made his MLS debut at 16 as a 77th-minute substitute against FC Dallas on July 28, 2018.
The Greensboro native was the third-youngest player to start a match in Major League Soccer history.
In 2021, Busio signed with the newly promoted Venezia FC in Italy's Serie A. With a fee of €6 million, he became their most expensive-ever transfer signing.
Since then, the midfielder has made 57 appearances for the European team in both Serie A and B.
Gianluca Busio Parents: Alessandro And Dionne Busio
Gianluca is the third child of his parents, Alessandro and Dionne Busio. He grew up with two older siblings: a sister named Ilaria and a brother named Matteo.
They are content that three of their kids have developed a strong bond with each other and are really good friends.
The Busio parents were reluctant to let their little kid go far away from home at first. But when they got a call from Sporting Kansas City, they realized Gianluca's soccer potential.
Eventually, they came to peace with it and were surprised to see the enthusiasm of their youngest. Gianluca has not looked back since.
Meet Dionne Busio
Busio's mother, Dionne, is an assistant professor in the Department of Family and Child Studies at Appalachian State University.
Born and raised in South Bronx, New York, Dionne is of African-American origin. She is a highly learned individual who has a doctoral degree.
Dionne earned her B.S., M.Ed., and Ph.D. from the University of North Carolina at Greensboro.
Throughout her career, she has held a variety of positions. That includes working as a lead preschool teacher and early interventionist in her more than 25 years as an early childhood education professional.
After completing her Ph.D. in 2016, Dr. Dionne joined Appalachian State University as a faculty in January 2017.
Meet Alessandro Busio
On the other hand, Busio's father, Alessandro, was born in Brescia, Italy. The soccer player has a mixed ethnicity being half Black and half Italian.
Although Alessandro wasn't much of a player, he passed his passion to Gianluca and his older brother, Matteo, who played at both UNC Greensboro and Charlotte.
Alessandro worked for a long time as an Italian textile company technician and traveled a lot for his work.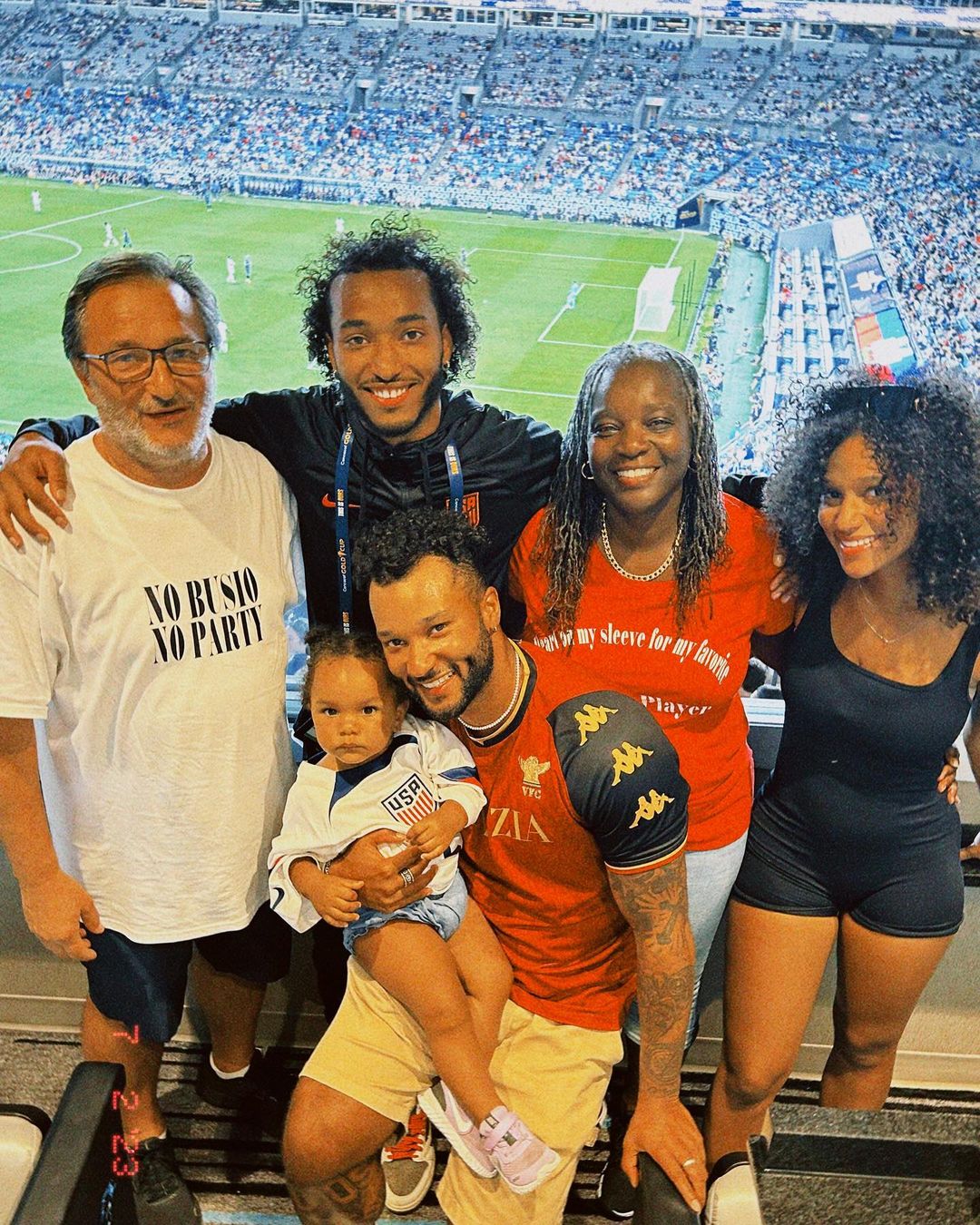 In the late 1980s, he was the assigned agent to his company's hub in Greensboro. At the same time, Dionne worked as a server while earning a bachelor's degree from UNCG.
The couple met for the first time at a bar in Greensboro and later got acquainted with the help of Dionne's friend.
Interestingly, Alessandro and Dionne had two weddings in 1994, one in America and another in Italy.
It has been 34 years since their first date. And after 29 years of marriage and 3 kids, the saying "small world" couldn't be more true.