Sarah Kemp wife, Lisa Cornwell, released her highly awaited book, "Troublemaker," on May 23, 2023. The golfing couple has been together since 2017.
Sarah and Lisa have struck the perfect balance of how much they should open up about her personal life. They might have been married in 2020 but haven't shared a single wedding snap.
Their shared love for golf brought them together in 2017, and since then, they have gone through many ups and down in their respective career.
Sarah hasn't been able to reach the same level of performance in 2019, and Lisa has decided to stand up against discrimination faced by women in the golf world.
Earlier this month, Sarah competed in the Cognizant Founders Cup, finishing T13 with the Japanese golfer Nasa Hataoka coming in eighth.
Sarah Kemp Wife Lisa Cornwell Works At ESPN
Sarah Kemp's wife, Lisa Cornwell, is a broadcaster for ESPN's PGA Tour Live program.
But before she became the golf analyst, Cornwell is a woman who had already achieved great heights in the sport.
Early Golf Career Of Lisa Cornwell
Born on September 21, 1974, Lisa Cornwell was raised in Fayetteville, North Carolina. Her infatuation with golf began when she was five.
And by the time she was 14, Lisa had already won the first of four Arkansas Women's Golf Association Championships. Lisa is also a three-time American Junior Golf Association All-American.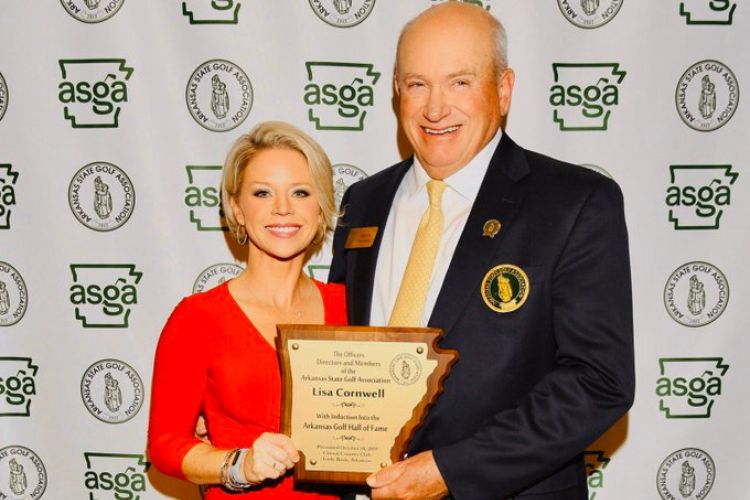 After graduating high school in 1992, Lisa joined South Methodist University before enrolling at the University of Arkansas. In 1992, Lisa even won Arkansas Female Athlete of The Year.
Lisa's journalism career began in 2004 working as a reporter for stations in Columbus, Mississippi, and Cincinnati.
She joined Big Ten Network in 2007 and became part of Golf Channel in 2014. She currently works for ESPN.
The sports analyst was formally inducted into the Arkansas Golf Hall of Fame and is a pioneer for women in golf.
Lisa Cornwell And Her Feud With Golf Channel
A former Golf Channel host Lisa Cornwell left her job at Golf Channel in 2020. And to say the least, Lisa's relationship ended on a sour note with them.
Before quitting, Lisa filed a complaint with the Equal Employment Opportunity Commission, accusing the network of discrimination.
On January 1, 2021, after her contract with Golf Channel came to an end, Lisa took to Twitter to announce she would speak up against the network.
In her new book, Troublemaker, Lisa has opened up about her time at Golf Channel and has dedicated a single chapter to Brandel Chamblee, a man with whom Lisa has bad blood.
Sarah Kemp And Lisa Cornwell Relationship Began In 2017
Sarah Kemp and her wife Lisa Cornwell's romantic relationship began in 2017.
One of the first photos of the couple came in August 2017 during their trip to Scotland. A month later, Lisa shared a picture of the couple relishing hiking in Multnomah Falls, Portland, Oregon.
The golfing couple celebrated New Year 2018 in Australia, enjoying date night at Sydney Harbour. Though the couple is not a social media fanatic, they continued sharing snaps of each other on Instagram.
Though they have never shared a single picture from their wedding day, Sarah gave hints to their fans that they had exchanged their vows in 2020.
In the post shared by Sarah on the first day of 2021, the Australian golfer wrote, "Dear 2020 – You were tough, but I still love you. I am grateful for family, friends, facetime, marrying my best friend, our puppies, CME & all the brave frontline workers."
Last year, Lisa caddied for her partner at the Kroger Queen City Championship. Despite Lisa not being a professional caddy, Sarah said there isn't anybody else she feels more comfortable with.