Gordon Hayward is estimated to have a net worth of $60 million.
Gordon Daniel Hayward is a 33 years old professional American basketball player. Currently, he plays for Charlotte Hornets, having previously played for Utah Jazz and Boston Celtics.
In the 2017-18 season, he posted his best scoring season, averaging 21.9 PPG. Furthermore, he also got his first All-Star selection that season.
Hayward signed a $127.8 million deal with the Celtics in 2017 but got a season-ending injury in his first game only. Later in 2020, he agreed $120 million deal with the Hornets.
Alongside playing basketball, Hayward is also an avid lover. Moreover, he is the first NBA player to have a sponsorship deal with an e-sports company.
Not only making money, he definitely invests it. At present, Hayward lives in an 8,800 sq ft $4.7 million mansion which is purchased in 2021.
While playing with the Celtics, he used to live in a $3 million mansion.
Quick Facts
| | |
| --- | --- |
| Name | Gordon Daniel Hayward |
| Date of Birth | 23rd March 1990 |
| Birth Place | Indianapolis, Indiana, USA |
| Nick Name | Unavailable |
| Age | 33 years old |
| Gender | Male |
| Religion | Christian |
| Nationality | American |
| Ethnicity | White |
| Horoscope | Aries |
| Body Measurement | Hand length (8.5), Hand width (9.25) |
| Height | 6'7″(2.01 m) |
| Weight | 102 kgs(225 lb) |
| Body Mass Index (BMI) | 25.3 |
| Build | Athletic |
| Wingspan | 2.03 m |
| Shoe size | 12 |
| Hair Colour | Regular Brown |
| Eye Colour | Brown |
| Tattoo | No |
| Father name | Gordon Scott Hayward |
| Mother name | Jody Hayward |
| Siblings | Heath Hayward (twin sister) |
| Relationship | Married (2014) |
| Wife | Robyn Hayward |
| Children | Nora Mae Hayward, Charlotte Margaret Hayward, Bernadette Marie Hayward (daughter), Gordon Theodore Hayward (son) |
| Profession | Professional Basketball Player |
| Position | Small forward, Shooting Guard |
| Education | Brownsburg High School, Butler University |
| High School Ranking | 3-star recruit (Rivals) |
| Draft | 2010 (9th overall pick) Drafted by Utah Jazz |
| NBA Debut | 2010 |
| Team | Charlotte Hornets |
| Previous Teams | Utah Jazz (2010-2017), Boston Celtics (2017-2020) |
| Current Affiliations | NBA |
| Jersey Number | 20 |
| Salary | $28.5 million yearly |
| Net Worth | $60 million |
| Social Media | Instagram, Twitter, Facebook, Website |
| Achievements | 2017 NBA All-Star, 2010 Horizon League Player of the Year, 2x All-Horizon League First Team, 2009 FIFA U-19 World Cup Gold |
| Shoe | Anta |
| Merch | Hayward NBA Jersey, Funko Pop: Collectible Toy, Basketball Card |
| Last Update | November, 2023 |
Gordon Hayward | Salary and Net Worth
Gordon Hayward definitely has earned huge salary contracts in his NBA career. However, there has been criticism regarding his contract; one thing for sure he is definitely getting paid.
Since entering the league in 2010 as the 9th overall pick in the draft, he has made $150,428,542 from his NBA contracts, according to Spotrac.
In his first rookie contract, Hayward signed a 2-year deal worth $4.9 million. Indiana earned $2,356,320 in his first year and $2,038,724 in following year.
Next season he agreed on a rookie extension worth $2,709,720.
Later, he entered as a restricted free agent in 2014 free agency. However, his offer sheet was Jazz and signed a $63 million 4 year deal.
During 2014-15 season he made $14,746,000 and $15,409,570 next season.
Likewise, in the 2017 summer, he was an unrestricted free agent. He met with two NBA teams Miami Heat and Boston Celtics, to discuss his future.
Later, Hayward and Celtics agreed on a $127.8 million free-agent deal for 4 years period.
Despite missing a whole season due to injury in the first game, he made $29,727,900 in his debut season with Boston Celtics.
However, he came back strong playing 72 games, also making $31,214,295. In the 2019-20 season, one-time All-Star earned $32,700,690.
Before the start of the 2020-21 season, Hayward had the player option. Later, he signed 4 years $120 million deal with Charlotte Hornets, turning down $34.2 offered by the Celtics.
Currently, he makes $28,500,000 from the first year of his contract. Likewise, he is the highest-paid player in the Hornets squad and ranked 35th in the league.
According to various online sources, the estimated net worth of Gordon Hayward is $60 million.
Read Also: Kawhi Leonard Net Worth: House & Endorsements >>
Gordon Hayward | Endorsement and Charity
Endorsement
Hayward has a shoe deal with Chinese company ANTA. He signed with ANTA in 2018 after becoming shoe free agent. Moreover, he mainly used to wear his idol Kobe Nike shoe in-game before.
Furthermore, ANTA has already released 2 of his signature shoes. His first shoe, GH1, was released in 2018, whereas GH2 in 2021.
Hayward is an avid gamer. Mainly he likes to play League of Legends and also likes streaming his gameplay.
In May 2016, he inked an esports endorsement deal with Hyper X. Moreover, he became the first Nba player to sign a deal with an esports company.
Likewise, he also has gaming endorsement deals with Xfinity and AutoFill.
Furthermore, on 9th August 2019, Hayward signed an honorary lifetime contract with Chinese League of Legends team Hupu.
Taking his passion for video games, Hayward invested in mobile gaming company Tribe Gaming. Furthermore, as per numerous reports, Hayward also has $25 million in several personal investments.
Riot Games released an animated commercial of his ankle injury recovery in 2018. Likewise, The Athletic and The Players Tribune also documented five video series of his recovery journey.
According to Dicks Sporting Goods, the Hayward jersey was the 13th best-selling in the NBA in 2017.
Charity
In 2018, Gordon Hayward started a charity campaign named "Daddy's Always Happy." He teamed up with the online platform Teespring to create T-shirts featuring catchphrases.
Later, profits from T-shirts sale was donated to the Massachusetts Society for the Prevention of Cruelty to Children.
Similarly, in 2018 Hayward and his wife tipped off "Her Time to Play" camp for Boston local girls.
During his time in Boston, he also raised funds from streaming to help Boston Children's Hospital.
Likewise, in 2020, Hayward donated 450 gift cards to Boston area emergency room doctors and health care workers.
Gordon Hayward | Lifestyle
Gordon Hayward mostly likes to spend his time with his family members. Moreover, he has shared his many family moments on his social media handles.
Talking about fitness, he likes to perform weighted strength training and follows a strict diet.
House
In January 2021, Hayward purchased a $4.7 million mansions in Charlotte. His new mansion was built in 2006 and spread across 8,800 sq. ft.
Similarly, the mansion has 5 bedrooms and 8 bathrooms. In the main entry, the house has double doors guarded by lion statues.
His new crib also includes a master suite with dual bathrooms and a walk-in closet.
Besides it, other features of the mansion are a golf course, media room, wine cellar, and an elevator.
During his spell in Utah Jazz, he bought a $3.35 million mansion in Rancho Santa Fe. It is a Spanish-style house with a 7,550 sq ft area. It had 6 bedrooms and 8 bathrooms.
Likewise, the house also includes a tennis court, basketball court, swimming pool, spa, and a basketball court. Furthermore, Hayward also has a separate gaming room to play video games.
In July 2019, he purchased a $3 million mansions in Indiana, which sits on 7 acres.
His Fishers mansion has a pool, wine cellar, outside kitchen theatre, fireplace room, and ornate woodwork unfold all over.
In 2020, he sold his Santa Fe estate for $3.9 million. His former mansion was spread over 6,395 sq. ft with 7 bedrooms and 7/5 bathrooms.
Cars
The Hornets' forward, Hayward has a charming car collection. Back in 2014, he purchased a Tesla P85 model S, worth $80,000.
The expensive car in his garage is Lamborghini Aventador which he recently purchased for $4,50,000.
Likewise, he also owns Range Rover which starts at $92,00 and goes well-over $211,000.
Read Also: Antoine Griezmann Net Worth: Cars, House & Salary >>
Gordon Hayward | Professional Career
During his rookie season with Utah Jazz, he played in 72 games. Moreover, he started in 17 of those averaging 5.4 PPG and 1.9 RPG.
Next season his role remained the same; however, he became a more efficient player. Likewise, he was also selected for the 2012 Rising Stars Challenge.
As the year progressed, Hayward evolved into an offensive threat against any team and posted a decent average every season.
However, with Utah Jazz, he was selected for his first and only All-Star appearance to date in his final season.
During the 2016-17 season, Hayward averaged 21.9 PPG, 5.4 RPG, and 3.5 APG, leading the team to an impressive playoff run.
After signing a mega-contract with the Celtics, he suffered a season-ending injury only in his first 2017-18.
But he has considerable progress after surgery for the Celtics.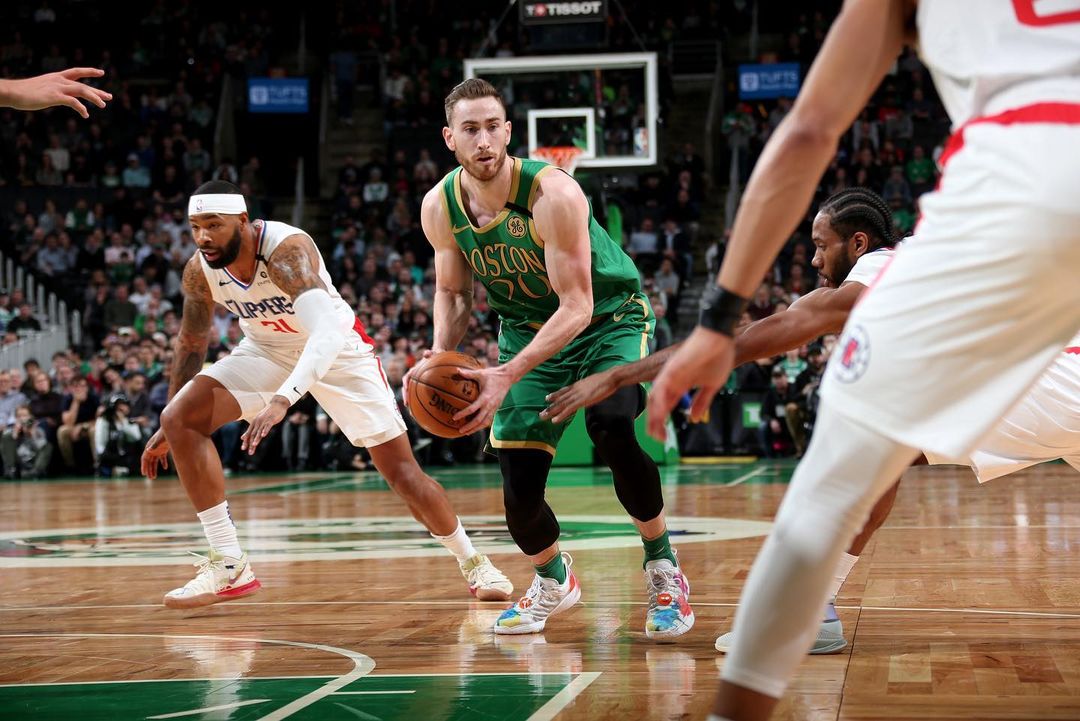 Later, in 2020 free agency, he signed with Charlotte Hornets. On 6th January 2021, Hayward recorded 44 points in a 102-94 victory against Atlanta Hawks.
Read Also: Mohamed Salah Net Worth: Contract, Cars & Endorsements >>
Quotes
"Gordon Hayward, spelled with a G. And I am the best player in the game today. "
"Take any five NBA players you want and put them on the same squad. It doesn't matter who. I'd beat them all."
Frequently Asked Questions
What is Gordon Hayward's salary?
In 2020, Hayward signed 4 years $120 million sign and trade deal with Charlotte Hornets.
Moreover, he earns $28.5 million, currently making him the highest-paid player on the Charlotte Hornets roster.
Who are Gordon Hayward's sponsors?
Firstly, in 2016 Hayward signed with Hyper X, an e-sports brand. Moreover, he was the first NBA player to sign a sponsorship deal with an esports company.
Later in 2018, he signed with Anta. Furthermore, Anta has already released his 2 signature shoes GH1 and GH2, to date.
Where does Gordon Hayward live?
After signing with the Hornets, Hayward purchased a new mansion in Charlotte worth $4.7 million in January 2021.
Interesting Facts
Gordon Hayward almost quit basketball to play tennis before high school because he didn't grow as he desired. Gordon and his twin sister used to play tennis as mixed double partners. However, his mom prevented him drop basketball. Now he is living his dream in the NBA.
Gordon Hayward married Robyn Hayward in 2014. As of today, the couple has 4 children together; one son and 3 daughters.
Gordon Hayward was an unranked 3-star prospect after his high school graduation. Later, he joined Butler University on full scholarship. He went to play two seasons for the Bears leading the team to NCCA finals in his second season.