Gordon Hayward, a renowned American basketball player, lives in Charlotte, North Carolina, with his beloved wife, Robyn Hayward, and their four adorable children.
The lovely pair has four beautiful kids: Nora Mae, Charlotte Margaret, Bernadette Marie, and Gordon Theodore Hayward.
Recently, the couple celebrated their ninth anniversary. Gordon shared their pictures on Instagram with the caption, "Can't believe it's been nine years! Happy anniversary, I love you!"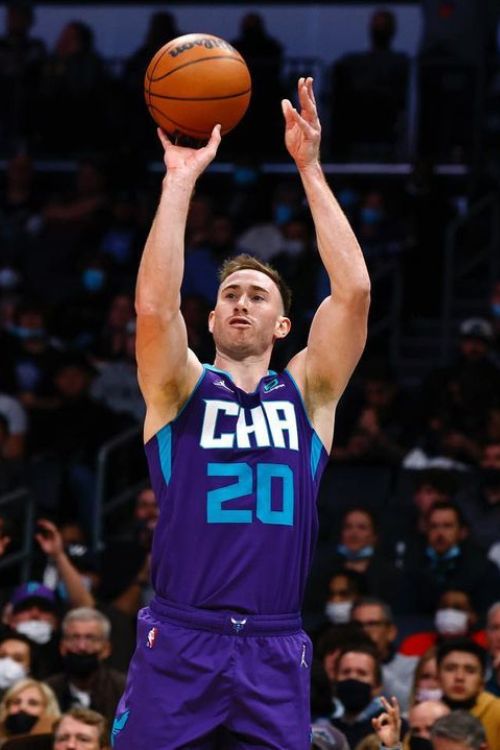 Gordon Daniel Hayward is an American professional basketball player. He plays as a small forward for the Boston Celtics in the NBA.
Before his NBA career, he had a successful college basketball career, playing for Butler University for two seasons. During his sophomore year, he led his team to a runner-up finish in the 2010 NCAA season.
The Utah Jazz selected Hayward with the ninth overall pick in the 2010 NBA draft. He continued to develop under the then-Butler Head Coach Brad Stevens.
In the 2010 NCAA championship game against Duke, he narrowly missed a game-winning buzzer-beating half-court shot that would have given Butler their first-ever NCAA championship.
Moreover, Hayward was named an NBA All-Star for the first time in 2017. During his college career, he represented Team USA at the FIBA Under 19 World Cup in 2009.
Gordon Hayward Wife, Robyn
Robyn Hayward, recognized as the wife of NBA player Gordon Hayward, was born on April 8, 1994.
Her parents are involved in numerous charitable programs throughout South America, and from a young age, Robyn has been participating in service work alongside her family.
The Haywards operate a school in Magdalena, Guatemala, where they teach practical skills such as baking, carpentry, and arts to children and adults, aiming to help people in need become self-sufficient and secure their future.
Originally from Indiana, Robyn attended Bishop Chatard High School, where she displayed her athletic talent in volleyball.
She was a member of the school's 2012 State Championship-winning volleyball team and was ranked fourth among female volleyball players in Indiana during her senior year.
After graduating high school, she attended cosmetology school for at least a year.
Robyn is now a mother of four children and has dedicated her time to being a full-time mother. She once shared in an Instagram post that her childhood dream was to become a stay-at-home mom, and she is grateful that her dream has come true.
Married Life And Kids
Robyn and Gordon have been married for nine years. However, their relationship goes way back to 2013, when they first introduced themselves as best friends.
Later that same year, Robyn shared a picture of her slightly hugging Gordon at Cedar Point and anonymously announcing their relationship. A year later, they tied the knot in 2014 at the St. Simon the Apostle Church in Indianapolis.
Today, they are blessed with four beautiful children: three lovely daughters – Nora Mae, Charlotte Margaret, and Bernadette Marie – and one son, Gordon Theodore Hayward.
They have recently moved into a new home in Charlotte, North Carolina, where they continue to build their family.
Frequently Asked Questions (FAQs)
1. Who Is The Wife Of Gordon Hayward?
Gordon Hayward tied the knot with his girlfriend, Robyn, in 2014.