With the soaring popularity of golfer Grayson Murray, fans want to know everything about him. Does he have a wife? What is his net worth and career earning? Read the article till the end to find out.
Grayson Murray is an American professional golfer born on September 19, 1993, in Raleigh, North Carolina. Murray played college golf at East Carolina University before turning professional in 2015.
He gained wide public attention in 2016 when he won the Web.com Tour's Nationwide Children's Hospital Championship, which earned him a PGA Tour card for the 2016-2017 season.
The professional golfer made his PGA Tour debut in October 2016 and won his first and only PGA Tour event, the Barbasol Championship, in 2017. Besides this, he has won New Hampshire Open in 2015 and other multiple champions and awards.
However, Murray has faced some challenges and setbacks throughout his career. He was severely injured in a scooter crash in Bermuda in October 2022, just before the Butterfield Bermuda Championship, which led to his withdrawal from the event.
Who Is Grayson Murray Wife?
Being an accomplished golf player, a lot of fans are curious about the love life of Grayson Murray.
The golfer is single at the moment and has neither a wife nor a girlfriend. Also, there is no news or any sign of the player being committed to anyone.
The winner of the PGA Tour at age 29 appears to be still looking for the right woman.
However, Murray trying to flirt with golf influencer Paige Spiranac once made big headlines.
In June 2022, during the US Open, Murray tossed his club across The Country Club course in Brookline. This video of Murray went viral on social media.
It went viral to the extent that Paige Spiranac, named the 'Sexiest Woman Alive' by Maxim in June 2022, tweeted his video saying, "I have thrown a club like this before, and it feels great until the walk of shame of having to get it."
According to the New York Post, Murray replied to the tweet with, "Let's see your club throw Paige." But it seems like Murray has now deleted his Twitter account.
Some sources have reported that in 2017, Murray raised many people's eyebrows when he responded to a student who asked why people dislike him.
Murray replied to the question with, "[I don't know], but I hate the fact you are in high school. You are pretty." The player quickly deleted the tweet.
Grayson Murray: How Much Does He Earn?
Pro golfers definitely make a lot of money, and the best players earn over $5 million annually.
Grayson, who has just recently entered the golf world, has managed to earn a respectable sum of money in his name. His total career earnings have been around $3 million.
His PGA Tour success has made a significant contribution to his wealth. He has made between $125,000 and $1.5 million on the PGA Tour.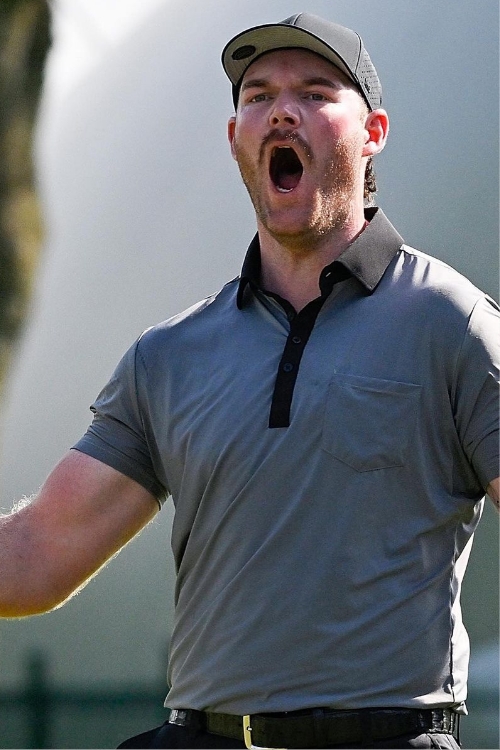 Murray reportedly earns around $500k per year, on average, and has a net worth of about $1- $5 million as of 2023.
In addition to his professional earnings, he also earns a handsome amount from various endorsement deals.