Multi-talented personnel, Robert William Howard Jr., has been recognizable to fans by his stage name "Hardcore Holly" since 1999. The former auto racer and actor has a 16-year-long career in World Wrestling Entertainment/Federation.
The fearless wrestler, as said by many of his peers and fans, is six times WWF Hardcore Champion. He is also a three times WWF Tag Team Champion, one of which was with his on-screen cousin Crash Holly.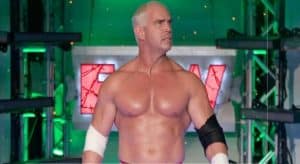 Whether you cheered him fighting on the ring in the 2000s or heard of his myths, you certainly desire to know more about his professional and personal life. This article can quench your thirst. So, follow it through to the end.
Quick Facts
Full Name
Robert William Howard, Jr.
Birth Date
January 29, 1963
Birth Place
Glendale, California, United States
Nickname
Hardcore Holly, Bombastic Bob
Religion
Christianity
Nationality
American
Ethnicity
White
Father
Robert William Howard
Education
Grants Pass High School
Zodiac
Aquarius
Siblings
One brother
Age
60 Years Old
Height
6 feet (183 cm)
Weight
107 kg (235 lbs)
Build
Athletic
Eye color
Greenish
Hair Color
Blonde
Profession
Professional Wrestler
Active years
1987-present
Marital Status
Married
Wife/ Spouse's Name
Cathy Dingman (m. 2000-2003)
Linda Kievet (m. 2010)
Children
One
Net Worth
$5 million
Salary
$500,000
Social Media
Twitter
Merch
Wrestling Cards, Story Book
Last Update

November, 2023
Hardcore Holly: Early Life and Education
On January 29, 1963, Howard was born in Glendale, California. There, his mother raised him and his older brother. Later, the family had to move to Ventura after his mother's remarriage.
Robert went to Grants Pass High School after moving to Grant Pass in Oregon. Soon after being graduated from high school, he began working in a beer warehouse. Howard worked as a mechanic for Meineke Car Care Center in Alabama.
During those times, he also added to his earnings by boxing in bars. After that, Howard served at Taylor Wharton as a pipe cutter.
Hardcore Holly: Career
Wrestling
In 1987, Howard made his start in the wrestling career with the debut in the World Wrestling Organization promotion in Mobile. Bob Sweetan and Rip Tyler trained him there.
During those times, he teamed with Ron Starr to win the WWO Tag Team Championship.
World Championship Wrestling career
After moderate success in the National Wrestling Alliance, Holly joined WCW in 1990 as a jobber. He suffered a defeat in his first WCW match against Lex Luger. Later, Ric Flair defeated him in August 1990 at WCW Saturday Night.
WWF career
In March 1991, Holly went to the World Wrestling Federation as a jobber. There, his first match was a defeat against The Bushwhackers in which he teamed with Mike Sample.
"Hollywood" Bob Holly was his ring name in Smoky Mountain Wrestling. There he defeated Tim Frye on his debut.
Bob "Spark Plug" Holly
After returning to the WWF in 1994, he used the name Bob "Spark Plug" Holly. It was derived from Thurman "Sparky" Plugg, the former NASCAR driver's ring name.
In the 1995 King of the Ring tournament, he defeated Mantaur in qualifications. But later, he was defeated in the quarterfinals against The Roadie.
In 1995, he teamed with 1-2-3 Kid to win the WWF Tag Team Championship title, which lasted only a single day. Holly was also a part of the Underdogs Team. He had significantly fewer television appearances during 1996-1997.
Holly, as "Bombastic Bob," teamed with Bart Gunn as The New Midnight Express, a National Wrestling Alliance stable in 1998.
They became the NWA World Tage Team Champions by defeating The Headbangers in March. But they had to hand over the title to The Border Patrol after a loss against them in August.
Hardcore Championship
In February 1999, Bob Holly defeated Al Snow to win the WWF Hardcore Championship. Snow was his former teammate of the JOB Squad. Holly came up with the "Hardcore Holly" name in the title defense against another former peer Bart Gunn.
Crash Holly became his on-screen cousin in 1999. The pair won the WWF Tag Team Championship at Raw in October 1999. Later, Holly was involved in feuds with The Big Show, Chris Jericho, and his The Holly Cousins' partner.
At WrestleMania 2000, Holly won the Hardcore Championship in a 13-man battle royal. However, his cousin seized it from him the next night. He came with another on-screen cousin Molly Holly in 2000.
Tough Enough II
Holly was a trainer for a television reality show, Tough Enough II. The show was produced by WWE and MTV. The contestants called him "bully" as he acted hard on them and also injured them sometimes.
Injuries
In 2002, Brock Lesnar made him suffer a broken neck with a powerbomb. He had surgery leading to a thirteen-month rest. After training at Ohio Valley Wrestling, Holly completed his preparations for his return.
He lost again to Lesnar in a revenge challenge for the WWE Championship. Holly was also involved in a feud with Randy Orton and Kurt Angle during those times.
During 2005, Holly had several surgeries to fix the nagging injury and suffered a staph infection in the right arm wound. Luckily, the treatments were successful.
In an Extreme Rules match against Rob Van Dam in 2006, he got a severe laceration. A WWE doctor gave him 24 stitches on his back.
Extreme Championship Wrestling
Surprisingly, Holly was seen at an ECW house show event in August 2006. There he joined with Paul Heyman and had feuds with Rob Van Dam, CM Punk, Test, and others. Holly lost many games in ECW and could not achieve the Champion's title there.
Final days in WWE
After unsuccessful days in ECW, Holly returned to SmackDown! and Raw in 2007. He allied with Cody Rhoades. They won the World Tag Team Championship with the victory against Lance Cade and Trevor Murdoch on Raw's 15th Anniversary episode.
Similarly, the pair defended their title on multiple occasions. However, the alliance broke as Rhodes, with Ted DiBiase, defeated Holly in June 2008 at Night of Champions. The match became Holly's last in WWE. Eventually, WWE released him on January 16, 2009.
After WWE
During 2009, Holly wrestled in England for Varsity Pro Wrestling and National Wrestling Superstars.
Then, he took a 3-year break from wrestling. Returning in March 2013, Holly made a one-night appearance for Total Nonstop Action Wrestling. He also showed up for Pro Wrestling Showdown in the Netherlands.
Holly also wrestled in Kamikaze Pro, Pro Wrestling Pride, and the IPW during his time in the UK.
Hardcore Holly: Auto Racing
Then, Robert Howard came fifth in the 1992 season and won the 1993 season at the Mobile International Speedway. He drove Chevrolet Malibu there. Also, in the All-Pro Series, Howard operated a WWF-sponsored super late model.
Hardcore Holly: Achievements and Titles
The six-times WWF Hardcore Champion has won WWF/WWE World Tag Team Championship three times with separate partners.
The one-time winner of the Kamikaze Pro Championship has also won Tag Team Championship and US Heavyweight Championship at World Wrestling Organization.
Pro Wrestling Illustrated ranked him at 41 in 2000 and 391 in 2003 in the PWI 500. Holly has won NWA World Tag Team Championship once and the Under the Lights Lights Out Championship.
Hardcore Holly: Autobiography
Holly released his autobiography The Hardcore Truth: The Bob Holly Story in 2013. It was published by ECW Press and co-authored by Ross Owen Williams, the former British wrestler.
Straightforward look into the life of a man that has dedicated himself to the sport of professional wrestling
The book has got many positive reviews from the personnel at different wrestling magazines. Notably, Bruce Mitchell called out the book as "one of the strongest professional wrestling books in a long while" in his writing for the Pro Wrestling Torch newsletter.
It provides an honest view of a period of WWF history through Holly's eyes.
Hardcore Holly: Acting
Holly has played roles in the television film Operation Sandman (2000) as Sturner and the short film Thanks for Reading (2016) as The Reader. He also appeared in 2005 at MTV's The 70's House in the "Dodge Ball" episode.
Hardcore Holly: Wife and Children
Holly was married to Cathy Dingman in 2000. The couple gave birth to their daughter Stephanie before they divorced in 2003.
Since 2010, he is married to his high school sweetheart Linda Kievet. They reside in Dubuque, Iowa, US.
Hardcore Holly: Net Worth and Salary
Holly has spent 16 years of his career in WWE and has appeared in other nation's competitions too.
Hardcore Holly's net worth is estimated to be approximately $5 million as of 2023.
He has accumulated some fortunes from the sale of his book too. At present, he occasionally appears in the ring for independent wrestling shows. Reports suggest he earns around $500,000 in a year at present.
The WWF Chairman, Vince McMahon, gifted him the super late model WWE-sponsored car he used at the All-Pro Series.
Hardcore Holly: Age, Height, and Body
As of November 2021, Holly is 58 years of age. As the blonde still fights occasionally, he has maintained his athletic build. His body measures 6 feet or 183 centimeters in height and weighs 107 kilograms or 235 pounds.
Hardcore Holly: Social Media Presence
Holly uses Twitter as his only social media handle and is ordinarily active there.
Twitter: 62,100 Followers
You may ask:
What is Hardcore Holly's nickname?
Holly has got multiple names that include "Spark Plug," "Superstar," "Sparky," "Bombastic," and "The Alabama Slamma."
What are the finishing styles of Hardcore Holly?
Holly used different finishing styles and signature moves such as Knee drop, Backhand chop, Back elbow, Forearm smash, and Flying clothesline.
What happened to Bob Holly's cousin Crash, Holly?
Holly's cousin, Crash Holly, died on November 6, 2003, choking on his vomit. Reports suggest he had consumed alcohol and pills before that.