Having a 40 years long career in professional wrestling, Ric Flair is regarded as the most outstanding wrestler of all time by several journalists and many of his peers.
He is an American professional wrestling manager who retired in 2012. Everyone is familiar with his trademark shout "Woooo!" to provoke the opponents.
The altogether 16-time WWE World Champion has won many titles on WCW, the WWF/WWE, JCP, and TNA wrestling. Several popular wrestling magazines have called him the best on several occasions.
The multiple times wrestling halls of fame inductee has made tons of fans during his career. However, many are still unaware of his personal life and several events and milestones in his career that commenced 48 years ago.
You may be one of those fans. So, follow this article, and after you finish it, you will be familiar with most of the facts about him.
Quick Facts
Full Name
Richard Morgan Fliehr
Birth Date
February 25, 1949
Birth Place
Memphis, Tennessee, US
Nickname

The Nature Boy
The Black Scorpion

Religion
Christianity
Nationality
American
Ethnicity
White
Education

University of Minnesota
Wayland Academy, Wisconsin

Zodiac
Pisces
Father's Name
Dr, Richard Reid Fliehr
Mother's Name
Kathleen Fliehr
Siblings
Unknown
Age
73 Years Old
Height
6 feet 1 inch (185 cm)
Weight
80 kg (176 lbs.)
Build
Athletic
Eye color
Blue
Hair Color
Blonde
Profession

Professional Wrestler (retired)
Wrestling Manager

Active years
1972-present
Marital Status
Married
Wife/ Spouse's Name
Wendy Barlow (m. 2019)
Children
2 sons and 2 daughters
Net Worth
$3 million
Salary
$35000 monthly
Social Media
Twitter, Facebook, Instagram
Merch
Funko Pop, T-Shirt, Costume
Last Update
February, 2023
Ric Flair | Early Life, Family, and Education
Flair's biological parents, Luther and Olive Philips, gave birth to him on February 25, 1949, in Memphis, Tennessee. Fred Philips, by birth, was later adopted by Dr. Richard Reid Fliehr and Kathleen Kinsmiller Fliehr.
Richard was an obstetrics and gynecology physician, and Kathleen served at the Star Tribune newspaper. Flair spent his childhood in Edina, Minnesota. After going to Wayland Academy in Wisconsin for four years, he joined the University of Minnesota for a while.
Ric Flair | Wrestling Career
American Wrestling Association
On his debut against George Gadaski in December 1972, the ring name Ric Flair came to life. Verne Gagne trained him there.
Japan Tours
In 1973, he began competing for International Wrestling Enterprise in Japan. During the 1980s, Flair defended the NWA World Heavyweight Championship in All Japan Pro Wrestling.
Even after leaving World Championship Wrestling for WWF, his tour of Japan did not end. In September 1992, he retained his WWF World Heavyweight Championship against Generichiro Tenryu.
The Japan tour also continued under the WWE banner between 2002 and 2008. On occasions like the Raw episode from Japan in 2005 and return to AJPW in 2013, Flair made constant appearances in Japan,
World Championship Wrestling
Flair joined National Wrestling Alliance in 1974. Sadly, the blooming name was on the verge of disappearing forever from wrestling after the tragic plane crash in 1975.
Though having the back broken in three places, he returned after eight months. The "Nature Boy" resulted from his changed wrestling technique after the accident.
Until July 1997, he defended the NWA United States Heavyweight Champion title for five reigns. His first NWA World Heavyweight Championship came in September 1981, following the win against Dusty Rhodes.
Flair was also the first WCW recognized World Heavyweight Champion in January 1991. But later, the WCW president fired him with contract disputes. The Heavyweight Championship was vacated as a consequence.
1993's Return
In February 1993, Flair returned as the A Flair for the Gold talk show host. Later, he bagged NWA World Heavyweight Championship for the tenth time against Barry Windham. The veteran won his second WCW World Heavyweight title at Starrcade in 1993.
Ric won the unified WCW International World Heavyweight Championship and WCW World Heavyweight Championship in June 1994 at Clash of the Champion XXVII. The undisputed WCW champion led a tag team Four Horsemen with Arn Anderson, Brian Pillman, and Chris Benoit.
Feuds at WCW
During his time at WCW, Ric was involved in multiple feuds with the likes of Randy Savage, Roddy Piper, and the New World Order stable consisting of Scott Hall, Kevin Nash, and Hollywood Hulk Hogan.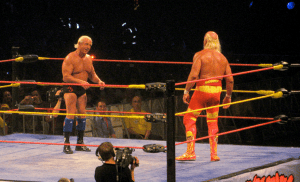 A new member Jeff Jarret came into the Four Horsemen in February 1997. However, the other members did not like him, and Ric eventually had to kick him out. The stable was reformed in September 1998 to include Steve McMichael and Dean Malenko by removing Arn and Brian.
Final WCW reigns
Ric was granted to be WCW's president. He misused the power to award his son the WCW US Heavyweight Championship title. But the presidency ended in July 1999. Before WWF bought WCW in 2001, Ric won the WCW World Heavyweight Championship twice in 2000.
WWF career
Flair signed for the WWF in August 1991. Bobby Heenan became his agent there. On multiple occasions, he challenged Roddy Piper and Hulk Hogan.
Winning the 1992 Royal Rumble match, he became the new WWF Champion. Randy Savage claimed the title before handing it to him again at SummerSlam. After WCW was closed down, Ric returned to WWF in November 2001.
His rivalries involved Hulk Hogan, Stone Cold Steve Austin, Brock Lesnar, and Chris Jericho. He could not win a World Championship losing the match to Triple H in September at Raw.
Evolution stable
Flair was in the stable 'Evolution' led by Triple H, including Batista. They dominated all of the male championships at Raw.
Teaming with Batista, Flair won the World Tag Team Championship and defended it against the same opponents, the Dudley Boyz. After teaming with Flair in a win against Carlito and Chris Masters in October 2005, Triple H betrayed him, attacking with a sledgehammer.
Triple H brought many legendary fighters like Shawn Michaels, Harley Race, Chris Jericho, The Undertaker, and Vince McMahon to honor Flair after he delivered his farewell speech. Likewise, he was also a part of The Undertaker's retirement in 2020.
Final Days at WWE
Flair teamed up with Roddy Piper and Carlito on separate occasions but lost World Tag Team Championship. He received a standing ovation from fans during his farewell address at Raw in March 2008. Even after retirement, Ric occasionally appeared at Raw.
TNA days
With no contract offers from WWE since June 2009, Ric signed for Total Nonstop Acting Wrestling. He arrived in a limo on his January 4, 2010 debut.
There were constant fights and feuds between Team Flair and Team Hogan. Flair had to suffer plenty of defeats.
Hogan owned Flair's Hall of Fame ring, which he gave to wrestler Jay Lethal. However, Lethal gave it back to Ric out of respect.
Nonetheless, the Hall of Famer was not satisfied with Jay returning his rings that he attacked Lethal with Team Flair members. When the two had a match at Victory Road, Jay defeated Ric.
The last match of his career was against Sting at Impact Wrestling in September 2012. TNA fired Flair and announced never to wrestle again in the December 2012 interview.
Non-Wrestling career at WWE
The two-time WWE Hall of Fame inductee began non-wrestling appearances at WWE. He was seen accompanying his daughter Charlotte on NXT during 2013-2014. The retired wrestler appeared at WWE with his daughter until May 2016, when she turned on him.
WWE celebrated Ric's 70th birthday in February 2019. In 2020, he supported Randy Orton at Raw until Orton kicked him on the head on August 10.
Ric Flair | Legacy and Criticisms
His "Wooooooo!" yell is still a tribute from his fans. Fans love him because of his ring antics and rule-breaking plays. "Ric Flair Day" is celebrated in Minneapolis on October 19 in Norfolk, Virginia, on November 15, on March 24 in Mayor Bob Coble in Columbia, and April 18 in Charleston.
Singers Pusha T and Killer Mike have given tribute to him in their songs. Most professional wrestling experts, analysts, and stars call him the most outstanding wrestler.
However, some of them have called him money greed because of continuing in the ring even after losing the age and ability to do so. His TNA career has widely received criticism.
Other Media
Flair appeared in a Baywatch episode as himself with other WCW wrestlers. In the episode "History of Wrestling" in Uncle Grandpa's animated series and episode "BFFs" in The Cleveland Show series, he voiced himself.
To Be the Man was his autobiography released in 2004.
"To be the man, you gotta beat the man!"
Flair appeared in the 2015 film Magic Mike XXL. He hosted podcasts, "WOOOOO! Nation" and "The Ric Flair Show." Besides, the Nature Boy is featured in music videos of singers Offset, 21 Savage, Metro Boomin, and Bad Bunny.
Ric Flair | Achievements and Titles
The 40-year long career brought him many titles, including six WCW World Heavyweight Championships, two WCW International World Heavyweight Championships, six WCW US Championships, nine NWA World Heavyweight Championships, two WWF World Heavyweight Championships, three WWE World Tag Team Championships, and many more.
Notably, Flair has been inducted into the WWE Hall of Fame two times, NWA Hall of Fame, Professional Wrestling Hall of Fame and Museum, Wrestling Observer Newsletter Hall of Fame, St. Louis Wrestling Hall of Fame, and George Tragos/Lou Thesz Professional Wrestling Hall of Fame.
The seven times Wrestling Observer Newsletter's Wrestler of the Year is Pro Wrestling Illustrated's Decade 1980s and six times Wrestler of the Year.
Ric Flair | Catchphrases and Quotes
I'm Ric Flair! The Stylin', profilin', limousine riding, jet flying, kiss-stealing, wheelin' n' dealin' son of a gun!
All the women want to be with me; all the men want to be like me.
Diamonds are forever, and so is Ric Flair!
It's so hard for me to sit back in this studio, looking at a guy out here, hollering my name!—When last year I spent more money on spilled liquor in bars from one side of this world to the other than you made! You're talking to the Rolex wearing, diamond ring wearing, kiss stealing, whoa! wheelin dealin', limosuine riding, jet flying son of a gun, and I'm having a hard time holding these alligators down!
Whether you like it or not, learn to love it because it's the best thing. Woohoo!
I had my first 'Survivor Series' in 1991, and I was fortunate enough to be an instrumental part of the shows I was on.
My shoes are worth more……than your house!
To be that man, you've got to beat the man. Woooo!
If you don't like it, learn to love it!
When somebody has convinced you that you're not worth anything to anybody anymore, and they spend a lot of time doing it, you start believing it yourself.
Ric Flair | Wife and Children
Flair had his first marriage with Leslie Goodman in 1971. The couple shares two children; daughter Megan and son David though they divorced in 1983.
Then, he married Elizabeth Harrell. Ashley and Reid were their sons. After 23 years of marriage, they divorced.
In 2006, he tied up the marriage relationship with Tiffany VanDemark. Again, in 2009 the divorce with her finalized. Later, in 2009 Jacqueline Beems became his fourth wife. The ties also ended with a divorce in 2014.
Happy 19th Birthday Paris! ❤️#floridagators pic.twitter.com/dSgw4hJL2V

— Ric Flair® (@RicFlairNatrBoy) April 23, 2021
Flair is currently married to Wendy Barlow since 2018. Flair's first son David is also a professional wrestler.
Reid was a high school wrestler and appeared on WCW television multiple times. He died of a drug overdose in 2013. Ashley signed with the ring name Charlotte for WWE in 2012.
Ric Flair | Net Worth and Salary
Flair lost a lot of fortunes to tax fraud and medical emergencies. In 2019, he had a bill of $1.8 million for his heart surgery.
Flair's net worth as of 2023is $3 million.
Today's sources of earnings are the managerial services in wrestling and endorsement deal with TickPick. The reports suggest his last salary was $35000 a month.
He has owned many luxury cars like Bentley Arnage T and Mercedes Benz and frequently drives a black Chevrolet SS. Charlotte, NC's mansion worth $1 million is his current residence.
Ric Flair | Social Media Presence
Flair is active on social media platforms like Facebook, Instagram, Cameo, and Twitter.
The former wrestler donates $100 to the CDC Foundation for every Cameo he does. Besides that, rappers and singers 21 Savage, Offset, and Metro Boomin released a song titled "Ric Flair Drip." The Hall of Famer made a cameo in their video.
Ric Flair | FAQs
Who is he dating now?
Ric Flair married Wendy Barlow in 2018 and has not been dating anyone since then.
At what age did Ric Flair retire?
Ric Flair confirmed his retirement in December 2012. However, as per WWE records, he retarded in March 2008 at 59.
What is Ric Flair's health problem?
Ric suffers from a heart condition called alcoholic cardiomyopathy. It is caused by long-term alcohol abuse. Also, his kidney failed during surgery to remove an obstructive piece of hidden bowel in 2017.
Which American party does Ric Flair support?
Ric Flair has strongly supported The Republican Party for a long time. He publicly endorsed Republican state and presidential candidates.