Hector Moreno is a professional soccer player who holds citizenship from two countries, Mexico and Spain, and currently plays for Mexico National Team and the Liga MX Monterrey. On November 9, 2022, he captained his national team in a match against Iraq, where his team won.
Hector Alfredo Moreno Herrera is a left-footed player who mainly plays as a center-back. He will be playing for the Mexico National Football Team in the Qatar World Cup 2022.
Moreno emerged through the youth ranks of Club Universidad Nacional.
When he was 15, he left his hometown Culiacan to join the Pumas academy, which was one thousand kilometers away in Mexico City.
After that, his talent and hard work brought him success after success. Before completing his 50th game in the Mexican top-tier, he was signed by Dutch club AZ Alkmaar.
He then played in the top European leagues with Espanyol, PSV Eindhoven, Roma, and Real Sociedad.
In 2019, he left the Spanish club Real Sociedad to join the Qatari club Al Gharafa and finally signed with Monterrey.
Further, he played for almost 12 years in the top European leagues. Moreno is one of the few Mexican players who have had success in the European Leagues for a long time.
Internationally, he won the 2005 U-17 World Championship and helped the Senior team when Mexico won the 2011 CONCACAF Gold Cup.
He has played 104 games for the Mexican National team and is still playing as one of the most experienced team members.
In this article, we will take a closer look at the life of Hector Moreno. We will also provide information about his personal life, early life, net worth, and social media presence.
First, take a look at some of the quick facts about Hector Moreno:
Hector Moreno | Quick Facts
Full Name
Hector Alfredo Moreno Herrera
Birth Date
January 17, 1988
Birth Place
Culiacan, Sinaloa, Mexico
Nick Name
Cachi
Religion
Christianity
Nationality
Mexican
Ethnicity
Latin
Education
Not Available
Horoscope
Capricorn
Father's Name
Cesar Moreno
Mother's Name
Alcira Herrera
Siblings
Not Available
Age
35 years old
Height
6'03″/1.84 m/184 cm)
Weight
79 kg/174.1 lb.
Hair Color
Black
Eye Color
Brown
Body Measurement
Not Available
Build
Athletic
Marital Status
Married
Spouse
Irene Martinez
Children
Three
Profession
Footballer
Position
Center Back, Defender
Preferred Foot
Left
Current Team
Monterrey
Former Teams
UNAM, AZ Alkmaar, Espanyol,
PSV, Roma, Real Sociedad, Al Gharafa
Player Agent
JB Sports2Business GmbH
Net Worth
$5 million
Salary
$4.67 million
Shoes
carlyfutbol neovolution
Shoe Size
42
Social Media
Twitter, Instagram, Facebook
Merch
Trading Cards, Jersey
Last Update
June, 2023
Hector Moreno | Early Life And Family
Moreno was born on January 7, 1988 in Culiacan, Sinaloa, Mexico. He was born to his parents, Cesar Moreno and Alcira Herrera.
His hometown, Culiacan, is the heartland of baseball, and as a kid, he supported the local league club Culiacan Tomateros.
Hector wanted to become either a baseball player or singer and used to listen to Banda music.
Hector's Father, Cesar Moreno, was in charge of the Autonomous University of Sinaloa's football stadium.
Thanks to his Father, "Cachi," an introverted boy, was first introduced to football, and he immediately fell in love with it.
As he grew up, he became fond of playing football like many other Mexican kids. When he was a child, he was nicknamed "Cachi," a short form of "Cachirul."
It means a ringer or unregistered player in English. But he didn't have to wait long to become a registered player.
After he set his goal to become a professional footballer, he stayed with his parental grandmother close to the football ground.
His mother thinks his hard work is the main reason behind his success.
When he turned 15, football was already more than a hobby for him. So, he left his nest and moved to Mexico City, 1000km away from Culiacan's hometown.
He joined the Pumas youth system in Mexico City to pursue his dream of becoming a professional Footballer. Moreno joined UNAM's (also known as Pumas) youth academy at 15 in 2003.
Soon, he impressed the coaches of the youth club with his hard work and talent. Because of his success with UNAM, he got called up for the Mexican U-17 team in 2005.
Hector Moreno | Age, Height & Nationality
Moreno was born on January 17, 1988, which makes him 35 years old as of writing this article.
Defenders, especially center-backs, have to deal with high balls and tall strikers most of the time.
Moving on, Moreno is 6 feet and 03 inches (1.84 m) tall and 79 kg/174.1 lb. Hector Moreno is a Mexican National and comes under the Latin ethnic group.
Moreover, this left-footed player has brownish but black-colored hair. Similarly, his eyes are brown, and his birth sign is Capricorn.
Moreno spent five years of his football career in Spain, where he played for Espanyol and Real Sociedad. After completing all the processes now, he has Spanish citizenship too.
Hector Moreno | Club Career
2006-2014
After his impressive performance in the age group, he got his first call in the Senior team in 2006.
On January 22, he came in as a substitute in a match against Santos Laguna to make his first-team debut.
He made his first full appearance in a 2-0 victory over Veracruz on February 12 and scored his first goal against Cruz Azul a week later.
After his impressive performance in the age group, he got his first call in the Senior team in 2006.
On January 22, he came in as a substitute in a match against Santos Laguna to make his first-team debut.
In December 2007, Moreno secured his move to AZ Alkmaar in a $ 4.15 million deal. Altogether, he played 80 games for AZ, scoring 6 goals.
In the Summer of 2011, Spanish club Espanyol signed him for a total of $2.59 million.
It was rumored that his injury during the 2014 World Cup prevented him from signing for Manchester United.
That injury pushed him away from Football for six months. After surgery and rest, he made his return in December 2014.
2015-present
In August 2015, he was signed by Dutch club PSV Eindhoven for $5.19 million. Even playing as a center-back, he scored 11 goals for PSV in sixty-one games.
He won Eredivisie and Johan Cruyff Shield once again. After two years in PSV, he signed for Roma in the summer transfer window of 2017.
Unfortunately, he played only five games for Roma and was sold after six months. Spanish club Real Sociedad signed him for his career-high fee of $6.23 million.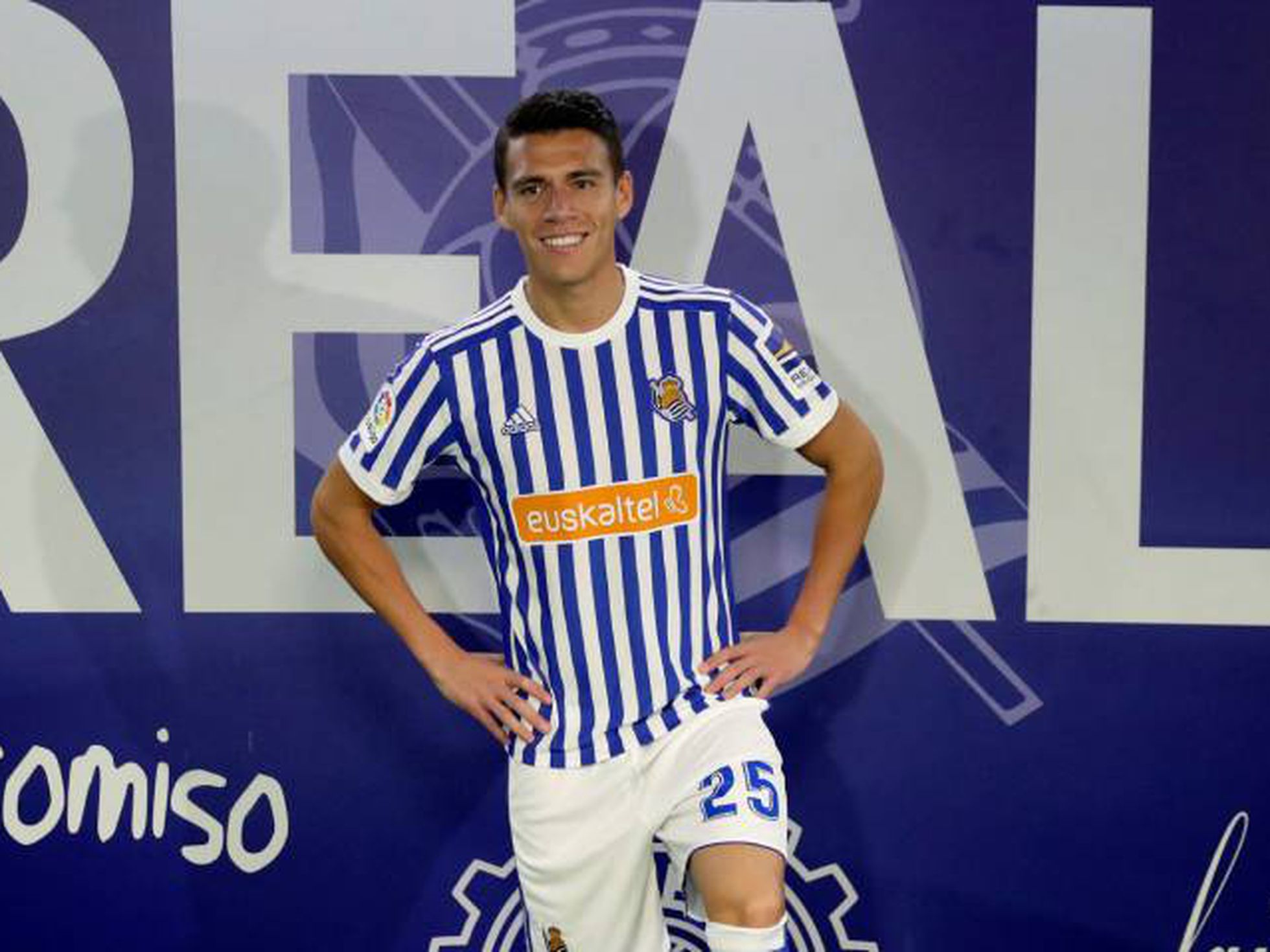 Hector suffered a grade 1 injury soon after signing for the club but made his comeback after just one month.
Moreno had quite a good time with Real Sociedad, but his contract was terminated in July 2019.
He ended his eleven-year-long time in European leagues, signed for Qatari Club Al Gharafa, and became the first Mexican player to play in Qatari society.
Further, for the 2021 season, Moreno joined Monterrey as a free agent.
Read About His Former Mexican Teammate Carlos Salcido Bio: Age, Career, Net Worth, Wife, Instagram>>
Hector Moreno | International Career
Age Group
Moreno started playing with the National team from an early age. He was called upon by the under-17 team to play in the FIFA U-17 World Cup 2005.
Moreno played an important role for the team when Mexico defeated Brazil by 3-0 in the final match to win the tournament.
He continued playing in the National age group matches after that tournament.
Moreover, Hector was also part of the squad when the Mexico U-20 team finished third in the group stage in Toulon Tournament 2006.
He once again appeared with the team in FIFA U-20 World Cup 2007.
He scored the team's third goal against the Gambia in a 3-0 win as a defensive midfielder. Unfortunately, they lost against the eventual winner Argentina in the quarter-finals.
National Team
Moreno has played a total of 127 games for the Mexican National team and has scored 5 goals.
Hector made his National team debut against Guatemala in October 2007. He was then called up regularly for the National team in friendly matches and World Cup qualifier matches.
He faced intense competition from other center-backs like Rafael Marquez, Osorio, Rodriguez, and Magallon. But that didn't cause any long trouble for the former Espanyol player.
Moreno's first tournament with Mexico was the 2010 World Cup, when Javier Aguirre included him on the 23-man squad list.
Hector was then called for the 2011 CONCACAF Gold cup tournament. He started every match Mexico played in that tournament, including the final game.
By helping Mexico to the Gold Cup victory, he proved himself again on football's biggest stage.
He got selected for the World Cup 2014, but it ended badly. One of the worst moments came when he suffered a fractured tibia after a collision with Dutch player Arjen Robben.
After that incident, he missed football for six months. He also appeared in a Mexican jersey in the 2017 Confederation cup and 2018 World Cup.
He scored against Portugal in the Confederation Cup. Further, Moreno once again helped Mexico win the 2019 CONCACAF Gold Cup.
Notably, he got included in CONCACAF 2015 tournament's best XI after helping Mexico win the match again.
In the World Cup qualification CONCACAF 2021, he scored a goal and LED his team to a 2:0 victory against El Salvador.
His recent game for Mexico was on November 9, 2022, where the results were in favor of his team (4:0) against Iraq in the International Friendlies game.
If You Want To Learn About Rafael Marquez And His Net Worth, Wife And Career>>
Hector Moreno | Honors And Stats
Honors
FIFA U-17 World Championship 2005
Eredivisie 2008/09, 2015/16
Johan Cruyff Shield 2009, 2016
CONCACAF Gold Cup 2011, 2019
CONCACAF Cup 2015
Stats (2022-2023)
LIGA MX APERTURA
Year
Team
Matches
Goals
Assists
2022-2023
Monterrey
18
1
–
Hector Moreno | Position & Style of Play
Moreno is a left-footed center-back who builds the attack from the heart of the defense. A former Espanyol player knows the position and can read the game well.
He is considered modern center-backs as he can quickly react in adverse situations and start the defense attack.
Hector Moreno is a Left-footed center back. However, in his early days, he occasionally got to play as a left-back and defensive midfielder.
Since his move to PSV in 2015, he added a new attribute to his game, goal-scoring.
Hector Moreno | Net Worth and Salary
Hector Moreno has made a successful career out of his games. Along with the name, Moreno has accumulated impressive wealth as well. As of [current year],
"Moreno's Net Worth is estimated to be around $5.5 Million."
Most of his net worth has accrued mainly through his playing career as a professional soccer player.
Besides, Moreno has contracts with Adidas too. Currently, Hector lives a lavish life with his family.
Hector Moreno | Personal Life, Wife, And Children
Moreno has been happily married to his wife Irene Martinez since 2015. Irene is a Spanish model and a businesswoman. She is originally from Barcelona.
The couple first met outside Barcelona in 2012, and Hector said, "It was love at first sight."
Initially, they met at a friend's Party in Ibiza, and after that first meeting, they kept in regular contact for two to three months.
Not to mention, Moreno even traveled to Ibiza to meet Irene, where she lived.
Likewise, Irene also accompanied him on his soccer ventures in the Netherlands and Italy, as well as a return to La Liga in Spain.
Slowly, the romance developed, and the couple became inseparable. Together they have consolidated a beautiful family with their two daughters, Mía and Salma, and a son, Bruno.
Hector Moreno | Social Media Presence
You can find Moreno on Twitter using the handle @HectorMorenoh. Likewise, he is also active on Instagram @hectormorenoh and Facebook @Hector Moreno.
Twitter: 1.5m followers
Instagram: 961k followers
View this post on Instagram
Facebook: 179k followers
Hector Moreno | Popularity
Moreno is a popular figure in the United States of America and among football fans from all around the globe.
The above graph illustrates the popularity of Hector Moreno in the United States of America over one year.
Hector Moreno | FAQs
What team does Hector Moreno play for?
Hector Moreno currently plays for the Mexican club Monterrey of Liga MX Apertura.
What position does Hector Moreno play?
Hector Moreno plays in center-back and defender positions at the professional level.
What boots does Hector Moreno wear?
Héctor Moreno wears Adidas Predator Mania soccer boots.
Is Hector Moreno a Guzman actor?
No, Hector Moreno is not a Guzman actor.
Did Hector Moreno reject the proposal from Chivas?
Hector Moreno said that he has never rejected the proposal from Chivas. He mentioned in one of his interviews,
"I never rejected a proposal from Chivas for money. They can say a thousand things, but that they put words in my mouth is what I don't like."
Was Hector Moreno born in the City of Houston?
No, the footballer was born in Culiacan, Sinaloa, Mexico.
What is Hector Moreno's rating in FIFA 23?
Hector Moreno's overall rating in FIFA 23 is 76, 77 for defending, and 63 for attacking.
What is Hector Moreno's market value?
According to the TransferMarkt website, Hector Moreno's current market value is $1.56m. His highest market value is $8.30m.
What happened between Hector Moreno and luke shaw?
In Group B's opening game at the Philips Stadion, Luke Shaw suffered a double fracture on his right leg when Moreno challenged him in the PSV area. Later, Héctor offered an apology for the tackle, saying,
"I don't know what happened. I don't remember, but I just feel really bad because I was involved in the accident: I feel sorry".
You Can Learn About 10 Best Mexican Soccer Players>>