Rafael Marquez is also one of the most successful former Mexican defenders in Mexico's history. And possibly the best player to appear for his national side. In addition to that, currently act as the current manager of the club Barça Atlètic.
During his 23-year-long professional career, Rafael has amassed more than 25 trophies. Added to that, he is Mexico's third most-capped player with 147 appearances to his name.
Hence, it is only right, so many people want to know about this 44-year-old, $25 million man.
So join us as we are going to inform you about Marquez's entire life story from his early years to his glory days and his eventual retirement. Besides that, there is plenty of various other information that will satisfy your appetite.
But before we do that, let's warm up with some quick facts.
Quick Facts | Rafael Marquez Alvarez
| | |
| --- | --- |
| Full Name | Rafael Marquez Alvarez |
| Birth Date | February 13, 1979 |
| Birth Place | Zamora, Michoacan, Mexico |
| Nick Name | Not available |
| Religion | Christian |
| Nationality | Mexican |
| Ethnicity | Latin |
| Education | Not available |
| Horoscope | Aquarius |
| Father's Name | Rafael Marquez Esqueda |
| Mother's Name | Rosa Maria Alvarez |
| Siblings | Not available |
| Age | 44 Years Old |
| Height | 6 feet (1.82 m) |
| Weight | 75 kgs 165 lb |
| Shoe Size | Not available |
| Hair Color | Black |
| Eye Color | Dark Brown |
| Body Measurement | Not available |
| Build | Athletic |
| Married | Yes |
| Girlfriend | No |
| Spouse | Jaydy Michel (Current); Adriana Lavat (Divorced) |
| Children | Santiago Marquez, Rafaela Marquez, Leondaro Marquez |
| Profession | Soccer Player (Retired) |
| Teams | Barcelona, Atlas, Monaco, New York Red Bulls, Leon, Hellas Verona |
| Salary | $5 million |
| Net Worth | $25 million |
| Social Media | Instagram, Twitter |
| Merch | Posters |
| Last Update | March 2023 |
Rafael Marquez | Wiki Bio
Rafael Marquez Alvarez was born to his parents, Rafael Marquez Esqueda and Rosa Maria Alvarez. Likewise, he was born and raised in Zamora, Michoacan. Besides that, it seems like Rafael is the only child of his parents.
Talking about his childhood, he played for various youth teams before joining Atlas' youth team at 14. Later on, he would go on to make his professional debut with Atlas' senior side in the Primera Division (now Liga MX).
Rafael Marquez | Career, Teams & Achievements
When we talk about Marquez's career, it is nothing sort of extraordinary. To illustrate, Rafael made his professional debut at the tender age of 17 for Atlas.
After playing there for three years, he signed for the French club, Monaco in 1999 for $6 million.
Subsequently, Marquez had four impressive seasons at Monaco, during which he won the Ligue 1. He was also voted into the Ligue 1 team of the season in 1999-2000.
As a result, Barcelona swooped in and signed the Mexican international for an undisclosed fee.
What ensued is the stuff of dreams as Rafael went on to make 163 appearances for the Catalan club scoring nine goals.
However, it is not his goals that are impressive; instead, it is his trophy haul during his seven years at Barca.
To illustrate, Marquez won La Liga four times, Supercopa de Espana three times, and UEFA Super Cup, Copa del Rey, and FIFA Club World Cup one time.
But, the 44-year-old's most prized achievement has to be winning the UEFA Champions League, not once but twice.
Thus, after having a wonderful time in Barcelona, Rafael decided to move to the U.S and play for the New York Red Bulls.
Subsequently, he stayed there for two years before moving back to his home country, Mexico, to play for Leon.
After that, Marquez played in the Seria A for Hellas Verona during the 2014-15 season. However, his Italian journey lasted for only a year as Rafael moved back to the club he started his professional journey with, Atlas in 2016.
Thus, after having one hell of a successful career, Marquez decided to hang up his boots in 2018.
During his 22-year-long, illustrious career, Rafael played in 504 games scoring 23 goals. Added to that, the 44-year-old won an astonishing 21 trophies in that period.
Transfer History
Rafael started his soccer career for the Atlas U20 team and eventually made it to the senior team on July 1, 1996. He played for Atlas for 3 years until Monaco signed him for a whopping amount of $4665330.
His next transfer was the biggest transfer throughout his career. He was signed by one of the Spanish Giants, FC Barcelona for $5440522 on July 1, 2003. on July 1, 2010, he was signed for New York Rb as a free transfer.
His 3 years with the New york Rb came to an end after he was signed by Leon on Jan 1, 2013. On Aug 4, 2014, he signed for Hellas Verona for around $1,034,708.
In the end, just before taking retirement On Jan 1, 2016, he got traded to Atlas for $207,275 from where he started his career in the beginning.
Click To know Raul Ruidiaz Bio: Salary, Career, Family, Stats, Wife, Net Worth Wiki >>
International Career
Marques is the best defender to appear for the Mexican national team. Hence, unsurprisingly,
the 44-year-old has appeared 147 times for his national side. As a result, he is also the third most-capped player in El Tri's history.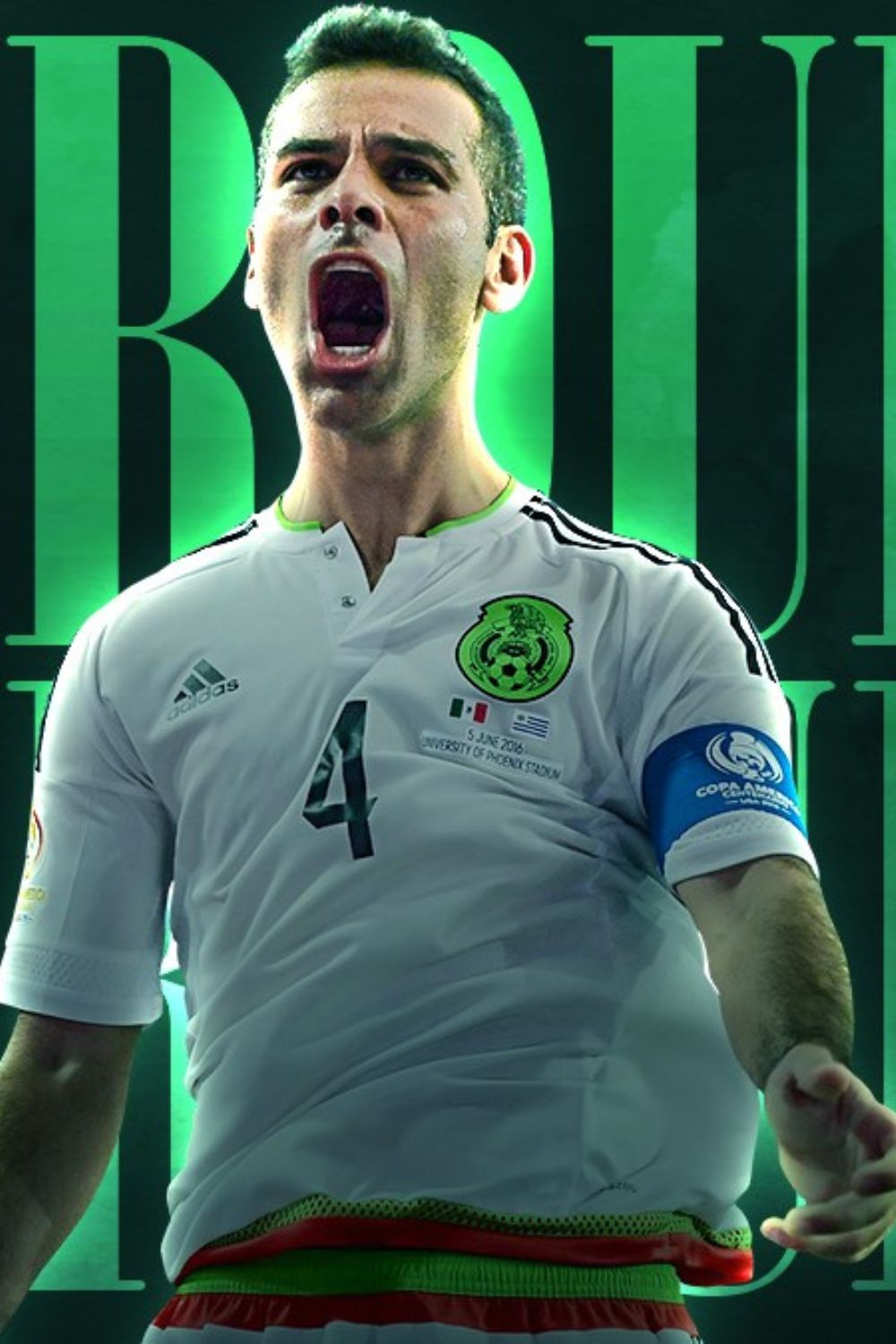 Rafael made his debut in 1997 and went on to play for another 20 years before retiring from international duty in 2018.
During that time, he won the FIFA Confederations Cup in 1999, CONCACAF Gold Cup in 2003 and 2011, and CONCACAF Cup in 2015.
Besides that, Marquez also earned himself a spot in the CONCACAF Best XI in 2016 and won the CONCACAF Best Player award in 2005.
Thus, it is safe to say that Rafael's international career is just as successful as his club's.
Rafael Marquez | Mexican National Team Jersey
Marquez wore jersey number 4 for the Mexican National soccer team. Here's a picture of him in his jersey:
Rafael Marquez | Career Stats (Clubs)
| | | | | | | | |
| --- | --- | --- | --- | --- | --- | --- | --- |
| Club | Appearances | Goals | Assists | Yellow Cards | Second Yellow Cards | Red Cards | Minutes Played |
| FC Barcelona | 242 | 13 | 12 | 52 | 5 | 1 | 18.143′ |
| AS Monaco | 114 | 5 | – | 26 | 1 | 2 | 9.609′ |
| Atlas Guadalajara | 58 | 1 | 3 | 15 | 1 | – | 4.935′ |
| Club León FC | 58 | 1 | 1 | 21 | 1 | 2 | 4.811′ |
| New York Red Bulls | 50 | 1 | 8 | 11 | 1 | 1 | 3.931′ |
| Hellas Verona | 39 | – | 2 | 9 | 1 | 2 | 3.337′ |
| Total | 561 | 21 | 26 | 134 | 10 | 8 | 44.766′ |
Rafael Marquez | Awards And Accomplishments
AS Monaco
Ligue 1 Champion 1999-2000 French League Cup Winner 2002-2003.
FC Barcelona
| | |
| --- | --- |
| La Liga Champion | 2005-2006-2009 and 2010 |
| Champions League Winner | 2006 and 2009 |
| FIFA Club World Cup Winner | 2010 |
| UEFA Super Cup Winner | 2010 |
| Spanish Super Cup Winner | 2006 and 2007 |
| Copa Del Rey Winner | 2009 |
Club Leon FC
Mexican Champion 2013 and 2014.
Mexico
| | |
| --- | --- |
| Confederations Cup Winner | 1999 |
| Gold Cup Winner | 2011, 2013 |
Recent Update 2022
Rafa Márquez discovered the next Messi, a Mexican who might be able to get him to Barcelona.
Rafael Marquez is now the head coach of Barcelona Athletic and has players in mind if trained who could be fine material for the team,
and one of them is Alex Alcala, a sixteen years old with talent. Those who have seen him playing are already calling him "the New Messi".
For Dani Alves to be included on Brazil's World Cup roster for Qatar 2022, Rafa Márquez was essential.
For Dani Alves to be included on Brazil's World Cup roster for Qatar 2022, Rafa Márquez was essential.
Rafa Márquez was one of the people who worked most closely with Dani Alves to make his ambition of competing in a World Cup in soccer history come true.
Tité eventually invited Dani Alves to the Qatar 2022 World Cup.
According to Sport, the Brazilian Football Confederation has emphasized and praised Barça Atlètic's assistance in helping Dani Alves, who traveled to Catalonia after concluding his season with the Pumas in Mexico, regain his physical condition.
How Old Is Rafael Marquez? | Body Measurements & Nationality
Having been born in the year 1979 makes Rafael's age 44 years old at the moment. Likewise, Marquez shares his birthday on the 13th of February, which makes him an Aquarius.
Moreover, Aquarians tend to be highly intelligent and make great friends.
Moving on, Rafael stands at exactly 1.82 m, but the detail concerning his weight is in the dark. Nevertheless, because he is a former athlete, we believe that Marquez likes to stay fit and healthy.
And, about his nationality, Rafael was born in Zamora, a city in Michoacan. As a result, he is a proud Mexican citizen.
How Much Is Rafael Marquez Worth? | Net Worth & Salary
Marquez started playing professionally at just 17 years old. Subsequently, he went on to play for another 23 years before hanging up his boots at the age of 39.
Hence, it should come as no surprise when we tell you that Rafael has a staggering net worth of $25 million.
Consequently, Marquez is one of the wealthiest athletes in his home country of Mexico. Likewise, his estimated salary is $5 million per year.
Moreover, the 44-year-old was one of the best defenders of his era. As a result, Rafael was also one of the top earners.
Rafael Marquez | Wife & Kids
When we talk about Rafael's love affairs, it is as exciting if not more than his soccer journey.
To explain, the former Mexican national team captain has tied the knot twice. Firstly, he married Adriana Lavat on December 23, 2003.
But, sadly, the two got divorced four years later, in 2007. Together, the couple had two kids, Santiago Marquez and Rafaela Marquez. Likewise, Santiago was born in 2003 while Rafaela came into this world in 2005.
After four long years of searching for his right soulmate, Marquez finally found the true love of his life in Jaydy Michel.
Following months of dating, the couple tied the knot on January 4, 2011, at an incredibly lavish ceremony.
Talking about Jaydy is an actress whose most recent appearance on TV occurred during Mexico's Next Top Model in 2014.
Moving on, there has been nothing but love between Rafael and his wife ever since they married. Furthermore, the two lovebirds share one child, Leonardo Marquez, who was born on June 16, 2016.
Injury
(Season) 15/16 Biceps femoris muscle injury- Nov 3, 2015– 29 days.
(Season) 15/16 Tear in the abductor's muscle- Sep 21, 2015– 27 days.
(Season) 14/15 Knock- Jun 14, 2015-31 days.
(Season) 08/09 Meniscus Damage- Apr 28, 2009- Jul 10, 2009– 73 days.
(Season) 07/08 Achilles tendon rupture- Oct 2, 2007– 24 days.
Controversy
Rafael Marquez speaks out about alleged drug cartel ties and being placed on the US sanctions list
The 44-year-old former captain of Mexico and Barcelona was listed as a terrorist by the US Treasury Department in August 2017
Due to his claimed associations with Raul Flores Hernandez, also known as "El Tio" or "The Uncle."
Marquez is charged with assisting Flores' organization in money laundering through several enterprises.
The Office of Foreign Assets Control of the Treasury Department added him to the Specially Designated Nationals List (OFAC). It forbids any American citizens, organizations, or financial institutions from working with him.
Rafael Marquez | Social Media Presence
View this post on Instagram
FAQs Rafael Marquez
What happened between Rafael Marquez and Lionel Messi?
Rafael Marquez, in an interview, shared a story about how he frustrated Lionel Messi in a training session. He further added that Pep Guardiola had to intervene to calm down Messi.
It happened during a seven-on-seven game when both Leo and Rafael were playing for the same team. Messi had dribbled several players and then he turned back and again dribbled past them again.
Rafael responded to the incident as he yelled, "Leo, let it go." Messi yelled back and the duo started arguing. At that time, Messi was just a youngster and Rafael was a senior on the team.
Is Rafel Marquez retired?
Rafael Marquez retired in July 2018. He declared his retirement from international soccer soon after Mexico was eliminated from the 2018 World Cup.
Know About Him Marco Fabian Bio: 2020, Net Worth, Stats, Career, IG, Salary, Age Wiki >>