From being runners ups for 3 times in Miss California, USA, to a famous sports reporter and anchor, Heidi Watney has the perfect career that we can't even imagine.
Beautiful, elegant, smart, witty, and imbued with pure talent, the Californian is famed in television and radio shows since 2002.
Although Heidi is not a sportsperson herself, her passion for the field is what makes her stand out, among others.
Heidi has balanced all the roles of mother, daughter, and wife successfully along with her professional career.
Also, she has made everyone believe that women can handle everything that comes along the time. In this article, we'll talk about Heidi Watney and all the things related to her personal and professional life.
Before moving on, let's have a look at a short quick fact about this Sportscaster.
Quick Facts:
Full Name
Heidi Watney
Birth Date
May 19, 1981
Birth Place
Fresno, California, United States
Known as
Unknown
Religion
Christianity
Nationality
American
Ethnicity
White
Education
High School: Clovis West High School

Colloege: University of San Diego

Horoscope
Taurus
Father's Name

Mike Watney

Mother's Name
Paula Watney
Siblings
4 ( Two brothers and two sisters)
Age
41 Years Old
Height
5 feet 8 inches (1.28m)
Weight
65 kg (143lb)
Figure
Slim
Body Measurements
32-24-36
Hair color
Bright Blonde
Eye color
Dark Blue
Profession
Sportscaster
Active Years
2002-present
Marital Status
Married
Spouse
Mike Wickham
Children
1 ( Jaxson Wickham)
Net Worth
$3 million – $4 million
Social Media
Facebook, Instagram & Twitter
Merch
Cards
Last Update
December, 2022
Heidi Watney | Early Life, Family, and Education
Heidi Watney was born on May 19, 1981, in Fresno, California, United States. She spent her childhood in a well-to-do family with her parents Mike Watney and Paula Watney.
Mike Watney has served as a Golf coach since 1979. In addition, he has also worked at Fresno State Athletics and California State University. Her mother, Paule Watney, has worked as a reporter.
Later on, Mike shifted to Vietnam to serve the US army. So, while growing up, Heidi also moved to different places along with her father.
Moreover, she spent 2 years in Vietnam with her father. With the information provided, Heidi's parents got separated when she was young.
Later on, her father married and started living with another lady, and her mother took custody of Heidi.
Talking about the sportscaster siblings, she was raised and grew up with 2 brothers Josh and Dusty, and 2 sisters; one is Kelly.
Her brother Josh followed in the footsteps of his father and played golf in college. Younger brother Dusty suffered from Prader-Willi syndrome and passed away in April 2018.
Coming to her academic records, Heidi joined Clovis West High School in Fresno. Being interested in sports from an early age, she participated in various sports activities like hurdles, including track and field.
Along with that, she was equally involved in diving and gymnastics and participated in the school's cheerleading team.
After graduating from high school, Heidi got the National Merit Scholarship funded by National Merit Scholarship Corporation.
This scholarship is given to the highest score-achieving students from 22,000 high schools.
With this Scholarship to continue her academic qualification, she joined the University of San Diego. Later, she graduated with a Journalism degree with distinction in the year 2003.
While continuing with her university study, Heidi participated in the Miss California USA pageant 3 times. She was a finalist in 2000, semi-finalist in 2001, first runner-up in 2002, and third runner-up in 2003.
How old is Heidi Watney? Age, Height, and Physical Appearance
As of now, the beautiful sportscaster is 41 years old. Her zodiac sign happens to be Taurus. The people of this sign are known to be Practical, Smart, ambitious, and trustworthy.
Moving on, she stands at the height of 5'8 ft (1.28m), weighing about 65 kg (143lbs). When it comes to her look, the young lady is bold and beautiful.
The reporter owns the body statistics of 32-24-36 inches. She is slim-boned with long limbs and very little body fat. Moreover, flaunting her curvy frames and glowing skin, she's no less than a model.
Like most women in her line of work, Heidi never disappoints when it comes to her dressing style. She often wears beautiful well-fitted dresses, stylish shoes, and jewelry to look more presentable in front of the camera.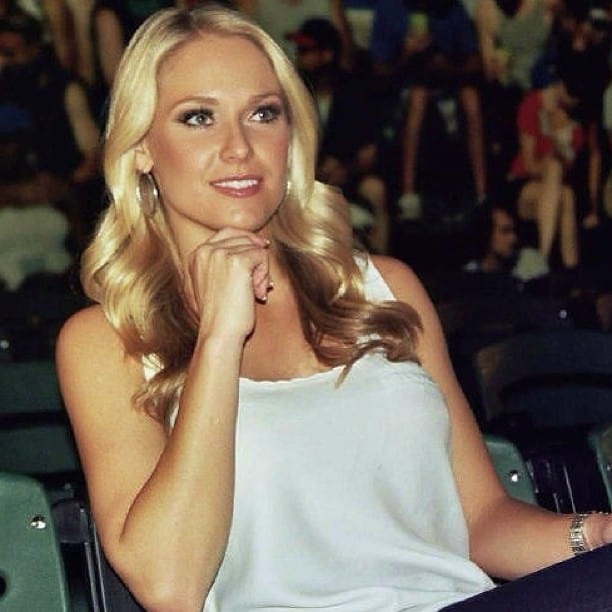 Furthermore, the reporter's flawless look is incomplete without her beautiful dark blue eyes, highlighting her beauty the most.
The bright blonde hair color is another essential factor that makes Heidi look awesome among the crowd. Moreover, she was voted the sexiest woman in the job of sports.
However, the young lady has not revealed anything related to shoe size or any tattoos on the body, if any. The readers'll be updated with the information if found any.
Heidi Watney | Professional Career
Heidi wanted to join the media industry from an early age because of her good looks and stunning body.
After completing the university degree, she tried her hand at modeling on the day of the start.
Later on, she showed interest in reporting and broadcasting because of her deep interest in sports and journalism. The young lady started reporting with the local radio station, KFIg-AM radio, in Fresno.
After that, she became a sports reporter and an assistant producer for KUSI News in San Diego, California. Things changed when Heidi became a sports anchor and host for ESPN Radio 1430 KFIG.
Along with that, the Californian also worked for KMPH – TV as its weekend sports anchor. In 2008, she joined New England Sports Network (NESN) in Boston.
After working for some time, Watney worked as an on-field reporter and host for The Red Sox Report and The Ultimate Red Sox Report, and NESN.
With time, The Ultimate Red Sox Report gained popularity, letting her be famous among sports fans. In 2011 she decided to leave NESN.
Continuing her career as a reporter, she joined Time Warner Cable SportsNet and worked for a short period of time for nearly 1 year.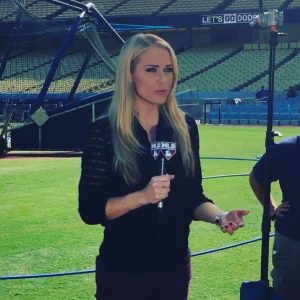 Likewise, in 2012, Heidi collaborated with the MLB Network working as a studio host for MLB reporting across every studio program.
The MLB Network is related to professional baseball and is handled by President Rob McGlarry.
Apart from that, she also worked for 'Quick Pitch,' 'Nightly Highlights,' and the weekday morning show 'Hot Stove.'
The quick pitch show mainly focuses on the Baseball game highlights of the previous game. Heidi joined this show in 2013 and is very active with the show.
However, in 2018 she missed half of the season due to her pregnancy. Later on, she revealed that she took maternity leave during this period.
Furthermore, Watney has also appeared in the music video, namely 'Going Out in Style' by Dropkick Murphy. Well, with that every new achievement for Heidi, readers'll be made aware of it.
Heidi Watney | Controversy
Throughout history, we have seen many controversies involving famous people. Such, Heidi is also caught in the biggest scandal.
When working with the radio KMPH, she used cursed words, due to which Heidi was fired from radio KMPH.
Apart from that, the boss of radio KMPH also revealed that the young lady's behavior was not acceptable.
Is Heidi Watney Married? Personal life and Marriage
Very little is known about Heidi's personal life; she was rumored with different young men before marriage.
Reportedly, she was linked up with a professional baseball pitcher Jacob Edward Peavy. But the relationship didn't last as long as expected.
Later in the year 2008, Heidi and Jason Varitek's relationship caught a lot of attention in the sports industry.
Jason Varitek is a baseball player and had just separated from his wife after 10 years before he linked up with Heidi. However, Heidi's relationship with Jason also didn't last as long as expected.
Following the same year, the sportscaster was found dating Nick Green. But the couple split after some time, and the reason is still unknown to the public.
Who is Heidi Watney Husband? Does He Have Kids?
Combining an enriching career and a loving relationship is a goal of many people, especially women. However, this didn't turn out to be true for Heidi.
As mentioned earlier, Heidi was linked with many young men, but none became the right choice for the sportscaster. Luckily in the year 2014, the young lady confirmed her married to Mike Wickham.
For those who don't know, Mike Wickham is the director of the baseball operation at Miami Marlins LLC. He has served as a baseball executive for a long time.
The Wickham couple's wedding ceremony took place in Edgewater, New Jersey. Likewise, they went to Bora Bora for their first trip after marriage and honeymoon.
Further, they welcomed their first child, a baby boy, Jaxson Wickham, on April 26, 2018. Both Heidi and Mike share amazing cute pictures expressing their love for each other.
You can see cute snaps of the Wickham family on different social media. As of now, the couples are enjoying parenthood and looking after the child in his upbringing, especially Heidi.
Not to mention, there are no rumors of fights or divorce between Heidi and Mike until today, and we hope the couple lives happily as of now and forever.
What is Heidi Watney's Net worth? Net Worth & Salary
As per the source, Heidi is earning a good amount of money from her broadcasting career.
After joining the MLB network, the sportscaster's salary amount is around $10,000 per month, and they earn around $250 thousand in total.
Heidi Watney Net Worth is estimated at $3miilion to $5million
Besides her Broadcasting career, the young lady is engaged with different advertisement agencies and different ads and endorsement deals, which are also considered Heidi's earnings sources.
Being one of the popular television anchors, Heidi has undoubtedly gained a hefty amount from her career. All in all, Heidi is living a luxurious life with her family.
Social Media Presence:
Beautiful lady both from inside and out, Heidi is active on different Social Media platforms. She is available on Facebook, Instagram, Twitter, and Linkedin.
Her profile looks like she likes to be active on social sites and regularly updates her fans and followers.
On Twitter, she is available as @HeidiWatney and has around 142.7K followers. She joined the site in April 2009 and has tweeted around 23.6K times to date.
She is also available on Instagram, and her account has gained around 63.1K followers in a short span of time. Furthermore, you can follow Heidi on Facebook and Linkedin too.
Some FAQs:
Where is Heidi Watney from?
Heidi Watney is from Fresno, California, United States.
Are Heidi Watney and Nick Watney related?
Heidi Watney and Nick Watney are cousins. For those who don't know, Nick Watney is a professional golfer who plays on the PGA Tour.
Did Heidi Watney have a baby?
Heidi Watney posted a picture with a baby bump in January 2018. Later, she gave birth to a baby boy Jax Wickam on 26 April 2018.
What did Heidi Watney leave the quick pitch show in 2018?
Heidi Watney left the quick pitch show in 2018 because of her pregnancy. Watney revealed that she took maternity leave from the show.