Hunter Mar, an Instagram model, is famous for being the fiancée of the NBA player Zach LaVine. The couple was blessed with a son, Saint Thomas LaVine, on August 8, 2022.
Mar is the sweetheart of NBA player Zach LaVine, a player of the Chicago Bulls
, and they have been lovers since high school.
Zach was drafted in 2014 by Minnesota Timberwolves and has played for the Chicago Bulls since 2017.
On January 6, 2023, LaVine bagged a victory with the Bulls against the Philadelphia 76ers (126–112).
Zach credits his family and his beautiful sweetheart for his NBA achievement. Let's rake a view of quick facts before going into the details of this article.
Quick Facts
| | |
| --- | --- |
| Full Name | Hunter Mar |
| Nick Name | Hunter |
| Birth Date | February 10, 1997 |
| Age | 26 Years Old |
| Birth Place | Renton, Washington, USA |
| Current Residence | California, USA |
| Education | Graduate |
| High School | Kentridge High School |
| University | Seattle University |
| Nationality | American |
| Ethnicity | White |
| Religion | Christian |
| Zodiac Sign | Aquarius |
| Mother's Name | Ryani Mar |
| Father's Name | Tony Mar |
| Siblings | Haeley & Kaiya Mar |
| Known For | Zach LaVine's Wife |
| Height | 5'5″/165 cm/1.65 m |
| Weight | 55kg/121lb. |
| Hair Color | Brown |
| Eye Color | Light-Brown |
| Marital Status | Engaged |
| Partner | Zach LaVine |
| Children | Son; Saint Thomas Lavine |
| Profession | Former School Soccer Player & Instagram Modeling |
| Net Worth | $1 Million |
| Hobbies | Traveling, Swimming |
| Favorite Place | Greece, London |
| Social Media | Instagram |
| Last Update | June 2023 |
Physical Appearance
Hunter Mar is a beautiful woman with a brilliant virtual lifestyle. Her popularity grows daily, and even her famous fiance's fame adds to her.
Similarly, Hunter is a pretty girl with light-brown mesmerizing eyes; to complement that, she has brown hair, weighs 121 lb., and stands at 1.65 m in height.
Hunter goes to the gym regularly to maintain her physique.
Once in an interview, Hunter said she drinks a lot of juice and eats green vegetables to make her skin bright and healthy.
Early Life
On February 10, 1997, Hunter was born to Tony and Ryani Mar; she has two siblings, Haeley and Kaiya Mar.
Zach and Hunter used to study in the same college.
Hunter attended Kentridge high school, where she was the homecoming princess.
Later she transferred to Seattle University and graduated with a BA in 2018.
Mar was a part of the women's soccer team at Seattle University and was a midfielder from 2013-2015.
Career
Hunter Mar is a topic to discuss in the celebrity market in today's world.
She is just starting her professional career as she is just 26 years old.
Once, she was a soccer player in her college, but she didn't make the sport her career path.
Hunter has kept her professional life and early life low-key, and the only thing that is known is that Hunter is an Instagram model.
Zach LaVine | Details
Zachary Thomas LaVine was born on March 10, 1995, in Renton, Washington, USA.
He was brought into the world by athletic guardians. His dad, Paul, played American football in the United States Football League (USFL) and NFL; his mom, CJ, was a softball player.
Around age five, LaVine became interested in basketball after watching Michael Jordan in Space Jam. Zach later became a fan of Kobe Bryant and displayed his game after his youth icon.
LaVine was chosen in the first round of the 2014 NBA Draft as the thirteenth overall pick by the Minnesota Timberwolves.
The Timberwolves drafted Zach more for his drawn-out potential than for sure-fire returns. He marked his rookie contract on July 8, 2014.
LaVine won the 'Slam Dunk Contest' at the '2015 NBA All-Star Weekend' when he was only 20.
Accordingly, he became the second-most youngest player to have won the title. Before him, Kobe Bryant had won the challenge at 18 years old in 1997.
LaVine conveyed extraordinary exhibitions in the 2015 season. He played 77 games and started in 40, with an average of 10.1 points, 2.8 rebounds, and 3.6 assists.
After 2015
LaVine is a double-cross Slam Dunk Contest champion and was named an NBA All-Star in 2021 and 2022.
He won the title of the NBA Slam Dunk Contest' in two sequential years (2015 and 2016), becoming the fifth 'NBA' player to have won the challenge twice.
At the start of 2023, on January 6 LaVine, as part of the Bulls, bagged a victory against the Philadelphia 76ers (126–112).
He scored 41 points, 14-of-19 shooting (from the field) and 11-of-13 (from beyond the three-point line.)
In his fourth career game, he was the second player in Bulls history with at least 40 points on 70% shooting breaking the record of Scottie Pippen.
Controversy
Zach argued with his Bulls teammates in the locker room during half-time of a match against Minnesota on December 18, 2022, in which the Bulls lost to Minnesota with 123-150.
Zach Lavine's defensive breakdowns during the previous five games and in that first half against the T-wolves were reportedly the cause of the Bulls' locker-room incident. The anger was directed at LaVine from his teammates.
At one point in late November 2022, LaVine's defensive rating was 103.4, as high as LaVine had ever been ranked, ranking him 79th among starters.
After that, due to his left knee malfunction, he gave a poor performance, with a career-worst 116.1 rating at the end of the season.
The Athletic has reportedly mentioned Zach's take on this,
LaVine added, "I think everybody goes through ups and downs, just like every team does. Obviously, if we're not winning games, not everybody's going to be happy. It's not going to look as good as it was before. It's all glitter and show when you're winning games. But when you're losing games and trying to do the same things, it's turmoil. Everybody has their right to their own opinion. For me, I keep my head down. I work on my game and try to help my team. I help try to lead the team. That's where I stand. I just try to take it day by day and evaluate how we're doing."
Social Media Of Zach LaVine
Hunter is the wife of famous NBA star Zach LaVine and has an influential online presence.
Apart from Instagram, she doesn't use any other social media platforms.
View this post on Instagram
Hunter Mar | Engagement
Chicago Bulls star Zach LaVin took a step ahead in his relationship with his sweetheart Hunter Mar and declared his commitment as he posted a picture of himself on one knee on Instagram in 2020.
Lavine said, "My everything❤️ I love you with every last bit of me. It's been bound to happen; been together since I was 17 !!! My first love and my FOREVER companion. You with me always 🥰🥰."
Mar posted a similar photograph, adding, "My beginning and end forever! 💍 I love you unconditionally. I have realized you were the one from the very beginning. I'll pick you again and again, unquestionably."
Continued with, "Jesus made you for me. "I am so honored by you, and I can hardly wait to be yours until the end of time."
Hunter shared a video of her gigantic diamond ring alongside the photographs on her Instagram.
LaVine marked a $215.16 million five-year contract with the Bulls in 2022, so he has the cash for a particularly costly diamond ring.
Zach's companion and previous partner Sekou Wiggs Jr. likewise shared a video from the proposition, and he expressed, "YEEEEEAAAAHHHH! My Dawg and Sis are Getting Married! Happy for Y'all!❤️
Hunter & Zach Care For Each Other
The couple has been open about their relationship via online media, posting numerous pics of one another for quite a long time.
In February, Zach celebrated Hunter's birthday, stating, "Cheerful Birthday, my Queen 👑 LOVE you to death babe❤️❤️❤️#23."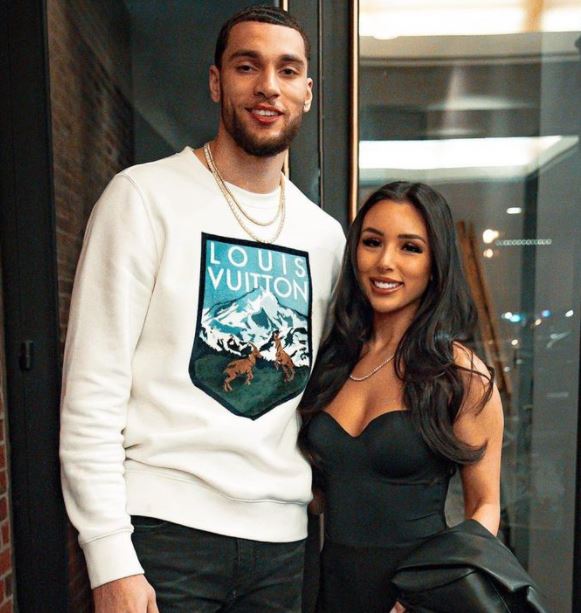 Half a month prior, Hunter did likewise for Zach's birthday, composing on Instagram, "25!!!! 🎉Getting to watch you develop into the man you are today since secondary school has been astounding."
I appreciate you all the more consistently. You are such a gift to me! (Also, grizzly) Happiest of birthday events, boo!!! I love you!"
Net Worth
Hunter is an Instagram model with a net worth of $1 million as of 2023, whereas Zach has a net worth of $70 million.
Zach LaVine marked a long-term 5-year / $215.16 contract with the Chicago Bulls with an average annual salary of $43,031,940 in July 2022.
For the 2023-24 season Zach will earn a base salary of $40.06 million.
In 2021-22, LaVine procured a base salary of $19,500,000.
Zach recently signed with New Balance and debuted the New Balance Fresh Foam BB Shoe at the Paris Foot Locker store.
He even collaborated with Nike, which justifies his net worth; the couple enjoys their life and spends their fortune wisely.
Search Graph
The graph illustrates the search rate for the past 12 months.
Frequently Asked Questions (FAQS)
When is Hunter Mar getting married?
Hunter was engaged to her long-time boyfriend Zach in 2020, and there is no news on the internet about the date of their marriage. Once they update the marriage date, we will let you know.
Which jersey number Zach wears?
Zach wears jersey number 8 for the Bulls as a shooting guard.