Golden State Warriors shooting guard Klay Thompson sat down with the media for the first time since he suffered an injury on November 18, 2020, for the second time.
He expressed that 2020 was the worst year in his life with the pandemic, his injury, losing his grandmother, and Kobe Bryant.
"It was probably the worst year of my life, guys," Thompson said during a video conference with reporters.
Klay Thompson on "probably the worst year of my life"

–Pandemic
–ACL rehab
–Kobe
–Social justice "reckoning"
–Achilles tear
–Lost his grandmother pic.twitter.com/jHvlBdfPWi

— Anthony Slater (@anthonyVslater) March 14, 2021
"It feels good to be back here. I feel love when I'm back in the Warriors facility. My roots are here."
The pandemic was not easy on anybody. Everyone had their own little trials and tribulations in 2020.
But that was it for me -was losing my grandma Mary, tearing my Achilles.
"I still think about Kobe every single day. There's not a day I don't think about them and not being able to have that last convo," added Thompson.
Klay Thompson misses Kobe every single day
Kobe Bryant passed away last January in a tragic helicopter crash.
The five-time NBA champion Kobe has inspired and touched the lives of many NBA players.
Many players look up to him for inspiration, and Klay Thompson is one of them.
Kobe has always meant a lot to Klay and his family, and Klay has expressed this many times in his posts.
This Sunday, he again expressed how he misses Kobe and misses him every single day.
Klay considers him as his favorite player and his team Lakers as his favorite team.
Kobe gave Klay a copy of his book "The Mamba Mentality" with a message.
"Rings, rings, rings, rings," Kobe wrote Klay.
Its simple message from Bryant, do whatever it takes to win, no matter the cost which inspires Klay.
It's almost two years that Klay Thompson has been out of the NBA league since June 13, 2019, game 6 of the NBA finals against the Toronto Raptors.
He is still recovering from the right Achilles tendon injury that occurred in that game.
Kobe Bryant also suffered an Achilles injury in his career, but he could come back and play again.
This has given Klay hope that he will also come back and be on the ground with his teammates.
Thompson is also looking forward to accomplishing the same feat as he recovers to come back next season.
Klay aims to return at an all-star level
He expressed how much he misses being on the ground with his teammates during the video conference.
During the interview, he discussed the injuries he sustained the last two years.
He also talked about his rehab process and what he expects from his team upon returning and newfound hobbies.
Like many people, he spent time during the pandemic finding new things to do:
"I realized that all of my hobbies revolved around me being athletic," he said.
"I realized that I need to get some hobbies that allow me to be more creative because the human body can turn on you sometimes."
He says he's now looking forward to the future and wants to get back on the ground soon.
"I plan on being the all-NBA player. I will not settle for anything less", added Thompson.
He has a lot of pent-up energy and aggression and wants to play basketball, and when that happens, it will be a joyous day, which is what he wants everyone to remember.
"I plan on being the All-NBA player I was. I will not settle for anything less."

Klay Thompson spoke with media for the first time since tearing his Achilles.

"I anticipate us being right back in contention for a championship again."

✍️ @anthonyVslaterhttps://t.co/5wIMtgM0DG

— The Athletic NBA (@TheAthleticNBA) March 15, 2021
Klay Thompson on his return and his team
When asked about the possibility of playing at the start of next season, Thompson said it's what his goal is now.
"Absolutely," he said. "It could be a few weeks after, maybe a month after, but most probably toward the very beginning of the next season."
Thompson said the support he received from the warrior organization was important during those rehab periods.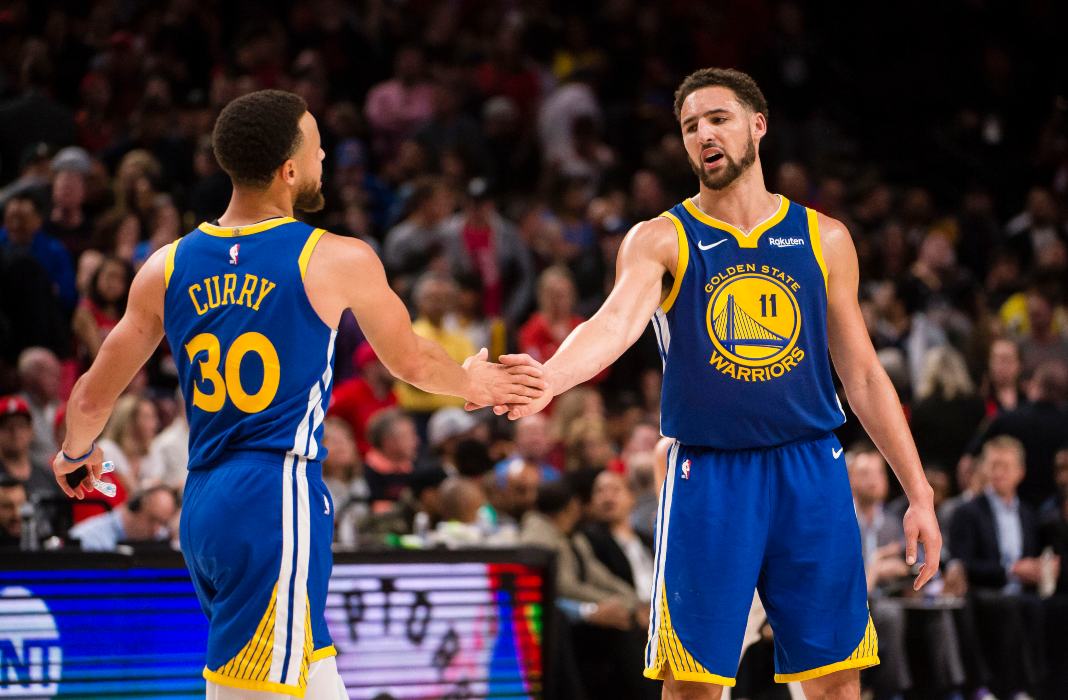 "Luckily, for me, I got great teammates who helped me a lot," Thompson said.
The warriors struggle to find consistency without Klay, as they are now with a 20-19 record.
Despite that, Thompson remains confident he can help the warriors get back on the being title contender.
His teammate and another half of the splash brother Stephen Curry also feels the same about Klay's return.
"I anticipate us being right back in contention," Thompson said. "This year has been tough, obviously, with the pandemic and so many new players on the team."
"I love our group, though. I think we have a great group. These guys come to work every day; they're eager to be great players. And we still have so much basketball left to play so, although our record doesn't reflect how good I think we are." added Thompson.
Even though 2020 was the worst year for Klay Thompson, he looks forward to the future where he hopes to be better and return to the ground slowly but certainly.
He aims to get back up to an NBA player form and return the Warrior to title contender status. When that happens, it will be a joyous day for the Warrior and their fans.