Laura Harrier is an American actress who also started modeling at the age of 17 and is more famously recognized for her role as Liz Allan in Spider-Man: Homecoming. Laura is also popular as Klay Thompson's girlfriend among NBA fans after they started dating in 2018.
Klay and Laura started dating around the release of the movie, BlacKkKlansman in 2018. The couple started leaving hints of their relationships on their social media profiles and were often spotted on vacations.
It was rumored that the couple split during the coronavirus pandemic in 2020, but reports say they have come back together.
Klay Thompson plays for Golden State Warrior in NBA. In fact, the four-time NBA champion is considered one of the greatest shooters in basketball history. Klay has a history of dating beautiful and sexy women in the last 8 years.
According to reports, Klay has dated Hannah Stocking (Youtuber and Instagram Model), Tiffany Suarez (former Fordham basketball player), Abigail Ratchford (Model), Cherise Sandra (Los Angeles Rams cheerleader), Carleen Henry (Hairstylist), and Eiza Gonzalez (Actress). Hannah accused Thompson of cheating when they were dating.
Do you think Thompson really cheated on Hannah? Let me know in the comments. Let's start with a quick introduction of the two-time All-NBA Third Team honoree, five-time NBA All-Star, Klay Thompson, and we will explore more about his love life.
Who is Klay Thompson?
Early Days
Klay Thompson was born in Los Angeles on February 8, 1990. His father, Mychal Thompson, was also an NBA player. Similarly, his mother, Julie, played volleyball for her college.
Klay started playing basketball in his early days at Santa Margarita Catholic High School.
Then, he joined Washington State University and played for the college team. Notably, the university has retired his NO. 1 shirt.
Professional Career
The Golden State Warriors picked him in the 2011 NBA draft. Moreover, he formed the NBA's best shooting duo with Stephen Curry.
Also, they made an NBA record of combined 483 three-pointers as a duo in the 2012-13 season. Tim Duncan's San Antonio Spurs eliminated the Warriors in the season's championship.
In 2015's postseason, Klay led the Warriors to win the NBA Championship after 40 years. Notably, they won the title against the Cleveland Cavaliers in six games.
Moreover, Klay played his second All-Star game in the 2016 season and snatched another NBA Championship title in 2017
Similarly, Klay also led the team to win a consecutive NBA Championship in the 2018 NBA Finals.
Next, he joined Curry as the only NBA history player to score at least 200 three-pointers in seven straight seasons. However, the Warriors lost the Finals with Klay injured.
Overall Career achievements
The four-time NBA Champion has been included in NBA All-StarTeam for five straight seasons since 2015.
Besides, he is a two-time All-NBA Third Team player. Also, he holds an NBA record for most three-pointers (11) made in a playoff game.
Klay Thompson Girlfriend: Laura Harrier
Laura Harrier is an American actress and former model. However, if you are a basketball fan, you may have heard her name as Klay Thompson's girlfriend.
Well, Laura has gotten recognition even more significantly. She began modeling at the age of 17 as soon as a location scout discovered her.
Many people may know her as the face of Garnier. Also, she gained popularity with her face appearing in almost all the beauty magazines like Vogue, Elle, and Glamour.
However, the top point of her career was being cast in the 2017 comic Spider-Man: Homecoming.
Klay Thompson's Girlfriend Laura Harrier: Quick Facts
Full Name
Laura Ruth harrier
Birth Date
March 28, 1990
Birth Place
Chicago, Illinois, United States
Nickname
Laura Harrier
Religion
Christianity
Nationality
American
Ethnicity
Mixed
Education
Evanston Township High School
William Esper Studio Acting School
Horoscope
Aries
Father's Name
Temujin Harrier
Mother's Name
Linda Sagan
Siblings
One brother
Brother
William Harrier
Age
33 years old
Height
5 feet 9 inches (175 cm)
Weight
55 kg (121 lbs)
Build
Slim
Eye color
Brown
Hair Color
Black
Profession
Actress
Model
Hit Movies
Spider-man: Homecoming (2017)
BlacKkKlansman (2018)
Bios (2021)
Active years
2007-present
Sexual Orientation
Straight
Marital Status
Unmarried and Single
Ex-boyfriend
Klay Thompson
Ian Longwell
Children
None
Net Worth
$1 Million
Social Media
Twitter, Instagram
Merch
Funko Pop, Poster
Last Update
November, 2023
Klay Thompson Girlfriend Laura Harrier: Early Life
Laura was born in Chicago, Illinois, on March 28, 1990. She is the daughter of Temujin Harrier and Linda Sagan.
Her father is African American, and her mother is Polish English. Furthermore, Temujin serves in insurance, and Linda is a speech pathologist.
Besides, Laura has a younger brother, William. Surprisingly, she says that she was shy in her childhood.
Thus, her mother sent her to acting classes so that her confidence may increase. Laura went to Evanston Township School. She took drama classes there until she graduated in 2008.
Modeling
Moreover, her interest in fashion began during her school days. In fact, there she was, once voted best dressed. She had planned to study art history after high school.
However, her modeling interest altered her path. Accordingly, she began modeling, representing agencies like IMG Models and Wilhelmina Models.
Shortly, she appeared in magazines like Vogue, Cosmopolitan, and Glamour. Besides, companies like Target, ALDO, American Eagle, and L'Oreal featured her in their modeling campaigns.
Then, she desired to pursue a career in acting. As a result, she enrolled at the William Esper Studio until 2015.
You might also be interested in reading: DeAndre Bembry Bio: Basketball Career, Family Tragedy, Contract, & Wiki.
Klay Thompson Girlfriend Laura Harrier: Career
Debut and series
During her course at William Esper Studio, she was cast for the leading role in One Life to Live. It was the 2013's American soap opera web series.
Remarkably, her first performance earned a positive review. Similarly, The Last Five Years (2014) was her debut film.
Later, she played a small role in the 2015 film 4th Man Out. Besides, she was a cast in Codes of Conduct in the last year at Esper Studio.
It was an HBO telemovie created by Steve McQueen. However, the series was never aired.
Modeling for Brands
As she rose into the spotlight, more brands drew their attention to her. For instance, Calvin Klein and Louis Vuitton chose her as a model for their campaigns.
Also, she was an ambassador for Bulgari, an Italian jewelry brand.
Spider-Man: Homecoming
Laura was selected for the role of Liz in Spider-Man: Homecoming, a Marvel comic movie. Liz is Peter Parker's love interest in the film.
The movie was released in 2017 and had massive commercial success. Therefore, this was the breakthrough movie for her. Furthermore, it booked her a spot in Hollywood.
BlacKkKlansman
Later, she played the role of civil rights activist Patrice Dumas in BlacKkKlansman. Before releasing it in August 2018, the film grabbed the Grand Prix at the Cannes Film Festival.
The Black Power movement's activists and her father were the real-life inspirations for her brilliant performance in the movie.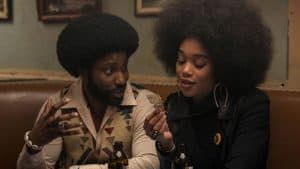 In fact, the film's director Spike Lee had selected her based on her audition video for another project.
Moreover, Laura had attended his lectures as a film professor at New York University. Similarly, the film brought nominations for the Black Reel Award and Screen Actors Guild Award.
Hollywood
Ryan Murphy cast Laura in the 2020 Netflix miniseries Hollywood. There she portrayed Camille Washington, a rising black actress facing racial prejudice.
Camille was a real-life person who won the Academy Awards for Best Actress.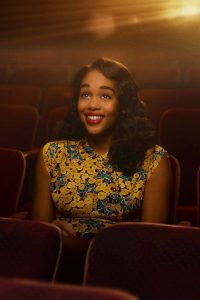 Her performance was not so well praised as it was in BlacKkKlansman. Moreover, critics said that she was not so "fire" in the movie. In contrast, some called her "heartbreakingly convincing." Overall, there was sort of mixed reviews.
Upcoming Projects
As per reports, she is set to be cast with legendary Tom Hanks in Bios. The movie will premiere in April 2021. Also, she will co-star in the comedy-drama The Starling with Melissa McCarthy.
Relation with Klay Thompson
Laura was first linked to Klay Thompson in 2018. Moreover, they were seen attending a game with the Dodgers together.
Later, the couple publicized their relationship by posting photos of each other on social media. Besides, they had trips together across the world during those times.
The Golden State Warriors player and the actress have not still clarified their meeting.
Later, in April 2019, the news about their breakup circulated in the media. However, the rumors were silenced as they were again seen together.
Again, recently the news of their breakup covered the media. A Tik-Tok video of Klay partying with other girls without Laura seems to have hurt her a lot.
Consequently, she ended the relationship amidst the corona quarantine period in July 2020.
Muggsy Bogues Bio: Height, Basketball Career, NBA, Net worth, &Wiki>>
Klay Thompson Girlfriend Laura Harrier: Net Worth
It has been nearly a decade now since Laura started appearing in brand commercials, series, and movies. Moreover, her recent films have had great commercial success.
Besides, her first Hollywood success, Spider-Man: Homecoming, had earned more than $800 million worldwide.
Laura Harrier's net worth as of 2020 is around $500,000.
No doubt, she is making a pretty good fortune nowadays. However, the exact figures are still unknown. Besides, she still has dealt with Louis Vuitton.
Similarly, she is involved in many upcoming movie projects.
Leaving Laura Harrier's earnings aside, Klay Thompson himself earns quite a deal from his career. At present, he depicts a net worth of $38 million and a five-year contract with the Golden State Warriors.
Well, this contract includes $189,903,600 guaranteed, an annual average salary of $37,980,720, with the cap hit of $37,980,720.
Klay Thompson Girlfriend Laura Harrier: Social Media
Laura is pretty much active on Instagram. Besides, she also tweets occasionally on Twitter. In fact, she has deleted all the pictures with Klay from her Instagram account. After all, that's the way of breaking up in this digital era.
Twitter: 51,700 Followers
Instagram: 928,000 Followers
Klay Thompson Girlfriend: Other Affairs
Cherise Sandra
Klay Thompson was heavily rumored to be dating Cherise Sandra back in 2016. Besides, Cherise was a cheerleader for Los Angeles Ram back then.
Notably, she had shared a photo on Instagram that had gone viral instantly. The picture showed some artwork she did outside Klay's house.
The caption read, "You & Me baby. Sorry, my names tagged on your patio @klaythompson."
However, the story's relationship was never verified by either of them. So, no surprise, the Instagram post was deleted shortly.
Reportedly, she had been seen sitting courtside for a Warriors game.
Hannah Stocking
Klay Thompson was having affairs with Hannah Stocking in 2015. She is a model with a stunning look.
Besides, she had degrees in biology and chemistry. Also, the couple had their time together for about a year.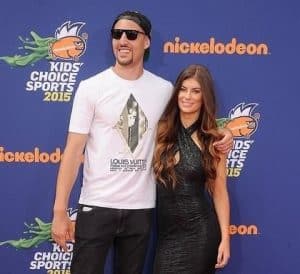 Then, one day Klay was busted for having a sleepover with another woman.
Likewise, Hannah tweeted, "When you catch ur man naked in bed with a groupie….lol @klaythompson." As a result, she dumped him for cheating.
Abigail Ratchford
Again, in August 2017, another Klay relationship rumor hit the media. It started when Abigal Ratchford shared photos related to Klay on Snapchat.
The photos featured his English bulldog, Rocco, and his bedroom. Abigail is a model and aspiring actress. Moreover, she was famous for adding provocative pictures on Instagram.
Furthermore, Abigail tweeted, "That was the best I've slept in a year." However, the Warrior shooter publicly denied the affair.
Whether it was a real relationship or just a wily publicity stunt, it is unclear. Perhaps, she did it for social media attention.
Tiffany Suarez
Thompson went on a dinner date with Tiffany Suarez. In fact, it was soon after he broke up with Hannah Stocking in 2015.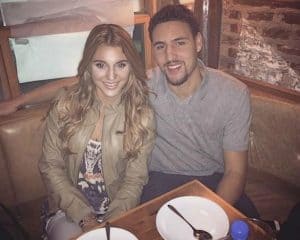 Tiffany was a college basketball player who was playing for Fordham University. Likewise, she had posted of them together at dinner.
Eiza Gonzalez
During 2018, Klay was heavily linked with Eiza Gonzalez. She is a breakout actress. Besides, she has starred in Baby Driver and Godzilla vs. Kong. According to sources, the couples went on a romantic dinner date.