Liam Campbell being Larry Bird's grandson, is the new rumor in the basketball community. But this is a false rumor, as Campbell is only a huge fan of the three-time NBA Champion.
The hairstyle and facial features of Liam Campbell might have made a few fans think he is the grandson of the NBA legend. Some even call the youngster Baby Bird.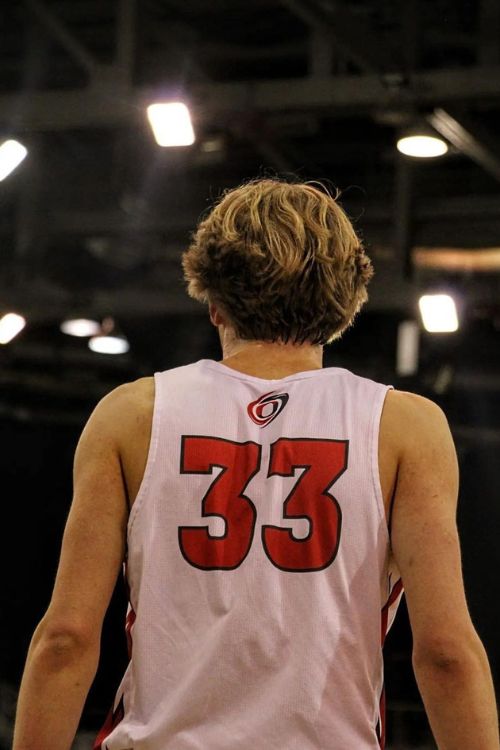 Along with being a fan of Larry Bird, Liam also likes Kawhi Leonard and Jayson Tatum. Earlier this year, Campbell committed to USC, the team led by Andy Enfield, who also recruited LeBron James' son, Bronny James.
An ambitious kid, Liam has already stated he joined USC to win the National Championship. A few fans in the basketball community have also praised the youngster's attitude and believe we could one day see him lighting up the NBA.
Is Liam Campbell Larry Bird Grandson?
Liam Campbell isn't Larry Bird's grandson, but only an admirer. Previously, the youngster said he wore jersey no.33 as a tribute to the basketball legend.
In his interview with 247Sports, Campbell said he also models his game around the three-time NBA Champion. A few basketball fans thought Campbell had a blood relationship with Bird cause of how similar they looked, but that has proven to be a rumor.
The former Celtics forward has two grandchildren from his oldest daughter, Corrie Bird. The two of his grandkids, Violet and Sebastian, are yet to hit double digits in age.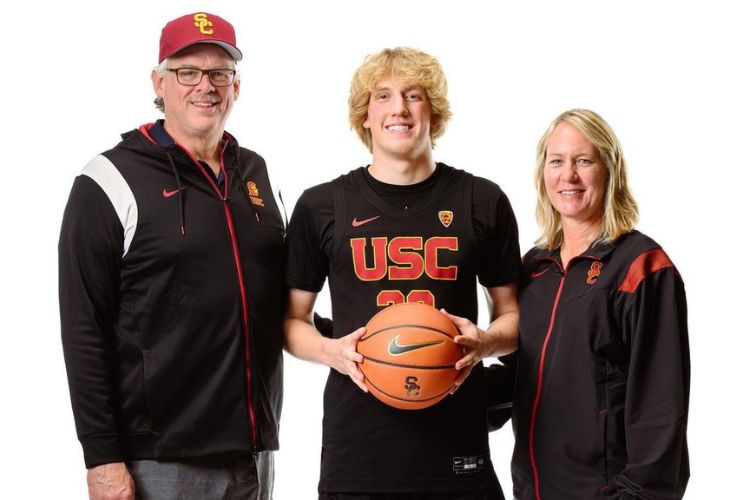 Corrie has previously talked about her poor relationship with her superstar father. Larry had Corrie with his former wife, Janet Condra.
Corrie previously said there was a time she would decorate her room with her father's posters, but Larry never had enough time for his family. Even from Corrie's Facebook, it is clear she is much closer to her grandparents.
After his divorce from Janet Condra, Larry Bird married Dianh Mattingly, with whom he adopted two kids, Connor and Mariah. His daughter, Mariah, used to be a cheerleader and has kept herself out of the public limelight.
Previously, Larry Bird's only son, Connor Bird, was arrested for trying to run over his ex-girlfriend. The incident happened a decade ago, and a few websites have stated Connor is now a changed man.
Liam Campbell Journey So Far
Standing at 6'4, Liam Campbell, as per 247 Sports, ranks at no.79 for overall prospect in the class of 2024. He also ranks no.16 at shooting guard and is Idaho's top overall recruit.
Earlier this year, the youngster also committed to USC after having another stellar season with Owyhee High School. He chose USC over Boise State, Utah, Colorado State, St Mary's, Utah, and Washington State.
With Owyhee, Campbell averaged 17.4 points and 6.6 rebounds per game. He led his team to the 5A state title and earned a spot in the first-team All-5A Southern Idaho Conference Selection.
When asked why the youngster chose USC, Campbell said he wanted to be a part of a winning program that could develop him into a great player. He also further said he wanted to be with a team that fights to win a national championship.
Previously, in a basketball fan forum, one user praised Campbell's basketball IQ and athletics. The fan who seems to have analyzed many of Campbell's games wrote Campbell mostly gets his point through his mid-range jump shots.
He also wrote the youngster is a team player and is a humble but confident leader on the court. It seems Campbell is already receiving praise from the basketball community, and the sky's the only limit for the youngster if he keeps improving himself.