Tyson Bagent gay rumors are false, as the Bears QB is currently in a relationship with a woman. Bagent is dating an ER nurse, Maggie Litzinger.
Assuming one's sexuality isn't what we want to do, but spreading wrong rumors is also harmful. Bagent has never talked about his sexuality in the media, and he hasn't shared any romantic pictures on Instagram.
But his girlfriend, Maggie, recently confirmed their relationship status by sharing a series of pictures on her Instagram. The WVU graduate is 26 and was one of the attendees of the Bears Vs Raiders game.
Bagent made his first career NFL start against the Raiders, helping his side to a 30-12 victory. He went undrafted agent in 2023 but was later picked by the Bears.
The youngster has made the best use of his opportunities as he was previously a third-string behind starter Justin Fields and veteran Nathan Peterman.
Is Tyson Bagent Gay?
Tyson Bagent's sexuality has become a topic of interest to folks on the internet. Right after the rookie led his team to their first home victory in more than a year, fans seemed to want to know more about him.
Though we do not want to assume someone's sexuality, the NFL player isn't gay and is straight. Tyson hasn't shared any photos with a romantic partner on his Instagram handle, and most of his snaps are either of him training or on the field.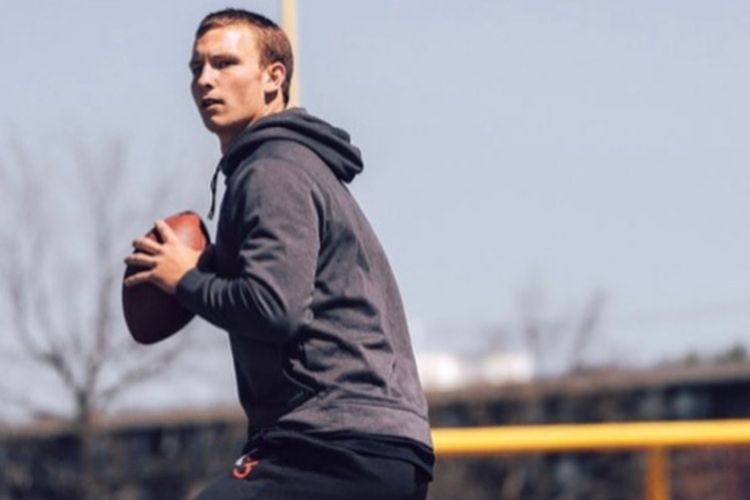 He has also shared a few family snaps, including the day he graduated from Shepherd University. So, a quick glance at his Instagram account might make many presume that Tyson is single, but that isn't true.
The Bears quarterback is in a relationship and has a girlfriend named Maggie Litzinger. He might not have shared any posts, but his girlfriend recently tagged him in one.
Tygon Bagent Girlfriend, Maggie Litzinger, Is An ER Nurse
Maggie Litzinger recently confirmed her relationship with the Bears' quarterback. She shared a series of pictures of her attending the Bears Vs Raiders game at Soldiers Field.
Maggie also shared a cute snap of her and Tyson after the game as she held the match ball presented to Tyson after his solid game against the Raiders. The two are believed to have crossed paths for the first time, while at Shepherd University.
Maggie also known as Margaret, graduated from St. Maria Goretti High School in 2015 and later enrolled at the University of South Carolina.
She started as a pre-nursing student but later chose to move closer to home and continued her education at West Virginia University.
At WVU, Maggie switched her academic degree due to a problem with credit transfer and pursued a Multidisciplinary Degree with concentrations in Public Relations, Health Promotion, and Communications.
In her Word Press blog, Maggie wrote after graduation, she intended to continue nursing and become a Physician's Assistant upon completion of a Master's Program.
In her blog, Maggie also mentioned while studying at WVU, she was also working as a nurse tech for Meritus Medical Center in Hagerstown, MD.
And it looks like Maggie exactly did that. She graduated from WVU in 2019 and started working on her nursing degree. Earlier this year, Maggie shared a few photos of her while working at the Medical University of Southern Carolina.
Maggie Is Famous On TikTok
On TikTok, the ER Nurse has garnered 53k followers and has received 3.5 million likes. Most of her followers look forward to her videos that talk about the everyday events the nurses have to go through.
Maggie began making TikTok videos during the pandemic in 2020 and is now a regular content creator on the website.
One of her famous TikTok videos received over 1 million views in which she was seen lipsyncing to Kesha's hit single, Grow A Pear, and wrote the message, "When he wants to be babied, but you are literally an ER nurse."
Many other nurses seemed to agree with Maggie in the comment section, with one of them writing, "My bf asked me how much Tylenol to take, and I told him the whole bottle so he would not ask again."
With Maggie going public with her relationship with Tyson on Instagram, we might soon see the QB in a few of her TikTok videos. Or the ER nurse might also choose to keep her relationship away from the famous platform.