A sparkling basketball figure at Purdue, one could barely get their eye off 7 feet 4 inches tall Zach Edey. Fans are curious about Edey's ethnicity- is he Asian?
Zach may not be from a family of professional athletes, but his Chinese mother and white father were somewhat inclined to athletics at some point in their lives.
No doubt that sports-loving genes would attract him to athleticism, too. Moreover, coming from a diverse ethnic background instilled a strong understanding and respect in him.
Well, he is a humble person off the court, but when it comes to competitive sports, he is practically a fierce wall to his opponents.
Zach Edey, a Canadian-born basketball player, is currently a center for the collegiate basketball team at Purdue University (2020 – now).
There, he joins Brian Waddell, Josh Furst, Camden Heide, and Will Berg, to name a few.
His scoring average surged from 8.7 points as a freshman to 14.4 points as a sophomore.
Then it rose to a dominating 22.3 points, 12.9 rebounds, 2.1 blocks, and 1.5 assists per game (in junior year). It comes as no surprise that he was named the Big Ten Player of the Year.
As a senior, Edey opted out of the 2023 NBA draft for college, which got players like Victor Wembanyama, Brandon Miller, and Scoot Henderson, among others, into the NBA.
Zach Edey Ethnicity: Is He Asian?
The Boilermakers player is the eldest of two sons of a Caucasian white father, Glen Edey, and a Chinese mother, Julia Edey.
With Canadian-Chinese roots, Zach is of mixed ethnicity- so yes, Edey is part Asian and part white.
The 2023 Kareem Abdul-Jabbar Award winner's mother was born to Chinese immigrants in Toronto, where she would meet his father.
Being biracial, Zach Edey not only got to enjoy the richness of cultural differences but also got a strong work ethic from his mom.
Also, let's not forget that part of his tall genes came from his mother, who has a reported height of 6 feet 3 inches (1.91 m).
She was a high school basketball player but opted out to help her father in their restaurant. Later, Julia pursued mechanical engineering and retired early to support her son's career in basketball.
Now, she is a full-time mom and does gardening and beekeeping as a hobby.
Moreover, in a 2023 interview with CBS, Zach spoke highly of his mother and credited her for instilling the discipline of hard work in him.
"She knows all about working even when no one's paying attention. My mom kind of grew up learning stuff on her own, and she passed that on to me."
No doubt, Edey is making his parents proud both on and off the court!
What Is Zach's Nationality And Religion?
Zach Edey was born on May 14, 2002, in Toronto, Ontario, Canada. The 7 feet 4 inches and 305 lbs. basketball player is of mixed heritage and holds Canadian nationality.
The Leaside High School alum has yet to speak publicly about his religion, but speculations are that he is Christian.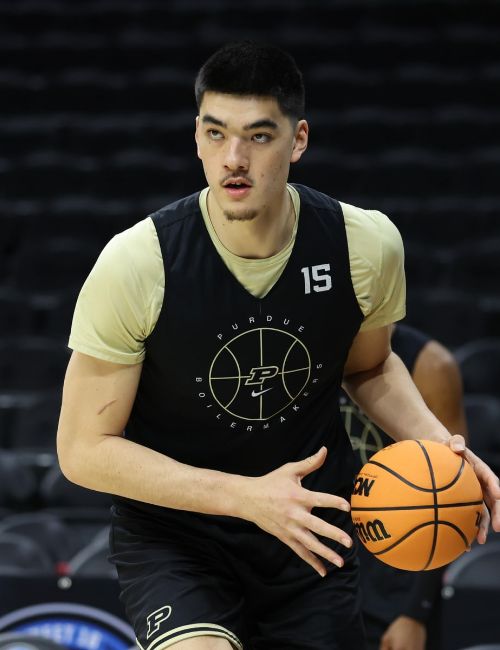 Edey was not into basketball from the start but preferred baseball and ice hockey instead. It was probably because his father was a baseball coach at a youth league.
His immense height made those two sports impractical, so the best transition was- yeah, you guessed that right, the basketball!
So, to hone his basketball skills, he moved from Canada to the United States. There, he attended IMG Academy in Bradenton, Florida, playing under former NBA player-turned-coach Daniel Santiago.
As a three-star recruit of the 2020 class, he committed to Purdue, and the rest is history!
Pacing up with his collegiate basketball games, Zach also plays for the Canadian national basketball team.
In the 2021 FIBA Under-19 Basketball World Cup, he averaged 15.1 points and a tournament-high 14.1 rebounds, which won a bronze medal for Canada.
At the 2023 FIBA Basketball World Cup, he played under coach Jordi Fernández and won a bronze medal and a berth in the 2024 Summer Olympics.