What's more than the maximum capability in an athlete to stand out? And believe it when we say Jacob Trouba has it all. He has been on the field for well over a decade; he currently plays for the New York Rangers.
On or off the field, Jacob has a big personality that balances his playful nature. Toughness, smoothness, hardness, and heaviness are what he revolves around all the time.
Today, we will enhance and learn about his career decisions, life journeys, and more details. Hence, as we make the discussion, let us quickly get through his general dose of facts.
Quick Facts
Full Name
Jacob Ryan Trouba
Date of Birth
February 26, 1994
Birth Place
Rochester, Michigan, U.S.
Nick Name
Troubs
Religion
Unknown
Nationality
American
Ethnicity
White
Zodiac Sign
Pisces
Age
28 Years Old (As of 2022)
Height
1.91 meters (6 feet 3 inches)
Weight
203 lb (92 kg; 14 st 7 lb)
Hair Color
Brown
Eye Color
Black
Build
Athletic
Father's Name
John Trouba
Mother's Name
Kristy Trouba
Siblings
A younger brother named T.J
Education
Rochester Community School
University of Michigan
Marital Status
Married
Wife
Kelly Tyson
Kids
None
Profession
Ice hockey player (2013–present)
Position
Defense
Affiliations
New York Rangers
Winnipeg Jets
Shoots
Right
Net Worth
$3.5 million
Social Media
Instagram, Twitter
Last Update
August 2022
Body Measurements
Jacob Trouba is a man with a muscular body frame and athletically pleasing structure. He stands tall at the towering height of 1.91 meters (6 feet 3 inches) while weighing 203 lb (92 kg; 14 st 7 lb).
As for his appearance, Jacob has a fair skin tone with long, medium brown hair. Well, he has a light presence of beard similar to his hair color. Likewise, he has a beautiful pair of dark black eyes.
Jacob Trouba | Early Life
Trouba (fully named Jacob Ryan Trouba) was born on February 26, 1994, under the star sign Pisces in Rochester, Michigan, U.S. He is the eldest son of two parents, Kristy Trouba and John Trouba. Well, he has a younger brother named T.J.
There are not many known details on his parents and family background. However, as per the sources, his mother, Kristy Trouba, is in the medical billing field, while his father, John, is a marketing executive.
Education
Talking about Jacob's educational background, he completed his early education at Rochester Community school. Following it, he joined high school in Ann Arbor, Michigan, and later attended the University of Michigan for further studies, where he majored in neuroscience.
Also, check out: <<Paul Kariya: Mighty Ducks, Jersey, NHL, Retire, Wife & Net Worth>>
Jacob Trouba | Career
Even in the young days of his career, Jacob had played several international tournaments since 2007. By 2012, he had entered the 2012 NFL Draft as the Winnipeg Jets selected him as the ninth overall pick in the first round.
With this, his junior career days ended, and then he also played for the Wolverines. Throughout his college days, Jacob bagged multiple titles under his name but only had his professional debut in October 2013.
Jacob initially signed a two-year deal with the Jets and got a year extended in his contract later. In the 2018-19 season, he signed with the New York Rangers and had a seven-year contract.
Back then, many criticized Ranger's decision on their contract with Jacob as they stated that he was getting overly paid for the games. Today, Jacob is the first defenseman to register three points in a Rangers debut.
Apart from the national gameplay, Jacon has also played in the international arena. As a junior, he played in the U.S. National Team Development Program in the USHL. Likewise, he also represented his country at two World Under-18 Championships.
Even in the junior championship, Jacob had been the youngest player on the team. Even as a senior, he has bagged some medals and was named the tournament's top defenseman.
Injury
Right during the start of Jacob Trouba's professional career with the Winnipeg Jets, he missed over a month of action after he was injured. Back then, he fell into the boards during a game against the St. Louis Blues.
Later in 2021, Jacob had a broken thumb injury during his match against New Jersey Devils. He was out of the games for four to six weeks with these injuries.
What Happened With Jacob Trouba And Sidney Crosby?
Recently in May 2022, Jacob Trouba made a hit during his match against the Pittsburgh Penguins. During the second period of Game 5 of the first-round playoff series, the impact went straight to head at Sidney Crosby.
As for the hearing, the league did not penalize Jacob, nor was he suspended or fined. However, as a result of the hit, Sidney faced an upper-body injury.
Career Awards and Highlights
Ice Hockey World Championships (2013 in Sweden/Finland – bronze)
World Junior Championships (2013 in Ufa – gold)
CCHA All-Tournament Team (2013)
World Junior Championships All-Star Team (2013)
World Junior Championships Best Defenseman (2013)
All-CCHA Rookie Team (2012-13)
All-CCHA Best Offensive Defenseman (2012-13)
AHCA West First-Team All-American (2012-13)
All-CCHA First Team (2012-13)
World U18 Championships (2011 in Germany – gold and 2012 in the Czech Republic – gold)
USHL All-Star Game (2011-12)
World U-17 Hockey Challenge (2010 in Canada – silver)
Jacob Trouba | Net Worth
According to the sources, Jacob Trouba maintains a net worth of approximately $3.5 million. Today, Jacob Trouba is one of the 14th highest-paid defensemen in the league.
Talking about his professional contracts to date, he initially had his two-year contract with the Winnipeg Jets that was worth $6 million.
After that, he had a year contract with the Jets worth $5.5 million. As for his current contract with the New York Rangers, Jacob signed a $56 million free agent deal with an average annual value of $8 million.
You might also be interested in: <<Chris Berman Bio: Career, Awards, Wife, Salary, Net Worth Wiki >>
House
Back in February 20222, Jacob Trouba bought himself a downtown Manhattan residence which is a condo, for $6.7 million. This property is located at 443 Greenwich and consists of three bedrooms and four baths across 3,080 sq. ft. of interior living area.
This condo's design includes ancient timber, plank hardwood, and other customization details. Not to mention, this property depicts massive-sized windows and 11-foot ceilings.
Jacob Trouba | Personal Life
Jacob Trouba is married to his long-time girlfriend, Kelly Tyson.
The duo first met on Halloween in 2012 at a bar in Ann Arbor, Michigan. Back then, Jacob was dressed up as Superman while Kelly Tyson was dressed as Superwoman.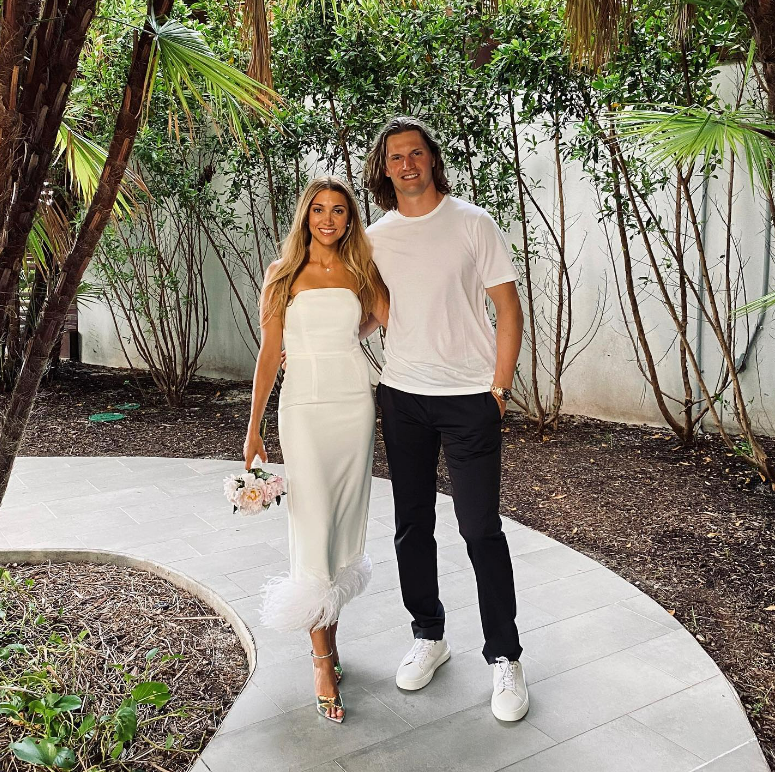 Not long after, the two started dating. However, they did not know their future and if their relationship would be long-lasting. Hence, the duo broke up when Trouba went to Australia to pursue his master's degree.
But yes, they did patch up to stay together later, but their relationship did not stand the same as before. The duo explains their relationship as a modern NHL romance often filled with long distances, long flights, frustrating phone calls, and sacrifice.
With multiple ups and downs, the two finally got engaged in 2018 but kept their wedding off til the following year. Moving on, yes, indeed, the novel coronavirus did send off their wedding plans to crash.
To date, the duo has no kids of their own. However, they do have a cute puppy. He bought the puppy over the summer and named it Donnie.
Social Media
If you are interested in following Jacob Trouba's posts and uploads, check out his social media sites.
He is on Instagram as Jacob Trouba (@jacobtrouba) with 56.9k followers. Similarly, he is on Twitter as Jacob Trouba (@JacobTrouba) with 54k followers.
Jacob Trouba | FAQs
Which Jersey number does Jacob Trouba wear?
Jacob Trouba wears jersey number 8 for the New York Rangers.
What is Jacob Trouba's career statistic like?
To date, Jacob Trouba has played 597 games in the regular season and has 62 goals, 195 assists, and 257 points. Moving on, he has played a total of 50 games in the playoff season and has maintained three goals, nine assists, and twelve points.
Likewise, for his international matches, he has played a total of 51 games and has had twelve goals, 21 assists, and 33 points.