Sidney Crosby is the Canadian Olympic icon and NHL superstar. He is best known as the scorer of the golden goal for Canada in the overtime ice hockey final at the 2010 Olympic games.
Also known as Sid the Kid, Crosby was a child prodigy of ice hockey, starting his career at a young age.
Crosby plays in National Hockey League (NHL) for Pittsburgh Penguins and brought them three Stanley cups.
His fantastic hockey career is full of medals and record-breaking achievements. Crosby is the youngest rookie player to record 100 points in a season and thus, was named Rookie of the Year.
The hockey star has won the Ted Lindsay Award three times, Art Ross Trophy two times, Conn Smythe Trophy two times, and was named Dapper Dan Sportsman of the Year three times.
Apart from this, Crosby won the world championship in 2015 and gifted Canada two Olympic gold. Considering his fantastic hockey career, there is no doubt that Crosby is one of the best hockey players of all time.
This is the story of the Canadian legend, Sidney Crosby and his journey of becoming a national treasure, Olympic icon, and NHL superstar.
But, before that, let's take a glance at his quick facts.
Quick Facts
| | |
| --- | --- |
| Name | Sidney Crosby |
| Full Name | Sidney Patrick Crosby |
| Nick Name | Sid the kid & The next one |
| Birth Date | August 7, 1987 |
| Age | 35 years old |
| Birth Place | Halifax, Nova Scotia, Canada |
| Nationality | Canadian |
| Ethnicity | White |
| Religion | Christianity |
| Starsign | Leo |
| Height | 5'11″/180 cm |
| Weight | 200 lbs/91 kgs |
| Hair Color | Black |
| Eye Color | Brown |
| Father's Name | Troy Crosby |
| Mother's Name | Trina Crosby |
| Siblings | 1; Taylor Crosby |
| Marital Status | Unmarried |
| Girlfriend | Kathy Leutner |
| Education | Harrison Trimble High School |
| Profession | Ice Hockey Player |
| Team | Pittsburgh Penguins |
| Active Years | 2005 – present |
| Net Worth | $55 Million |
| Social Media | None |
| Merch | Funko Pop, Autographed Card |
| Last Update | May, 2023 |
Sidney Crosby | Early Life
Sidney Crosby aka Sid the Kid, was born on August 7, 1987, in Nova Scotia as the first child of Troy (father) and Trina Crosby (mother).
Crosby's father was a goaltender who played in the 1985 Memorial Cup. He also played for the Verdun Junior Canadiens in the Quebec Major Junior Hockey League.
Although he was drafted 240th overall, papa Crosby could never play at NHL level.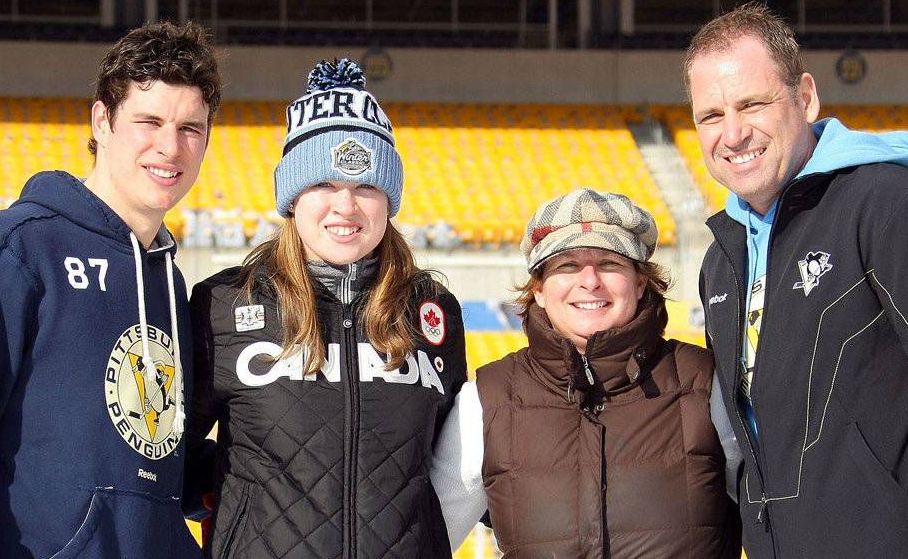 Crosby also has a sister named Taylor, who is a hockey goaltender. Sidney did his schooling at Astral Drive Junior High School.
He was the top student in the college and graduated with good marks. However, the Canadian-born had to transfer to many high schools.
He first transferred to Shattuck Saint Mary's in Minnesota to play school-level hockey. Then, he went to Harisson Trimble High School in New Brunswick and graduated from there in 2005.
How did Sidney Crosby start hockey?
Sidney Crosby started practicing hockey when he was just two years old. His father had left such an impact on him to play hockey by shooting pucks in a net used for a family dryer.
Under his father's guidance, Sid started skating when he was three. Crosby had hockey skills inherited from his father, and practicing it brushed off his hockey skills even more.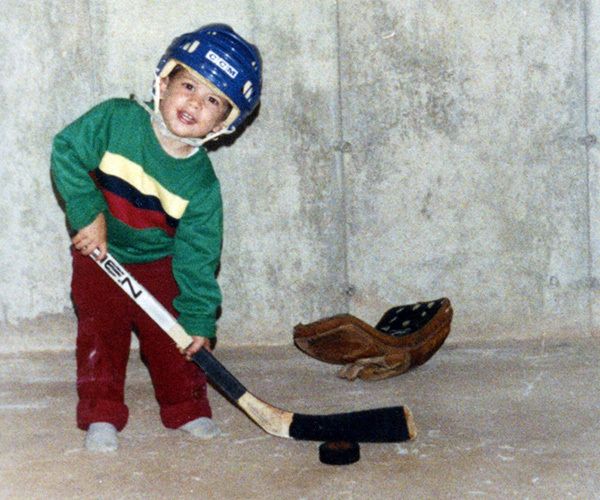 Similarly, he used to practice hockey with his father and sister. He dedicated his entire childhood to hockey. It was something he loved doing.
Entering Midget level
Sidney started getting public attention by the age of seven. His play and skills made him famous, and his interview even got featured in a newspaper.
When he was 13 years old, Crosby decided to enter the midget level, but he was rejected due to his age. Apparently, he had to be at least 15 to enter the midget level.
Nonetheless, Crosby waited until he turned 15 to join the Dartmouth Subways of the midget level. He even led the team in the 2002 Air Canada Cup finals the same year.
But unfortunately, they lost to Tisdale Trojans. Although they didn't win the main title, Crosby won the title MVP and Top Scorer Award.
Keith Yandle: Hockey, Stats, Wife, Contract & Net Worth >>
Taking the break
In the 2002-03 season, Crosby had to deal with mental and physical harassment. The opposing team intentionally tried to hurt him during the games and even abused him verbally.
This led Crosby to take a break to recover his mental and physical health. He thought of focusing on his education instead and enrolled in Shattuck Saint Mary's Boarding School.
But, life had new plans for him. He rose as one of the greatest assets for the high school team and led them to the 2003 U18 AAA National Championship.
Comeback as an Icon
The Rimouski Oceanic of the Quebec Major Junior Hockey League picked Crosby as first overall in the 2003 Midget Draft. He was named QMJHL Player of the month thrice in a row.
Crosby then went on to become the highest scorer in the league and captured the Jean Beliveau Trophy.
The hockey star won several awards at the end of the season. He was the first player to win all the major prizes, including rookie of the year and MVP.
The following season, young Sidney led his team and won the 2005 President Cup, where he was named MVP of the post as well regular seasons.
He then was qualified for the 2005 Memorial Cup and even honored as the Tournament All-Star team. The stellar athlete was also awarded Ed Chynoweth Trophy.
Fulfilling father's dream
As expected of him, Sidney was selected as the first pick by Pittsburgh Penguins on July 30, 2005, a lifelong dream of his father.
Not to mention, the Canadian star was now dubbed as "Sid the Kid" by the media.
Moreover, he also became the youngest player in NHL history to score 100 points in a year. Also, he was one step behind Alexander Ovechkin to win the Rookie of the year award.
However, Crosby won the Art Ross Trophy and grabbed all the public attention as the youngest player in the NHL history to do so.
Stanley Cup
Crosby had his first-ever playoff in the 2007 Stanley cup. Unfortunately, the Penguins were eliminated by the first round.
The following year, they made it to the finals but were knocked off in the finale. However, Sidney didn't give up, and the third time, They won their first Stanley Cup in 2009.
However, the winner had to face a bitter loss the following season as they were eliminated in the second round. But, Crosby didn't have to go empty-handed as he was able to win Hart memorial trophy and Ted Lindsay Award.
But, the bad luck followed them to the next season as they couldn't win the trophy. The bad luck followed for eight years and finally ended in 2016.
Crosby's team finally won their second Stanley Cup in 2016 and third cup in 2017. In addition, Crosby was honored with Conn Smythe Trophy becoming the only third player to win two finals MVP trophies in NHL history.
Andrei Svechnikov: Ice Hockey, NHL, Family & Fight >>
Olympics
For someone of his caliber, it will be a sin not to have him represent Canada on the international platform. Sidney Crosby debuted in Vancouver Olympics in 2010.
Probably, one of the iconic moments ever for Canadian hockey fans and Olympics fans was Crosby's Golden Goal.
Sidney was representing Canada in the Olympic finale, where the opponent was the USA. It was a neck-to-neck competition and the game score was 2-2.
However, Sidney scored a golden overtime goal, thus winning the gold medal for ice hockey with a score of 3-2. It was Canada's most significant sports moment and the most-watched hockey game in Olympics.
Likewise, Sidney became the star of Canada bringing back home the gold medal. The whole nation celebrated the win.
Four years later, Crosby brought another gold to Canada at Sochi 2014 Olympics.
Awards and Achievement
Stanley Cup champion (2007, 2016, and 2017)
Conn Smythe Trophy winner (2016 and 2017)
Ted Lindsay Award winner ( 2007, 2010, and 2014)
Hart Memorial Trophy and Art Ross Trophy winner (2007 and 2014)
NHL All-Star selection (2013-2018)
Olympics gold medalist (2010, 2014)
World Champion (2015)
Maurice "Rocket" Richard Trophy winner (2010 and 2017)
Michel Brière Rookie of the Year Award winner (2006)
Dapper Dan Sportsman of the Year (2006, 2007, and 2017)
Player of the Year and Top Scorer Award ( 2004 and 2005)
NHL Player of the Year (2013 to 2017)
Sidney Crosby | Injury
Sidney Crosby met with a left wrist injury after the Sochi 2014 Games. The hockey star collided with Ryan Reaves during the game causing a wrist injury.
Likewise, Sidney says it wasn't a big injury but it still bugged him. The pain was always there but it wasn't that terrible to get treatment for.
Initially, he didn't care for it at all. But, he was forced to have surgery in September 2021. He took a little break after the surgery and got back to the game.
Dylan Larkin Bio- High School, Hockey, Net Worth & Wife >>
Who is Crosby's Girlfriend?
Sidney is currently in a relationship with professional fashion model Kathy Leutner. The couple is open about their relationship and is mainly seen together in public events.
They first met through a mutual friend who introduced them shortly after they started dating in 2008.
There have been rumors of them tying the knot soon, but no official news has been received yet. However, they live together in Crosby's home in Canada.
Kathy has her name in the modeling industry, and her fame grew after modeling for a fitness magazine.
However, the couple kept their relationship to themselves until they were caught kissing after Crosby's most awaited second Stanely Cup.
This caught the media attention and they soon became the talk of the town. However, the couple likes to keep their relationship out of the limelight.
Sidney Crosby | Net Worth
The estimated net worth of Sidney Crosby is around $55 million. His annual salary is approximately $12.4 million per year.
Crosby earns a lot of money as an NHL player. In fact, he has signed a $140 million worth contract with Pittsburgh Penguin for 12 years.
Apart from this, he also earns handsome money from endorsements. He has endorsed famous brands such as Reebok, Adidas, CCM, Bell, Tim Hortons, and many more.
Does Reebok still sponsor Crosby?
No, Crosby was sponsored by Reebok for five years. But, after the contract ended, Crosby signed an exclusive contract for another six years, worth more than $6 million with Adidas. So, he is now sponsored by Adidas.
His expensive endorsement was a five-year contract worth $1.4 million yearly with Reebok. After his contract with Reebok ended, he was quickly approached by Adidas.
He signed a six-year deal with them and earned roughly about $4.5 million per year from endorsements only.
For a more detailed dissection of his net worth, check out this article >>
Sidney Crosby | Social Media
Sidney Crosby likes to keep his personal life private, so he has no social media presence. He loves living in the moment than posting pictures on social media.
Frequently Asked Questions (FAQs)
Where does Sidney Crosby rank all time?
Sidney Crosby ranks third in the world. He is just behind Wayne Gretzky and Mario Lemieux in the list.
What number is Sidney Crosby?
Sidney Crosby has his jersey number 87, which reflects his birth year 1987, and his birth date which is August 7.