Jacory Harris just recently traded his football helmet for a firefighter helmet. He is still gearing up, but this time in a different uniform.
Jacory Harris is a former Canadian Football League quarterback. But now he is a firefighter in Miami Dade Firefighter.
Harris signed for four different teams during his career but only played professional games for 2 teams, i.e., Hamilton Tigers Cats and Montreal Alouettes.
Harris is well known for his high school and college football career than his professional career. In high school, he was undefeated and also won Florida Mr. Football.
Later in college, Harris started quarterback for Hurricane and had a decent career. However, he was also found guilty of involvement in the scandal.
Stay with us to learn more about Jacory Harris and his football journey from high school to a professional level.
Quicks Facts
| | |
| --- | --- |
| Name | Jacory Sherrod Harris |
| Born Date | 12th May 1990 |
| Age | 33 Years Old |
| Birthplace | Miami, Florida, USA |
| Nickname | Afro Butterfly |
| Gender | Male |
| Religion | Unknown |
| Nationality | American |
| Ethnicity | Unknown |
| Horoscope | Taurus |
| Body Measurement | Unknown |
| Height | 6 ft 4 inches (1.93m) |
| Weight | 93kg (205 lb) |
| Arm Length | 32.13″ |
| Hands size | 9.75″ |
| Shoe Size | Unknown |
| Hair Colour | Black |
| Eye Colour | Black |
| Tattoo | Yes |
| Father name | Rodney Harris |
| Mother name | Shebra Pollock Harris |
| Siblings | Unknown |
| Relationship | Married |
| Wife | Unknown |
| Children | Daughter |
| Profession | Former American Football Player/ MDFR Firefighter |
| High School | Miami Northwestern High school |
| High School Ranking | 3-star recruit (rivals) |
| College | University of Miami |
| NFL Draft | Undrafted (2012) |
| CFL Debut | No |
| Team | Philadelphia Eagles (2012), Edmonton Eskimos (2013-2014), Hamilton Tigers-Cats (2014-16). Montreal Alouttes (2017) |
| Status | Not playing |
| Playing Career | 2012-2017 |
| Salary | $60,000 |
| Net Worth | $500k to $ 1 million |
| Social Media | Twitter |
| Jersey Number | 12 |
| Merch | Rookie Card, Miami Jersey |
| Last Update | December, 2023 |
Jacory Harris | Background and High School
Jacory Harris was born on 12th May 1990 in Miami, Florida. He is 33-years old as of 2023.
Impressive Harris is a former American Football player, and currently, he serves as a firefighter in Miami-Dade Country.
His father is Rodney Harris, whereas his mother is Shebra Pollock Harris.
Also, Harris is American by ethnicity, and according to the horoscope chart, he is Taurus.
During his football career Harris always wore jersey number 12. Likewise, Harris started playing football when he was 6 years old.
High School Career
Harris went to Miami Northwestern High school at Liberty City, Miami, Florida. In 2006 he became a member of their football team and started quarterback.
Similarly, in 2007, Northwestern again went undefeated in his senior season and clinched the state title.
In his senior year, Harris was named Mr. Football Award Florida (Best State Player). He became the first player from Miami-Dade to win this award.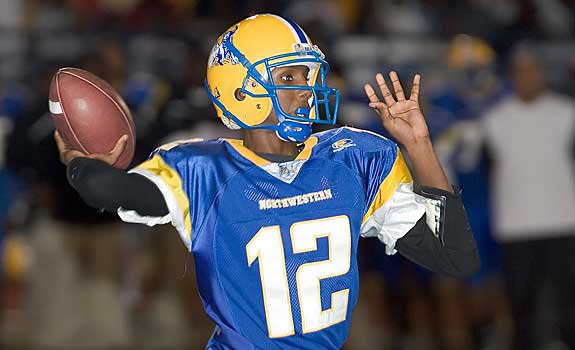 Similarly, Harris was also honored with Class 6A first-team all-state selection and Class 6A Player of the year.
Harris was also represented in the 2007 Elite 11 football camp. It is an annual high school quarterback competition held at Nike World Headquarters, Oregon.
Not only sports Harris was an excellent student in terms of education too. While passing from high school, he had a 3.4 GPA.
Harris received a total of 5 football program offers from colleges. But on 12th June 2007, he committed to play for the University of Miami.
Read Also: Jaydon Mickens: Early Life, Parents, College & Net Worth >>
Jacory Harris | Personality and Playing Style
In a firefighter job, one must be physically fit to perform duties. Back from his playing days, Harris has always been athletic.
It's the same case now too. He stands 6 ft 4 inches (1.93m) and weighs around 93kg (205 lb). Likewise, he has an arm length of 32.13″ and a hand size of 9.75″.
Talking about the physical appearance of the football player, he has black hair color with black pair of eyes. Likewise, Harris is fond of changing the hairstyle.
In fact, he has his personal hairstylist Steven Rivera, whom he frequently visits to change his haircut styles.
Playing Styles Highlights
Harris completed 40 yd dash in 4.65 seconds in the NFL draft combine. Likewise, he jumped 37.0″ in vertical jump and completed a shuttle run in 4.40 seconds.
Harris was considered a top football quarterback back in the days. Because of his arm strength, he could deliver the ball in long-distance and at a quick pace. So, Harris could easily throw the ball to his target.
Likewise, Harris was quick and athletic, so he had strong lateral mobility to miss out on the defenders easily.
Jacory Harris | College Stats
In his first year at the University of Miami, Harris competed for starting quarterback with Robert Marve, a former Mr. Flordia winner.
However, both the players split their starting positions. Still, Robert started in 11 of 13 games.
Harris finished the 2008 season with 1,195 yards, 12 touchdowns, and 7 interceptions. The team finished the season with a 7-6 record.
Undisputed Starter
In the 2009 season, Robert left Miami to join Purdue. During his sophomore season's first game against Florida, State Harris threw 21 passes for 386 yards (career-high and 10th in college history).
Later, on 17th September 2019, Harris helped Hurriance end their four-game losing streak against Georgia Tech with a 33-17 win. Harris threw 20 passes for 270 yards in that game, including three touchdowns.
Harris helped Miami to a 9-4 record during his sophomore season, throwing for 3,352 yards, including 24 touchdowns.
Concussion
On 31st October 2010, Harris was knocked out during Miami's 24-19 loss against Virginia in the second quarter.
Later Hurricane confirmed he had a concussion. Following that, Harris missed 3 games for Miami.
Scandal
Jacory Harris and other athletes from the University of Miami football and basketball programs were involved in the Nevin Shapiro scandal.
They were found guilty of taking benefits from Vevin breaching NCAA rules. Later, Harris was suspended from playing the opening game of the 2011 season.
However, after returning from suspension in a victory over Ohio State, Harris threw 2 touchdown passes and 2 interceptions.
Later, Harris threw 21 passes for season-best 311 yards, including 3 touchdowns in a 28021 defeat to Virginia.
Harris threw 195 passes for 2,486 yards in his senior season, including 20 touchdowns and 9 interceptions, as the Hurricanes ended the season with a 6-6 record. Overall in Harris's Miami career, he finished with 8,286 yards alongside 70 touchdowns.
Jacory Harris | Professional Career
Undrafted
In 2012, NFL draft Harris went undrafted. But later, Miami Dolphins invited Harris to their training camp. However, he was not signed.
Eventually, Philadelphia Eagles signed Harris on 11th May 2012. But on May 21, he was released before the start of the season. So, he couldn't make his NFL debut.
Journey to Canada
Later, on 6th February 2013, Harris joined Canadian Football League (CFL) side Edmonton Eskimos.
But there, he spends the 2013 season with the practice roster. Later on 15th June 2014, Harris was released.
Harris then signed 2 years deal with Hamilton Tigers-Cats on 13th July 2014. Harris played 18 games for them.
He completed 13 out of 23 passes for 160 yards. Later, Harris became a free agent after the club decided not to resign him.
On 14th February 2017, Harris agreed to join Montreal Alouettes. During the 2017 preseason, he completed 15 passes for 163 yards.
However, in 8 games during the regular season, he could not register any passes or yards.
Read Also: Deone Bucannon Bio: Wife, Net Worth, College, Draft & NFL >>
New Life
"Nothing is more fulfilling than suiting up as Miami Dade Fire Fighter." – Jacoy Harris In Interview.
Harris never wanted to be seen just as a football player. Instead, he always wanted to help others and bring a difference.
So, his mother persuaded him to become a firefighter. In July 2020, Harris graduated from Fire Academy.
In the interview with 7 news Harris also stated he is honored to help people in the neighborhood where he grew up.
Jacory Harris | Salary and Net Worth
Canadian Football League does not publish its player's salaries like National Football League. So, the salary details of Jacory Harris during his professional playing days have not been disclosed yet.
CFL usually runs on a small budget. But in recent years, it has been able to pay its players good money. On average, in Harris's playing days, CFL players would earn $41,000 to $50,000.
Excluding bonuses, firefighters in Miami Dade earn $60,000 per year. Thus, Harris must also be making 5 figure salary working as a firefighter.
The exact net worth of Harris is still unknown. In addition, he has not disclosed any information related to his finance.
But according to various online sources, the estimated net worth of Harris is around $500k to $ 1million.
Read Also: Tom Brady Bio: Early Life, Career, Net Worth & Wife >>
Jacory Harris | Social Media
Harris only has Twitter handles. Likewise, he has already gained around 13.6k followers on Twitter. But he is not quite active on social media platforms.
Maybe, because of his job. But he sometimes tweets and posts about national news, lifestyle, and football-related stuff.
Twitter – 13.6k Followers
Frequently Asked Questions
Where is Jacory Harris now?
After retiring from a professional football career, Harris currently works in Miami Dade Fire Rescue Department services.
In an interview, Harris told him he is blessed to serve the neighborhood where he grew up.
Did Jacory Harris play in NFL?
No, Jacory Harris didn't play in NFL. During the 2012 NFL draft, he went undrafted.
Although Harris signed a deal with Philadelphia Eagles, he was waived before the start of the season.
Who is the guy on the quest bar commercial?
Quest bar- a nutrition bar TV ad features the football player Jacory Harris. The snacks are tiny in size but big in nutrition and flavor.
Why is there a Jacory Harris obituary?
The obituary does not belong to the football player Jacory Harris. He is still alive and is playing football.
Was Harris ever found cheating while playing football?
Harris was never found for cheating in the games. However, along with eight other football players, Harris was found committing the NCAA violations by associating with booster Nevin Shapiro.
All the Miami players were taken out from one of the games after taking the gifts from Shapiro. In addition, Shapiro was sentenced to prison for 20-years after being found cheating $930 Million from the Investors.