Deone Bucannon is a professional football player in the National Football League.
He has served as a linebacker, safety, and defensive back for many reputed teams in the NFL. Moreover, he started his career with the Arizona Cardinals.
He played for the Cardinals for four years before joining the Tampa Bay Buccaneers. The linebacker has also played for the New York Giants.
Recently, he signed with the Atlanta Falcons. Bucannon is a free agent currently and hasn't signed with anyone.
Besides that, he was an exceptional collegiate player for Washington State. As a result, the footballer was one of the top potential candidates for the 2014 NFL Draft.
The former Cardinal is also one of the most hardworking players in the franchise.
The athlete is very much focused on football and growing his career. Furthermore, he grew up in a military family, which instilled a great sense of discipline and hard work.
He used to do push-ups, runs, and wall sits for punishment which also served as workouts.
Before details about the former Giant player's life and career, here are some quick facts about him.
Quick Facts
| | |
| --- | --- |
| Full Name | Deone Ariel Bucannon |
| Birth Date | August 30, 1992 |
| Birth Place | Oakland, California, the United States |
| Nick Name | Money Linebacker |
| Religion | Christianity |
| Nationality | American |
| Ethnicity | African American |
| Education | Washington State University |
| Horoscope | Virgo |
| Father's Name | Duane Bucannon |
| Mother's Name | Sonji Bucannon |
| Siblings | David Bucannon, Davondre Bucannon |
| Age | 30 Years Old |
| Height | 6 feet 1 inch |
| Weight | 211 lb (96 kg) |
| Hair Color | Black |
| Eye Color | Brown |
| Build | Athletic |
| Profession | NFL Player |
| Current Team | Atlanta Falcons |
| Position | Safety, Linebacker |
| Active Years | 2014 – Present |
| Marital Status/ Girlfriend | Unmarried/ None |
| Kids | None |
| Merchandise | Rookie Card |
| Net Worth | $10 million |
| Social Media | Instagram, Twitter |
| Last Update | May, 2023 |
Deone Bucannon | Early Life, Family, And Education
Deone Bucannon was born in Oakland, California, the United States. His parents are Duane Bucannon and Sonji Bucannon.
Furthermore, both of the linebacker's parents served in the military. His mother was a nurse in the Navy, while his Father served in the Marine Corps.
Hence, he moved a lot as a child. The athlete's parents separated when he was relatively young.
Nevertheless, they maintained a cordial relationship for the sake of their kids. Although several military families have a strict reputation, the footballer insists that his parents were regular.
Moreover, he was very close to his Father. When Sonji was deployed to Iran, he shared much of his feelings with Duane.
The athlete also explained how difficult it was waking up, not knowing whether his mother was well and alive.
Besides that, Bucannon credits his parents for his work ethic and discipline. He learned the value of hard work and patience from them.
The former safety also has two younger brothers named David and Davondre Bucannon. Both of them are football players. David and Deone attended the same school and college.
They went to Vanden High School in California, where they played high school football. However, the siblings never got a chance to play together.
Following high school graduation, Deone attended Washington State University to play collegiate football.
He had a fantastic football career at WSU and was well-recognized for it. Shortly after, his younger brother joined him.
Finally, the brother duo got a chance to play together. David served as a defensive back for the Washington Cougars.
Learn More About Tampa Bay Player, Cameron Brate: Family, Career, Tampa Bay Buccaneer & Personal Life >>
Deone Bucannon | Age, Height, And Weight
The NFL player recently turned [calculate years datestring="08/30/1992″] Years Old on August 30, 2023.
As an athlete, he is very fit and takes proper care of his health and diet. Furthermore, the former Cougar is 6 feet 1 inch tall and weighs approximately 211 lb, i.e., 96 kg.
Deone Bucannon | Football Career
High School And College Career
The former Cardinals played high school football with the Vandon High Vikings. He was an exceptional player who got well-deserved recognition for his football skills.
In his junior year, the NFL player won the Solano County Athletic Conference Player of the Year.
Moreover, he was also the recipient of the All-CIF Sac-Joaquin Section and City Defensive Player of the Year titles.
Besides that, his senior year was quite phenomenal. He assisted his school team in the second round of the CIF Sac-Joaquin Section Division III playoffs.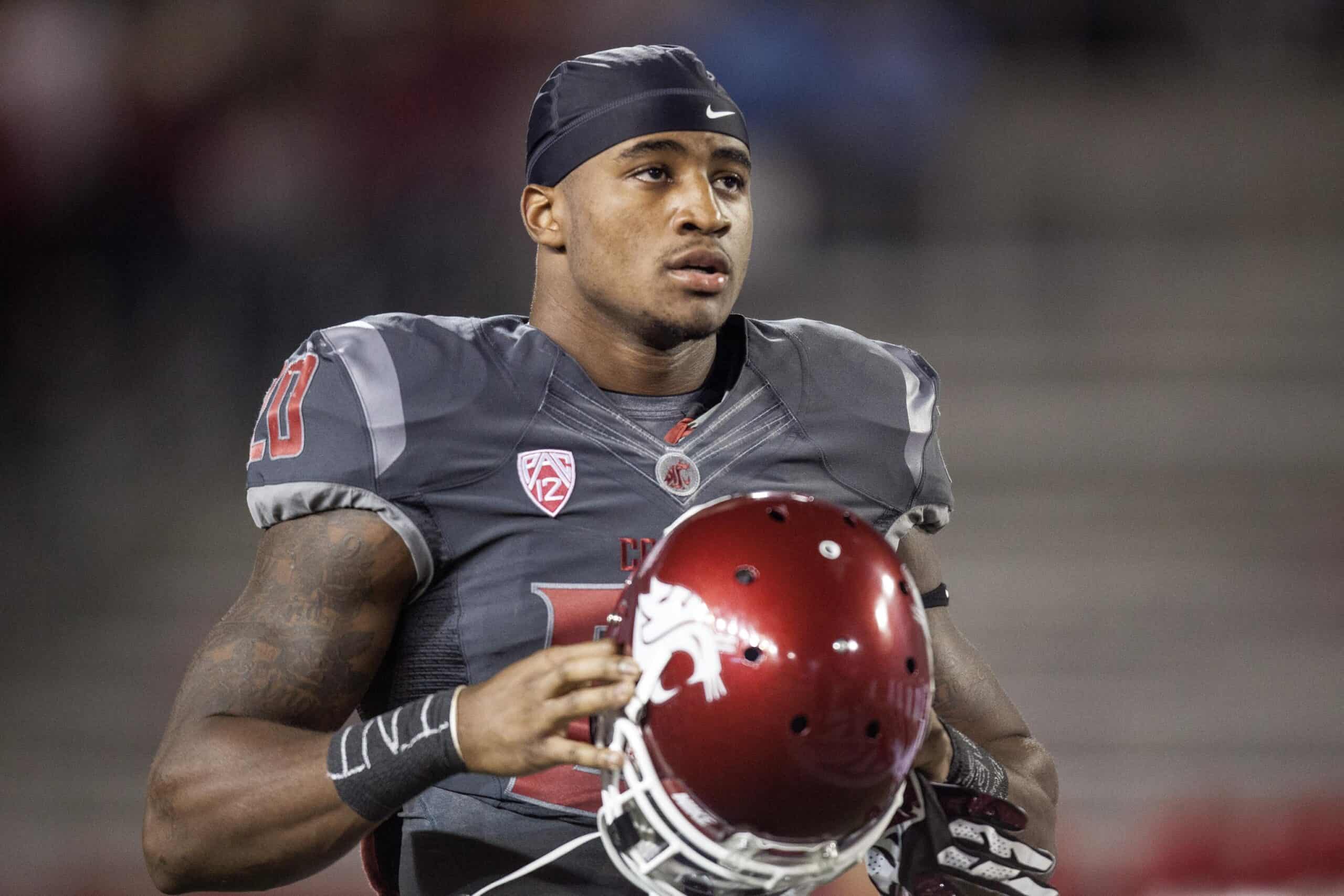 Furthermore, he won his second Solano County Athletic Conference Player of the Year. He also received several honors, like all-league and all-city.
A popular website focusing on college football recruitment, Rivals.com, ranked him the 45th best safety in his class of 2009.
After graduating high school with honors, the linebacker attended Washington State University in Pullman, Washington.
He was a great addition to the Washington Cougars. Likewise, he received a lot of attention from the media and recruiters.
In 2012, he recorded WSU's first 100-tackle season since 2006. As a senior in college, he was a First-team All-Pac-12.
He was also the First-team All-American selection. On top of that, he earned a varsity letter for his football abilities and for appearing in all games.
College Stats
| | | | | | | | | | | | | |
| --- | --- | --- | --- | --- | --- | --- | --- | --- | --- | --- | --- | --- |
| Year | Solo | Ast | Tot | Loss | Sk | Int | Yds | Avg | TD | PD | FR | FF |
| Career | 254 | 109 | 363 | 12.5 | 1.0 | 14 | 138 | 9.9 | 0 | 9 | 2 | 4 |
Learn more about his stats and madden rating on MUT.GG.
NFL Career
Arizona Cardinals And Tampa Bay Buccaneers
Following his college graduation, the linebacker entered the 2014 NFL Draft. Many recruiters predicted his selection as he was among the best safety players.
He was selected by the Cardinals in the first round and was the 27th pick.
Furthermore, he signed a four-year contract worth $7.7 million, of which $6.23 million was guaranteed.
The NFL player also received a $3.92 million signing bonus. Initially, he started as a safety. However, there were too many safety players on the team.
When their linebacker got injured, the Cardinals head coach asked Deone whether he would consider being a linebacker.
Although size-wise, it didn't feel like a viable decision, the transition was productive skills-wise. He recorded many tackles despite being an inadequate size for a linebacker.
After a successful career and the end of his contract with the Arizona team, the footballer joined the Tampa Bay Buccaneers.
The former Cardinal signed a one-year deal worth $2.5 million with the Buccaneers. But he was released on October 9, 2019.
You Might Be Interested In Bucs' Quarterback, Tom Brady Bio: Early Life, Career, Net worth & Wife >>
New York Giants And Atlanta Falcons
Less than two weeks after Bucs released the money linebacker, the Giants signed him for the rest of the 2019 season.
He played nine games with the New York team. Likewise, he made 25 tackles before joining the Falcons for the 2020 season.
Although Bucannon was released to make room for defensive end Steven Means, Falcons re-signed him to the practice squad. Nevertheless, he was again released at the end of the same month.
Don't Forget To Check Out Giants' Coach, Bret Bielema: Bio, Early Life, Wife, Salary & Career >>
Attack On Defenseless Wide Receiver
In 2015, Deone was fined $23,152 for his helmet-to-helmet hit on Cincinnati Bengals' wide receiver A.J. Green. The referees failed to call the penalty at the moment.
Nevertheless, Bucannon was fined for his actions later on. Besides that, he suffered a concussion, with symptoms appearing a day later.
As a result, he was placed on the football league's concussion protocol. He was back in less than a week and was allowed to practice limitedly.
Deone Bucannon | Stats and Achievements
Bucannon is a well-known linebacker. He is known as a violent hitter and a striker who gets heavy for his opponents. Additionally, he is also a solid tackler and a physical defender.
All in all, Bucannon has good speed and quickness. As for his last year's statistics, Deone Bucannon has maintained 434 tackles, seven sacks, and forced fumbles alongside two interceptions.
Furthermore, he has 12 pass deflections with a defensive touchdown.
Some of his achievements to date are highlighted below.
Super Bowl champion (LV)
PFWA All-Rookie Team (2014)
First-team AP All-American (2013)
First-team All-Pac-12 (2013)
Deone Bucannon | Net Worth And Salary
The former safety's wealth amount is quite impressive. Bucannon has earned most of his earnings through football and endorsements. Deone has an estimated net worth of $10 million.
However, many expect his net worth to be more as he's reportedly earned over $16 million from the NFL. He earned $10 million solely through his contract with the Arizona Cardinals.
The footballer has also earned a guaranteed $1.45 million from the Bucs. His salary with the Giants was $805,000, while the Falcons paid him $910,000. Besides that, many well-known companies and brands have endorsed him.
Joe Flacco: Net Worth, Jets, College, Super Bowl & Wife >>
Deone Bucannon | Relationship, Wife, And Kids
As of now, the former Giant is not dating anyone. Although there have been rumors about him having a secret girlfriend, he hasn't confirmed the news. The footballer is relatively private when it comes to his dating life.
Furthermore, the linebacker focuses on his career and improving his football skills. Hence, he doesn't have much time to meet new people and date. He is unmarried and doesn't have any kids of his own.
Deone Bucannon | Social Media Presence
The money linebacker is not much active on social media platforms. Nevertheless, Deone has an Instagram (@deonebucannon20) account with over 69 thousand followers.
He mainly shares pictures of him in the gym working out. Furthermore, he is passionate about fitness and loves traveling.
The former safety is getting his body ready and training hard for the upcoming 2021 NFL season.
However, he hasn't announced which team he will join. Many fans hope that the footballer will return to the Cardinals, but the player hasn't made any decisions yet.
He also has a few posts on the football field playing for different NFL teams. Besides that, he is on Twitter (@deonebucannon20) with 22.8 thousand followers.
The former Bucs usually share and tweet football-related news and highlights. Many celebrities and fellow NFL players follow him.
Common Queries:
Which college did Deone Bucannon attend?
The NFL player attended Washington State University after graduating from Vanden High School.
He played collegiate football for the Washington Cougars. Furthermore, Deone served as a safety to the team.
He received well-deserved attention for his football skills while playing at WSU.
Moreover, the former Bucs was a top prospect for the 2014 NFL Draft based on his collegiate football performance. The Arizona Cardinals selected the money linebacker in the first round.
What is Deone Bucannon's jersey number?
While playing at WSU, Bucannon's jersey number was 20. When he moved on to the NFL and joined the Arizona Cardinals, he was again number 20.
After that, he was jersey number 23 with the Tampa Bay Buccaneers. The footballer wore the number 29 while playing for the New York Giants.
What team is Deone Bucannon on?
Currently, Deone Bucannon isn't on any team. He recently was a part of the Atlanta Falcons.
However, he was released at the end of September 2020 after signing with the team in May. He didn't play for the Atlanta team in the regular season.
Does Deone Bucannon have any injuries?
Deone Bucannon hasn't had many injuries to date. However, back in 2018, he faced a chest injury and was out for four weeks in total.
Did Deone Bucannon have a position change?
Back in 2014, as Deone Bucannon entered the Cardinals team, they positioned him at safety. However, when Daryl Washington (linebacker) was out in suspension, Deone took charge of both of the positions.
Hence, the Cardinals made a new position and called it a 'money backer.'
"God gave me this ability to play in the box and cover people."
-Deone Bucannon