Jacqui Oatley is married to her caring husband, Jamie. They have two children together, a daughter and a son.
She has dedicated her life to her profession but has a healthy balance with her family.
Jacqueline Anne Oatley MBE is an English broadcaster who is a soccer commentator for Sky Sports calling Premier League, FA Women's Super League, UEFA Champions League, and UEFA international matches.
She attended St Dominic junior school in Brewood and later graduated from the University of Leeds with her degree in 1996.
While she was obtaining her postgraduate diploma in Broadcast Journalism at Sheffield Hallam University, she joined BBC Radio Leeds as a sports reporter.
Later In 2007, Anne became the first female commentator on BBC One for Match of the Day.
Moreover, Oatley joined Fox Sports creating history by becoming the first woman to make a play-by-play commentator of the 2022 FIFA World Cup.
In May 2023, she joined the play-by-play commentary team for the National Women's Soccer League on television in the United States.
Besides, she has covered different kinds of sports, including British Moto GP, Rugby league, tennis, and others.
Jacqui Oatley Husband Jamie
Jacqui was born to her parents, Gerald and Sonja, in Wolverhampton, England, on December 28, 1974.
Her father worked as an MD in a big gas appliance company, and her mother was a nurse born in South Africa.
Jacqui Oatley is married to her husband, Jamie, who is an events planner. However, very little is known about her husband.
But reportedly, Jamie grew up with a brother who is a rally driver and two-time winner of the Roof of Africa.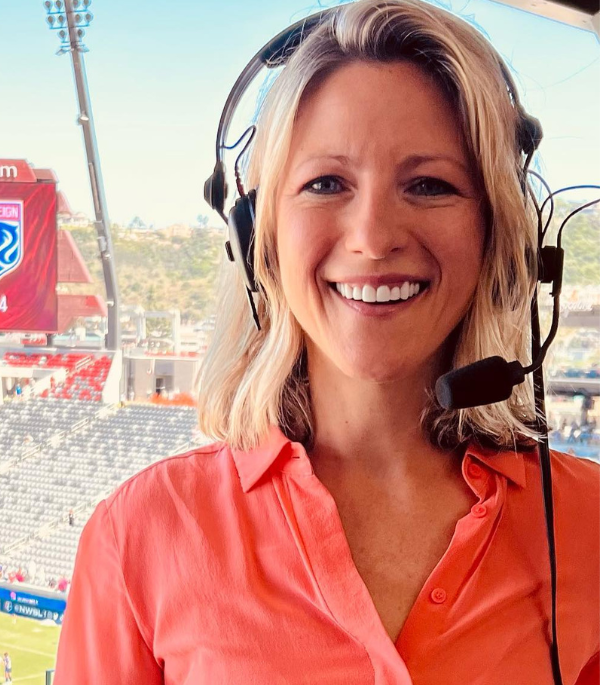 Despite being secretive about her husband, Jacqui made a beautiful Instagram post wishing her husband a happy birthday on August 16, 2019.
Moreover, Jacqui has been a true football fan since her childhood. She even played for Chiswick Ladies Football Club in amateur leagues.
After her injury, she was not able to continue sports. She followed a different career path of becoming a sports journalist, especially in football.
Oatley had her fair share of struggles in her life before achieving success in the world of sports journalism.
However, having a supportive husband might have made her journey a little bit easier. While she gets occupied with her journalism, her husband takes care of their children.
Jacqui Oatley: Married Life And Kids
Jacqui and her husband have two children together; a daughter named Phoebe (b. 2011) and a son named Max (b. 2014).
Despite her busy career as a sports journalist, she spends as much time as possible with kids and family.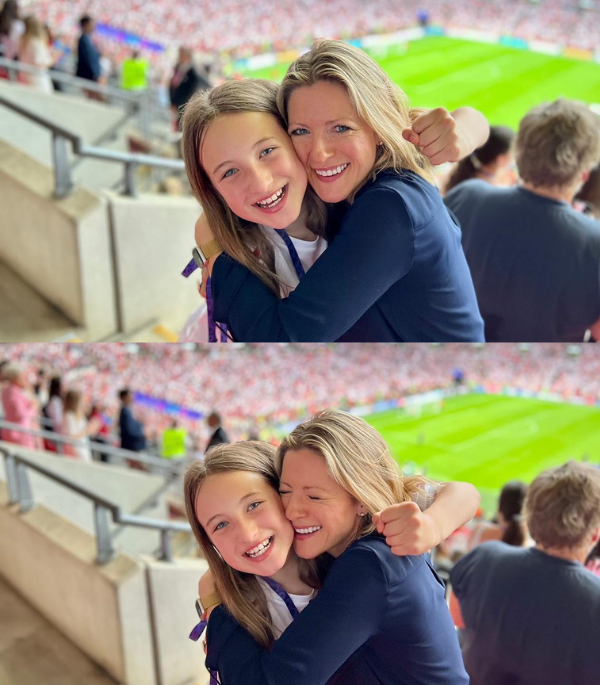 Also, Jacqui is very private about her children, as they are young, and exposure to the limelight might have a negative impact on their lives.
Nonetheless, Oatley shared a cute Instagram post on January 29, 2021, showing a note her daughter, Phoebe, made expressing her love for their mother.
Moreover, with her hard work and support from her family, she has become an influential figure inspiring many women to follow their dreams.