As of this writing, the American artistic gymnast Jade Carey has not exchanged wedding vows and does not have a husband yet.
However, as per reports, she is in a romantic relationship with Conner Payne, a Baylor University student.
The Arizona-born Jade Ashtyn Carey is best known for her vault and floor exercise abilities.
She is the 2020 Olympic champion in floor exercise, a two-time World medalist (silver in 2017, bronze in 2022), the 2018 Pan American Champion, and a four-time American national silver medalist (2017-2019, 2022).
Moreover, in the vault, she is the 2022 World champion, two-time World silver medalist (2017, 2019), the 2018 Pan American champion, and two-time American national champion (2017, 2022).
Additionally, Jade was a member of the teams that secured gold at the 2019 World Championships, the 2022 World Championships, and the 2018 Pan American Championships.
Currently, with eight Olympic and World Championship medals, Carey is the sixth most decorated U.S. female gymnast of all time.
Conner Payne: Husband Of Jade Carey?
As mentioned earlier, Jade Carey is unmarried and has no husband.
However, she is allegedly in a relationship with Connor Payne, Baylor Volleyball's Volunteer Assistant Coach.
From 2018 until 2021, he shared images of them together on Instagram, with Jade responding with heart emojis.
Connor, meanwhile, hasn't been featured in Jade's recent posts. Additionally, there are no photos of Connor on Jade's Instagram.
This has led to speculation that the couple has broken up; however, there has been no official confirmation from either of them.
Despite any potential misunderstandings arising from her social media activity, Jade focuses on her career development and maintaining her cherished family relationships.
More On Parents & Family.
Jade Carey is the oldest child of her parents, Brian Carey and Danielle Mitchell Greenberg.
She has two siblings: the second-born, Taeva, is currently 17 years old, while the youngest, Xandon, is 15.
Brian and Danielle separated when Jade was just a child; however, their love for the children never wavered.
The father of Olympic gold medalist Brian is a gymnastics coach. He also has a background in owning and directing gyms in Arizona that dates back to the late 90's.
Recently, Brian has been hired by the Oregon State Beavers as an assistant coach.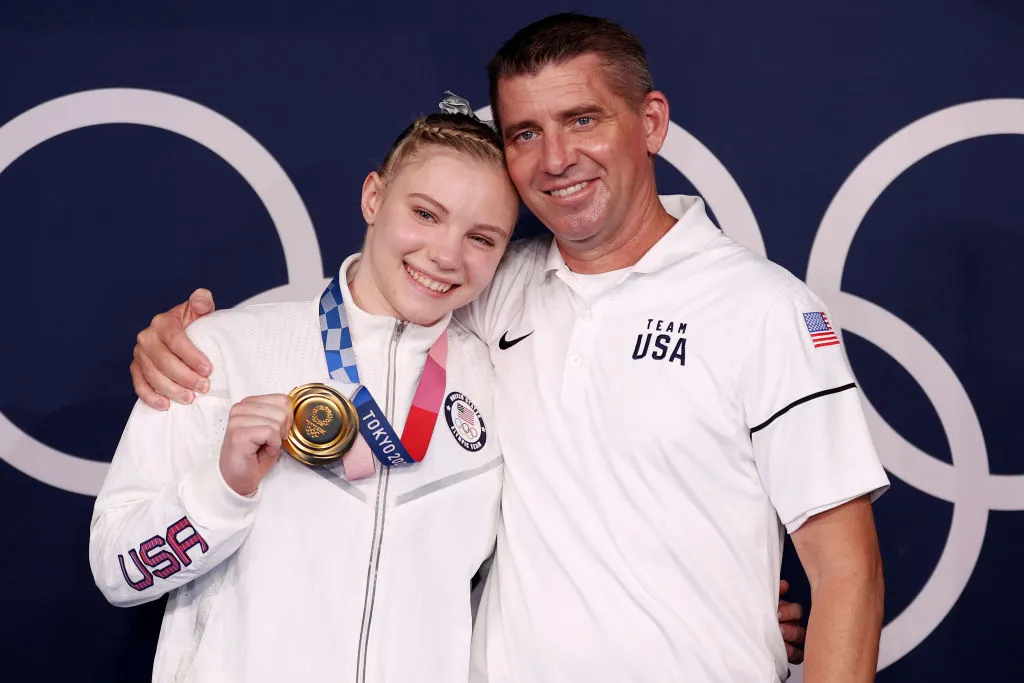 In addition to coaching Jade, Brian is currently a member of the International Elite Committee for USA Gymnastics. He also owns "Carey Gymnastics Consulting LCC."
Similarly, her mother, Danielle, was also a gymnast and currently works as a gymnastics instructor at the USA Youth Fitness Center in Gilbert.
Besides Jade's father, she attributes her involvement in the sport to her mother.
She stated, "My parents owned a gym when I was born so I was always in the gym playing."
Moreover, Greenberg constantly finds time to attend her daughter's important competitions and provide support.