Jake Muzzin is a Canadian professional ice hockey defenceman and alternate captain and has played for the National Hockey League (NHL) for the Los Angeles Kings. He started his energetic excursion with Woodstock Minor Hockey and advanced to AAA hockey in Brantford, and as of 2023, he is playing for Toronto Maple Leafs.
Every day we flick sports channels; tons of bulk people with aggressive faces overpower the screen, full of excitement and heartthrob.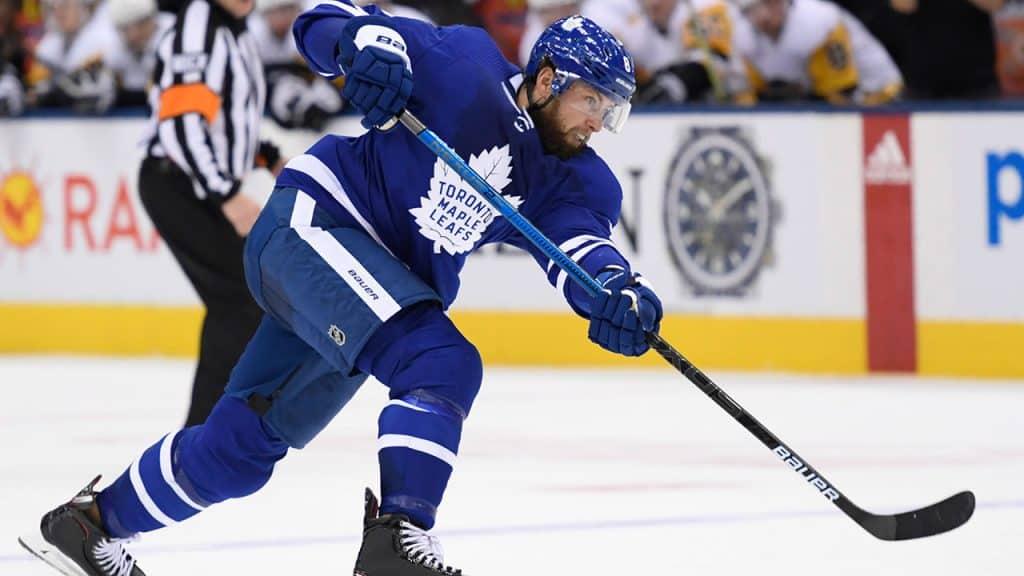 Likewise, Jake Muzzin may have come across your screen many times with his unwavering determination as a hockey player.
Moreover, his skills as a defenseman and efficient shot are the ones to awe people. However, what stands out more than his playing ability is his pleasant personality and sportsmanship in playing with the team.
Quick Facts
Full Name
Jacob Muzzin
Date of Birth
February 21, 1989
Birth Place
Woodstock, Ontario, Canada
Nick Name
Muzz, Muzzy
Religion
Christianity
Nationality
Canadian
Ethnicity
White
Zodiac Sign
Pisces
Age
34 years old
Height
6'3″ (191 cm)
Weight
214 lb (97 kg)
Hair Color
Blonde
Eye Color
Hazel
Build
Athletic
Father's Name
Ed Muzzin
Mother's Name
Judy Muzzin
Siblings
Two sisters; Nina and Julia
Education
Not available
Marital Status
Married
Wife
Courtney Fischer
Kids
Daughter; Luna Muzzin
Profession
Ice hockey player
Position
Defenceman
Affiliations
Los Angeles Kings
Toronto Maple Leafs
Active Years
2005-present
Net Worth
$10 million ($4,000,000 annual salary)
Social Media
Instagram, Twitter
Last Update
June, 2023
Jake Muzzin | Body Measurements
Jake Muzzin is a bulk athlete with medium-shaped muscles as he stands at 6 ft 3 inches (191 cm). Altogether, he weighs 214 lb (97 kg) and maintains his regular shape with a workout regime.
Apart from his training, Muzzin has a diet filled with protein, including chicken breast with diet coke and water. As for his appearance, Jake Muzzin is a fair-complexioned man with blonde hair and a beard.
Likewise, he has complemented his oval face through his hazel-colored eyes.
Jake Muzzin | Early Life
Muzzin (fully named Jacob Muzzin) was born on February 21, 1989, under Pisces' sun sign, to his parents, Judy Muzzin and Ed Muzzin.
Although his family background and academics aren't enclosed in the public's eye, he was reported to grow up in Woodstock, Ontario, Canada.
Besides, since his early days, Jake Muzzin has been athletic, trying sports like soccer and hockey. By the age of 13, Muzzin devoted himself to hockey as he commenced playing through the Woodstock Minor Hockey Association.
Later, Muzzin played in the AAA in Brantford, Ontario, moving on to the Ontario Hockey League (OHL).
Firstly, he partook in the 2005 OHL Priority Selection Draft where Sault Ste. Marie Greyhounds picked him in the first round as the 11th overall.
Right after getting into Greyhounds, he overcame a huge setback due to his herniated disc in his back. Therewith, at just the age of 16, Muzzin underwent surgery, which took him out of the match for a year.
However, he appeared for games the next year and played 37 games under Greyhounds coach Craig Hartsburg.
In the meantime, he realized his undeniable love for hockey as he stated, "It was a difficult time, and it made me not take hockey for granted."
Jake Muzzin | Professional Career
Muzzin first appeared in the 2007 NHL Draft, and the Pittsburgh Penguins drafted him as the 141st overall pick. Later, the Penguins didn't sign him in, nor did any other teams. Thus, he became an unrestricted free agent.
As he played with the Greyhounds, Muzzin again entered the 2009 NHL Entry Draft but still wasn't picked by any. All in all, he continued with the Greyhounds as Nashville Predators invited him for the training camp.
Unfortunately, that, too, went down the drain as they cut him before the season began. Then, Jake Muzzin stood as the team captain of the 2010 OHL All-Star Classic.
Simultaneously, Jake Muzzin also claimed the Max Kaminsky Trophy as he became the leading defenseman in the league.
Playing On Global Level
At the 2015 IIHF Big showdown and the 2016 World Cup of Hockey, he addressed Canada and won gold in both.
International
Year
Team
Event
Result
GP
G
A
Pts
PIM
2015
Canada
WC
10
0
9
9
4
2016
Canada
WCH
1
0
0
0
0
Senior totals
11
0
9
9
4
Los Angeles Kings
On January 4, 2010, Los Angeles Kings drafted Muzzin with an entry-level contract for three years as a free agent. The Kings first set their eyes on him during the Ontario Hockey League for his bulky body and game ability.
Back then, Muzzin had claimed both the OHL Defenseman of the Year and an OHL First-Team All-Star. As he signed with them, he commenced with the pre-season training and opened the night roster for the 2010–11 season.
Equally important, his foremost professional debut came on October 9, 2010, against the Vancouver Canucks. During his first few days, only Muzzin was called in by the Kings' American Hockey League (AHL) affiliate, the Manchester Monarchs.
For the 2012 season, Muzzin did not appear in any games or even on the Stanley Cup-winning team. However, he was included as the victory team member. Likewise, his foremost NHL score came in 2013 against Jason LaBarbera of the Phoenix Coyotes.
Following it, Muzzin became the NHL Rookie of the Month for March and extended his contract with the Kings for two years.
Breakthrough
After the contract extension, Muzzin was paired with the defensive star Drew Doughty, and soon they became the top defenceman pairing. Afterward, Jake Muzzin finished his regular season with average gameplay of 19:01 minutes per game.
Overall, Muzzin had featured in a total of 72 games, where he had posted 5 goals and 19 assists.
Similarly, he starred in 26 playoff games as he recorded 6 goals and 6 assists. Altogether, he had played for 23:23 minutes on average for each game.
As his contract expired, the Kings extended it by adding five more years. That season, Muzzin had posted a career-high 41 points in 76 games.
With a smooth run came a big boulder. Jake Muzzin suffered an injury that halted his gameplay. Thus, he was kept on the reserved list first and missed three games of the 2018 season.
However, he again struggled with an upper-body injury during the playoff season and could only appear in two games.
Toronto Maple Leafs
Therewith, the Kings struggled through the 2018-19 season and thus, traded Muzzin to the Toronto Maple Leafs on January 28, 2019. During the trade, the Kings stood in last place in the league.
As the trade continued, the Kings gained the forward Carl Grundström, the playing rights to Sean Durzi, and Toronto's first-round pick in the 2019 NHL Draft. Right after the entry, Jake Muzzin ended the season with 37 points for the Leafs.
Nearing the end of 2019 in December, Jake Muzzin got into a conflict with Red Wings forward Anthony Mantha. During the incident, Mantha was injured and hence ended up on the Injury Reserve list.
As per the cameras, Muzzin seems to appear to clutch onto the face of Mantha and bring him down. Hence, everyone expected him to get suspended or fined for the incident; however, the NHL Department of Player Safety made a questionable decision.
Well, Jake didn't get any sort of penalty for it.
As of 2020, the Toronto Maple Leafs made a four-year deal worth $22.5 million with Jake Muzzin. Currently, Muzzin stands with 6 goals, 23 points, and an average of 21:35 minutes of gameplay on the ice each game.
Player Equipment
Glove
Bauer Supreme 2S Pro
Skates
Bauer Vapor HyperLite
Pants- Bauer
Player Stats (2021-22 Season)
Jake Muzzin Scores The First Goal Of The 2023 Stanley Cup Playoffs
Jake Muzzin scores the first goal of the 2022 Stanley Cup Playoffs.
The Toronto Maple Leafs have opened the 2023 Stanley Cup Playoffs with a goal.
It was fitting that 2014 Stanley Cup champion Jake Muzzin beat Tampa Bay Lightning goaltender Andrei Vasilevskiy from long-range late in the first period of Monday's Game 1 at Scotiabank Arena.
Muzzin's 10th career playoff goal came at 18:19 of the first period, assisted by Ondrej Kase and Ilya Mikheyev.
With the Boston Bruins and Carolina Hurricanes still tied 0-0 early in the second period of Game 1, Muzzin's goal was the first scored by an NHL team in the 2022 postseason.
MUZZIN OPENS THE SCORING! 🚨 pic.twitter.com/vNHhQBSa4F

— Toronto Maple Leafs (@MapleLeafs) May 3, 2022
In 47 regular-season games this year, Muzzin—who is currently a member of the Maple Leafs for the fourth time—scored three goals and 14 points. Muzzin has 10 goals and 26 points over 66 postseason games in his career.
The left-handed defenseman, who is 6'3″ and weighs 222 pounds, had a total of 12 points (six goals and six assists) in 26 games with the Kings when they defeated the New York Rangers to win the 2014 Stanley Cup.
The Leafs lead the Lightning 1-0 at the end of the second period after killing off a five-minute major penalty to Kyle Clifford admirably. Throughout the first 20 minutes of play, Toronto outshot Tampa Bay 8-5.
Jake Muzzin | Injury
Recently, in August 2020, Jake Muzzin was stretchered off the ice during the third period of Game 2 against the Columbus Blue Jackets.
During the game, Muzzin first fell to the ground as he was knocked off balance by the Blue Jackets forward Pierre-Luc Dubois.
Right after his fall, he collided his head with Oliver Bjorkstrand's knee as an accident. Therefore, he was immediately rushed by the medical professionals.
After the incident, head coach Sheldon Keefe stated in an interview, "Every single player is valuable, and Muzz certainly is among the most valuable and important people. But we're going to have guys come in, and we're going to step up and just continue rolling along as a team."
All in all, after the unfortunate incident, two-time Stanley Cup winner Rasmus Sandin stood in place of Jake Muzzin.
Jake Muzzin | Career Stats
| | | | | | |
| --- | --- | --- | --- | --- | --- |
| NHL Regular Season | GP | G | A | Pts | PIM |
| Total | 579 | 62 | 190 | 252 | 352 |
| | | | | | |
| --- | --- | --- | --- | --- | --- |
| NHL Playoffs | GP | G | A | Pts | PIM |
| Total | 59 | 7 | 15 | 22 | 22 |
Jake Muzzin | Playing Style, Highlights & Achievements
Muzzin is a well-rounded defenseman with a solid shot and bulk physique. As a defenceman, Jake Muzzin is fearless of who stands in his way and showcases an aggressive style in the gameplay.
According to the news, he is someone who loves contact with the opponents and stands proudly as the hinder in the opposing team's way. All in all, he showcases his offensive skill with a breaking pass and an accurate shot.
OHL First All-Star Team (2010)
Max Kaminsky Trophy (2010 top defenceman in the league)
CHL First All-Star Team (2010)
NHL Rookie of the Month (March 2013)
Stanley Cup champion (2014)
2015 IIHF World Championship (gold)
2016 World Cup of Hockey (gold)
Jake Muzzin | Net Worth And Salary
As of 2020, Jake Muzzin is reported to have a net worth of over $10 million with an average annual salary of $4,000,000. Additionally, his recent contract with the Toronto Maple Leafs is worth $22.5 million.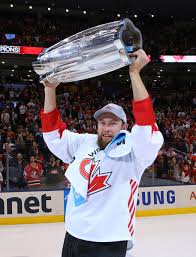 As per the source, his NHL career earnings total $18,708,049 with a base salary of $4,450,000 and a cap hit of $4,000,000.
Jake Muzzin | Private Life
Besides being an ice hockey player, Jake Muzzin is also a family man. At present, Muzzin is married to his longtime girlfriend, Courtney Fischer and now shares a beautiful child together.
The duo first engaged in December 2015 and later married on August 5, 2016, in London, Ontario. As their wedding took place in front of all the friends and family, the bride wore a long, white lacey mermaid dress.
The dress had a long V-necked cut with pearls, and the bride held white flowers. At the same time, the groom wore a blue shirt with groomed hair and a beard. The duo took their vows indoors with a cottage-themed style.
Right after the wedding, they had an outdoor shoot; you can see many dogs as Courtney is an avid dog lover. Overall, the duo has been going on strong to date and gave life to a beautiful daughter in April 2019.
Jake Muzzin | Social Media Presence
Jake Muzzin | Common Questions
Is Jake Muzzin good?
Jake Muzzin is ranked as one of the top defensemen in league with his points, hits, blocked shots, and penalties drew. All in all, he is known as an efficient offensive producer.
Is 'Muzzin' in Jake Muzzin Italian?
Although 'Muzzin' is an Italian surname and is mostly found in Italy, Jake Muzzin is a Canadian.
What is the status of Jake Muzzin?
As of now, Jake Muzzin is a member of the Toronto Maple Leafs till the year 2024. Previously, Jake Muzzin was set to become an unrestricted free agent; however, he is now committed to a team.
What is the jersey number of Jake Muzzin?
Static says Jake Muzzin stars as the number 8 jersey defenceman for the Toronto Maple Leafs.