Jalen Reagor's parents Ishia Johnson, and Montae Reagor, might have separated but kept an amicable relationship for the sake of their son. Montae is a former NFL player and a Super Bowl Champion.
In 2020, many were confused when Philadelphia Eagles selected Reagor ahead of Justin Jefferson. The battle between the young wide receivers had already started to take shape.
But Jefferson has certainly pulled far ahead of Jalen and is in his own league, and funnily they became teammates in 2022. And if Jalen had a poor first season with the Vikings in 2022, Jefferson won the Offensive Player of the Year award.
Reagor has shown improvement in the ongoing training camp. In May, the Vikings declined Reagor's fifth-year option, so he has a chip on his shoulder to prove himself.
Jalen Reagor Parents, Ishia Johnson, And Montae Reagor
Jalen Reagor's parents Ishia Johnson, and Montae Reagor, separated when he was young. If there was anyone in the family he had a strong bond with, then it was his grandmother.
A star player out of high school, ranked sixth best by ESPN, Jalen could've chosen any college he wanted to but enrolled at Texas Christian University. At TCU, Jalen's career derailed a bit, but he selected TCU to stay close to his ill grandmother.
If his grandmother couldn't make it to his game, Jalen would rush home to tell her everything play-by-play. Many might know that Jalen's father, Montae Reagor is a former defensive tackle in NFL.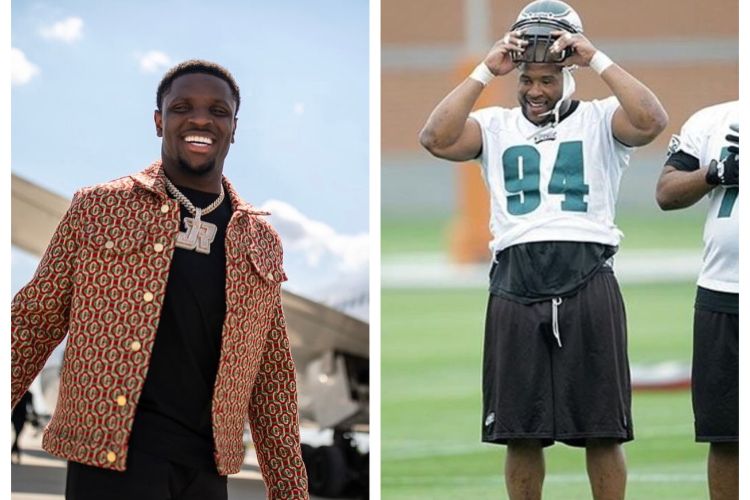 Montae Regor was the round two pick of the 1999 NFL Draft by the Denver Broncos. He spent nine years in the NFL, playing for Broncos, Colts, and Phillies, and won a Super Bowl title with Tony Dungy's side in 2007.
Jalen was in the stands and later brought into the field to join his father to celebrate the huge win. In an interview with Sports Illustrated in 2020, Montae said his son would always try to emulate him since he was a kid.
The father-duo share a tight bond, and even if it's just for ten or fifteen minutes, they communicate every day. He also made sure to tell his son not to compare himself with others as the noise of him Vs. Justin Jefferson had already begun in 2020.
Jalen Reagor Mother Had A Twitter Fight With Skip Bayless
Montae has kept himself away from social media, but Jalen's mother can be found on Facebook. Ishia has shared a few pictures with her son on her social media handle.
She has also shared an image of her repping the Eagle's jersey but is yet to be seen wearing the Vikings' top. In 2020, Jalen's mom didn't let Skip Bayless rest easy after his tweet.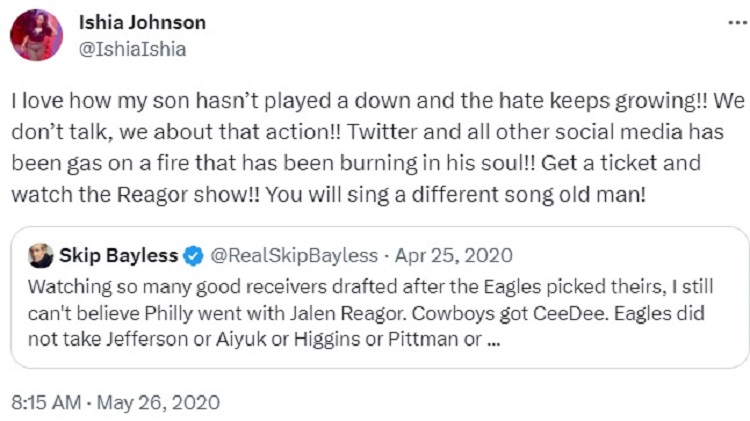 The American sports columnist was disappointed in the Eagles selecting Jalen. He believed they could've gone with Jefferson, Aiyuk, Higgins, or Pittman. And after that tweet, Ishia chose to fire back at the columnist.
Ishia wrote it's funny how everyone had written down her son, even before he had played a single game. Ishia further wrote her family is all about action and not words and told Bayless to get a ticket to the Reagor show.
In a way, Skip Bayless' prediction about Jalen wasn't wrong. Justin has completely outperformed him, but you never know when the tide could turn.