The guard and team clinched the 2023 MAC, sparking curiosity among fans about Jalen Sullinger's brother and family as they were aware of his basketball family line.
Sullinger hails from a family of athletes, with basketball being a generational thing in their household.
Jalen Sullinger was born to his parents, James Sullinger and Whitney Sullinger. The Sullinger couple welcomed two other kids from their marriage.
Growing up, Jalen Sullinger inherited a blueprint of basketball talent, as most of the men in his family excelled as basketball players.
In high school, Sullinger actively served as a point guard for Thomas Worthington High School, located in the Columbus suburb.
In 2021-22, Jalen verbally committed to joining the Kent State men's basketball program, following in the footsteps of his father and uncle.
His uncle, Julian Sullinger, actively serves as the assistant head coach with the Golden Flashes, guiding and coaching his nephew to play with precision.
Furthermore, after the 2022-23 MAC Men's Basketball game, Jalen earned the title of Sixth Man of the Year.
Jalen Sullinger Brother: Jackson Dean And Jacoby
Jalen Sullinger's parents, James and Whitney Sullinger, birthed three kids from their marriage, with Jalen being the eldest of the three.
He has two biological younger siblings, both sisters, Jaden, born in October 2007, and Jordan, born in July 2010.
Unfortunately, Jalen's parents parted ways in 2008, and James tied the knot with Jana Butler. James and Jana welcomed two kids, Jackson Dean and Jacoby Sullinger.
So, Jackson and Jacoby are actually Jalen's step-brothers.
Jackson Dean Sullinger, born in January 2016, currently attends Corner Stone Academy as a kindergartener.
Similarly, the youngest of the Sullinger family and Jalen's youngest brother, Jacoby Daniel, was born on July 14, 2020.
Sullinger Family: Jalen Parents, Athlete Family Tree
Jalen is the fourth generation in his family to pursue a career in basketball actively. In the 1920s and 1930s, Jalen's great-grandfather, Harold, actively played for the Iowa Colored Ghosts.
Similarly, Jalen's grandfather, James "Satch," played and coached basketball for almost three decades.
Later, Jalen's father, his uncle Julian, and Jared also participated in playing for Ohio State.
Jalen's father, JJ Sullinger, holds the position of senior account executive at Agility Partners.
Likewise, his uncle Jared Sullinger is presently competing for the Shenzhen Aviators in the Chinese Basketball Association.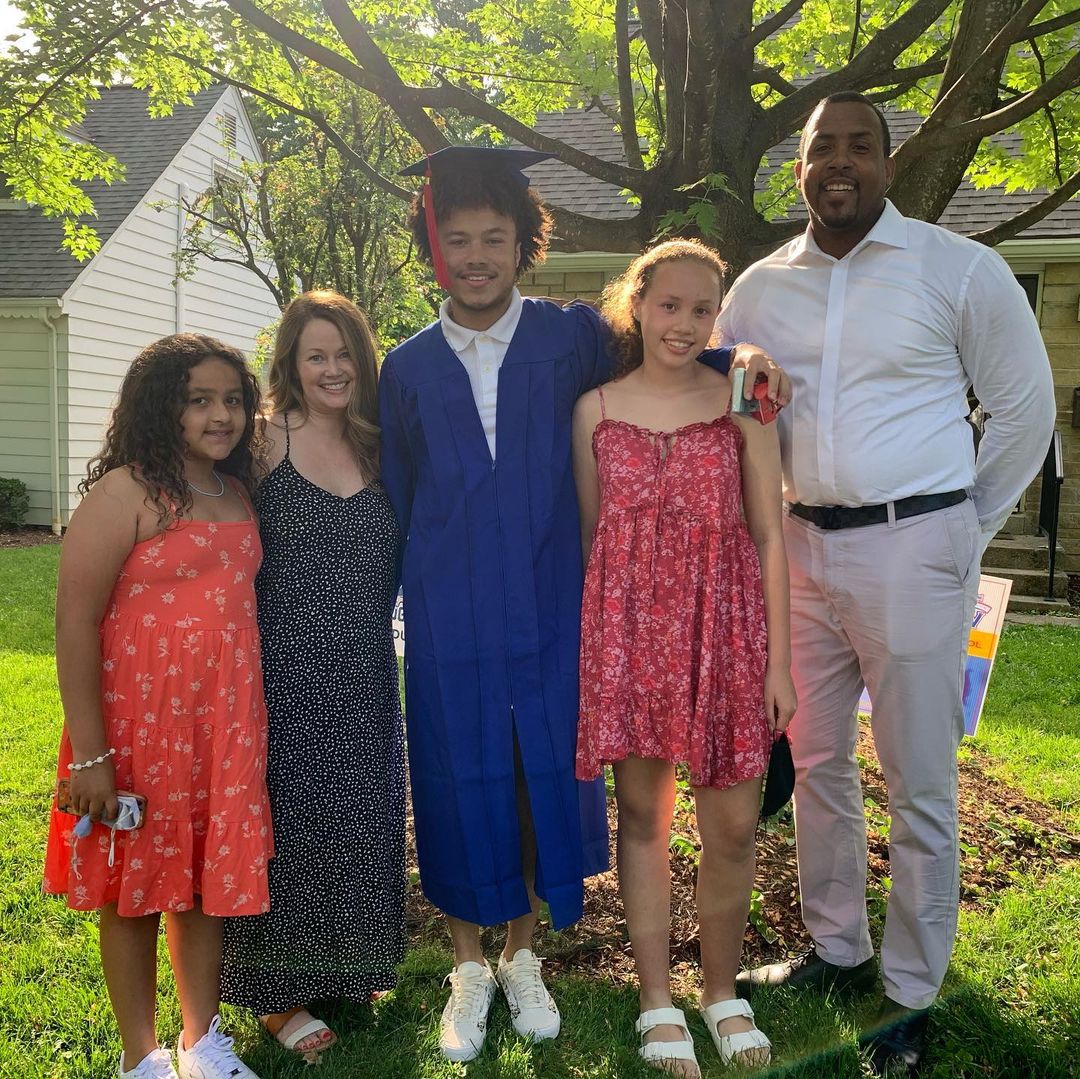 Jalen's parents tied the knot in their early 20s, and their marriage concluded in 2008.
His stepmother, Jana Butler Sullinger, has been actively working as the financial center manager at Fifth Third Bank since February 2005.
Moreover, despite Jalen being the stepson, the relationship between Jalen and Jana is filled with love and laughter.