If you are an enthusiast of the NBA, you probably already know about Jaxson Hayes. If not, don't worry because we are here for you.
Jaxson Hayes is a rising NBA star. Born Jaxson Reed Hayes, the American is a professional basketball player in the National Basketball Association.
Jaxson plays for the New Orleans Pelicans. The player was a member of the Texas Longhorns basketball team in college.
To know more about Jaxson Hayes' professional and personal life, keep reading the article to the end.
But, before that, look at some quick facts about the NBA star.
Quick Facts
Full Name
Jaxson Reed Hayes
Birth Date
May 23, 2000
Birth Place
Norman, Oklahoma
Nick Name
Jaxson
Religion
Christianity
Nationality
American
Ethnicity
Mixed
High School
Moeller High School
College
University of Texas
Playing Career
2019-present
Zodiac
Taurus
Chinese Zodiac
Dragon
Father's Name
Jonathan Hayes
Mother's Name
Kristi Hayes
Siblings
Three
Age
23 years old
Height
6'11" (2.11 m)
Weight
100 kg (220lb)
Chest Size
40 inches
Biceps Size
14.5 inches
Waist Size
34 inches
Shoe Size
14 (U.S.)
Food Habits
Non-vegetarian
NBA Draft
2019
Hair Color
Brown
Eye Color
Black
Career Highlights and Awards

Big 12 Freshman of the Year (2019)
Second-team All-Big 12 (2019)
Big 12 All-Defensive Team (2019)

Build
Muscular, Atheltic
Marital Status
Not married
Wife's Name
None
Girlfriend
Sofia Jamora
Children
None
Position
Center
Profession
Professional Basketball player
Net Worth
$5 Million
Salary
$5,348,280
League
NBA
Active Since
2019
Social Media
Instagram, Twitter
Merch
Notebook
Last Update
June 2023
Jaxson Hayes: Early Life and Family
Jaxson Reed Hayes was born to Jonathan Hayes and Kristi Hayes on May 23, 2000, in Norman, Oklahoma.
The family relocated to Cincinnati when Jaxson was three years old. For 15 years, i.e., from 2003-2008, Jaxson's Father worked as a tight-end coach for the Cincinnati Bengals.
The athlete also worked as an assistant coach at the University of Oklahoma for four years (1999-2002).
Jaxson's Father, who played 12 seasons in the NFL with the Pittsburgh Steelers, and Kansas City Chiefs, was an All-American tight end at the University of Iowa from 1982 to 1985.
Likewise, as a senior, Jaxson's mother won honorable mention of Kodak All-American honors and Missouri Valley Conference Player of the Year honors. She used to play basketball at Drake University.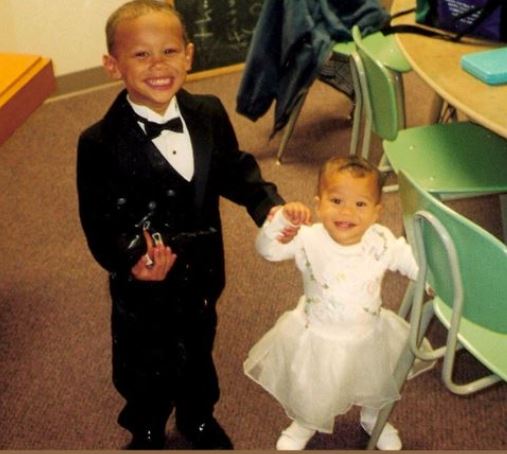 Jaxon Hayes is the oldest child of Jonathon and Kristi. Jaxon has a younger sister and two younger brothers.
His sister's name is Jillian Hayes, and his brother's names are Jewett Hayes and Jonah Hayes.
Jaxson went to Cincinnati's Moeller High School. He grew from a freshman height of six feet to a senior height of six and eleven inches.
In 2018, Jaxson competed in the Junior International Tournament (JIT) in Lissone (Milan), leading Team Ohio to its sixth championship.
Likewise, as a senior, Jaxson averaged 12 points, seven rebounds, and four blocks per game. He is committed to playing collegiate basketball at the University of Texas.
Jaxson Hayes: College Career
Jaxson averaged 10.0 points and 5.0 rebounds per game as a freshman at Texas, shooting 72.8 percent from the floor.
Similarly, in a 69–56 defeat against TCU, he had a career-high 19 points, seven rebounds, two steals, and a block.
Jaxson hurt his left knee in a defeat to Kansas in the Big 12 Tournament. He was also selected Freshman of the Year by the Big 12 Conference.
The American player declared for the NBA draft on April 11, 2019, preceding his last three years of eligibility.
Go through Malik Beasley: Career, Records, NBA & Net Worth>>
Jaxson Hayes: Professional Basketball Career
Jaxson was selected with the 8th overall pick in the 2019 NBA draft by the Atlanta Hawks.
Likewise, his draft rights were traded to the New Orleans Pelicans along with the draft rights to No. 17 pick Nickeil Alexander-Walker and No. 35 pick Marcos Louzada Silva. The transaction was finalized on July 7, 2019.
On October 10, 2019, Jaxson made his NBA debut for the New Orleans Pelicans, scoring 19 points on 8-of-11 in an 11-point defeat against the Golden State Warriors.
In a 108–100 success over the Golden State Warriors on November 17, Jaxson earned his first career start in place of the injured Derrick Favors.
He also recorded his first NBA double-double with 10 points, 10 rebounds, and 3 blocks.
Rising to Glory
Hayes had three blocks in the following game, a 115–104 win against the Portland Trail Blazers on November 19.
The achievement made him the first Pelicans rookie since Jeff Withey in 2014 to have at least two blocks in three consecutive games.
Similarly, at 19 years and 196 days, Jaxson became the third-youngest player in the history of the NBA to post at least such statistics in a single game.
He stood behind only LeBron James and Andrew Bynum in a 139–132 defeat to the Phoenix Suns on December 5, 2019.
Likewise, Jaxon had his second NBA double-double a month later, on January 9, 2020, with 14 points, 12 rebounds, and four blocks in under 24 minutes of action.
In doing so, the player became the first teenager to post such numbers since Anthony Davis in March 2015 and the first for the Pelicans since Wendell Carter did it in 2018.
Jaxson and Anthony are the only Pelicans players to achieve such a feat before turning 20.
In a like manner, Jaxon scored 18 points and grabbed 10 rebounds in a win over the New York Knicks a few days later, giving him back-to-back double-doubles for the first time in his NBA career.
Moreover, Hayes scored a career-high 20 points in a 35-point defeat to the Boston Celtics the next night.
Jaxson Hayes: Age, Body Measurements and More
The basketball player, Jaxson Hayes, was born in the year 2000. So, he is currently 23 years old.
Jaxson was born in the Dragon year, according to the Chinese calendar. It is the fifth year of the 12-month Chinese zodiac calendar.
Talking about Jaxson's physical appearance, he has a muscular body and looks very attractive. The player regularly exercises to keep up with the athletic lifestyle.
Further, the American player stands tall at 6 feet 11 inches tall. As a basketball player, his height is an advantage for him.
Likewise, Jaxson weighs around 100 kg. His chest size is 40, and his waist is 36. Similarly, his biceps are 14.5 inches.
Further, Jaxson has tattoos on his legs. Additionally, Jaxson looks okay with his brown hair and black eyes. The player's nationality is American, and his ethnicity is mixed.
In addition, Jaxson's zodiac is Taurus. Sapiens with the Taurus sign are determined, confident, and loyal. They are also sometimes known to be very stubborn.
Jaxson Hayes: Charge of Domestic Violence
In January 2022, Jaxson Hayes, a center for the New Orleans Pelicans, was charged with 12 minor crimes, including domestic abuse.
According to various authorities, the charge was levied because he allegedly assaulted his girlfriend at his Los Angeles residence last year.
According to Los Angeles city attorney spokesperson Rob Wilcox, Jaxon could face up to a year in prison for the litany of accusations, including three counts of inflicting corporal injury on a spouse, vandalism, violence against an officer, and trespassing.
Cops pushed the American player to the ground outside his house door in the Woodland Hills section of Los Angeles at 3 am on July 28.
Following that, the LAPD launched an inquiry into the use of excessive force after bodycam footage showed him repeatedly stating, "I can't breathe."
Likewise, although District Attorney George Gascon had previously refused to bring felony charges, the misdemeanor charges were brought in January by L.A. City Attorney Mike Feuer's office.
Previously, a lady claiming to be Hayes' girlfriend's cousin had also summoned cops to his home, stating that she was worried because the player was 'becoming loud and abusive.'
Jaxson Hayes: Strengths on Court
Jaxson also has an incredible wingspan of 7'4″, which assists him on defense. His long reach, along with his agility, allows him to be a superb weak-side help defender.
Likewise, the feature also makes him a great pick-and-roll defender who can switch onto wing players on the perimeter.
Moreover, Hayes also excelled as a rim protector in college, averaging 2.2 blocks per game last season, good for fourth in the Big 12.
Also, enjoy reading the bio of Patrick Christopher: Career, Records, NBA & Net Worth>>
Likewise, his ability to block shots and his presence in the paint will help him succeed as an NBA center.
However, it is Jaxson's raw athleticism that grabs the most attention.
Jaxson Hayes: Social Media
Along with being a basketball player, Jaxon is also a social media star. He has an incredible fan following on his social media.
Currently, the player is active on Instagram and Twitter. Unfortunately, Jaxson is not available on Facebook.
Jaxson is present on Instagram as @jaxsonhayes and has around 279k followers. Likewise, the player is on Twitter as @hayes_jaxson and has about 16.1k followers.
Hayes follows other athletes such as Aeneas Hawkins, Joe Danneman, Kerwin Roach II, Lynn Bowden Jr, and Andrew Cunningham.
If you wish to get updates about the various life events of Jaxson or know more about his lifestyle, feel free to follow him on his social media handles.
Jaxson Hayes: Net Worth
The New Orleans Pelicans signed Jaxson Hayes to a four-year, $22,118,492 deal, with $22,118,492 guaranteed and a $5,529,623 yearly average salary.
Hayes made a base salary of $5,348,280 in 2021-22, with a $5,348,280 cap hit and a $5,348,280 dead cap value.
Likewise, his annual salary for 2022/23 is $6,803,012. Moreover, his projected salary for the year 023/24 is $9,170,460.
The NBA player, Jaxon Hayes has an approximate net worth of $5 Million.
Currently, Jaxson is the 200th best-paid NBA player. Likewise, the player is the 7th best-paid player of the New Orleans Pelicans.
Frequently Asked Questions
What is Jaxson Hayes Jersey number?
Jaxson Hayes wears Jersey no. 10.
Did Jaxson always want to become a basketball player?
No, becoming a professional basketball player was not something that Jaxson had seen for himself as a child. Instead, he wanted to become a football player like his dad.
However, as he grew up, he felt more inclined toward basketball. He kept playing both until he was sure that he wanted to pursue basketball as a career.
What is Jaxon's wingspan and reach?
Jaxon Hayes's wingspan is 7'4″ and his reach is 9'3″.