Hailed as one of the greatest players in NBA history, LeBron James is an absolute delight to watch on the court.
Started his rookie season after being drafted by Cleveland Cavaliers in the 2003 NBA Draft and gracing the sport to this date as quoted by the man himself, "I feel like I'm the best basketball player that ever played the game."
His name is mentioned among the greatest basketballers of all time, with the likes of Michael Jordan, Kobe Bryant, Magic Johnson, Larry Bird, etc.
Even the most obscure game watchers can see his sheer excellence in each game.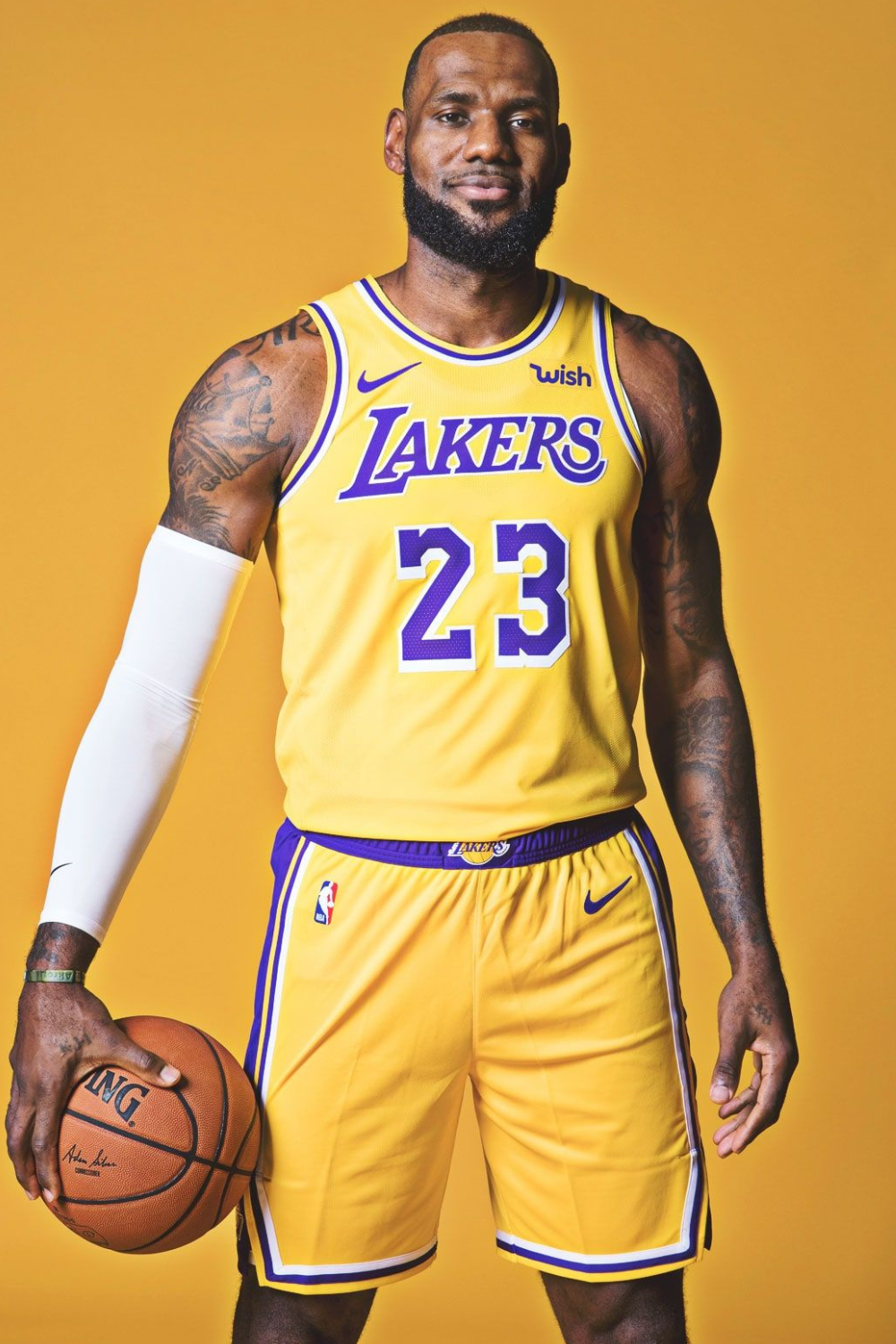 King James is a four times NBA champion, four times NBA Finals MVP, and four times NBA MVP. Besides, he has been named NBA All-Star 19 times and NBA All-Star First Team 13 times, to name a few.
In 2022, James became the first and only player in the history of the NBA to accumulate over 10,000 career points, rebounds, and assists.
LeBron Raymone James Sr., better known as LeBron James, is currently playing for the NBA's Los Angeles Lakers.
Playing for the Lakers, James made the record for most points (38,390), surpassing Kareem Abdul-Jabbar (38,387).
Let's look at some of the quick facts about one of the greatest players of the NBA.
Quick Facts
| | |
| --- | --- |
| Full Name | LeBron Raymone James Sr. |
| Birth Date | December 30, 1984 |
| Birth Place | Akron, Ohio, United States |
| Nick Name | LeBron, King James, The Chosen One, Bron Bron, The Akron Hammer, |
| Religion | Christian |
| Nationality | American |
| Ethnicity | African |
| Education | St. Vincent-St. Mary |
| Horoscope | Capricorn |
| Father's Name | Anthony McClelland |
| Mother's Name | Gloria Marie James |
| Siblings | None |
| Age | 38 Years Old |
| Height | 6'9″/2.06 m/206 cm |
| Weight | 113 kg/250 lb. |
| Hair Color | Black |
| Eye Color | Black |
| Build | Athletic |
| Profession | Basketball player |
| Current Team | Los Angeles Lakers |
| Position | Small forward / Power Forward |
| Teams | Los Angeles Lakers (current), Miami Heat, Cleveland Cavaliers (former) |
| Jersey Number | #6 ( Los Angeles Lakers) |
| Drafted Year | 2003 (Round: 1/Pick: 1) |
| Active Years | 2003–Present |
| Marital Status | Savannah Brinson |
| Children | Three; Bronny James, Bryce James, Zhuri James |
| Salary | $44.5 Million |
| Net Worth | $1 Billion |
| Social Media | Instagram, Twitter |
| Merch | Vinyl Figure Exclusive, Bobblehead, Signed Cavaliers Jersey |
| Last Update | June 2023 |
Childhood, Early Youth, Early Basketball Career
LeBron James was born in Akron, Ohio, the United States, to parents Gloria Marie James and Anthony McClelland, who has an extensive criminal record. James never had a father figure in his life.
James had a rough childhood. Life was a struggle for his young mom and himself as they constantly shifted from apartment to apartment in dodgy, unsafe neighborhoods.
Despite constantly struggling between two jobs and not having a stable job, LeBron James' mother tried her best to shield him from the negativity, hunger, and general challenging status.
When she realized that he would be safer and better raised at the home of a coach, she let him live with the family of Mr. Frank Walter, a local youth football coach.
LeBron and his basketball journey began when he was in the fifth grade. He played the Amateur Athletic Union (AAU) basketball for the Northeast Ohio Shooting Stars.
The team turned out pretty successful, and he and his friends decided to study in the same high school. James, Sian Cotton, Dru Joyce III, and Willie McGee joined St. Vincent – St.Mary High School, a predominantly white school.
High School Career
The Laker's small forward was an excellent player during high school. He averaged 21 points and six rebounds in his freshman year.
Sophomore year was a fruitful year for James. He finished at an average of 25.2 points and 7.2 rebounds with 5.8 assists and 3.8 steals per game.
James won the title of Ohio Mr. Basketball and was selected to the USA Today All-USA First Team. He was the first-ever sophomore to achieve this feat.
"Slam" Magazine and its writer Ryan Jones spoke highly of him and said, "the best high school basketball player in America right now."
James also appeared on the cover of Sports Illustrator, again, the only high-school basketball player. He was the first-ever junior to be named the Gatorade National Player of the Year.
Moreover, he won the Ohio Mr. Basketball and USA Today All-USA First Team again because of his overall average of 29 points, 8.3 rebounds, 5.7 assists, and 3.3 steals per game.
LeBron finished the season with a loss in the Division II championship game. He did not qualify for the 2002 NBA Draft as a result of this loss. He filed a petition to change the NBA's drafting eligibility rules unsuccessfully to enter the 2002 NBA Draft.
Football
LeBron James was unsurprisingly good at football too. He played as the wide receiver for his high school football team.
He was even recruited by the Division I program of Notre Dame. James was named the first-team all-state and helped the team reach the state semi-finals.
Sports analysts, football critics, his high school coaches, and past and current players all concluded that James could have easily played in the NFL if he had tried.
Age, Height, & Body Measurements
Having born in the year 1984 makes James 38 years old as of 2023.
Similarly, LeBron celebrates his birthday every year on the 30 of December under the sign of Capricorn. Also, this sign is known for being talented, ambitious, confident, and passionate.
The small forward stands at a towering height of 6 feet 9 inches (2.06 meters) and weighs 113 kg (250 pounds).
Being an athlete, James has a broad and impressive physique, and he measures 46 inches (116 cm) in the chest, 17 inches (43 cm) in the biceps, and 36 inches (91 cm) in the waist.
Likewise, his hand length is 9/9.25 inches (23 cm), which is less than average for somebody of his height.
More on physical attributes, LeBron has black hair and black eyes that give him a bold look.
LeBron James' Diet Plan
LeBron's diet is every bit as epic as the man himself. He starts his day with a meal full of protein and fruit. His breakfast consists of egg white omelets, berries, yogurt, and gluten-free pancakes.
For snacks, LeBron likes to have fruits and also likes to include yogurt, apples, almond butter, and protein powder.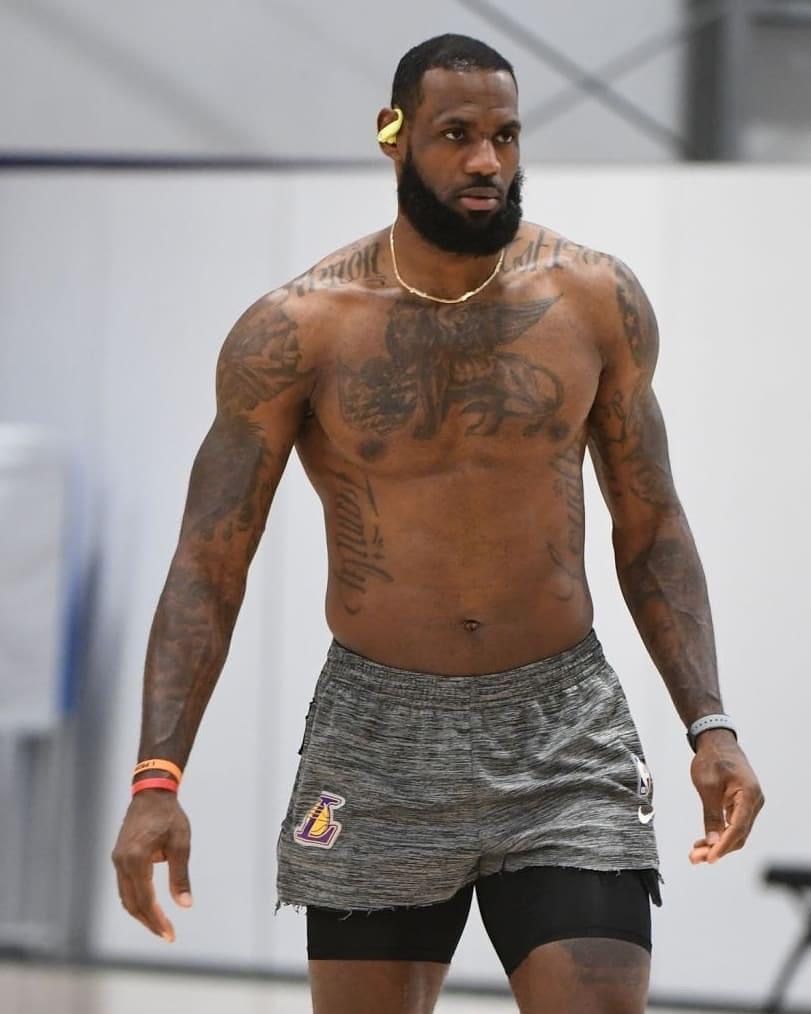 Before his game, LeBron focuses on low-fat proteins and more carbs. So, he usually eats veggies, whole-wheat pasta, and chicken breast.
When the game is over, LeBron usually takes a protein shake. Or, if he wants to continue the healthy trend, he usually eats chicken breast, broccoli, or a salad.
James eats filet mignon, lobster tail, or some chicken Parmesan with a glass of wine for dinner.
Not to mention LeBron is a wine lover. His Instagram handle is mostly filled with pictures of wine, with the caption #VinoChronicles.
Professional Career
Rookie Season
LeBron James was selected as the first overall draft by his hometown team, Cleveland Cavaliers, in the 2003 NBA Draft.
He debuted with an impressive record-breaking score of 25 points in a game against the Sacramento Kings.
Eventually, he won the NBA Rookie of the Year Award and was the first in the Cavaliers to have won the award.
James received his NBA All-Star Game selection in 2004-05 after contributing 13 points, eight rebounds, and six assists in a winning effort for the Eastern Conference.
Many people noticed his rapid development and called him a great player and an exception to all the rules. He scored 56 points in a single game and broke the record of Cleveland against the Raptors.
LeBron led the East to victory in the 2006 All-Star Game and was named the NBA All-Star Game Most Valuable Player. He finished second in overall NBA Most Valuable Player Award voting.
The Cavs qualified for the playoffs under the leadership of James for the first time since 1998 but lost to Detroit Pistons.
James' performance in 2007 dropped, and sports analysts cited the lack of effort and focus.
However, in Game 5 of the NBA Conference Finals, James scored an impressive 48 points with nine rebounds, seven assists, and scoring 29 of Cleveland's 30 points. That game is lauded as one of the best games in the history of postseason games.
The small forward also bagged the MVP of the NBA All-Star game for the 2007-08 season.
2008-2010: MVP Seasons
James finished second in the NBA Defensive Player of the Year Award voting and secured a position in his first NBA All-Defensive Team in the 2008-09 season.
LeBron led the Cavaliers to win the franchise record 66-16 and was just one game short of matching the NBA history's best home record. He was also the first Cavalier to win the MVP award.
The Cavaliers became a fantastic team led by James. Even when he had to limit his responsibilities due to minor injuries, the Cavaliers did a tremendous job keeping their record.
LeBron James was heavily criticized for his horrible gameplay at the fifth game of the playoffs of the 2009-10 season and was booed by the Cavaliers' home crowd as he walked off the court after the embarrassing loss.
Miami Heat
After James became a free agent in 2010, several teams, like the Los Angeles Clippers, Miami Heat, New York Knicks, and New Jersey Mets, were interested in signing the former Cavalier.
He decided to sign with the Heat on a live show from ESPN called "The Decision" and raised about $2.5 million for charity.
After the decision, James became the subject of intense criticism by sports analysts, executives, and fans and was scrutinized for the unnecessary show and suspense.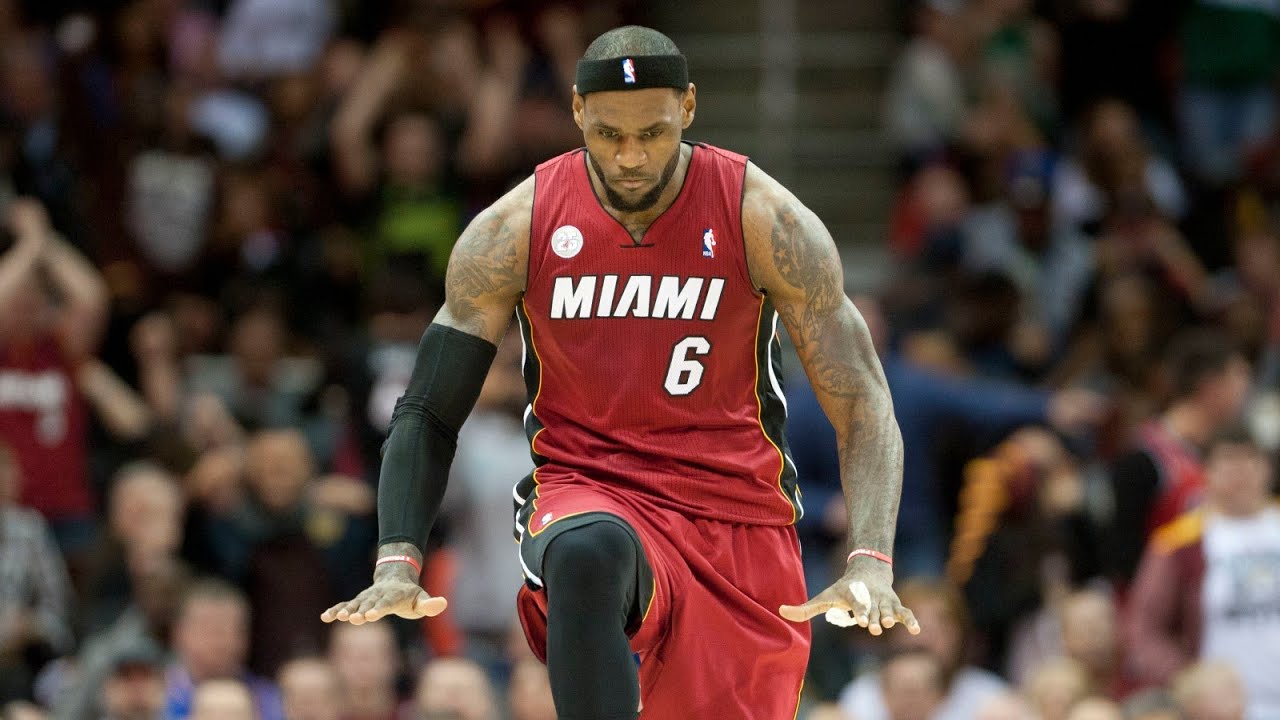 No one, not even the teams that wanted him knew about his final choice. He quickly became one of the most disliked athletes in the country.
The small forward officially signed through a sign-and-trade deal with the Heat on July 10, 2010.
LeBron became more and more aggressive with his game. The Heat finished as the second seed of the East Conference and eventually advanced to the finals.
James put on a pretty average game later and, as a result, lost to the Mavericks in the finals.
Not only did James receive criticism for his performance and the Heat's loss, but he was also abashed by the loss and started training and practicing more in the offseason with Hakeem Olajuwon.
Further
Miami Heat began the 2011-12 season with a franchise-best record of 18-6. He also became NBA's Most Valuable Player for the third time with an average of 27.1 points, 7.9 rebounds, 6.2 assists, and 1.9 steals per game on 52% shooting.
Despite losing a teammate with an injury in the second round of the playoffs, James's performance did not falter. He continuously played an excellent game, leading the Heat to its second and James' first championship.
The New York Times defined the match as:
"a CAREER-DEFINING performance for LeBron James"
James was voted the Bill Russell NBA Finals Most Valuable Player with 28.6 points, 10.2 rebounds, and 7.4 assists per game.
In the 2012-13 season, King James averaged 26.8 points, eight rebounds, 7.3 assists, and 1.7 steals per game and was named MVP for the fourth time.
In Game 6 of the Conference Finals, he recorded his second triple-double of the series and was named Finals MVP for the second straight season.
Final Season In Miami
James performed exceptionally well in the final season with the Miami Heat. He scored a career-high and a franchise-record 61 points against Charlotte Bobcats.
James helped Miami earn their fourth consecutive Finals berth, defeating Brooklyn Nets and Pacers. His leg cramps prevented him from playing in the fourth quarter in a loss against the Spurs. For the finals, he averaged 28.2 points, 7.8 rebounds, and 2.0 steals per game.
Return To The Cavaliers
Everyone responded well to James' return to the Cavaliers. Along with Kevin Love and Kyrie Irving, he created new records and achievements for himself and the Cavaliers.
He won the championship for the Cleveland Cavaliers, their first-ever championship in 52 years, and was named for the Finals MVP selection.
Moreover, the 2016-17 season was full of injuries for James and unexpected losses for the Cavaliers. LeBron describes the season as the most strange year of his career.
He finished the season with a below-average performance of 26.4 points, 8.6 rebounds, 8.7 assists, AND 4.1 turnovers per game.
In the 2017-18 season, LeBron won his third All-Star Game MVP Award after registering 29 points, ten rebounds, and eight assists in a win over Team Curry.
The small forward led his team to the finals and scored 51 points in the first game. However, he injured his hand punching a wall after facing defeat and missed the remainder of the series.
Los Angeles Lakers
James opted out of his contract with the Cavaliers and became an unrestricted free agent. The former Cavaliers signed with the Los Angeles Lakers on July 1, 2018.
The decision received mixed criticisms, but none were as harsh as after his first departure from the Cavaliers.
The Lakers expected James to take their team to the championship. However, after suffering from a groin injury, his first major career injury, the Lakers failed to qualify for the postseason.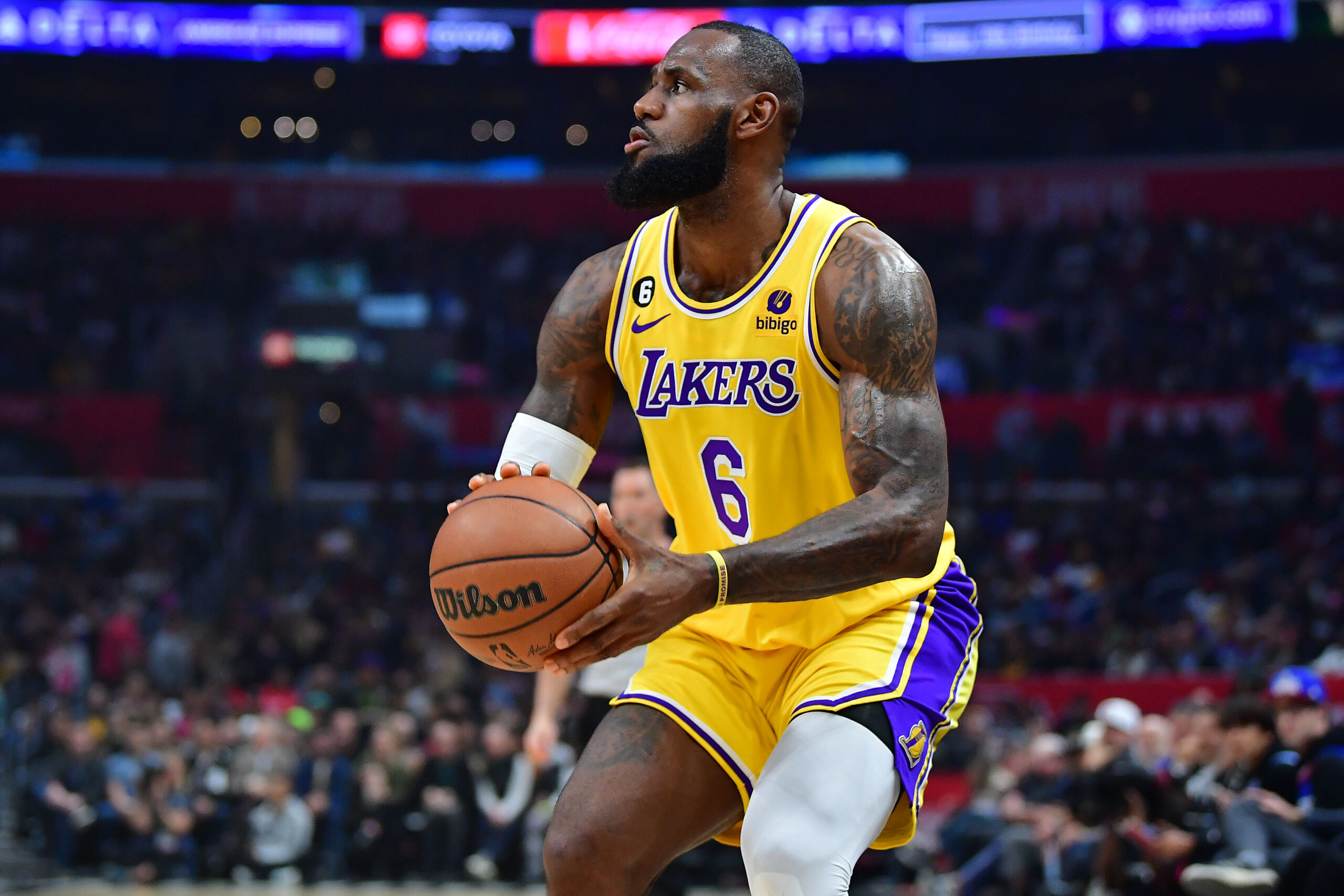 He was ruled out for the remainder of the 2018-2019 season and was named the All-NBA Third Team, marking the first time in 12 years that he did not play in the All-NBA Third Team.
In the 2020 season, James led the Lakers with a good start, matching their franchise-best of 17-2. The small forward surpassed Kobe Bryant for third on the all-time regular season scoring list the day before Bryant's death.
After the regular season resumed in July post-pandemic, LeBron led the Lakers to the NBA title after defeating his former team Heat and was named the Finals MVP for the fourth time.
With this championship, James became the fourth player to win the championship with three different franchises.
2020-Present
On February 18, 2020, in a 109-98 loss to the Nets, James became the third player in the history of the NBA with 35,000 career points, the youngest player to reach the milestone at 36 years and 50 days.
The small forward finished the season averaging 25.0 points, 7.7 rebounds, and 7.8 assists. He was named the All-NBA Second Team for the third time and made his 17th consecutive All-NBA Team selection.
He became the oldest player in NBA history to record at least 25 points in ten straight games at 37 years.
In March, James recorded two 50-point games and became the first Lakers player since Kobe in 2008 to achieve this feat.
James continued playing and records followed, as he became the only player in NBA history to record at least 30,000 points, 10,000 rebounds, and 10,000 assists.
On December 28, 2022, James appeared for his 1,393rd game, breaking a tie with Tim Duncan for the 10th most in NBA history.
On February 7, 2023, LeBron James made yet another record of the highest career points (38,390), surpassing Kareen Abdul-Jabbar in a 130-133 loss against Oklahoma City Thunder.
As of this writing, his career points sit at 38,450.
National Team Career
LeBron played for the USA team for the first time in the 2004 Athens Olympics but was mostly benched.
He competed in the 2006 FIBA World Championship in Japan, the 2007 FIBA Americas Championship 2007, and the 2010 FIBA World Championship. King James also represented Team USA in the 2008 and 2012 Olympics.
How Many NBA Finals Has LeBron James Played In?
LeBron James has played in the NBA Finals ten times in 18 years. Have a look at his NBA finals record and appearances:
2007 Finals: Cleveland Cavaliers vs. San Antonio Spurs ( Loss to Spurs 0-4)

2011 Finals: Dallas Mavericks vs. Heat ( Loss to Mavericks 2-4)

2012 Finals: Miami Heat vs. Oklahoma City Thunder (Won against Thunder 4-1)

2013 Finals: San Antonio Spurs vs. Miami Heat ( Won against Spurs 4-3)

2014 Finals: Miami Heat vs. San Antonio Spurs ( Loss to Spurs 1-4)

2015 Finals: Cleveland Cavaliers vs. Golden State Warriors (Loss to Warriors 2-4)

2016 Finals: Cleveland Cavaliers vs. Golden State Warriors (Won against Warriors 4-3)

2017 Finals: Cleveland Cavaliers vs. Golden State Warriors (Loss to Warriors 0-4)

2018 Finals: Cleveland Cavaliers vs. Golden State Warriors (Loss to Warriors 1-4)

2020 Finals: Los Angeles Lakers vs. Miami Heat (Won against Heat 4-2)
8.5

1.0
Awards & Achievements
2001–2003: 3× Ohio Mr. Basketball

2002-2003:2× First-team

Parade

All-American, McDonald's All-American Game MVP (2003), 2× national high school player of the year

2004:NBA Rookie of the Year, NBA All-Rookie First Team

2005: All-NBA Second Team

2006: NBA All-Star Game MVP

2007:All-NBA Second Team

2008: NBA scoring champion, NBA All-Star Game MVP

2009-2013: 5× NBA All-Defensive First Team, 4×NBA Most Valuable Player

2012: USA Basketball Male Athlete of the Year,

Sports Illustrated Sportsperson of the Year, NBA Finals MVP, NBA champion
2013: AP Athlete of the Year, NBA Finals MVP, NBA champion
2014:NBA All-Defensive Second Team
2016:Sports Illustrated Sportsperson of the Year, AP Athlete of the Year, NBA Finals MVP, NBA champion
2017: J. Walter Kennedy Citizenship Award
2018: AP Athlete of the Year, NBA All-Star Game MVP
2019: All-NBA Third Team
2020:Sports Illustrated Sportsperson of the Year, Time Athlete of the Year, AP Athlete of the Year, NBA assists leader, NBA Finals MVP, NBA champion

2006, 2008–2018, 2020: 13× All-NBA First Team

2005–2021: 17× NBA All-Star
Is LeBron James Married? Personal Life & Wife
LeBron is happily married to his wife, Savannah Brinson. James and Savannah met back in high school and started dating.
Interestingly, during their senior year in high school, Savannah discovered she was pregnant with James' first child.
During that time, James was just in his rookie season. The couple decided to keep the child. In 2004, they welcomed their first child, a baby boy, LeBron James Jr., nicknamed Bronny.
Later, LeBron and Savannah tied the knot in 2013. The couple is also blessed with two additional children, a son Bryce James (born in 2007) and a daughter Zhuri James (born in 2014).
Net Worth & Income
Per Forbes, James' net worth is estimated at around $1 billion as of June 2023.
The NBA star is one of the world's highest-paid athletes. He receives about $44 million as an average annual salary and bags some extra from several endorsement deals.
The NBA star's billion-dollar fortune breakdown; The Spring Hill Company ($300 million), FENWAY Sports Group ($90 million), Real estate ($80 million), Blaze Pizza ($30 million, Cash, and other investments ($500 million).
Moreover, LeBron has multiple properties, including a $9 million home in Florida and a $21 million home in Los Angeles.
Social Media Presence
All-time NBA points leader, LeBron, is active on different socials. He uses these platforms to promote different deals.
James is available on Instagram under the handle @kingjames, on Facebook @LeBron James, and on Twitter @KingJames.
Instagram: 144m followers
Twitter: 52.7m followers
Facebook: 27m followers
Popularity
An American professional basketball player with the highest career point has garnered a lot of fans worldwide.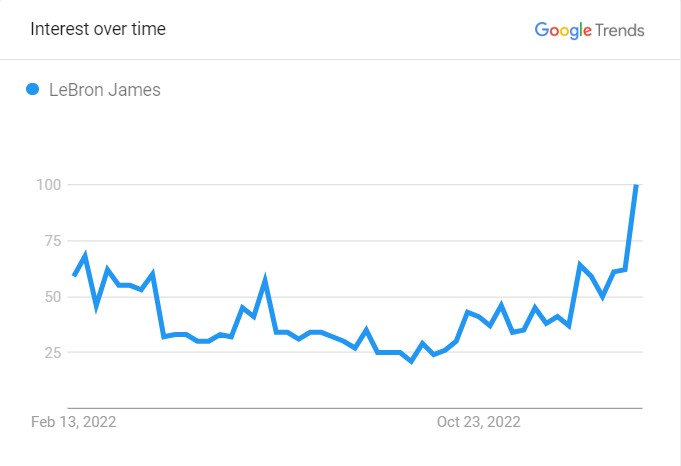 The above graph gives brief information about the popularity of LeBron James based on Google searches in the United States over a year.
Frequently Asked Questions (FAQS)
What age could LeBron James dunk?
LeBron James first dunked when he was 13 years old. He was 6 feet 1 inch (1.85 m) tall at the time.
Has LeBron James retired?
LeBron James is still playing and has not retired. However, James once told in media that he'd retire before turning 46 because his wife would get mad if he played that long. He said, "I don't think that I can go until I'm 46. We can go from 26 to 36, but I don't think I can go to 46. I also don't think my wife would like that very much."
What is the LeBron James logo?
LeBron's James logo was created in 2003 when he signed a contract with Nike to produce shoes and other apparel featuring his name and logo.
What is the total point of LeBron James?
LeBron James has scored total points of 38,450 in the NBA and is ranked #1 scorer in NBA history.
What is LeBron James' haircut called?
LeBron James' Haircut is called Buzzcut, with a little bit of funk and razor lines on the sides.
Does LeBron James wear glasses?
Yes, LeBron James is often seen wearing nerd glasses and black framed specs.
What is LeBron James Jr. ranking?
LeBron James Jr. was ranked 6th in the annual ESPN NBA rank in 2022.
Is LeBron James a billionaire?
As per Forbes, King James is a billionaire.
How many times has LeBron won the MVP award?
LeBron has won the MVP award four times.