Sal Frelick is one of the three children of parents Jeff and Patty Frelick. Sal is also the grandson of Henry Frelick, the Greensburg Salem quarterback.
Meanwhile, his father was also a star footballer and a baseball player for the Greensburg Central Catholic. Furthermore, his older brother Nico and younger sister Francesca are also involved in sports.
With deep family roots in the world of sports, it is no wonder that Sal has made a name for himself in baseball at such a young age.
Salvatore Michael Frelick, also known as Sal Frelick, was born on April 19, 2000. He plays as an outfielder for the Milwaukee Brewers franchise of Major League Baseball (MLB).
Frelick grew up in Massachusetts and attended Lexington High School. He started his athletic career as a quarterback for the high school and won the Gatorade State Player of the Year.
However, his interest lay in baseball. Consequently, when Boston College came knocking with an opportunity for him to play college baseball, Frelick jumped.
In the 2021 MLB Draft, the Milwaukee Brewers selected Frelick as the 15th overall selection in the first round. Following his remarkable records in the minor leagues, the outfielder made his MLB debut on July 22, 2023.
Furthermore, the Brewers outfielder smashed his first home run against the Cincinnati Reds on July 24, 2023.
Sal Frelick Parents: Jeff & Patty Frelick
Jeff and Patty Frelick are the proud parents of famous baseball outfielder Sal Frelick and two more children, Nico and Francesca.
Jeff is a former football and baseball player for the Greensburg Central Catholic. Meanwhile, his grandfather played as a quarterback for Greenburg Salem.
Besides their sporting history, not much is available in the public records about the Brewers outfielder's father.
Unfortunately, not much information is available about his mother, Patty Frelick. She appears to be a private person and prefers to stay away from the spotlight.
Similarly, both parents are inactive on social media and don't seem to have social media accounts.
However, various interviews with the family suggest that they are a tight-knit family. Indeed, the entire family, except Patty, made it to Frelicks' debut game in Milwaukee.
Despite missing out on the trip to the stadium, Patty reflected on watching her son on the home TV as a unique experience. She was overjoyed to see the crowd's reaction and see her son up close, which the rest of her family had missed.
All the family members were over the moon following a debut that was quite possibly the best in the franchise's history.
A Family Of Athletes
With a grandfather who played as a quarterback and a father who was well-known for his football and baseball skills, the Frelick family is no stranger to the world of sports.
The three Frelick siblings all played hockey and baseball growing up in Lexington, Massachusets. In an interview with ESPN, Sal confirmed a sibling rivalry among them.
Nico, the elder of the three, was a bullpen catcher at Northeastern. Meanwhile, Francesca, the youngest sibling, plays softball at Duke.
Furthermore, she was also the Softball Athlete of the Year in Massachusetts' Division III and New England's Girls High School Player of the Year at Austin Prep.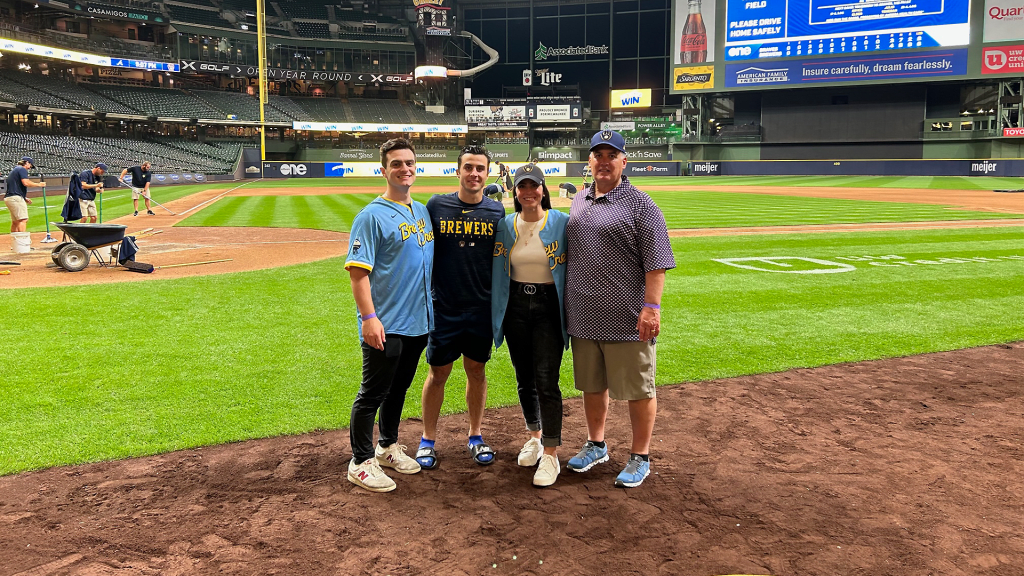 While Nico seems to have taken a step back from a life on the field, sister Francesca has continued playing softball at Duke.
Additionally, as a junior, she has made 56 appearances out of a possible 60, with 40 starts. Moreover, she has a batting record of .276 with 32 hits, five home runs, and 13 RBI in 2023.
Speaking of her brother's fantastic debut, the younger sister thanked the fans for warmly welcoming her brother.
After the game, the entire family celebrated Sal's achievement by getting a big dinner at an Italian restaurant.